Quality Assurance Jobs at Hemmo Pharmaceuticals Pvt. Ltd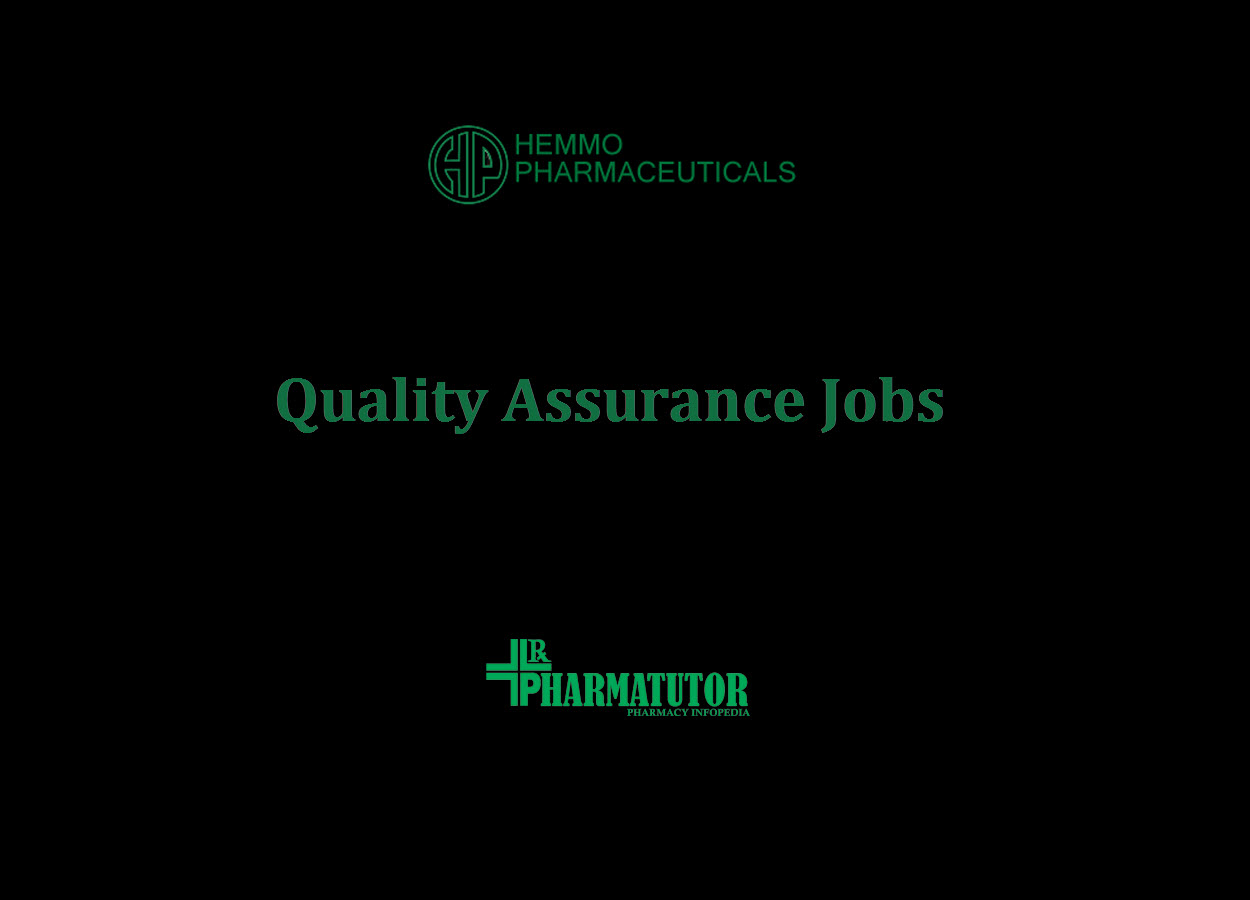 Hemmo Pharmaceuticals Pvt. Ltd. is India's first & largest manufacturer of synthetic peptides. Hemmo Pharmaceuticals is privately held and has been in the business of peptides for the last 38+ years catering to the Pharmaceuticals, Research and Veterinary industries within India and globally. It has been ranked as the leading supplier of bulk Oxytocin to the global market. With more than 38 years of experience in synthetic process development and continuous spends in R & D, a well-designed and well equipped plant, multiple international regulatory approvals and the relevant skill sets, Hemmo is set to meet requirements of its customers who are leading International and Indian companies.
Officer / Executive Quality Assurance
Job description :
• Preparing and reviewing Site Master File, Validation master plan, Master Batch Records.
• Preparing and reviewing cleaning validation, process validation and Hold time study protocols and reports.
• Reviewing of Batch Manufacturing Records, Batch Packing Records and Bill of material
• Ensuring adherence to quality standards & maintaining all the related documents; conducting inspections at various stages to ensure safety & quality specifications are met without any slippages.
• Steering the implementation of cGMP for all operational activities.
• Conducting audits and ensuring compliance and audit readiness; reviewing production documents.
• Participating in Internal Audits to ensure quality in other departments like Production, Stores, Engineering etc.
• Addressing market complaints, deviation, CAPA, and change management systems.
• Preparing and reviewing of Annual product Quality Review.
• Imparting training, conducting online on job as well as classroom trainings for cGMP, cGDP to support subordinates
• Preparing and reviewing SOPs related to Quality Assurance, Production, Stores and Engineering
Candidate Profile : Minimum 4 to 6 years of hands on experience in Quality Assurance and handling QMS system and Risk analysis.
Executive QA / Sr. Executive QA
Job description :
• Establishing and ensuring the compliance of all systems as per GMP.
• Handling of Customer complaints.
• Conducting self-inspection and internal audit.
• Facing Customer and Regulatory agencies audits
• Ensuring proper responses to the customer or regulatory agencies including making report for audit compliance.
• Taking plant rounds daily to ensure the compliance as per GMP.
• Sound knowledge of evaluation of Risk analysis as per ICH Q 9 and implementation of CAPA.
• Sound knowledge of elemental impurities analysis as per ICH Q 3D and USP
• Performing risk analysis as part of Corrective and Preventive action for OOS / Change control and Deviations
• Sound knowledge of Implementation Change control Deviation, OOS and generating risk analysis wherever required and closure of the same.
Candidate Profile :
• Minimum 7 to 9 years of hands on experience in Quality Assurance and handling QMS system and Risk analysis, Audit and Compliance.
• Experience having worked in API plant with regulatory approval from USFDA, MHRA, EDQM.
• Shall have good knowledge and requirement QMS, and ICH Q 9.
Skills / Knowledge/Abilities :
• Strong technical background and knowledge of Quality management Systems.
• Good oral and written communication skills.
• Good knowledge of Microsoft office programs.
• Ability to adapt and learn to ensure good decision making in fast pace environment.
Location : Navi Mumbai
Interested Candidates can send CV to hr@hemmopharma.com
Current CTC, Expected CTC, Notice Period.
See All   D.Pharm Alerts   M.Sc Alerts   B.Pharm Alerts   Mumbai Alerts
See All   Other Jobs  in our Database
Subscribe to Pharmatutor Job Alerts by Email