Opportunity for M.Pharm, M.Sc as Senior Associate Scientist at Colgate-Palmolive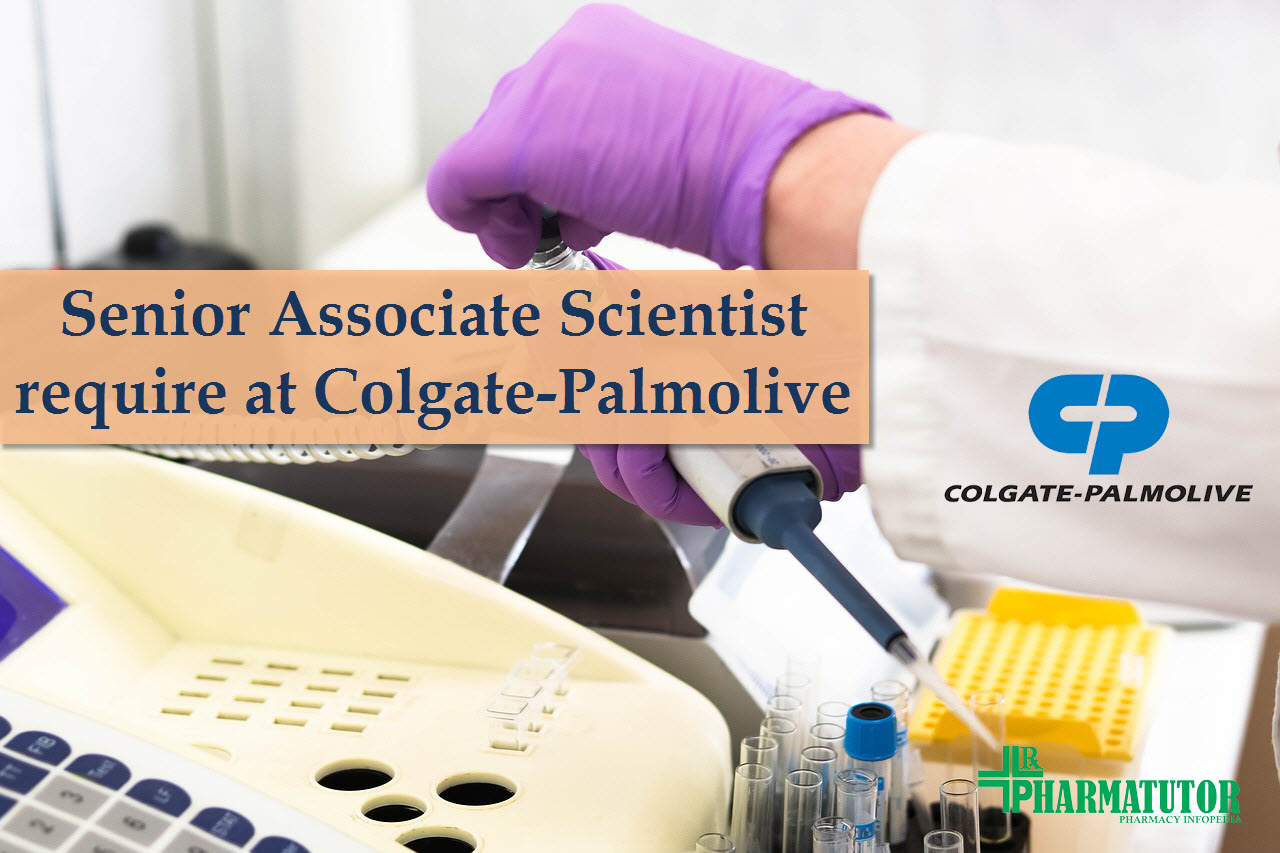 Colgate-Palmolive is a leading global consumer products company, tightly focused on Oral Care, Personal Care, Home Care and Pet Nutrition. Colgate sells its products in over 200 countries and territories around the world under such internationally recognized brand names as Colgate, Palmolive, elmex, Tom's of Maine, Sorriso, Speed Stick, Lady Speed Stick, Softsoap, Irish Spring, Protex, Sanex, Elta MD, PCA Skin, Ajax, Axion, Fabuloso, Soupline and Suavitel, as well as Hill's Science Diet and Hill's Prescription Diet.
Post : Senior Associate Scientist
Job Context & Challenges : 
In this role you will be required to execute complex development projects and/or multiple support projects. Develops and selects appropriate methods, tests and procedures. Also develops and recommends product quality, process and/or packaging specifications. Such assignments require selection of appropriate methods, tests and procedures. You would also support funding the growth program of the organization by exploring opportunities to optimize cost through formula and process optimization as well as identifying new vendors for quality ingredients sourcing at low cost.
You will need to support Quality and EOHS system implementation at India Global Technology Centre. The incumbent needs to work closely with other GTC's and support/implement common programs. Within CP, the individual would interface with various departments and functions such as Supply chain, Packaging, Regulatory and Marketing/CIC so as to ensure timely completion of programs. As a part of Product Development, incumbent need to demonstrate ability to innovate with minimal guidance and execute the programs.
Key Accountabilities :
• Driving Sustainable growth by developing new innovative products to meet consumer/business need
• Partner with stakeholders within GTC and outside GTC (such as marketing, supply chain etc.) to drive sustainable business growth.
• Gain expertise of Personal care fundamentals and independently lead pilot plant activities with strong focus on EOHS & Quality.
• Develop strong business acumen (end to end business understanding) by partnering closely with commercial & supply chain functions.
• Constantly identify opportunities to improve processes with clear focus improving speed to market for all existing & new products.
• Build formal & informal networks to constantly stay updated with new technology trends and breakthroughs.
• Leverage performance management & development process to improve self-performance & capability.
• Execute Personal care / Home care technology product development projects independently for all existing & new product bundles, from conceptualization to implementation on the ground.
• Gain thorough understanding of product portfolio and related regulatory requirements for the assigned geography.
• Initiate and Implement new ideas and programs in the spirit of continuous improvement in R&D.
• Lead supplier qualification programs for raw materials & provide required support to packaging material qualification programs.
• Process Compliance: Ensure 100% compliance to all relevant standards & processes. Ensure accurate documentation of processes, test results and project output.
Candidate Profile
• Essential: M.Sc.(Organic Chemistry), M.Pharm Pharmaceutics
• Desirable: Knowledge and/or experience in product development.
• Industrial experience in formulation development in FMCG or a Pharma company preferably in development of Oral Care / Personal Care / Home Care Products.
• Should have a Masters degree with minimum 2 years' experience in Cosmetic/ Pharma product development with a reputed FMCG/Pharma company.
• Strong analytical ability and result orientation.
• Experience in preparation of supporting data related to new product launches/ Re-launches to ensure smooth technology transfer to plant.
• Proficient in spoken and written English
Additional Information
Experience : 1 year
Qualification : M.Sc, M.Pharm
Location : Mumbai
Industry Type : Pharma
End Date : 30th June, 2020
See All   B.Pharm Alerts   M.Pharm Alerts   Mumbai Alerts
See All   Other Jobs  in our Database
Subscribe to Pharmatutor Job Alerts by Email