Job opening for M.Pharm or M.Sc at IIT Hyderabad - Pharma R&D job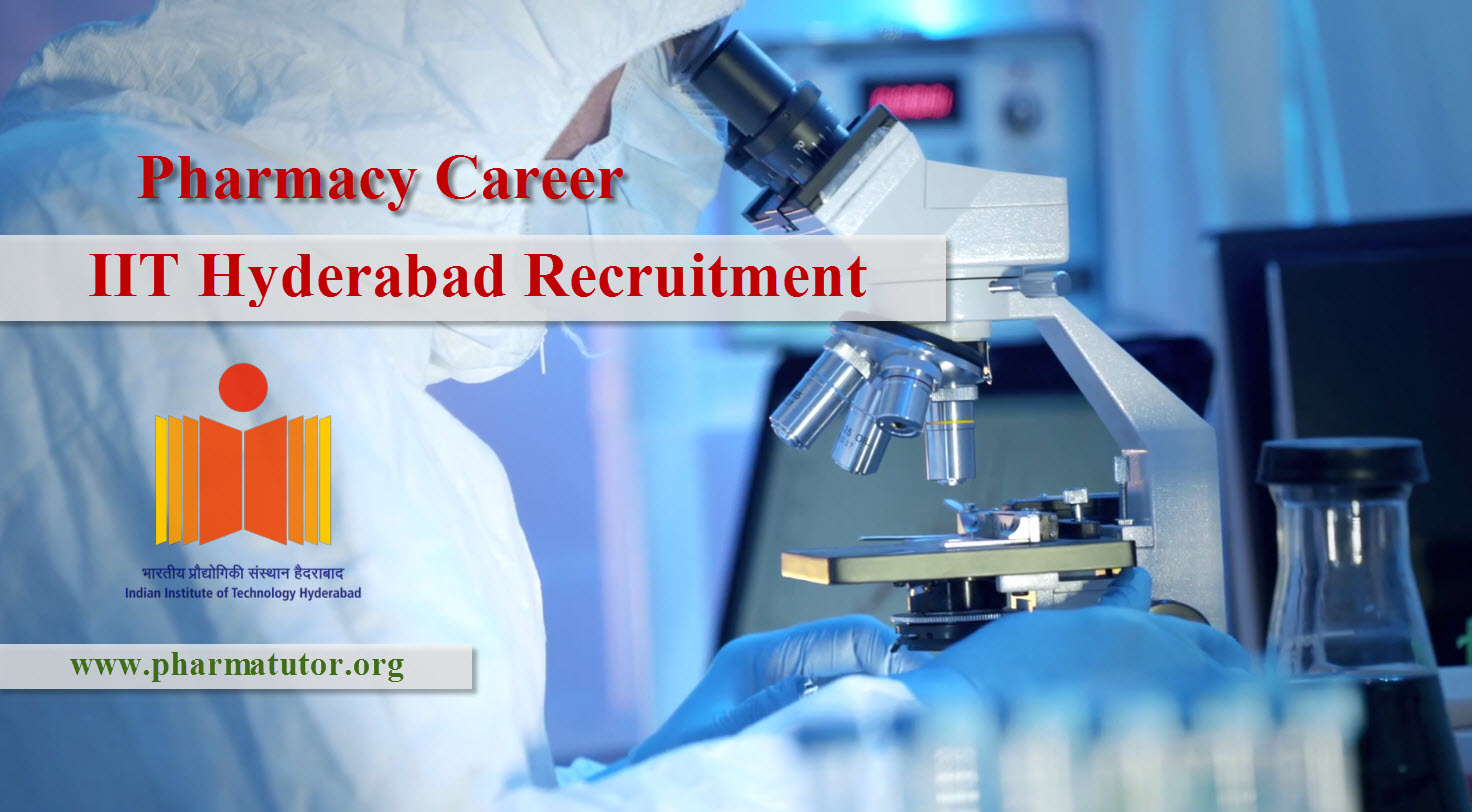 IIT Hyderabad is one among the 2nd generation of IITs started by the Govt. of India. Today IITH offers 9 B.Tech programs, 16 M.Tech programs, 3 M.Sc programs, 5 M.Phil programs, 1 M.Des program and Ph.D. programs in all branches of engineering, science, liberal arts and design. The very foundation of IIT Hyderabad is based on research and innovation. The vibrant research culture is evident from the number of patents and publications that IITH has. At IITH students are given with a plethora of choices, which they diligently choose with the help of a faculty advisor.
Recalcitrant chronic wound (diabetic foot, venous, arterial, neurotrophic and pressure ulcer) are a growing public health concern. With the expanding elderly population and increasing incidence of diabetes, localized management of these wounds is becoming a multi-billion-dollar enterprise. Current treatments options and management of the chronic wound has limited success, required longer in-patient care, and often expensive and beyond the limit of the majority of the population in India.
Our laboratory (eNARM Lab, PI: Jyotsnendu Giri) at IIT Hyderabad (with collaboration with hospital) leading by highly energetic interdisciplinary peoples, is working at the interface between materials and biology to develop next-generation approaches for cancer chronic wound healing. We are seeking talented, motivated and passionate individuals (2 no) to join in our efforts for cutting-age research on "Novel biomaterials for chronic wound healing". The candidate will get highly interdisciplinary work environment to perform cutting age research. The candidate will closely work with collaborators from Hospital in Hyderabad.
Essential Qualification : M Tech, M.S, M.Sc. Chemistry / Pharmacy / Material Science / Biomedical Egg / Nanotechnology / Biochemistry with first division or equivalent mark from reputed institutes with relevant experience (2-3 years). Science degree holder should qualify NET or equivalent examination.
Work Experience :
• Experience on Biomaterials processing or scaffold fabrication particularly polymers based for tissue engineering application
• Polymer synthesis and modification (optional), Polymer blending, Biomaterials fabrication
• Basic Knowledge on Physical, Organic Chemistry and solvent chemistry, worked with Biopolymers, Basic organic synthesis,
• Eager to learn new interdisciplinary research and technique related to the research
• Biology (Optional): Basic knowledge in Biology, if not, then eager to learn. Cell and culture and different biochemical assays.
Duration of project : Two to Five years (Based on the funding). The appointment will be on temporary basis for a period of six months. Based on performance in the initial period, the appointment could be extended till the end of project. Candidate may have strong interest to pursue PhD. Depending on the performance; candidate will be offered to continue this work for PhD.
Emoluments : Will be decided based on the candidate qualification and experience.
Preference : will be given to the candidates having relevant experience on the abovementioned work and also CSIR/UGC/NET holder with strong interest on this research field also given priority as well.
How to Apply : Eligible candidates should apply with their CV via email to enarm@bm.iith.ac.in on or before 2nd July, 2020, with the subject marked as "Research Assistant Position on Wound Healing". Candidate should provide short justification note to support his/her candidature for this project. Candidates will be short listed for the interview based on merit and experience will be informed via email.
Further Technical Information : Candidate may contact the Principal Investigator. Dr. Jyotsnendu Giri, Email: enarm@bm.iith.ac.in
See All   M.Pharm Alerts   M.Sc Alerts   B.Pharm Alerts   B.Sc Alerts
See All   Other Jobs  in our Database
Subscribe to Pharmatutor Job Alerts by Email