Walk in interview for Pharmacists at Office of the CDMPHO | Remuneration Rs.1000 per day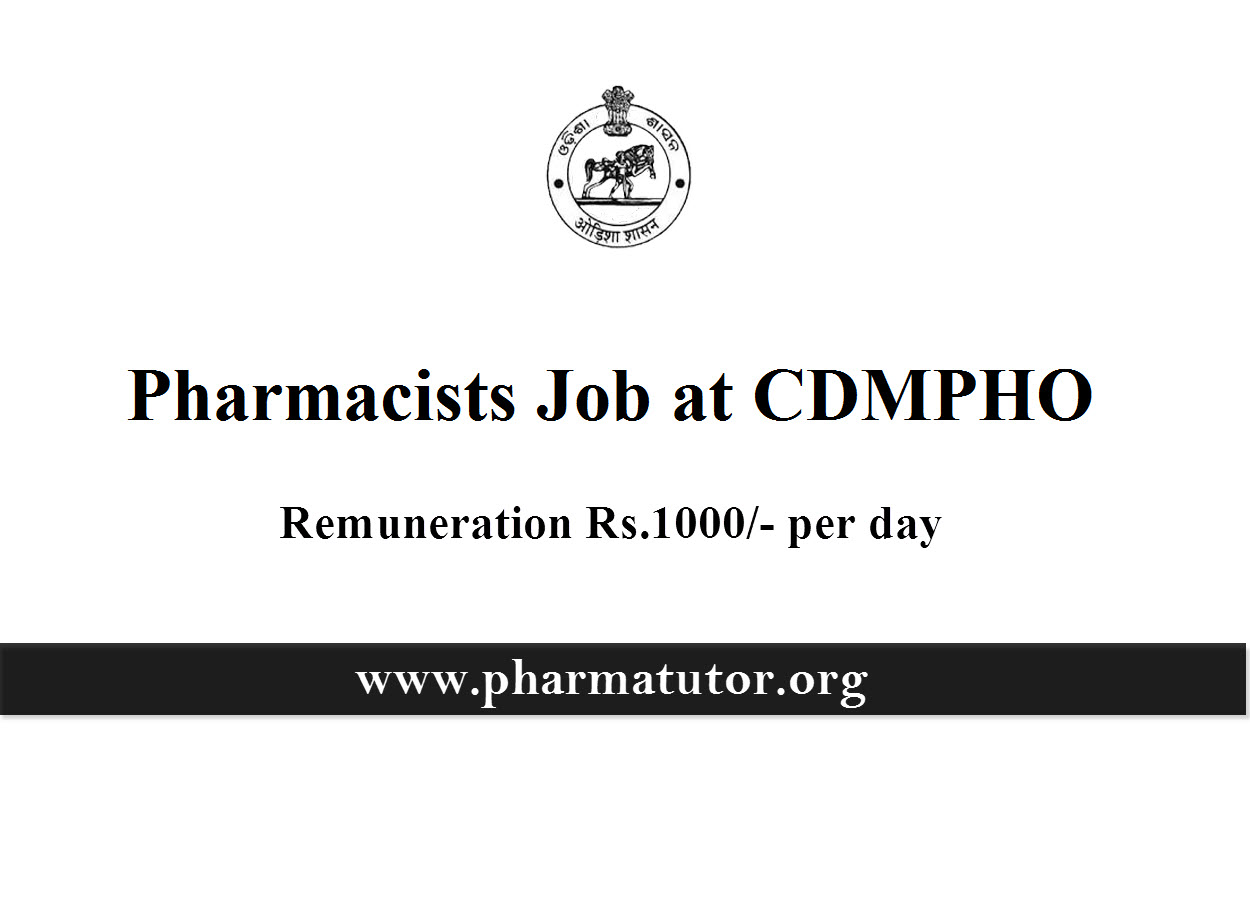 The history of Jajpur dates back to the prehistoric times. The name Jajpur itself a testimony to this. Some scholars attribute it to the word Yajnapura , while others opine that the name originated from Jajatipura Sasanas in Jajpur area. Jajati is also said to have made Jajatipur as his capital and renamed the city as Jajapura. King Jajati, it is said, had organized a great yajna called Daswamedha at this place. For this, he brought 10,000 Brahmins from North India and got them settled in various localities later on.Preceding this event, Jajpur finds mention in ancient Indian mythology texts and the Puranic literatures alike where it is referred to as Viraja and Baitarini Tirtha, one of the most important tirthas of India. The place has also been described in the Kapilasamhita, Brahmanda Purana, Vayu Purana, Brahma Purana, Tantrachintamani, Astapithamahatmaya and Chaitanya Charitamrita.
Post : Pharmacist
Walk-In-Interview for engagement of unemployed trained and registered ANMs / Staff Nurses / Pharmacists in COVID Care Homes on daily wage basis as detailed below.
Eligibility Criteria : H.S.C with D.Pharma / B.Pharma from Recognised institutions approved by Govt / AICTE
a. HSC/ equivalent pass certificate from the State / Central or equivalent with marksheet
b. +2in any discipline from council of Higher Secondary Education Odisha or equivalent with marksheet.
c. Photo & ID proof (Voter ID/ Aadhar / PAN)
d. Experience Certificate (if any).
e. Certificates of Diploma/ degree in respective technical post from any Govt. Colleges of Odisha/ Recognised Private Institutions duly approved by Govt with marksheet.
f. Registration certificate from respective Board / Council for technical qualification
Remuneration : Rs.1000/- per day
The remuneration shall be on daily wages basis as per the Labour Law & ESI Deptt. Notification No 11688/LC dated 07.11.2019 prescribed by the Govt. Vide Order No. 16705./dt. 14.07.2020
General Information and Instructions-
Interested candidates having the requisite qualification and experience may come with all original documents at the time of walk in interview.
The candidates are required to present with duly filled application in prescribed format along with one set of photocopy of supportive documents as desired.
The above engagements are purely temporary and on daily wage basis for a period of three months only or till Covid care Homes are functional, whichever is earlier.
Documents needs to be enclosed along with the Application Form:-
• HSC Certificate or equivalent.
• +2 certificate of CHSE or equivalent
• Marksheet and Certificate of Qualifying Exam (MPHW(F)/ANM/BSc Nursing/GNM / D.Pharma/ B.Pharma)
• Registration Certificate from concern Council/Board
• ID Proof (Adhar/Voter ID/ PAN/DL).
Walk-in-interview
Date : 24-07-2020
Time : 10.00 AM onwards
Place : Conference Hall DRDA, Jajpur
Note - The authority has the right to reject one or all the applications if any discrepancies are noticed from their behaviour , attitude, conduct and forged in certificates. The candidates will have to obey the principles laid down time to time under COVID-19.
See All   D.Pharm Alerts   B.Pharm Alerts    M.Pharm Alerts    Orissa Alerts
See All    Other Jobs  in our Database
Subscribe to Pharmatutor Job Alerts by Email