Walk in interview for B.Pharm, M.Sc in Quality Control at Alembic Pharmaceuticals Limited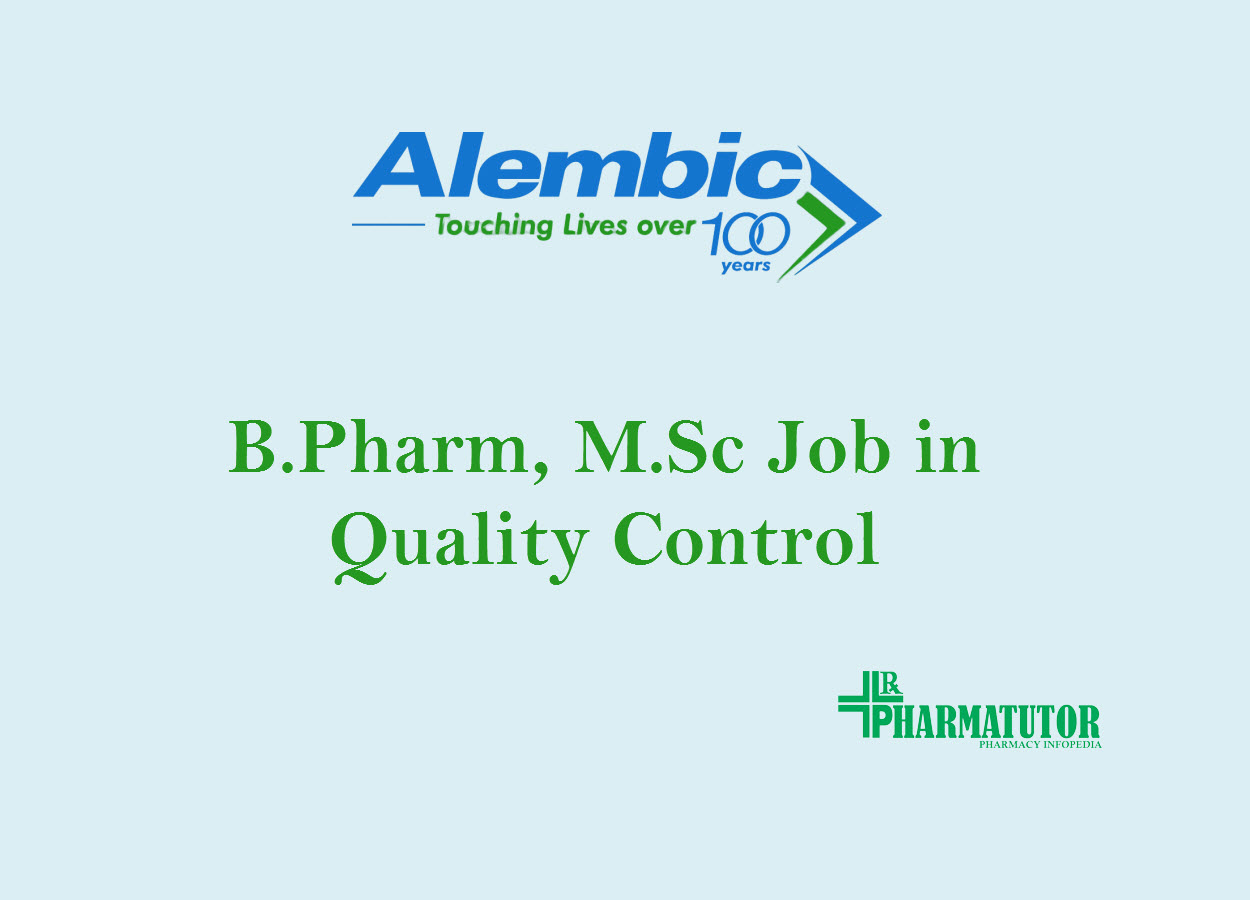 Legacy of Alembic Pharmaceuticals Limited (APL) dates back to over 100 years. Established in 1907 with an objective to develop and revolutionize the Pharmaceutical and Drug industry in the Indian subcontinent, Alembic Pharmaceuticals Limited today is one of the leading pharmaceutical companies in India.
Post : Exe/Sr. Exe
Department : Quality Control - Formulation(lnjectable/Sterile)
Experience : 2 to 7 years
Qualification : B.Sc./B. Pharm/M.Sc.
Job Location : Panelav & Karakhadi, Vadodara-Gujarat.
Job Description
• To perform analysis of raw materials, finished products, packing materials, in-process, stability samples of various formulation products: injectable, ophthalmic products & oral solids.
• Exposure on software like, Empower, Labware LIMS.
• Knowledge on GLP & GDP practices.
• Execution of validation, calibration and qualification of QC laboratory instruments HPLC, GC, KF, UV, IR, pH meter, potentiometer as applicable.
• Exposure on handling working standards, reference standards, primary standards and chemicals standards.
• Knowledge on OOS, OOT, lab incidences, deviations, change controls and CAPA.
Desired Profiles : Only Pharmaceutical regulated plant experience candidates are eligible to apply.
Candidates appeared for the interview in the last six months are not eligible to apply.
• Due to regulation of social distancing prior intimation for personal interview is mandatory.
• Share updated resume on bhavna.kadam@alembic.co.in to schedule your interview time.
• Without appointment no candidate will allowed in the interview
Walk in Interview
Date & Day : 18th July 2020 Saturday
Time : 9:30 AM to 02:00 PM
Venue :    Alembic Pharmaceuticals Ltd.,
Sanskriti Hall, Opp. Bhailal Amin General Hospital, Alembic-Gorwa Road, Vadodara, Gujarat - 390003.
See All   M.Pharm Alerts    B.Sc Alerts    B.Pharm Alerts    Vadodara Alerts
See All   Other Jobs  in our Database
Subscribe to Pharmatutor Job Alerts by Email