Recruitment for Pharmacists(05 posts) under Medical & Health Department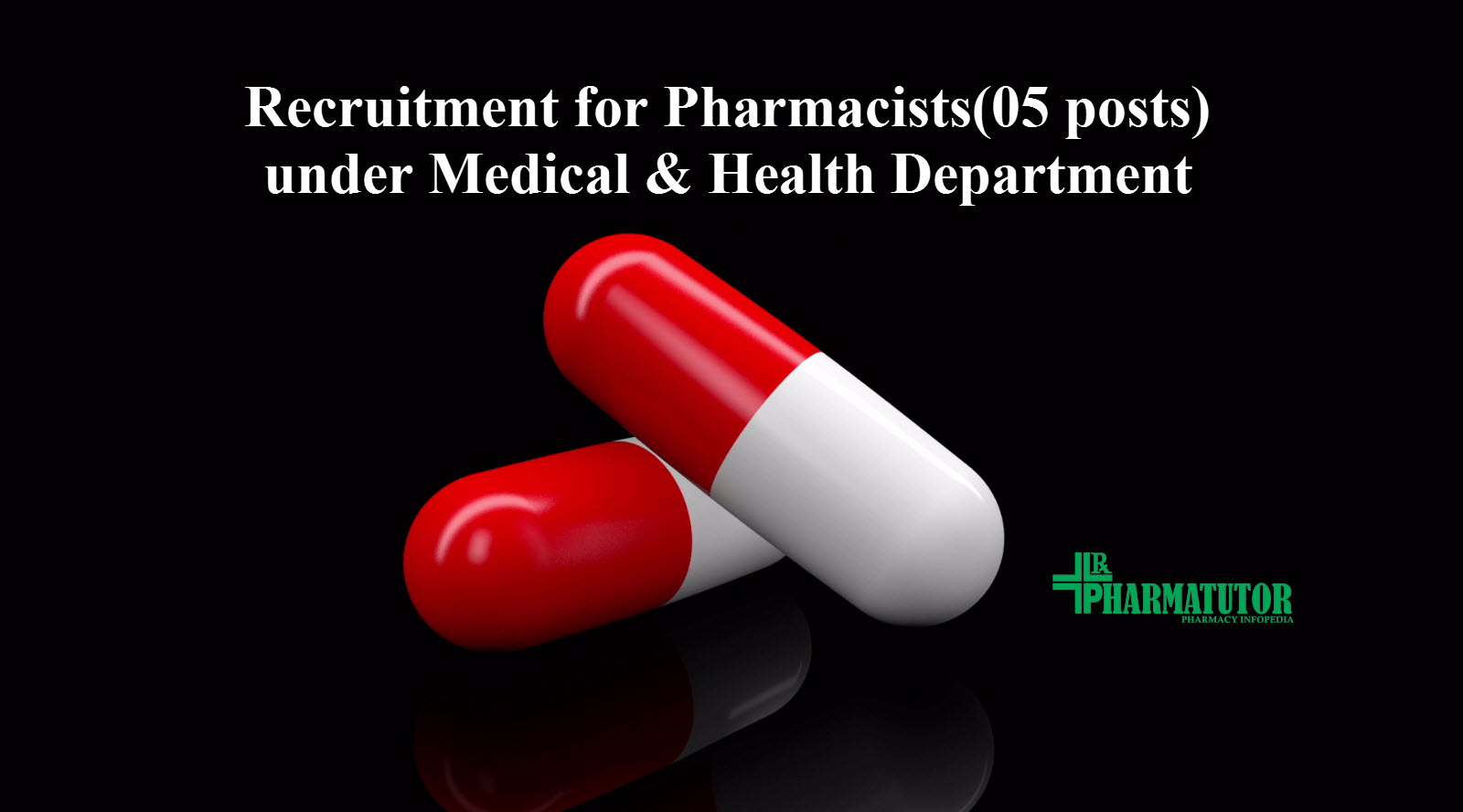 Applications are invited in the prescribed proforma from the eligible candidates for recruitment of Staff Nurses, Pharmacist Gr.ll and Lab Technicians on contract basis for a period of one year to work in APVVP hospitals under the control of District Co-Ordinator of Hospital Services, APVVP, Kadapa.
Post : Pharmacist Gr.II
No of Posts : 05
Qualification
1) Must have passed D.Pharmacy / B.Pharmacy (Qualifying Examination)
2) Must be registered in A.P.Pharmacy council
Consolidated Pay / Remuneration (per month) : Rs.28000/-
1. Prescribed application format should be downloaded from the kadapa.ap.gov.in website only. Any other applications will not be considered and it will be rejected.
2. All the required attachments (with attestation) should be enclosed at the time of submission of application only. Further request for enclosing/submitting of any missed documents will not be considered at any time.
3. Any incomplete application & application without proper attachments will be rejected.
4. All Applications should submit at the 0/of the District Co-Ordinator of Hospital Services, APVVP, Kadapa, "0" Block, New Collectorate, Kadapa, YSR District in office working days from 04-07-2020 to 18-07-2020 from 10.30 AM to 05.00 PM. By person or by registered post or through email: dchskdprec2020@gmail.com with all relevant attached documents. For sending applications through email all certificates along with application form must be scanned in one pdf file and send to that email. For any postal delay this office will not held responsible.
5. Applications after the due date (from 04 .07.2020 to 18.07.2020 5.00 PM) will not be accepted and also instructed that the individuals should write name of the post to which she/he applied on envelope cover.
6. Selection of candidates is purely on merit basis and as per rule of reservations.
7. Criteria & Weightage for selection of candidate as per the for total of 100 marks is
Aggregate of marks obtained in all the years in the qualifying examination : 75%
Weightage for experience of Government service including Contract/Outsourcing service : Up to 15%
i) @2.5 marks per six months in Tribal Area.
ii)  @2.0 marks per six months in Rural Area.
iii) @1.0 mark per six months in Urban Areas.
Weightage for No. of years since passing qualifying examination : Upto 10 marks @1.0 marks per completed year after acquiring requisite qualification.
Weightage marks will be considered, when the service certificate was signed by the concerned Medical Superintendent/ Medical Officer of that DH/AH/CHC along with countersigned by the concerned DCHS, APVVP/DM&HO/Concerned District Head Officer whichever is applicable. If any service certificate submitted without countersignature from the concerned district authorities, that certificate will not be considered for weightage marks.
9. Regarding upper age limit:
i) OC Candidate should not have completed 42 years as on 01-06-2020.
ii) SC/ST/BC Candidate should not have completed 47 years as on 01-06-2020.
iii) Ex-service men should not have completed 50 years as on 01-06-2020.
10. Rule of Reservations will apply as per A.P.State Govt. Rules in force.
11. Regarding Local candidature : These posts are district cadre posts, and these posts are filled with the Local candidates belonging to the YSR Kadapa District only.
Applicatiqn Fee: Each applicant must attach the Demand Draft of
Rs.200/- in favour of " DCHS, APVVP, KADAPA" from any nationalized banks.
Note:
1) Any application submitted without D.D. will not be accepted and rejected summarily
2) lf any candidate submitted application through online, FEE must be paid through online to the bank account name DCHS, Kadapa Account Number: 008610011020214 of Andhra Bank IFSC Code; ANDB0000086 and also send the counter foil with name of fee paid as attachment.
Checklist
i) Application form
ii) Aadhar card
iii) SSC marks memo
iv) Intermediate marks memo
v) Marks memo of GNM/BSc. (or) D.Pharmacy/B.Pharmacy; Lab Technician qualifying exam as per notification. Concerned course Year wise passed marks memos (all years).
vi) Diploma/BSc Nursing certificate/ D.Pharmacy/B.Pharmacy certficates/ Lab Technician course certificates.
vii) Certificate of Registration of NURSE 8t MIDWIFERY in AP Nursing council & D.Pharmacy/B.Pharmacy Registration certificate in AP Pharmacy council & for Lab Technician qualifying exam registration in AP Paramedical Board.
viii) Study certificates from IVth to Xth.
ix) Latest Caste Certificate.
x) PH Certificates (SADEREM Certificate) of Hearing Handicapped. Visually Handicapped, Orthopedically Handicapped etc.)
xi) Experience certificate singed by the concerned Medical Officer/Medical Superintendent of that CHC/AH/DH along with countersigned by the concerned DCHS, APVVP/DM&HO/GGH/Concern District authorities.
xii) Demand Draft in Original/online fee payment receipt
The Hon'ble District Collector 6t Chairman of District Selection Committee is reserved full rights to change or modify or to cancel the notification without any intimation.
See All  M.Sc Alerts   B.Pharm Alerts   M.Pharm Alerts   Andhra Pradesh Alerts
See All   Other Jobs in our Database
Subscribe to Pharmatutor Job Alerts by Email