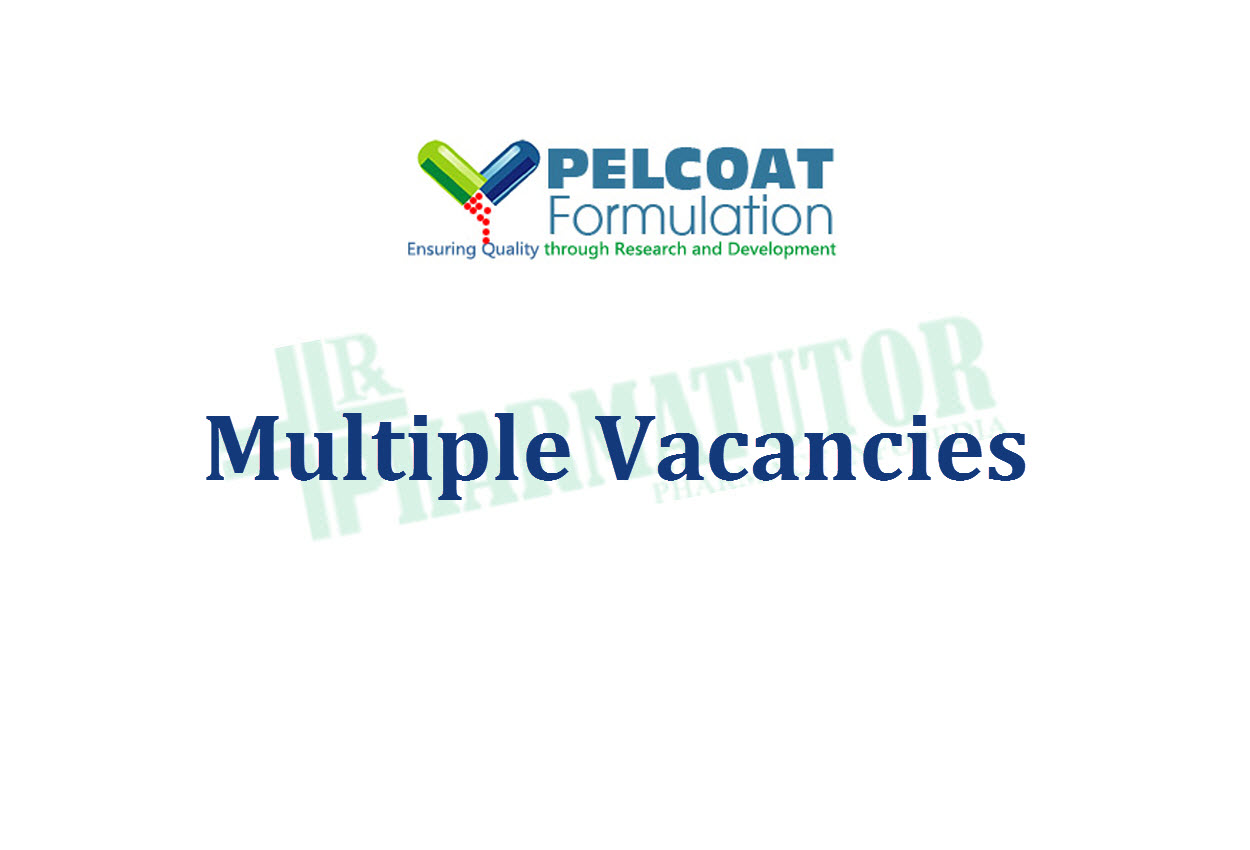 Pelcoat formulations an integrated growing health care company, promoted by the Chemsol labs Group and established with the purpose of serving the community, is aiming to become one of the fastest growing pharmaceutical export company in India. Pelcoat formulations through its Manufactures Finished pellets Formulations (ready to fill pellets) maintaining quality at par with best and thereby exporting to the global market.
Post : Marketing Exectives / Trainees, QA,QC & Production
No of Posts : 20
Marketing Executives/Trainees (Complete in house - System Marketing) :
• Good Communication skills
• Ability to speak in English, Hindi and Telugu
• Document support
• COAs
• Stability Data,
• Customer Support,
• Co-ordination with the client.
• Creativity
• Negotiation
• Analytical Thinking.

QA, QC and Production
• Good Communication skills
• Excellent technical and Leadership skills
• Good numerical skills and an understanding of statistics
• Planning and Organization skills
• Interpersonal skills
• Problem-solving skills
• Team working skills
• IT skills
Additional Information
Experience : 0-1 yrs
Qualification : MBA/BBA, MSc / BSc Pharmacy, MSc/BSc
Location : Hyderabad & For production at Plant Near Medchal
Industry Type : Pharma/ Healthcare/ Clinical research
Salary : 12,000/- PM to 15000/- PM
Functional Area : Marketing Executives / Trainees , QA, QC and Production
End Date : 20th January, 2020
Send your Resume at : sales@pelcoat.com
Only telephonic interview first. After that shortlisted candidates will be called for interview.
Posted by
Sudhaa Raadha
Pelcoat Formulations
See All Ph.D Alerts M.Pharm Alerts B.Pharm Alerts MBA Alerts
See All Other Jobs in our Database