Recruitment for Pharmacists(20 posts) in office of the CMO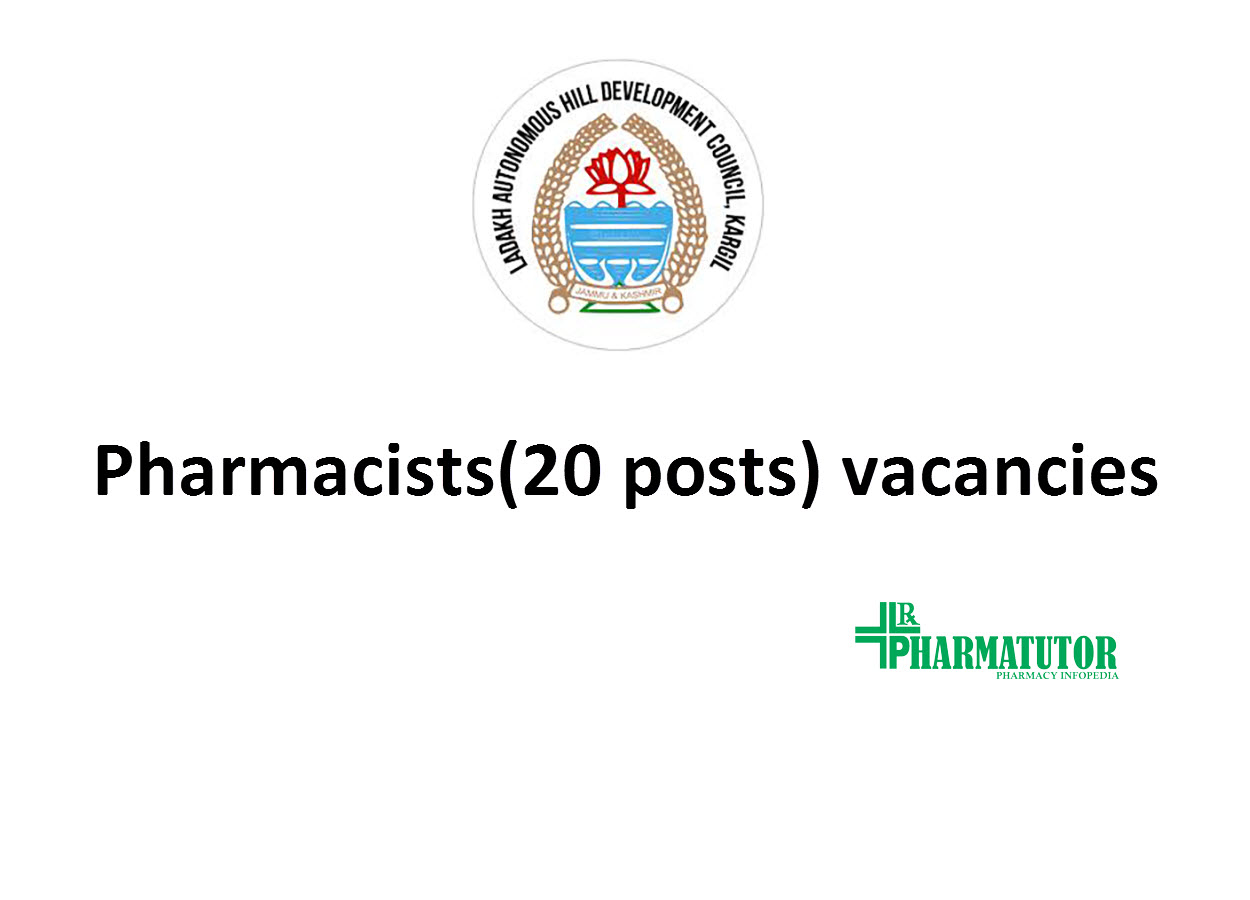 Though the concept of Hill Council was first fructified in Leh District in 1995 on the pattern of Darjeeling Hill Development Council, it was introduced in Kargil during the year 2003. The then esteemed coalition Govt.; headed by Hon'ble Chief Minister, Mufti Mohammad Sayeed was instrumental in bringing Kargil District in the ambit of Ladakh Autonomous Hill Development Council for the border development of the people of the area. The Hill Council in Kargil came in to existence in July 2003. In the 30 Councilors team, 26 Councilors were elected from the respective constituencies, 4 Councilors were nominated from the Principal Minority and Women folk.
Post : Pharmacist
Applications are invited on behalf of District Health Society Kargil for hiring of below Category of posts on needs basis under COVID-19 emergency response and hea th preparedness package NHM 2020-21.
No of Posts : 20
Remuneration : Rs.15000/-
Qualification/ Experience : 10+2 with Diploma in Pharmacy training Course from SMF or any recognized institute.
Age :- Up to 45 Years.
Terms and Conditions:-
1. All the engagements are on Need Basis under Covid-19 emergency response and health preparedness package NHM Kargil Ladakh. The hiring shall be for the period, till the COVID activities are over in the district.
2. The appointee shall not be entitled to claim for regular appointment under normal process of selection.
3. If a appointee at any time willfully neglects or refuse to perform duty, his/her service shall immediately be terminated without serving any notice and he or she not be entitled to any honorarium for such period.
4. Local candidates shall be given preference.
5. Honorarium/ Remuneration will be paid as mentioned in the above as per NHM norms.
6. Applications incomplete in any respect shall not be entertained / accepted.
List of documents to be attached with the application form:-
1. Date of Birth Certificate.
2. Degree/ Diploma of the required qualification for the post applied.
3. Marks sheet of all semesters/ one consolidated marks sheet indicating marks of all the semesters of the required qualification for the post applied for.
4. Domicile certificate/ Adhar card copy.
Interest candidate shall apply on the prescribed format and submit along with supporting documents which must reach the office of the CMO Kargil within (7) seven days from the date of advertisement in view of the prevailing situation arising due to spread of Covid-19.
Last Date : 8th August, 2020
See All    Govt Jobs    Gujarat Alerts    M.Pharm Alerts    M.Sc Alerts
See All   Other Jobs in our Database
Subscribe to Pharmatutor Job Alerts by Email