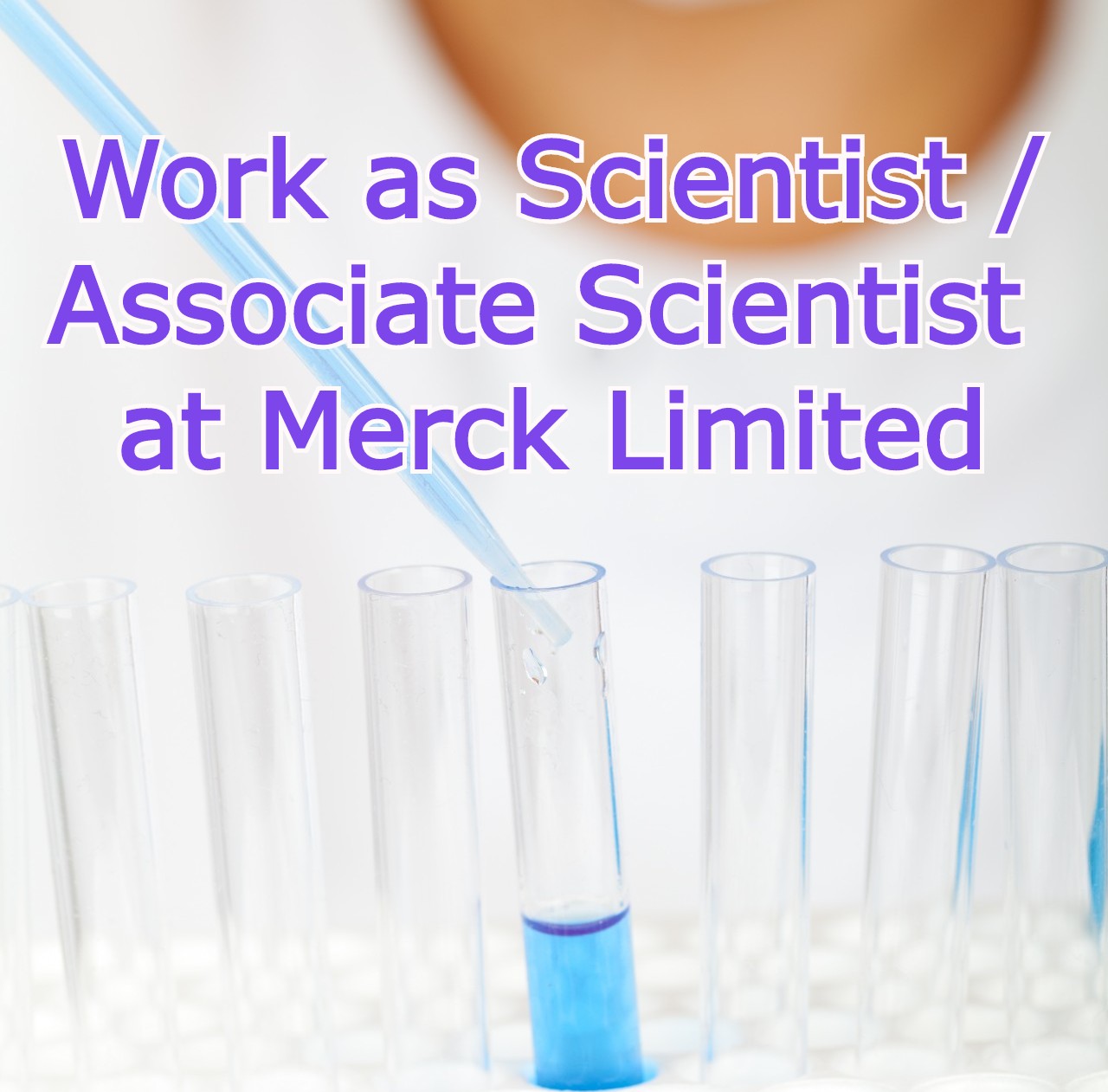 Merck Limited (formerly E. Merck Limited) was set up in India as the first Merck subsidiary in Asia in 1967.  The Company operates both its Pharmaceuticals and Chemicals businesses in the country. Merck was also the first Merck Group Company to go public in the year 1981. The Merck Group now holds 51% of the share capital in Merck Limited, while the remaining 49% is traded on the Bombay Stock Exchange Ltd. and National Stock Exchange of India Ltd.  Merck Specialities Pvt. Ltd.
Post : Scientist / Associate Scientist
Job Description:
Your Role :  We are looking for individuals with a strong passion for chemistry and characterization. Chromatographic analysis, follows, understand and comply with SOP's and policies. Manage analytical projects. Establish schedules, define dependencies and project plans and direct activities of other scientists, and non-scientists as well as provide training and development for others.
Roles & Responsibilities :
1. Maintain a clean, safe and organized lab area, and potentially assume responsibility.
2. Develop, transfer and troubleshoot analytical test methods, including raw materials, in-process and finished products, proactively provides new tests, methods, and how to improve existing methods.
3. Maintain equipment calibration and preventative maintenance.
4. Perform routine assays and provide test results on an established deadline.
5. Assist in developing analytical methods to facilitate new product development.
6. Lead the analytical aspects of a project while working with other functional areas to advance projects through the pipeline.
7. Independently perform routine and complex analysis using established analytical methods and development of analytical methods when no SOP or Method of Analysis (MOA) is in place.
8. Perform routine performance checks on instruments and test that are being used for project support (e.g. HPLC, GC, 1HNMR, 13C, NOE, IR, UV, SOR, KF, LOD, CHNS, ICP-MS, OES, DSC, TGA, Assays and Titrations etc).
9. He/she should be able to interpret obtained analytical spectra, good understanding of 2D qNMR approaches preferred.
10. Authoring, reviewing and approving test methods, protocols and technical reports. Serve as a liaison between functional groups and external customers for analytical development, transfer, troubleshooting and improvement efforts.
11. Analytical tests- planning, conducting and reporting experiments, execute requirement of assays and draft reports, document all work processes according to recommended standards, writing SOPs and technical reports.
12. Train and provide technical guidance to associates, perform sample preparation and post purification handling.
Candidate Profile
M.Sc. degree  4-9 years of experience in CRO, API (Pharmaceutical), Fine Chemical or related industry, or PhD in Synthetic Organic Chemistry (5-6 Years).
Additional Information
Experience : 4-9 years
Location : Bangalore
Qualification : M.Sc or Ph.D
Industry Type : Pharma
Job Requisition ID :  204479
End Date : 20th May, 2020
See All  M.Sc Alerts   B.Pharm Alerts   M.Pharm Alerts   Bangalore Alerts
See All   Other Jobs in our Database