Work as Principal Clinical Programmer at Syneos Health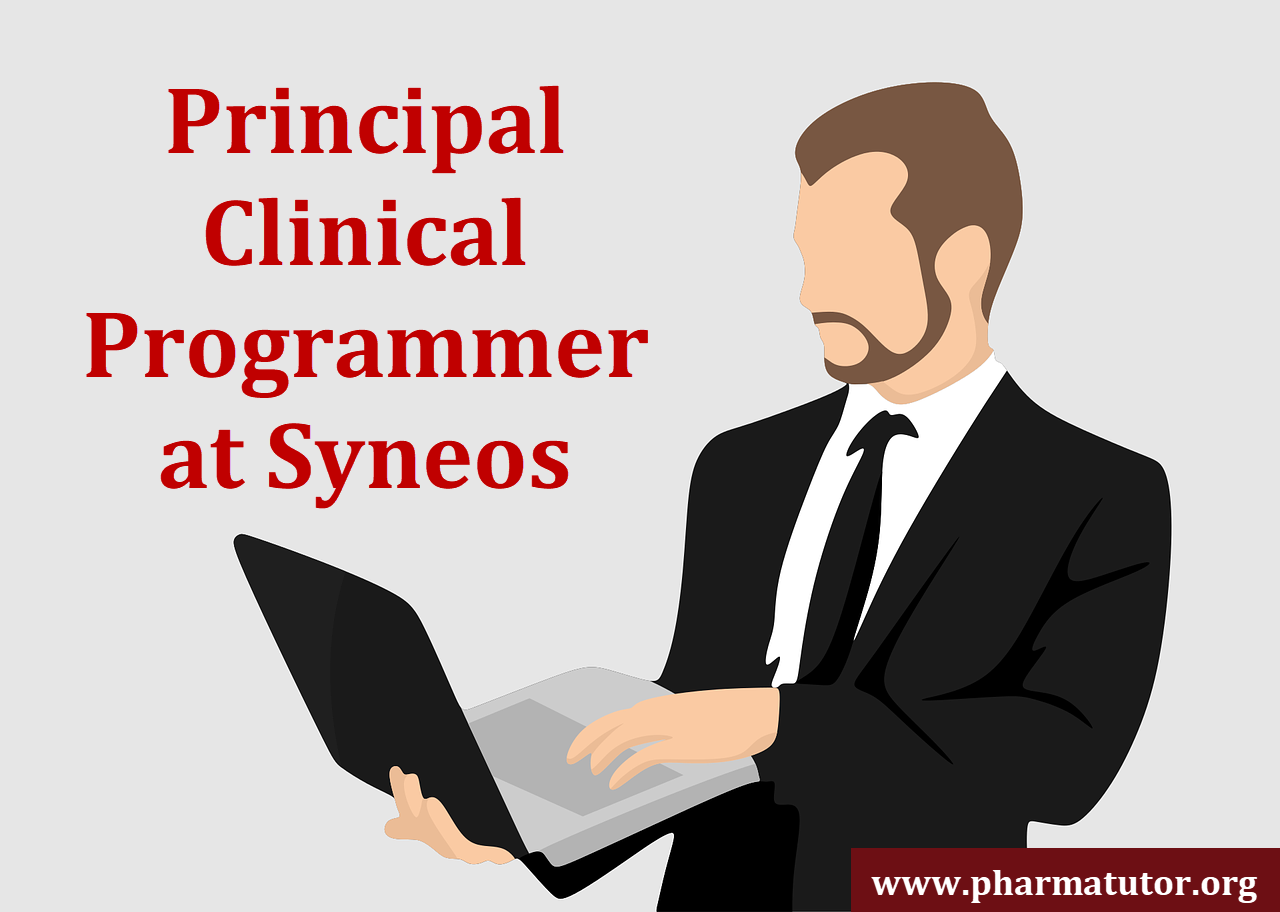 Syneos Health™ is an end-to-end, fully integrated biopharmaceutical solutions company that works differently. At Syneos Health, all the disciplines involved in bringing new therapies to market, from clinical to commercial, work together to create customer success. Our unique Biopharmaceutical Accelerati on Model delivers value across the small to mid-size to large customer continuum.
Post : Principal Clinical Programmer
Job Summary
Serves as lead Clinical Programmer to manage and support all functional tasks and project deliverables from single study assignments to large programs of studies.  Manages multiple project timelines and deliverable whilst leading less experienced programmers.  Designs, writes, validates, and maintains software to meet specifications. Specifies, develops, and validates applications supporting data capture and processing.  As senior technical subject matter expert, supports clinical programming and Data Management staff for Electronic Data Capture (EDC), reporting, and processing tools.  Proactively monitors internally and externally hosted applications for performance and/or system errors.  Supports projects and applications externally.  Manages external application vendor issues, integrations, and implementations.  May have supervisory responsibility and/or oversight for a team of lead clinical programmers within a program.
Job Responsibilities
• Provides application administration and technical support as the subject matter expert on all core business packages, including but not limited to:  Medidata, Rave, Oracle OC/RDC, Oracle Inform, SAS, and supplemental packages such as migration mentoring/review, reporting tools, custom functions, etc.  Utilizes primary development tools and other supporting tools to design, write, validate, and maintain software to meet specifications in a timely and productive manner following standard development procedures. 
• Generates and maintains all required documentation including the development of specifications, coding, and validation efforts in support of annotated Case Report Forms (CRF)s, database creation, coding setup, edit check procedures, import setup and processing, export setup and processing, listings, and custom reports
• Monitors applications proactively for workflow alerts, system errors, performance issues and troubleshoot programming deliverable defects.
• Performs system integrations activities, application updates, and user acceptance testing.
• Serves on project teams to coordinate and lead development activities for clinical programming projects.  Attends meetings, participates in discussions, uses an analytical approach to problem solving, focuses on deliverables, and provides constructive feedback.  Keeps those responsible for project management informed of any issues that might impact project target dates, scope, or budget and escalates potential problems effectively and in a timely manner.  Balances multiple task assignments and communicates needs to supervisor to obtain needed resources. 
• Participates in and provides input at project review and departmental review meetings.  Participates in bid defenses.
• Ensures high quality deliverables by providing senior review of 'program level'/multi-study core deliveries for accuracy.  Attends sponsor audits and assists with in-progress audits.
• Reviews and provides input on study budgets, manages project level metrics, progress, and status, for large programs of studies from key sponsors. Monitors scope of work to actual work, alerting management of potential change orders; manages and executes the change order to completion.  Assists with the creation of change orders. 
• Provides leadership, mentorship, training, guidance, and support to other department members based upon expertise in specific skill sets.  Collaborates with clients, peers, lead programmers, project teams and/or requestors to clarify and finalize specifications and uses expanded technical skills to meet evolving project needs.
• Attends Quick Start Camps (QSCs) in the lead Clinical Programmer role for assigned studies. 
• Provides leadership/oversight of five (5) to twenty (20) concurrent studies depending upon scope, similarity, program, and resourcing requirements.  This may include the oversight of other lead programmers and their associated studies.
• Manages project resources, proactively alerting management of delivery and resourcing needs.
• Assists with management of application vendors and serves as an initial escalation contact.  Monitors vendor service level agreements (SLAs) and reports metrics to upper management.
• Supervises the implementations of upgrades and new modules of remotely hosted vendors, acquiring all documentation and storing in the relevant areas.
• Possesses and maintains a broad overall knowledge in the field of clinical programming and clinical data management by reading related literature, self-training, attending training classes, attending professional meetings, etc.
• Contributes towards the update of standard operating procedures and work instructions in line with department and company process and policy
• As required, oversees program level clinical programming operations by providing supervision for a team of clinical programmers. Responsibilities may include professional development performance appraisals, and employee advising for junior staff. Assigns project work and reviews workload for all direct reports. Manages staff development by establishing goals that will increase knowledge and skill levels and by delegating tasks commensurate with skill level. Resolves conflicts/priorities at the program level prior to making any recommendations to management. Advises on administrative policies and procedures, technical problems, priorities, and methods.
Additional Information
Qualification : B.Pharm, M.Pharm, M.Sc
Location : Bangalore / Chennai
Industry Type : Pharma / Healthcare / Clinical research
End Date : 25th May, 2020
See All    M.Pharm Alerts    B.Sc Alerts    B.Pharm Alerts   Bangalore Alerts
See All    Other Jobs in our Database
Subscribe to Pharmatutor Job Alerts by Email