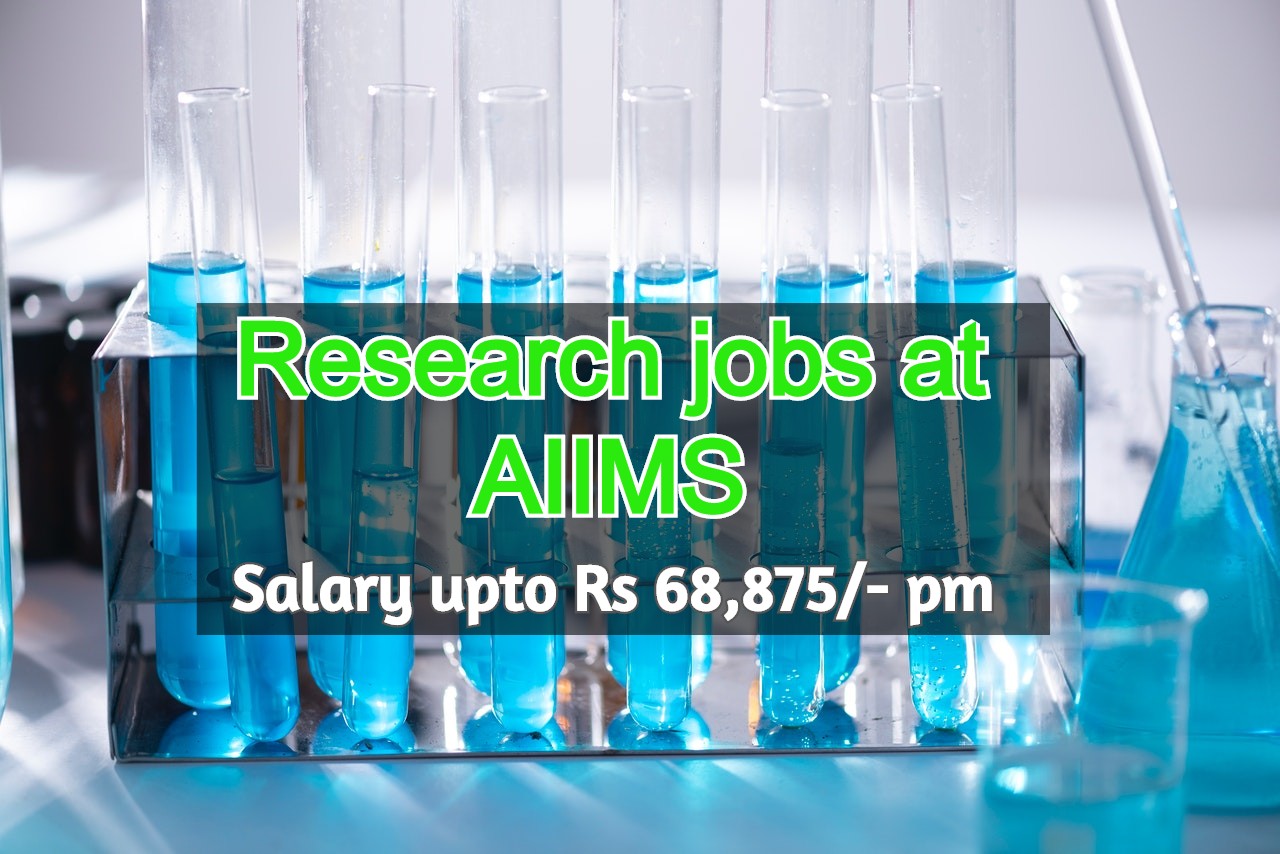 All-India Institute of Medical Sciences was established as an institution of national importance by an Act of Parliament with the objects to develop patterns of teaching in Undergraduate and Post-graduate Medical Education in all its branches so as to demonstrate a high standard of Medical Education in India; to bring together in one place educational facilities of the highest order for the training of personnel in all important branches of health activity; and to attain self-sufficiency in Post-graduate Medical Education.
Project Title : Efficacy of Energy Dense Nutritional Supplement (EDNS) as adjunct to standard DOTS therapy in improving treatment outcomes in malnourished newly diagnosed sputum positive pulmonary tuberculosis adult patients"
PI : Dr. Randeep Guleria, Director, AIIMS, New Delhi
Co-1 : Dr. Rakesh Kumar, Associate Professor, Centre for Community Medicine, AIIMS, New Delhi
Scientist- B
Qualifications : MBBS / BDS with 3 year research/teaching experience after completing internship. OR MBBS/BDS with Ph.D. OR MD OR MDS.
Desirable :
1. Proficiency in English and local language and in use of MS Word/Excel
2. Ability to use basic epidemiology, statistical software - STATA/R will be an advantage. Candidates with MBBS degree will be preferred.
Salary : 15600-39000 GP 5400+NPA, Rs. 68,875 /- p.m
Nature of Duty : 
i) Overall coordination of the trial
ii) Developing the tools and data entry formats
iii) Evaluation of the subjects, data analysis, report writing.
Upper Age : Upto 45 years
Duty Station : AllMS/Faridabad
Senior Project Research Officer (Non- Medical)
Qualifications : M.Sc. in Life sciences/Microbiology degree holders with two years' work experience
Salary : 35000+24%HRA, Rs 43,400 /- p.m
Nature of Duty : Responsible for conducting microbiological laboratory tests i.e AFB and culture.
Upper Age : Upto 45 years
Duty Station : AllMS
Research Officer(Non- Medical)
Qualifications : M.Sc in Life sciences from a recognised institution with three years work experience
Salary : 15600-390000 GP 5400, Rs. 54300 /- p.m
Nature of Duty : Testing of immunological samples
Upper Age :  45 years
Duty Station : AllMS
Interested candidate may mail their resume at rutf2020@gmail.com mentioning the name of post in the subject by 5 May 2020. If the name of the post is not mentioned - you would not be called for the interview. In case of restriction in movement post 3rd May, the interviews will be conducted over Zoom/Skype. AIIMS/ICMR regulations with regards to age, salary and qualifications will be applicable.
See All   M.Pharm Alerts   B.Sc Alerts   B.Pharm Alerts   AIIMS Alerts
See All   Other Jobs in our Database