Require Associate Manager Regulatory Affairs at P&G India | M.Pharm, B.Pharm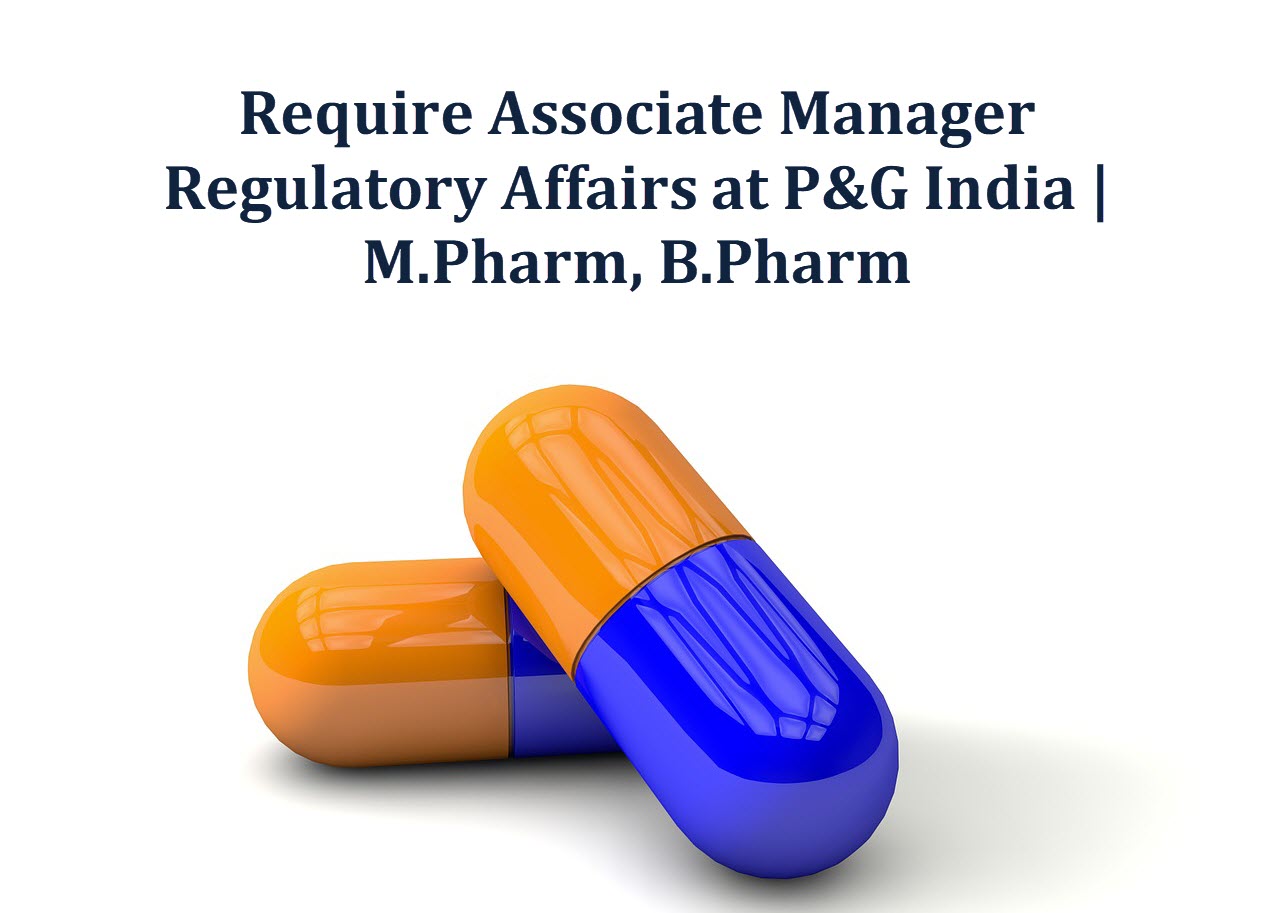 Procter & Gamble is the innovation leader in our industry. Virtually all the organic sales growth we've delivered in the past nine years has come from new brands and new or improved product innovation. We continually strengthen our innovation capability and pipeline by investing two times more, on average, than our major competitors. P&G. We interact with more than five million consumers each year in nearly 60 countries around the world.
Post : Associate Manager Regulatory Affairs - P&G India-RND00004466
Job Description
Coordinate Regulatory Life Cycle Management activities for India portfolio, Coordinate with Local Regulatory Affairs for roll outs (expansions to white space), variations, renewals, answering health authority requests.
Maintain Master Dossiers and compile, review, and provide dossiers for local registration and compliance to achieve registrations for the specific product portfolio, Provide Regulatory input for Periodic Safety Update Reports (PSURs), Periodic Quality Reports (PQRs), and Product Data Sheets (PDS). Advise organization of potential regulatory risks in normal day to day activities and recommend compliant actions. Liaise with Corporate Technical and Product Supply functions to provide the current registered details of each product. 
Ensure regulatory assessments are conducted for change controls in the Quality Tracking system. Ensure that the Regulatory Information Management system is maintained and updated for all activities under role responsibility, including review of documents.
A minimum qualification of a degree in any of the life sciences (pharmacy, medicine, chemistry, biology, etc.).
Candiidate Profile
• A minimum qualification of a degree in any of the life sciences (pharmacy, medicine, chemistry, biology, etc.). Ability to work permanently in one's country of residence. Proficient in English.
• Good regulatory experience (minimum 5-7 years) preferably in consumer health and preferably across multiple regulatory classification areas (health supplements, medicines, etc.)
• Experience in the dossier maintenance and product change management
• Good experience with Regulatory database
• Strong initiative and follow-through with accountability for work quality
• Excellent attention to detail, good communication and presentation skills
• Results oriented and self-motivating with an ability to influence others
• Proven ability to handle competing priorities efficiently with excellent interpersonal skills
• Openness to change and ability to think out of the box.
Additional Information
Experience : 5+ years
Qualification :  M.Pharm, B.Pharm, M.Sc
Location : Mumbai, Maharashtra
Industry Type : Pharma/ Healthcare/ Clinical research
Functional Area : Regulatory Affairs
End Date : 30th May, 2020
See All   P&G Jobs    M.Pharm Alerts    Ph.D Alerts    Mumbai Alerts
See All   Other Jobs in our Database
Subscribe to Pharmatutor Job Alerts by Email