Opportunity to work as National Sales Manager at Pfizer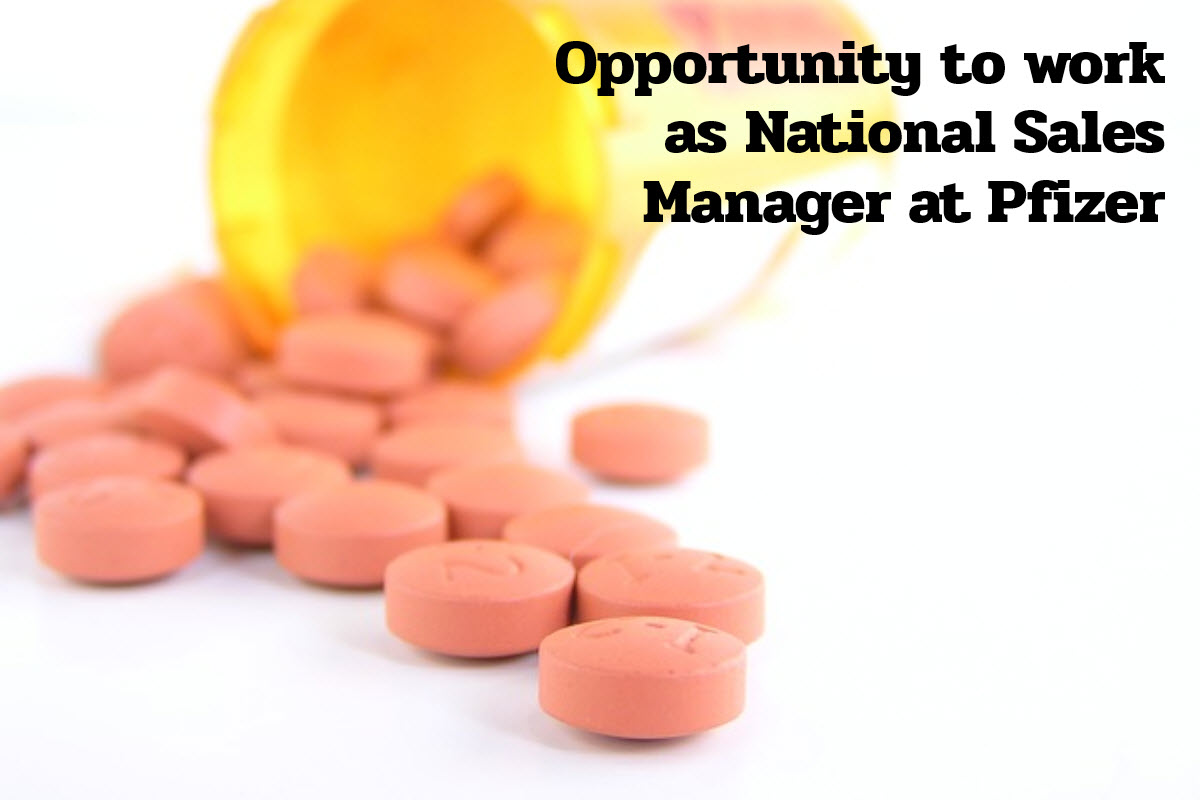 Pfizer is the world's premier biopharmaceutical company taking new approaches to better health. We discover, develop, manufacture and deliver quality, safe and effective prescription medicines to treat and help prevent disease for both people and animals. We also partner with healthcare providers, governments and local communities around the world to expand access to our medicines and to provide better quality health care and health system support.
Post : National Sales Manager – Key Accounts Management
Job Description
National Sales Manager for Private KAM is a unique role with a blend of strategy and execution. This position requires:
1) Ability to think strategically and shape the KAM 2.0 strategy to transition from a vendor to a partner for the organization
2) Ability to lead a high performance team of experienced Key Account Managers to drive growth
3) Develop One-Pfizer approach to KAM by aligning with other category leads and National Sales Managers
4) Develop strong relationships with CXOs of key corporate hospitals
Responsibilities
Strategic/ Policy
• Develop the strategic plan for institutional sales in the private hospital sector for the country by taking a short, mid and long term view of the business
• Analyze and understand the impact of macroeconomic factors and industry trends on the institutional sales business and create account plans accordingly to optimize sales opportunities
• Study the sales analytics for the entire country for institutional sales to help draw out trends that impact the future business plans and provide inputs to the key accounts  manager  for driving growth
• Develop the product positioning strategy for the private hospital sector in alliance with the marketing team
Operational / Process:
Account Management:
• Stay updated about changes in terms and conditions, criteria for selection of products, information on prices, etc. by liaising with formulary heads, KOLs, hospital CEOs / CXOs and helping account-wise purchase
• Work with the team and other stakeholders towards getting Pfizer products included into the preferred list of products for the accounts managed
• Independently also manage a set of prioritized (designated) accounts to achieve agreed business objectives
• Monitor progress of accounts managed and evolve action plans as appropriate (monitor account contacts, plan execution, profit, value, volume growth, and market share)
• Ensuring that business is conducted in line with Company's policies, ethical practices, Vision, Mission and Core
Customer engagement :
• Know the decision making and influencing network (within and those impacting the accounts) for the accounts identified within the country
• Develop / maintain effective relationships with key stakeholders and decision making authorities within prioritized accounts
• Leverage opportunities for synergy and collaboration (with relevant internal and external stakeholders) to adequately meet the customer needs and achieve the business goals for Pfizer
• Develop relationships with Key Opinion Leaders who would have a strong influence in institutions in the region
Cross Functional Interactions
• Coordinate with cross functional teams to deploy offerings and value propositions created for the private sector
• Coordinate with the sales teams to ensure that the account plans are adhered to and the sales opportunities are maximized across the total product portfolio offered by Pfizer for the accounts managed
• Update key stakeholders routinely on the status of the accounts managed and align them with any modifications in the account plans
• Provide key account / customer insights to the marketing and strategy teams to help them co-create the marketing / strategic plan for the private institution sector
• Ensure communication of account information, competitor information, and value proposition (insights) to commercial team
• Work with his team of KAMs and distribution team to ensure availability of products as per the account plans
People :
• Demonstrate and promote Pfizer global values in all interactions.
• Demonstrate leadership behaviors
Financial
• Ensure achievement of sales budgets from the private/corporate institutes in the country
• Regulates the acceptance and execution of orders within the authorised limits and sees that the customer dues are collected in accordance with credit terms and outstanding are kept to the bare minimum.
• Align budgets and resources based on the account opportunities & business potential to optimize return on investment
Technology :
Use technology solutions for enabling better information availability
Financial Accountability
• Ensures all products budgets and Business plans are met.
• Regulates the acceptance and execution of orders within the authorized limits and sees that the customer dues are collected in accordance with credit terms and outstanding are kept to the bare minimum.
Candidate Profile
• 12+  years of  pharmaceutical / healthcare / hospitality / telecom / financial services experience (sales, marketing, operation, account management etc.) preferred
• Key Account Management and/or Sales Leadership experience preferred
• BA/BSc degree required. MBA from a good institute required.
• Commercial Acumen & Customer Management: Demonstrate knowledge of the healthcare market, ability to develop and manage relationships with institutional customers, demonstrate account management & negotiation skills and understand how to prioritize resources and develop business plans.
• Business & Financial Acumen: Understand differential resource deployment, demonstrate ability to develop budgets and manage resource allocations and conduct P&L analysis.
• Account Management: Understand, influence and adapt to changing local healthcare, key customer and stakeholder needs. Assess the portfolio of accounts and prioritize limited resources in order to create 'wins' for the account and for Pfizer.
• Strategic Thinking: Align account needs with Pfizer goals, understand the healthcare and local market trends and accordingly develop appropriate account plans.
• Collaboration & Cross-Functional Team Work: Build and maintain strong trusting relationships.
• Leadership: Drive business via proactive communication on opportunities within accounts and coordinate internally; where applicable provides people development, coaching and performance management. demonstrate OWN-IT spirit
• Communication: Display effective listening and communication skills; think and communicate with the audience's needs in mind.
• Change Management Leadership: Adapt positively to new challenges/ambiguity, stay focused on performance and coach others to react positively to change
• Learning agility: Demonstrate ability to manage ambiguity and perform at a high level in unfamiliar situations
Additional Information
Experience : 5+ years
Qualification : BA/BSc, MBA
Location : Mumbai
Industry Type : Pharma / Healthcare / Clinical research
Functional Area : Sales
End Date : 30th April, 2020
See All   B.Pharm Alerts   M.Pharm Alerts    Ph.D Alerts   Vizag Alerts
See All   Other Jobs  in our Database
Subscribe to Pharmatutor Job Alerts by Email