International (3D Virtual) Health & Wellness Expo & Conference-2020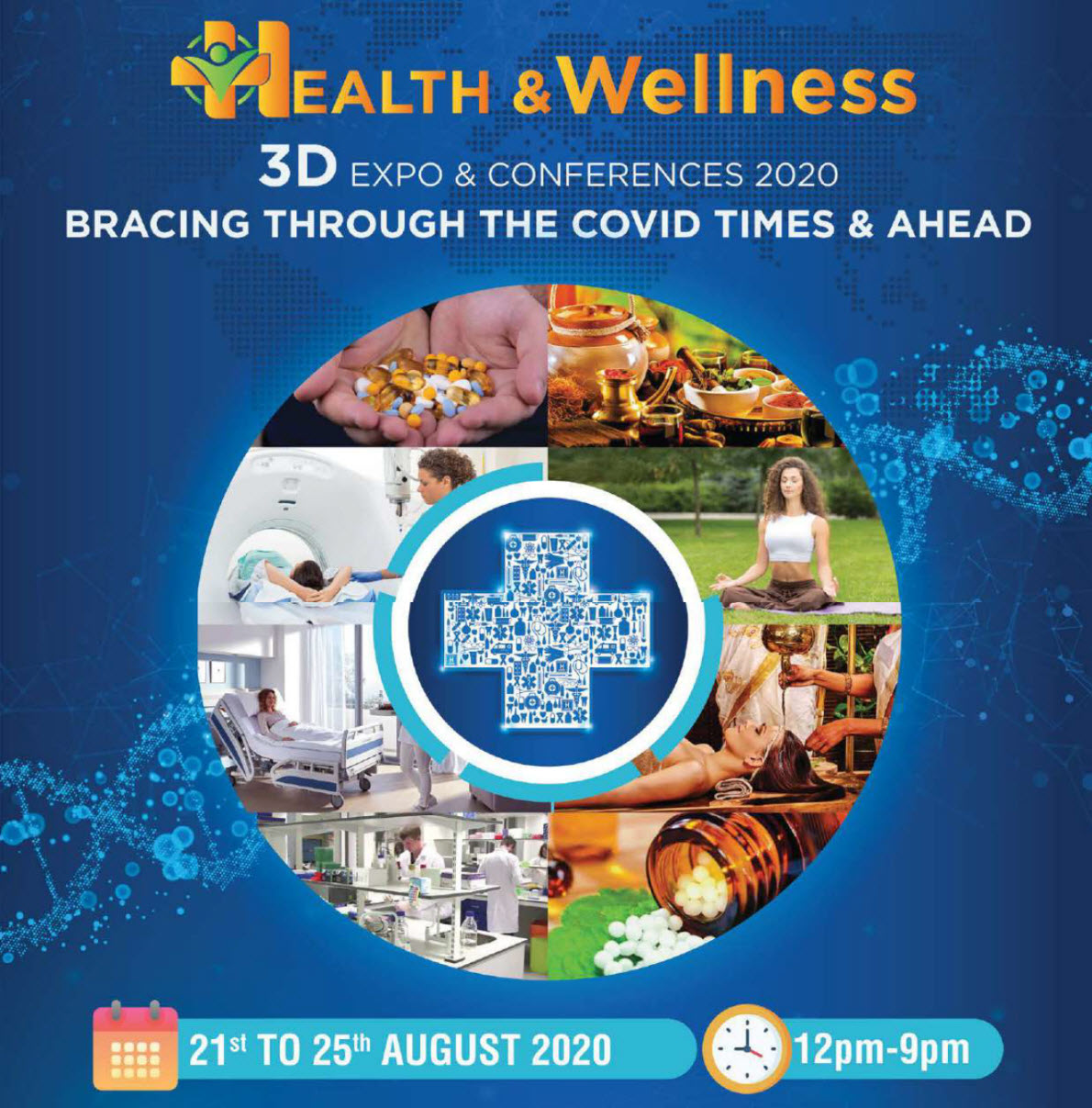 About Expo & Conference
With the emergence of the COVID-19 crisis, the world is fighting a health pandemic as well as an economic emergency, almost impacting trillions of dollars of revenues.
Health & Wellness Expo & Conferences-2020 will bring the opportunity to interact with the stalwarts of Health & Wellness industry for Innovative products & solutions.
Healthcare has become one of India's largest sectors - both in terms of revenue and employment. Healthcare comprises hospitals, medical devices, clinical trials, outsourcing, telemedicine, medical tourism, health insurance and medical equipment. The Indian healthcare sector is growing at a brisk pace due to its strengthening coverage, services and increasing expenditure by public as well private players.
PHD Chamber of Commerce and Industry is organizing
International (3D Virtual) Health & Wellness Expo & Conferences
21st August to 25th August 2020
Wellness Industry as the overall wellness market in India is estimated at INR 490 bn and wellness services alone comprise 40% of this market, the expo provides opportunity to explore the business opportunity to enter Indian wellness market.
The right platform for all the stakeholders starting from Pharma, medical device, healthcare delivery, diagnos tics, clinical trial, research & innovation, AYUSH, wellness and patients to showcase core Indigenous capacities seek opportunities for collaborations to enhance capacities and market reach.
The International (3D Virtual) Health & Wellness Expo will bring the opportunity to interact with the stalwarts of Health & Wellness Industry for Innovative products & solutions. The four days expo will focus on various sectors of Health like Pharmaceuticals, Medical Devices, Health Care Delivery, Diagnostics, Clinical Trails, Research & Innovations and Wellness sectors such as Ayurveda, Yoga & Naturopathy, Unani, Siddha & Homoeopathy. It will also include the knowledge sessions and technical sessions for the industry & public
Delegate Profile
• Decision Makers from Industry, Associations, Notified Bodies
• Government Regulators & Policy Makers
• Pharma & Medical Device Industry Professionals
• Healthcare Delivery Professionals
• Laboratory & Diagnostics centres
• AYUSH manufacturers
• Food supplement dealers
• Health Fitness System
• Clinical Research Organisations
• Public Health Organization
• Health & AYUSH academic institutes
• Venture Capital & Private Equity
• Health Insurance Companies
• Business Consultants
• Regulatory Advisors
• Hospitals Top Management
• Doctors
Exhibitor Profile
• Pharmaceuticals companies
• Medical Device Companies
• Hospital furniture Industry
• Medical IT Industry
• Diagnostics / Laboratory Equipment Industry
• Medical Services & Publications
• Imaging solutions
• Physiotherapy / Orthopedic Technology
• AYUSH Drug Manufacturing Industry
• Health & AYUSH Drug equipment manufacturing industry
• Medical Tourism industry
• Reputed Hospitals and NGOs
• Research Institutes
• Doctors of Health & AYUSH Industry
May we request you to contact undersigned at Mob. +91-9687628262 / Email: ravi.rathod@phdcci.in or my Colleague Mr. Amit Patwal at Mob: +91- 9811554825 / Email: amit.patwal@phdcci.in for any further information.