REVIEW ARTICLE ON ANTIMICROBIAL ACTIVITY OF THESPESIA POPULNIA SEEDS

About Author:
Sharad kumar awasthi
Shri Ram Institute Of Technology,
Jabalpur (M.P.) 482002.
Sharad20n@gmail.com
ABSTRACT:
Thespesia populnia seeds were dried and then grinded to obtain fine powder. Ethanolic and aqueous extracts and etheral extract of thespesia seeds were evaluated for antibacterial activity against E.coli, B.subtilis with the comparison control (Ciprofloxacin and Amoxicillin) for bacteria. The extract showed good inhibitory activity on the microbes.

Reference Id: PHARMATUTOR-ART-1561

INTRODUCTION
1.1 THESPESIA POPULNEA: Commonly known as the Portia Tree, is species of flowering plant in the mallow family, Malvaceae. It is a small tree or arborescent shrub that has a pantropical distribution, found on coasts around the world. However, the Portia Tree is probably native only to the Old World, and may have originated in India. It is possibly indigenous to the Hawaiian Islands and elsewhere in the Pacific, but may have been spread by early Polynesians for its useful wood and bast fibres. The Portia Tree reaches a height of 6–10 m (20–33 ft) tall and a trunk diameter of 20–30 cm (7.9–12 in). It grows at elevations from sea level to 275 m (902 ft in areas that receive 500–1,600 mm (20–63 in) of annual rainfall. The Portia Tree is able to grow in the wide range of soil types that may be present in coastal environments, including soils derived from quartz (sand), limestone, and basalt; it favors neutral soils (pH of 6-7.4).
SCIENTIFIC CLASSIFICATION

1.2 ANTIMICROBIAL ACTIVITY
Drug substances that either suppress or influence the growth of micro organisms are generally analysed by microbial method .Two procedures are generally employed in microbial assay.The increased prevalence of antibiotic-resistant bacteria due to the extensive use of antibiotics may render the current antimicrobial agents inefficient to control some bacterial diseases (Tanaka et al., 2006). Herbal medicine is frequently a part of a larger therapeutic system such as traditional and folk medicine. It is necessary to evaluate, in a scientific base, the potential use of folk medicine for the treatment of infectious diseases produced by common pathogens. Medicinal plants might represent an alternative treatment in non-severe cases of infectious diseases. They can also be a possible source for new potent antibiotics to which pathogen strains are not resistant. The search and use of drugs and dietary supplements derived from plants have been accelerated in recent years. Ethnopharmacologist, botanist, microbiologist and natural product chemist are combing the medicinal flora for biological substances that could be developed for the treatment of infectious diseases. Several medicinal plants have been extensively studied in order to find more effective and less toxic compounds. [3]

1.3 BOTANICAL DESCRIPTION :
Preferred scientific name : Thespesia populnea (L.) Sol. ex Correa
Family : Malvaceae (mallow family)

Non-preferred scientific names : Hibiscus populneus L. (1753),  Thespesia macrophylla Blume (1825), Hibiscus populneoides Roxb. (1832)

1.3.1 MORPHOLOGY: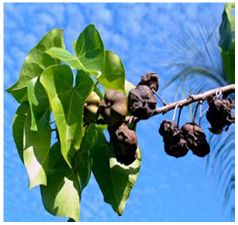 Size and form :  Milohas a short, straight or crooked trunk and a dense crown with crowded lower horizontal branches. Height averages 6–10 m (20–33 ft) with a crown as wide as or wider than the tree is tall. Average size trees have bole diameters of 20–30 cm (8–12 in), but exceptional trees have reached 18 m (60 ft) in height with boles 60 cm (24 in) in diameter. The bark is grey and smooth to highly fissured and dark brown in larger trees.[4]

Flowers
Flowers are a typical hibiscus shape in appearance: bellshaped, 4–7 cm (1.5–2.5 in) in length, with five overlapping, broad, rounded petals. Color is pale yellow with a maroon spot at the base of each petal and with star-shaped hairs on outer surface.

Leaves
The alternate leaves are glossy green above and paler green below.

Fruit
Milofruits are brittle, dry, woody or papery seed capsules, rounded and flattened, containing five cells and several seeds.
Seeds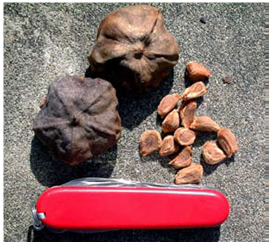 The brown, hairy seeds are about 1 cm (0.4 in) long and 0.6 cm (0.2 in) broad. Seeds are blown short distances by wind but are more likely to be dispersed by water. Both the lightweight fruits and seeds can float from one island to another on ocean currents. There are between 3500 and 6700 seeds/kg (1600–3045 seeds/lb)[1][2][3]

1.3.2 CHEMICAL CONSTSTITUENT :
Phytochemicals such as flavonoids, steroids, terpenoids, tannins, Saponins, alkaloids, phenols, carbohydrates  and proteins, glycosides, reducing sugars, anthocyanins, anthraquinons , leucoanthocyanins and emodins  are present in Thespesia populnea. Populneol isolated and identified as monobenzyl ether of y-resacetophenone; gossypol isolated from flowers: its methylation yielded three isomeric optically active heramethyl ethers which were characterized. Kaempferol, quercetin, rutin, kaempferol-3- rutinoside, kaempferol-3-glucoside, kaempferol-5-glucoside and quercetin-3-glucoside isolated from flowers; calycopterin isolated from heartwood.
1.3.3 MEDICINAL USES:
·        According to Ayurveda, Paraspipal is astringent, acrid, cooling, depurative, vulnerary, alternative and useful in skin related troubles, leprosy, diseases of blood and urinary system, diarrhea, dysentery, Cholera, diabetes, ascites etc.
·        In Fiji, a decoction of the leaves has been used in treating coughs and headaches.
·        An infusion of the bark has been used to treat intestinal diseases. In Tonga, a drink made from the leaves and bark is used to treat fevers in teething children.
·        Various parts of the plants have high tannin contents and plant extracts have been shown to have anti-bacterial and anti-viral activity.
·        The leaves are applied locally in swollen joints for their anti-inflammatory effects and also for skin diseases, hepatitis, jaundice, ulcers, wounds, psoriasis, scabies, urinary tract infections, diabetes, cholera, cough, asthma and guneaworm infections .

2. LITERATURE REVIEW:
1) M. Vasudevan  et.al, reported  Pharmacological actions of Thespesia populnea relevant to Alzheimer's disease.
2) A SARAVANAKUMARet.al, EVALUATE ANTIBACTERIAL ACTIVITY, PHENOL AND FLAVONOID CONTENTS OF THESPESIA POPULNEA FLOWER EXTRACTS.
3) Sompong Boonsri et.al, reported Cytotoxic and Antibacterial Sesquiterpenes from Thespesia populnea.
4) Annie, S et.al,reported Antihepatotoxic Activity of Thespesia populnea.
5) Pankajamani R. et al, Isolate  gossypol from Thespesia.
6) Vasudevan, M. et.al,, Antinociceptive and anti-inflammatory     effects of Thespesia populneabark extract.
7) Krishnamoorthy, P. et.al, reported Effect of the extract of Thespesia populnea  leaves on mice testis. 
8) Ilavarasan, R. et.al, reported Antioxidant activity of Thespesia populnea bark extracts against carbon tetrachloride-induced liver injury in rats.
9) Nagappa, A.N.et.al, reported  Wound healing activity of the aqueous extract of Thespesia populnea fruit. 
10) Kavimani, S.et.al, reported Anti-steroidogenic activity of floral extract of Thespesia populnea Corr. in mouse ovary.
11) Satyanarayana T. et.al, reportedAntihyperglycemic and hypoglycemic effect of Thespesia populnea fruit in normal and alloxan-induced diabetes in rabbits.
NOW YOU CAN ALSO PUBLISH YOUR ARTICLE ONLINE.
SUBMIT YOUR ARTICLE/PROJECT AT articles@pharmatutor.org
Subscribe to Pharmatutor Alerts by Email
FIND OUT MORE ARTICLES AT OUR DATABASE
Pages