REGULATORY CONTROL ON BANNED DRUG: A REVIEW ARTICLE
About Authors:
Priya Diwedi
M.pharm, Bhopal institute of technology and science-pharmacy,
Bhopal (M.P)
Priya.diwedi07@gmail.com
ABSTRACT:
A Number of drug that are banned in abroad are freely available in the Indian market. The most pitiable feature is that use of these drugs are regularly causing long term implication for our physical health. Some of the common ones that are easily available and people use frequently without doctor's prescription are D-cold, Nimesulide and Analgin. These are use as pain killer but latest research shows that long term use of such medicines can affect human health in various ways by damaging liver, causing irregular heartbeats, depression, blood pressure fluctuations etc. This is the prime reason that most of European countries have disqualified and banned the manufacturing and consumption of these drugs. It has been recently pointed out that Indian drug regulatory authorities have refused to ban sale of 11 drug, including Furazolidone, Phenypropanolamine, Cisapride and Nimuselide, apart from over 80 drug combinations that are prohibited in other countries IPA have made various regulation and guideline for the control of  these drug, but still they are in use because of lack of awareness in people.

Reference Id: PHARMATUTOR-ART-1554

INTRODUCTION:
Drugs undergo rigorous testing before they are introduced into the market. They are first tested in animals and then in human beings during clinical trials.  The efficacy as well as safety profiles of the drug are tested. In spite of this, some adverse effects of drugs appear only after the drug is used in the general population.  These adverse effects are detected though a process of regular monitoring after the drug is released calledpharmacovigilance.  If the adverse effects are severe or the risks of using the drug outweigh the benefits, or if the drug is ineffective, the country may ban the drug or the Drug Company may itself voluntarily withdraw the drug.  Some drugs may cause adverse effects only when combined with particular drugs.  In such cases, only the fixed dose combination is banned and not the individual drugs. A number of single drugs as well as fixed dose combinations have been banned for manufacture, marketing and distribution in India.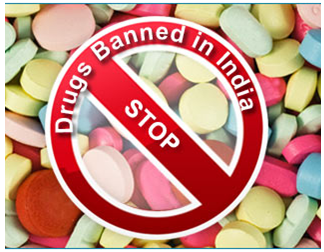 Many spurious drugs that have been banned, withdrawn or marketed under restrictions in other countries, continue to be sold in India. The pharmaceutical companies and defaulters are playing with the lives of thousands of people who are not aware of the harmful effects of the drugs they sell.

"More than 60,000 branded formulations are available in India. These preparations contain either single drug or drugs in fixed dose combination (FDC). All formulations are used for treatment or prevention of diseases. Out of it only few drugs are lifesaving and essential drugs, otherwise maximum of them are available as alternative or substitute to each other."

The safety of the combination drugs has to be thoroughly evaluated and there are considerations for the drugs that are already in the market as individual or single drug entity. However, the safety profile of the established drugs will alter when they are combined together. The total number of essential drugs mentioned in the 14th list of essential medicines by WHO is 312, out of which only 18 are fixed dose combinations. But many of the irrational combinations are popular and widely prescribed by physicians in our country.

Why, ban drug are available?
India has become a dumping ground for banned drugs. The business for production of banned drugs is blooming and because there are more consumers here and all illegalities are duly obeyed. The irony is that very few people know about the banned drugs and consume them unaware, causing a lot of damage to themselves. The issue is severe and we must not delay in spreading the warning message to the offenders and innocent people.
As big time business enterprises and small time defaulters, pharmaceuticals have been growing in every direction. There are few provisions for a proper check and control of spurious drugs in Indian markets. Worst than that is the little knowledge and slapdash attitude of the buyers. Even at this time, a large population takes medicine and drugs without prescribing a doctor, which in fact is a very wrong decision and can be dangerous.
Thanks to a virtually "absent" adverse drug reaction mechanism in the country, drugs like Analgin, Cisapride, Nimesulide and Piperazine, discarded worldwide due to serious side effects are among the bestsellers in India. According to a report of the World Health Organization, there has not been a single instance of adverse drug reaction reported against any drug in the country. The business of production of these discarded drugs is booming in India. Some of the most common ones include Nise (Dr Reddy's), Nimulid (Panacea Biotech) that are discarded for reported liver damage, while Vicks Action 500 from the stable of Procter and Gamble is discarded for increasing chances of brain hemorrhage. Anti-depressant drug Droperol (produced by Triokka) has been discarded for irregular heartbeats in patients. Anti-diarrhoeal drug Furoxone (from the house of Glaxo) was withdrawn from the market after reports of cancer in some patients, who were administered the drug. Eleven drugs - including cisapride, furazolidone, nimesulide and phenylpropanolamine - that have been banned, withdrawn or marketed under restrictions in North America, Europe and many Asian countries, continues to be sold in India.
India's contribution to the worldwide collection of data on the side effects of different drugs is dismal. Countries like Ireland, Switzerland and Italy with a population of about 4 million, 33 million and 57 million, respectively had submitted 25, 33 and 225 adverse drug reaction on nimesulide. However, India, with over 1 billion population did not report any. Another drug Sildenafil (erectile dysfunction drug) had 18 adverse drug reactions reported from Australia but none from India. According to a health ministry source, monitoring of adverse drug reaction is not followed in the curriculum for medical students in India and majority of doctors do not maintain records on patients.
New Delhi: A report by a parliamentary committee has shown that the drug industry regulator, the Drug Controller General of India (DCGI), has been approving, on average, one new drug a month without conducting mandatory clinical trials or seeking expert medical opinion—findings that expose the deep flaws prevalent in India's drug approval process.
The committee found that an "overwhelming" majority of the drugs were being approved on the basis of personal prescriptions and without any scientific evidence. The report concludes that "there is adequate documentary evidence to show that (expert) opinions are written by the invisible hands of drug manufacturers and experts merely oblige by putting their signatures".

Of the 42 drugs scrutinized, 11 were approved without phase-III clinical trials for safety and efficacy being conducted.

According to the committee's findings, CDSCO approved 33 new drugs (including Cipla Ltd's colistimethate and pirfenidone, Novartis Pharmaceutical's aliskiren and GlaxoSmithKline's ambrisentan) between January 2008 and October 2010 without conducting clinical trials and 25 drugs without seeking the opinion of medically-qualified experts.

It also found that four drugs (Novartis's everolimus, UCB Biosciences Inc.'s buclizine, Eli Lilly and Co.'s pemetrixid, and a fixed-dose combination of Theon Pharmaceuticals's pregabalin) were approved by "non-medical staff of CDSCO" without the mandatory clinical trials or opinion of medical experts and that 13 drugs were actually banned in developed countries.
LIST OF DRUGS BANNED IN INDIA
A. Single drug preparations (or combinations of)
1.   Amidopyrine
2.  Phenacetin
3.  Nialamide
4.  Methaqualone
5.  Methapyriline (and its salts)
6.  Practolol
7.  Penicillin skin/eye ointment
8.  Tetracycline/Oxytetracyline/Demeclocycline liquid oral preparations.
9.  Chloral hydrate
10. Dover's powder and Dover's powder tablets I.P.
11. Chloroform exceeding 0.5% w/w or v/v in pharmaceutical preparations.
12. Mepacrine HCl (Quinacrine and its salts) in any dosage form for use for female sterilization or contraception.
13. Fenfluramine
14. Dexfenfluramine
15. Terfenadine
16. Astemizole
17. Phenformin
18. Rofecoxib
19. Valdecoxib
20. Rosiglitazone
21. Nimesulide formulations in children below the age of 12 years.
22. Cisapride
23. Rimonabant
24. Phenyl Propanolamine
25. Human Placenta Extract in topical application for wound healing and injection for pelvic inflammatory diseases.
26. Sibutramine
27. R-Sibutramine
28. Gatifloxacin
29. Tegaserod

NOW YOU CAN ALSO PUBLISH YOUR ARTICLE ONLINE.
SUBMIT YOUR ARTICLE/PROJECT AT articles@pharmatutor.org
Subscribe to Pharmatutor Alerts by Email
FIND OUT MORE ARTICLES AT OUR DATABASE
Pages