About author:
Gowthami Royal,
Mother Theresa institute, Tirupati
gowthamiroyalp@gmail.com
Abstract:
The main aim of the present study was to evaluate the two activities that are anti marking and wound healing activities by Ethanolic extracts of Annona reticulata and Vitis venifera with combination of honey , ghee and neem oil. The both Annona reticulata (custard apple) and Vitis venifera (grapes) are well known plants in Indian traditional medicine. According to the literature reference and Indian traditional use, both Vitus andAnnona were selected for evaluation of wound healing potentiality and anti marking capability. Phyto chemical studies revealed Ethanolic extract of Annona seeds have alkaloids, phytosterol, fixed oil, fats, phenolic compounds, tannins, proteins, amino acids and flavonoids. The studies revealed in case of grape seed extract which is having Linoleic acid, Oleic acid and Palmitic acid. Ethanolic extract of seeds of Annona reticulata and grape seed extract with other ingredients were examined for the activity in the form of ointment in wound models on rat. These formulations for test showed adequate response as compared to standard drug in terms of healing time, marks and tensile growth.
Reference Id: PHARMATUTOR-ART-1349
Introduction:
The plants of genus Annona reticulata belong to the family of Annonaceae is native of west india , eastern and south india as well as the plants of Vitis venifera belong to the family of vitaceae is native of southern German, northern india and Europe. Annona reticulatais a small deciduous or semi-ever green tree in the plant family Annonaceae. It is best known for its fruit, called custard-apple. Plant pacifies vitiated pitta, constipation, burning sensation, anemia, vomiting, cough, malignancy and general tonic. Root decoction is a powerful purgative. Powdered seed kills body and hair lice on external application.
Using the sap of grapevines, European folk healers sought to cure skin and eye diseases. Other historical uses include the leaves  being used to stop bleeding, pain and inflammation of hemorrhoids Unripe grapes were used for treating sore throats, and raisins were given as treatments for consumption (tuberculosis0, constipation and thirst. and . Ripe grapes were used for the treatment of cancer, cholera, smallpox, nausea, skin and eye infections as well as kidney and liver diseases. Seedless grape varieties were developed to appeal to consumers, but researchers are now discovering that many of the healthful properties of grapes may actually come from the seeds themselves, thanks to their enriched phyto chemical content.
Neem oil is generally red as blood, and has a rather strong odor that is said to combine the odors of peanut and garlic. It comprises mainly triglycerides and large amounts of triterpenoid compounds, which are responsible for the bitter taste. Neem oil also contains steroids (campesterol, beta-sitosterol, stigma sterol) and many triterpenoid of which azadirachtin is the most well known and studied. The azadirachtin content of neem oil varies from 300ppm to over 2500ppm depending on the extraction technology and quality of the neem seeds crushed.
Used on the skin, Ghee softens and strengthens, protects and nourishes. It can be applied for broken bones and bruises. It is highly effective for all sorts of skin rashes. It is also used on burns of both fire and chemicals.
honey can be expected to suppress infection in wounds because of its high sugar content, but dressings of sugar on a wound have to be changed more frequently than honey dressings do to maintain an osmolarity that is inhibitory to bacteria, as honey has additional antibacterial components. Since microbiological studies have shown more than one hundred-fold differences in the potency of the antibacterial activity of various honeys, best results would be expected if a honey with a high level of antibacterial activity were used in the management of infected wounds.
Wound: it is a physical trauma where the skin is torn, cut or punctured. Whenever it exposed to air, micro organisms are entered the wound, which leads to infection.
Mark: marks are black mole like structures formed after healing of wound nd stay at the site very long time.
NOW YOU CAN ALSO PUBLISH YOUR ARTICLE ONLINE.
SUBMIT YOUR ARTICLE/PROJECT AT articles@pharmatutor.org
Subscribe to PharmaTutor Alerts by Email
FIND OUT MORE ARTICLES AT OUR DATABASE
Materials and methods:
 Materials:
1. Ingredients:
| | |
| --- | --- |
| S.No |                 Materials |
| 1. | Annona reticulata seed extract |
| 2. | Vitis vinifera seed extract |
| 3. | Old ghee |
| 4. | Pure honey |
| 5. | Neem oil |
| 6. | Simple ointment (I.P) |
Table - 1 Materials
2. Instruments:
| | |
| --- | --- |
| S.No |            Instruments |
| 1. | Soxhlet apparatus |
| 2. | Motor and pestle |
| 3. | Sterile bla |
Table - 2 Instruments
3. Animals:
Adult Swiss albino rats of both sexes weighing between 150-200 gm were used. They were housed in standard conditions, fed with pellet food with water ad libitum, the study was approved by CPCSEA. Animals were kept under laboratory condition before the experiment was carried out.
 Annona seeds extraction:
The seeds of Annona reticulata were dried at room temperature, and then make it as a powdered. The powdered material passed through 44 number sieve mesh screen. Now the particle size of powdered material is 355mm. Then this powdered material was extracted with solvent Ethanol by using Soxhlet assembly apparatus maintaining temperature at 60o c to 700 c up to six hours.
Grape seeds extraction: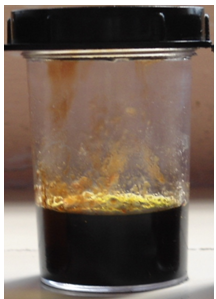 The seeds of grapes were dried at room temperature and make it as a powder. This powdered material is passing through the 30 mesh. The powdered materials were extracted with ether solvent by Soxhlet assembly apparatus at temperature 600 c up to 7 hours.
Formulation of simple ointment:
The formula for simple ointment B.P (100gm) is as follows:
| | |
| --- | --- |
|   Ingredients | Working  formula |
| Wool fat(g) |           5 |
| Hard paraffin(g) |           5 |
| Cetosteryl alcohol(g) |           5 |
| White soft paraffin(g) |          85 |
 Table- 3 simple ointment
NOW YOU CAN ALSO PUBLISH YOUR ARTICLE ONLINE.
SUBMIT YOUR ARTICLE/PROJECT AT articles@pharmatutor.org
Subscribe to PharmaTutor Alerts by Email
FIND OUT MORE ARTICLES AT OUR DATABASE
Method of preparation:
For the preparation of 100gm of simple ointment, accurately measure the required quantity of the ingredients. Melt hard paraffin and Cetosteryl alcohol on a water both. To the melted mixture, add wool fat and white soft paraffin with stirring. Continue the stirring until all the ingredients are melted. Strain the melted mixture to remove any foreign particles. Stir the mixture thoroughly until it is cooled. Pack the ointment in an ointment jar, and dispense. [BP]
Formulation of herbal ointment for wound healing:
Working formula for formulation:
| | |
| --- | --- |
| Ingredients | Quantity |
| Simple ointment(g) | 30 |
| Annona extract(g) | 10 |
| Grape seed extract(g) | 3 |
| Ghee(g) | 4 |
| Honey(g) | 2 |
| Neem oil(g) | 2 |
                           Table -4 Ingredients for herbal ointment
Preparation of ointment:
Firstly prepare plain plant extract which is consisting Annona extract, grape seed extract, ghee, honey and neem oil by taking accurate quantities of all ingredients and triturate in motor and pestle. Then make a uniform mixture. This uniform mixture is mix with 50gm of simple ointment base. The ointment should prepare as 5%w/w and 10%w/w.
Evaluation of wound healing and anti marking activity of herbal ointment:
The experiment was conducted on 24 male Wister Albino rats weighing 150-200 gm. The animals were caged individually in a controlled environment (temperature 300 c) with a 12 hour artificial light cycle. Food and water were available ad libitum to the rats.
For carrying out the experiment, Institutional Animal Ethics Committee permission was taken. Prior to creating excision wounds the rats were anesthetized by intraperitoneal injection of ketamine (50 mg/kg).  Then the animals were shaved on the back and the skin was disinfected using cotton and alcohol wipes. Using sterile surgical instruments round full thickness skin wounds measuring 500 mm2 were created in the paravertebral area, 1.5 mm from midline on the back of rats, and then thoroughly disinfected using alcohol.
Animals were assigned into four groups each group containing six animals. Group 1-control (simple ointment B.P), Group 2-standard drug should given and Group 3-test formulation 10%w/w in simple ointment base. Animals showing infection deterioration of wound were excluded from the study and replace with other animals. Animals received drugs daily from day '0' till complete wound healing or up to 27th postoperative day, whichever was earlier. [16]
The changes in healing of wound were determined by measuring the wound area on graph paper (mm2) and percentage reduction of original wound size. The test formulation was applied on the wound once daily up to 27 days, from the first day of wounding.
Similarly one full thickness paravertebral incision (6cm) was made through the entire length of skin including the cutaneous muscles of the depilated on the back of each anaesthetized rat in all groups. Full aseptic measures were not taken and no local or systemic antimicrobials were used throughout the after the incision was made, the part was kept together and stitched with nylon thread, 1 cm apart, using a curved needle (needle no.11) on both wounds, edges were tightened for good adaptation of wound and it was left undressed. The test formulation (5%w/w and 10%w/w ointment), standard drug (nitrofurazone ointment and simple ointment B.P. were applied to the wound twice daily, until complete recovery. The sutures were removed on the 8th day and complete healing (tensile) strength was measured on the 10th day of healing of incision wound. The strength developed n the 10th day heal incision wound was measured against the increasing weight to the other end.
Percentage of wound healing was calculated according to the walker formula.
Walkerformula:
Percentage of wound area=Wound area on day X/Wound area on day
1×100
Percentage of wound healing = 100-Percentage of wound area
Results and discussions:
The presence of various phyto constituents viz., alkaloids, phyto sterols, fixed oils, fats, phenolic compounds, tannins, flavonoids, proteins and amino acids in the Ethanolic extract of A.reticulata was confirmed.  As well as the presence of various phyto chemical constituents viz., Palmitic acid and lenoic acid in the extract of V.vinifera was confirmed. Excision wounds healing by contraction (wound closure) and epethelialization, the percentage of wound closure the rate includes by the recording the changes in wound are at fixed intervals of time, like 4th, 8th, 12th and 16th day after treating with Ethanolic extract and reported in table. Incision wound healed by granulation and collagenation. The mean wound breaking integrated series of cellular physiological and bio chemical processes that occur in living organisms. Repair through regenerating is very common in unicellular and the lower metazoan animal group, while it is highly restricted in the higher animals. Healing is delayed and the ability to accelerate the wound healing is highly desirable. Wound healing involves different phases such as contraction, epethelialization, granulation and collagenation. The increase in tensile strength was may be due to the promotion of collagen formation which significantly contributes to better and effective healing.
In excision wound study, from above observations, it was concluded that the test formulation (extract ointment 5% and 10%w/w) showed better and faster healing as compared to the untreated group. During the initiation of study from day '0', there was not much difference in healing of wounds in all the four groups difference in healing of wounds in all the four groups i.e., group, there was not much difference in healing of wounds in all the four groups i.e., group 1, group 2, group 3 and group 4 (day 0-9). But after day 9, the healing process was faster with group 3 and 4 i.e., wounds treated with test formulation. Group 3 and 4 showed faster wound closure and wound contraction. When the results were interpreted in higher phase (day 16-20), the healing potential of test formulation was clearly seen from the results in comparison with untreated group which took more than 35 days for complete healing of wounds.
Post wounding  days

                                       Wounding area (mm2)

Simple ointment

Standard ointment

Test ointment

(5%w/w)

Test ointment

(10%w/w)

0

529±19.39(0.0)

518±17.4(0.0)

513±17.9(0.0)

536±18.4(0.0)

2

467±18.4(11.7)

417±21.6(19.4)

4.1±14.6(21.7)

434±21.4(19.0)

4

403±21.5(23.8)

321±29.4*(38.0)

321±26.7*(37.4)

3.9±31.3(42.3)

6

371±14.6(29.8)

231±23.4**(55.4)

256±21.6**(50.3)

226±26.3(57.8)

8

313±13.9(40.8)

173±17.6**(66.7)

174±18.3**(66.0)

128±20.1(76.1)

10

297±14.6(45.2)

129±11.6**(75.0)

105±8.9**(79.5)

56±16.9(89.5)

12

276±11.9(47.8)

75±6.9**(85.5)

69±4.9**(86.5)

10±11.3(98.1)

14

259±14.3(51.0)

34±2.4**(93.4)

31±2.1**(93.9)

0.0**(100.0)

16

231±16.7(56.3)

9±0.8**(98.2)

8±1.1**(98.4)

-

18

211±15.3(60.1)

0.0**(100.0)

0.0**(100.0)

-

20

179±11.8(66.1)

0.0**(100.0)

0.0**(100.0)

-

Tensile(g)

Strength      459±18.9              659±27.1a                  579±22.7a                        673±15.9a
*p<0.01, **p<0.001, ap<0.001 Vs  Control by student's 't'-test (n=6), when compared to control values expressed as mean ± S.E.M.
NOW YOU CAN ALSO PUBLISH YOUR ARTICLE ONLINE.
SUBMIT YOUR ARTICLE/PROJECT AT articles@pharmatutor.org
Subscribe to PharmaTutor Alerts by Email
FIND OUT MORE ARTICLES AT OUR DATABASE
Table- 5 Annona and vitis extract herbal ointment on wound model (topical application)
NEGATIVE CONTROL:
CONTROL GROUP:         

EXPERIMENTAL GROUP:          

Fig 5.1 Progress of cutaneous wound healing in negative-control rats untreated, control rats treated with standard ointment and experimental rats treated with Annona and grape seed extract ointment. Wounds of the dorsal skin at 3 (A, E and I), 7 (B, F and J), 14 (C, G and K), 21 (D, H and L) days after incision.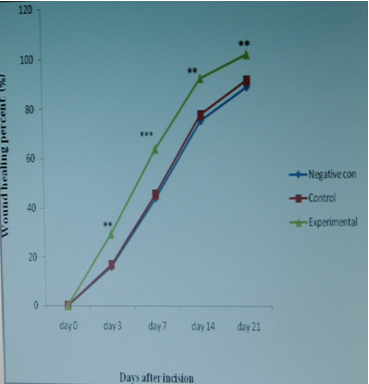 Figure- 5.1wound healing percentage in skin lesions. Data represent untreated animals (negative control), animals treated with standard ointment (control), and animals treated with herbal ointment (Annona and vitis extracted ointment (experimental). **p < 0.01; ***p < 0.001 as compared with corresponding control and negative control.
Statistical significance:
All results are expressed as Mean ± SEM. Significance of the difference between control and drug treated groups were determined by student's 't' test. Differences of (P>0.05) were considered as significance.
References:
1.Asian livestock (1980) Review of traditional veterinary medicines vol.   VI (4): 33 summarized report RAPA 43. A preliminary study on traditional system of veterinary medicine.
2.Atiyeh B. S., Amm C. A., El Musa K. A. (2003) Improved scar quality following primary and secondary healing of cutaneous wounds. Aesthetic Plast Surg 27: 411-417.
3.Witte, Maria B., Barbul, Adrian (2003): Arginine physiology and its implication for wound healing. Wound Repair and Regeneration 11 (6), 419–423
4.Chatterjee A., Pakrgshi, C.A., The Treatise on Indian Medicinal plants, 1994, vol. 1, 98.
5.Kritikar K.R., Basu, B.D., Indian Medicinal plants, 2nd ed., 1993, vol. 1, 66.
6.Berger W, Timothy S, Elston N, Andrews D (2005). Diseases of the Skin. J. Clin. Dermatol., 10: 2-3.
7.Burd A, Huang L (2008). Carbohydrates and cutaneous wound healing. Carbo. Chem., 17: 253-27
8.Wardrope J., Smith J.A.R., and June Edhouse Eds., in; the Management of Wounds and Burns. 2nd ed. London: Oxford University Press; 199, 1-3.
9.Wagner R and Bladt S, Plant Drug Analysis, a Thin Layer Chromatography Atlas, 2nd Ed: Springer; Berlin, 1996.
10.Witte, Maria B., Barbul, Adrian (2003): Arginine physiology and its implication for wound healing. Wound Repair and Regeneration 11 (6), 419–423.
NOW YOU CAN ALSO PUBLISH YOUR ARTICLE ONLINE.
SUBMIT YOUR ARTICLE/PROJECT AT articles@pharmatutor.org
Subscribe to PharmaTutor Alerts by Email
FIND OUT MORE ARTICLES AT OUR DATABASE