With millions of aging baby boomers, the hottest trend in the cosmetics industry is cosmeceuticals. Cosmeceuticals are topical cosmetic-pharmaceutical hybrids containing biologically active ingredients intended to enhance the health and beauty of skin. These ingredients include cleansing agents, surfactants, emollients, fats, mineral oils, herbal extracts, and enzymes. The concept propounded by Dr. Albert Kligman states that "The Cosmeceuticals are topical agents that are distributed across a broad spectrum of materials lying somewhere between pure cosmetics (lipstick and rouge) and pure drugs (antibiotics, corticosteroids)." Cosmeceuticals improve appearance, but they do so by delivering nutrients necessary for healthy skin.
Cosmeceuticals are the fastest-growing segment of the natural personal care industry. Many industries engaged in pharmaceuticals, biotechnology, natural products and cosmetics are constantly developing and growing in this field owing to advances in the field of skin biology and pharmacology. (Fig.1). Desirable features of cosmeceutical agents are efficacy, safety, formulation stability, novelty and patent protection, metabolism within skin and inexpensive manufacture. The uplift in the global cosmeceutical industry is attributed to the following factors - increased life expectancy, working women and new ingredients and technologies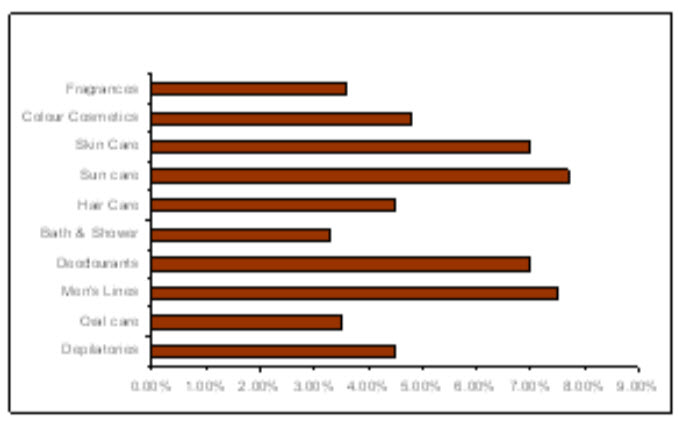 Fig. 1: Growth of cosmeceuticals in various industries in last five years
Consumers are always interested in maintaining a youthful appearance, and as the global population's median age increases, this market is increasingly expanding. The cosmeceutical marketplace represents significant opportunities because of growing consumer demand. This is why large investments are currently being made in this area by consumer packaged goods and pharmaceutical companies as well as retailers. The cosmeceuticals market, including skin care, hair care, and sun care products, is highly diversified, with products coming both from major manufacturers and small, local companies around the world. Cosmeceutical products can be purchased from mass market and direct marketing retailers as well as from prestige retailers including increasingly popular "spas." The cosmeceutical consumer is becoming more sophisticated; demanding superior quality from these products, and technological innovations will have to keep up with this demand. Fig.2 gives an overview of demand of various cosmeceuticals.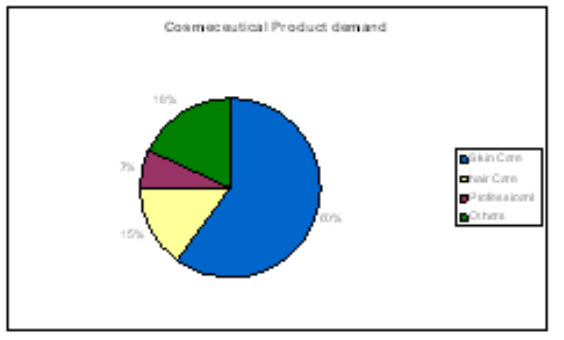 Fig. 2
Innovations in cosmeceutical products over the next few years will come primarily in the following areas:
Proof of efficacy of ingredients, particularly natural extracts, will become more important because consumers have a wide variety of choices and will discontinue use of ineffective products.

Natural products and extracts will continue to replace chemical materials, and plants and fermentation will increasingly replace animals as ingredient sources

Delivery systems will be more complex and effective, offering triggered and controlled release of actives, and the research and development of nanostructure delivery systems will continue

Sunscreen actives will be increasingly present in daily wear products and new actives will offer broad-spectrum UV coverage and/or higher sun protection factors

Regulation of cosmetic and drug products will be harmonized globally, particularly between North America, the European Union, and Japan
Among the many cosmetic indications offered in the marketplace, the anti-aging segment remains among the most popular, fuelling research into the biology of skin aging in an effort to seek ways to counteract these effects.
In India, over 560 million people are in the age group of 18-35 years. As median age increases, the market is going to experience a big change, especially a growing number of women in the workforce feeling the hassle to maintain a youthful and vibrant appearance.
There is little research carried out in India to prove the use and benefits of cosmeceuticals. However many companies, such as Procter and Gamble, Biersdorf, and L'Oreal, at global level are advancing and understanding the skin structure and role of cosmeceuticals. They have extremely rigid research standards and evaluate cosmeceuticals in the same manner as drugs. None of this work is being done in academic dermatology.Little research has been carried out to prove the effectiveness, efficacy, and safety of these products, and many questions remain unanswered. It is primarily viewed as marketing effort to increase the use of these products.
Now the concept of beautifying is not restricted to women alone, even men have become cognizant about the way they look, and the recent advertisements of many anti-wrinkle and fairness creams are aimed at men.
Recently, the market is swamped with too many cosmeceutical products like anti-wrinkle creams, sunscreens, moisturizers, bleaching agents, medicated lotions, hair growth stimulants, antidandruff shampoos, eye wrinkle creams, collagen injections, etc.
Regulatory aspects of Cosmeceuticals:
Regulatory agencies have not yet formally recognized cosmeceuticals and although there is no legal class called cosmeceuticals, this term has got application and recognition to designate the products at the borderline between cosmetics and pharmaceuticals. Cosmeceuticals are not subject to review by FDA or any other equivalent agency. The regulation of cosmeceuticals has not been harmonized between the USA, European, Asian and other countries. Hence there is a necessity for implementing increased regulation of cosmeceuticals that would require proof of safety, which is not mandatory for cosmetics.
Future Prospects:
Despite recent economic uncertainties, the cosmetics and personal care market has continued to thrive and the consumer market has been estimated to be worth US$180 billion and the industry has been predicted to enjoy substantial growth over the next few years. However, consumers are proving increasingly difficult to please, demanding continual improvements in ingredients and beneficial effects. In this environment, cosmeceutical companies need to work harder than ever to be a success in today's market. The global market of cosmeceuticals initially dominated by acne-therapies is experiencing a sea of change. Innovative naturals have invaded the cosmeceuticals scene and found their way into well known branded cosmetics. Sustained and dedicated research on natural actives needs to be the driving force behind cosmeceuticals. . With scientifically validated safety and efficacy cosmeceuticals will continue to find novel applications in personal care products in the years to come. The addition of small amount of therapeutic agents which do not require medical regulations to the cosmetic formulations would improve the production of cosmeceuticals that could help to improve the skin, nail, and body mass growth. New challenges will also be presented to government regulatory agencies as more chemicals with true biological activity are invented and tested. In conclusion, cosmeceuticals are not only the external beautification products but they also improve the internal beauty through the health related function. The health group professionals will show the importance of cosmeceutical products and develop the awareness about these products. This trend towards therapeutic cosmetics will definitely help to achieve a better understanding of modern ingredients and assessment techniques.
About Author:
Anita Ayre
Lecturer, Dr. L. H. Hiranandani College of Pharmacy,
Ulhasnagar-3
anitaayre@gmail.com
NOW YOU CAN ALSO PUBLISH YOUR ARTICLE ONLINE.
SUBMIT YOUR ARTICLE/PROJECT AT articles@pharmatutor.org
Subscribe to Pharmatutor Alerts by Email
FIND OUT MORE ARTICLES AT OUR DATABASE