ALZHEIMER DISEASE AND CONTRIBUTION OF NANOTECHNOLOGY AND HERBALTRADITIONAL DRUGS IN THE TREATMENT OF ALZHEIMER DISEASE
About Authors:
Himani sharma
B.pharm; mahakal institute of pharmaceutical studies,
Ujjain (m.p.); rgpv
shimani53@gmail.com

ABSTRACT
Among the several identified types of dementia, Alzheimer's dis­ease (AD) is the most common. In 1906 a German physician, Dr. Alois Alzheimer, specifically identified a collection of brain cell abnormalities as a disease which is a degenerative brain disorder. Today, this degenerative brain disorder bears his name, and when found during an autopsy, these plaques and tangles mean a definite diagnosis of Alzheimer's disease (AD).  This article provides a general idea of some main causes ofAlzheimer's disease, use of various prospects of nanotechnology herbal medicines and intended to explain the therapeutic effectiveness of various herbal medicines in the treatment of Alzheimer disease.

[adsense:336x280:8701650588]
Reference Id: PHARMATUTOR-ART-1569
FIG.1- NEURONAL CELL IN ALZHEIMER'S DISEASE

1.    INTRODUCTION
* Alzheimer's disease is the most common form of dementia in the elderly. This condition is characterized by a progressive loss of memory, deterioration of virtually all intellectual functions, increased apathy, decreased speech function, disorientation, and gait irregularities.
* It is also one of the best known and important of all degenerative diseases. It is a condition that is associated with considerable psychological and emotional distress for patients and their families.
* It also represents a large economic burden for those afflicted and their families because of the long-term care that is associated with the condition.

FIG.2 - COMPARISON OF NORMAL NEURON AND ALZHEIME'S EFFECTED NEURON

* Progressive mental deterioration in old age has been recognized and described throughout history. However, it was not until 1906 that a German physician, Dr. Alois Alzheimer, specifically identified a collection of brain cell abnormalities as a disease.
* One of Dr. Alzheimer's patients died after years of severe memory problems, confusion and difficulty understanding questions. Upon her death, while performing a brain autopsy, the doctor noted dense deposits surrounding the nerve cells (neuritic plaques). Inside the nerve cells he observed twisted bands of fibers (neurofibrillary tangles).
* Today, this degenerative brain disorder bears his name, and when found during an autopsy, these plaques and tangles mean a definite diagnosis of Alzheimer's disease (AD).
[adsense:468x15:2204050025]
2.    MECHANISM OF ALZHEIMER'S DISEASE
*    Pathophysiology
-    AD is characterized by marked atrophy of the cerebral cortex and loss of cortical and sub cortical neurons. The pathological hallmarks of AD are senile plaques, which are spherical accumulations of the protein-amyloid accompanied by degenerating neuronal processes, and neurofibrillary tangles, composed of paired helical filaments and other proteins
-     Although small numbers of senile plaques and neurofibrillary tangles can be observed in intellectually normal individuals, they are far more abundant in patients with AD, and the abundance of tangles is roughly proportional to the severity of cognitive impairment.
-     In advanced AD, senile plaques and neurofibrillary tangles are numerous and most abundant in the hippocampus and associative regions of the cortex, whereas areas such as the visual and motor cortices are relatively spared.
-    This corresponds to the clinical features of marked impairment of memory and abstract reasoning, with preservation of vision and movement. The factors underlying the selective vulnerability of particular cortical neurons to the pathological effects of AD are not known.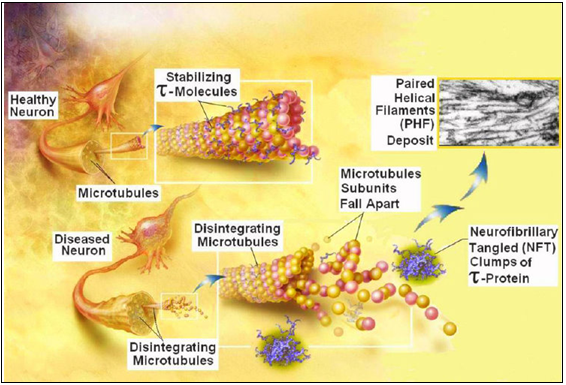 FIG.3- MECHNISM OF ACTION OF ALZHEIMER'S DISEASE

*    Neurochemistry
-    The neurochemical disturbances that arise in AD have been studied intensively (Johnston, 1992). Direct analysis of neurotransmitter content in the cerebral cortex shows a reduction of many transmitter substances that parallels neuronal loss; there is a striking and disproportionate deficiency of acetylcholine.
-    The anatomical basis of the cholinergic deficit is the atrophy and degeneration of subcortical cholinergic neurons, particularly those in the basal forebrain (nucleus basalis of Meynert), that provide cholinergic innervation to the whole cerebral cortex.
-    The selective deficiency of acetylcholine in AD, as well as the observation that central cholinergic antagonists such as atropine can induce a confusional state that bears some resemblance to the dementia of AD, has given rise to the "cholinergic hypothesis," which proposes that a deficiency of acetylcholine is critical in the genesis of the symptoms of AD (Perry, 1986).
-     Although the conceptualization of AD as a "cholinergic deficiency syndrome" in parallel with the "dopaminergic deficiency syndrome" of PD provides a useful framework, it is important to note that the deficit in AD is far more complex, involving multiple neurotransmitter systems, including serotonin, glutamate, and neuropeptides, and that in AD there is destruction of not only cholinergic neurons but also the cortical and hippocampal targets that receive cholinergic input.

*    Signalling Alterations
-    APP metabolism, Aβ oligomerization and signaling involvement in the mechanisms of synaptic damage in AD. Proteolytic cleavage of APP by β- and γ-secretase results in the generation of the Aβ1–42 monomer, which under pathological conditions can assemble into potentially toxic oligomers.
-    Enzymes such as Neprilysin and insulin-degrading enzyme (IDE) can degrade the Aβ monomer, whereas oligomers can be sequestered into fibrillar aggregates in plaques.
-    Oligomers may be the toxic Aβ species that contribute to de-regulation of signaling pathways (Fyn, FAK, GSK3β, CDK5) and result in alterations to cytoskeletal and synaptic proteins and subsequent synaptic and neuronal damage. Aβ accumulation is mediated by factors including rates of peptide production, aggregation and clearance.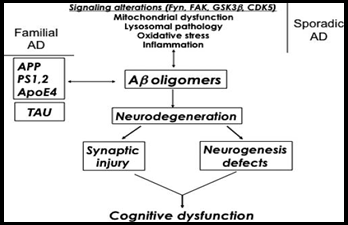 FIG.4- SIGNALLING ALTERATIONS

FIG.5- ALTERATION IN CYTOSKELETAL AND SYNAPTIC PROTIENS

3.    SIGNS AND SYMPTOMS
*    The patient generally visits the physician at the behest of his family. The family typically notices a pattern of changed behaviors that can include memory problems, insomnia, anxiety, depression, disruptive behavior, and hallucinations.
*    Memory impairment is the hallmark symptom of Alzheimer's disease and usually involves behaviors such as forgotten appointments, disorientation away from home, misplaced items, and repetitive questions.
*    The memory impairment of Alzheimer's patients is defined as the reduced ability to learn new information and to recall previously learned information.
*    Alzheimer's disease has been classified into three stages. Stage One usually lasts two to four years. It involves confusion, forgetfulness, disorientation, recent memory loss, and mood changes.
*    Stage Two often lasts two to ten years. It typically is characterized by decreased memory functioning, reduced attention span, hallucinations, wandering, restlessness, muscle spasms, reduced ability to perform logic, increased irritability, and an increased inability to organize thoughts.
*    Stage Three generally lasts one to three years. This period most often involves the increased inability to recognize family members, a progressive inability to recognize their own image in the mirror, weight loss, incontinence, swallowing difficulty, the development of skin infections, and seizures.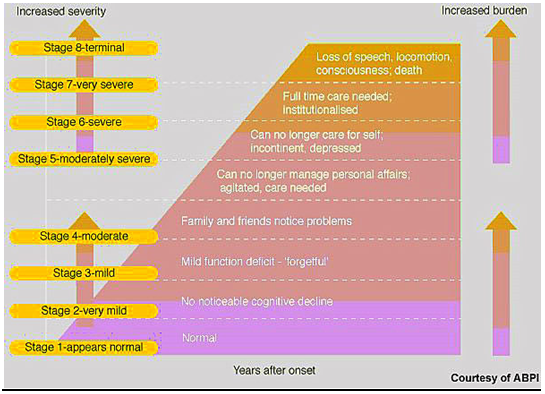 FIG.6- STAGES OF ALZHEIMER'S DISEASE

NOW YOU CAN ALSO PUBLISH YOUR ARTICLE ONLINE.
SUBMIT YOUR ARTICLE/PROJECT AT articles@pharmatutor.org
Subscribe to Pharmatutor Alerts by Email
FIND OUT MORE ARTICLES AT OUR DATABASE
4.    NANOTECHNOLOGICAL DIAGNOSIS OF ALZHEIMER'S DISEASE
* The recently growing application of nanotechnology in molecular detection of biomarkers is promising for very early diagnosis of Alzheimer's disease.
* This potential application of nanotechnology in molecular diagnosis is mainly based on the special physical (optical, electrical or magnetic), chemical and biological characteristics of certain multifunctional nanoparticles.
* From a practical point of view, one may perform a molecular detection process either inside the body (in vivo) or on the samples derived from the body (in vitro).
* Nanotechnology may help us to achieve early diagnosis of AD by providing us with a highly potent signal transduction approach.

FIG.7- DIFFERENT STAGES OF A MOLECULAR DIAGNOSTIC METHOD

·        Stage 1(shown in Blue) is Signaldetection at molecular scale. This stage determines the technical specificity of the moleculardiagnostic tool.
·        Stage 2 (shown in Green) is Signal transduction, through which the detected signalwill become recordable. For this purpose, the signal must change into a recordable form which couldappropriately be amplified. Diagnostic methods that are capable of making weak biological signalsrecordable are sensitive enough to detect those biomarkers.
·        Stage 3 (shown in Orange) is Signaldocumentation. In this stage, the transformed and amplified signal is recorded, visualized and measured. This stage determines the quantifiability of the diagnostic tool.

4.1.         Proposed In Vitro Nanodiagnostic Approaches

4.1.1. DNA-Nanoparticle Conjugates (Bio-Barcode Assay)
·        DNA-Nanoparticle conjugates are capable of the attomolar scale detection of protein biomarkers.
·        Through a technique known as bio-barcode assay, ultra-low concentrations of protein biomarkers may be detected, owing to carrier gold nanoparticles that match the specific antibody of the target biomarker with hundreds of DNA barcodes.
·        Therefore, a single molecule of biomarker may be traced by hundreds of DNA barcodes (a biological signal transformation), which could be additionally amplified by the polymerase chain reaction (PCR) technique.
·         Investigators of this project claimed a highly sensitive detection of amyloid β-derived diffusible ligand (ADDL) in cerebrospinal fluid (CSF) samples of AD patients through bio-barcode assay.
·        The reported results of this study show a significant difference between concentrations of ADDL in AD diagnosed subjects and in age matched healthy controls. This would prove a correlation between increased CSF concentrations of ADDL and affliction with AD.

4.1.2. Nanoparticle Surface Plasmon Resonance
·        Recently a method for the detection of molecular biomarkers was examined for AD biomarkers which is said to be ultra-sensitive and inexpensive.
·         It is called the localized surface plasmon resonance (LSPR) nanosensor and it is based on singular optical properties of triangular silver nanoparticles (AgNPs). In this method, any changes in the nanoparticle external environment lead to a change in the refractive index of the surrounding magnetic field.
·        This change subsequently changes the AgNPs' λ max that could be detectable via spectroscopy.

4.1.3. Scanning Tunneling Microscopy System
·        Another recent development is a molecular detection system which was proposed based on electrical detection using a scanning tunneling microscope (STM).
·        The settings of this technique included immobilization of specific antibody fragments on gold (Au) substrate and Au nanoparticles (AuNP). After addition of the sample solution to the substrate, the antibody nanoparticle conjugates were added.
·        The result was sandwich-type immune binding events that led to changes in tip-to–biosurface interval. These changes in the interval between the sample surface and the scanningtip of the STM affected the tunneling current (signal transformation).
·         The tunneling current profile was then analyzed based on the frequency of the pulse-like peaks, which occurred every time the scanning tip passed over AuNPs. As it was reported, through this technique, an ultra-high sensitive detection of Aβ became possible at concentrations as low as 10 fg/ml .

4.1.4. Two-Photon-Rayleigh Spectroscopy
Recently, two-photon-Rayleigh scattering signal of AuNPs was examined as a transformed signal ofan immunosensor for tau protein, one of AD biomarkers. In this study, conjugates of AuNP withanti-tau antibody was used to detect tau proteins in a sample solution.

4.2 Proposed In vivo Nanodiagnostic Approaches

4.2.1. Micro Magnetic Resonance Imaging (μMRI)
·        The usage of iron oxide nanoparticles as magnetic resonance imaging (MRI) contrast agents has been widely researched in the recent decades.
·        Two groups of investigators have reported the application of monocrystalline iron oxide nanoparticles (MION) and ultra-small superparamagnetic  iron oxide (USPIO) nanoparticles as MRI contrast agents for in vivo detection of amyloid peptide plaques in the brain of transgenic mouse model of AD.
·        In both of these studies Aβ was conjugated to the nanoparticle in order to detect amyloid plaques

4.2.2. Optical Imaging
·        Another recently growing approach for in vivo detection of molecular biomarkers is optical imaging through special near-infrared (NIR) fluorescent contrast agents.
·         The common requirements for a molecular diagnostic probe for AD include the ability to cross the BBB and specifically target an AD related biomarker (e.g. Aβ). In addition to those, fluorescent contrast agents should have an appropriate absorption and emission wavelength interval (600-800 nm) and a strong rigidification .
·         Rigidification refers to a phenomenon through which the fluorescent molecule undergoes a significant conformational restriction upon binding with a molecular target.
·        Such conformational restriction decreases the non-radiative decay rate (and therefore increases the quantum\ yield) by reducing the rotational and vibrational processes that couple the ground and excited state.
·        The practical result of this phenomenon is the substantial imaging contrast between bounded and unbounded fluorescent markers.

Nesterov et al. proposed a NIR Alzheimer's dye known as NIAD-4 with the chemical formula [[5'-(4-Hydroxyphenyl)[2,2'-bithiophen]-5-yl]methylene]-propanedinitrile, for in vivo molecular detection of Aβ.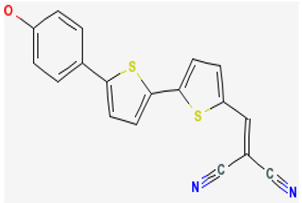 FIG.8-NIAD-4 [[5'-(4-Hydroxyphenyl)[2,2'-bithiophen]-5-yl]methylene]-propanedinitrile.

This molecule meets the above-mentioned requirements for a fluorescent molecular probe. Its specific structure and its rather low molecular weight make its rapid traverse through the BBB possible. The structure of NIAD-4 core, somehow resembling that of Thioflavin T (see Figure 9), which is a well-known amyloid fibril detection agent, makes a highly specific binding with Aβ aggregates feasible.

FIG.9-  Thioflavin T

TABLE.1. SUGGESTED IN VIVO AND IN VITRO NANOTECHNOLOGY METHODS FOR AD DIAGNOSIS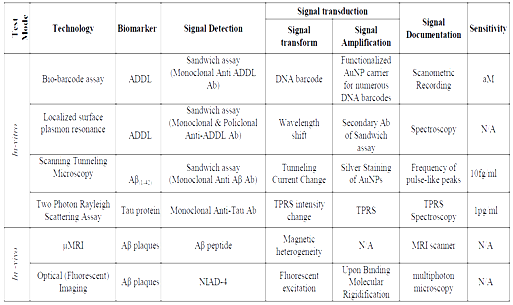 TABLE.2.MULTIFUNCTIONAL NANOPARTICLE SYSTEMS (MFNPS)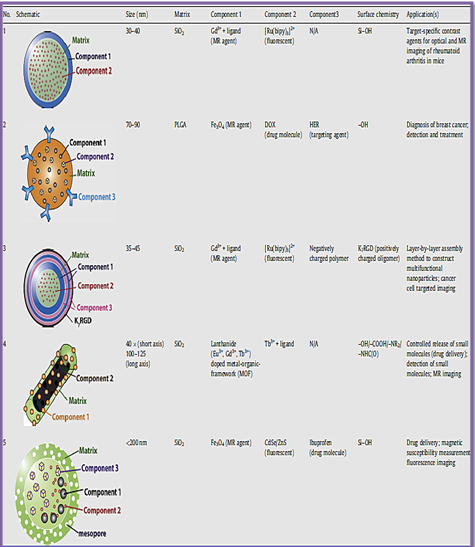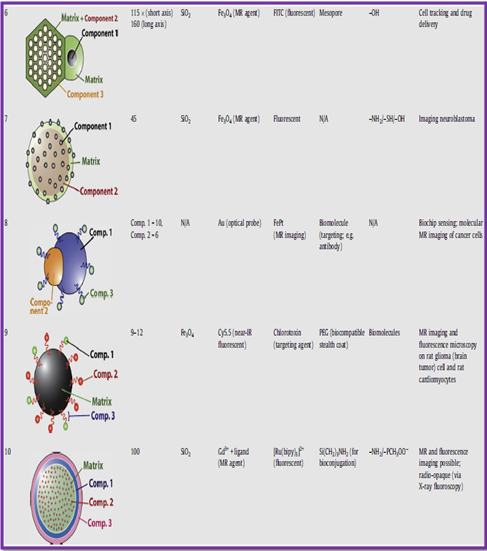 TABLE.3.NANOTECHNOLOGY NEUROPROTECTIVE AGENTS FOR TREATMENT OF AD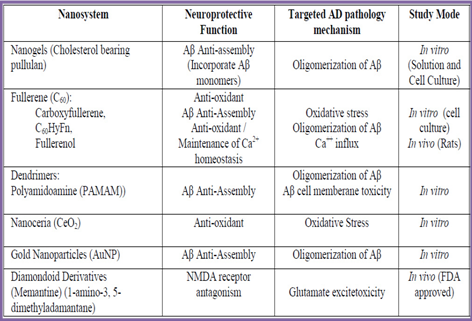 NOW YOU CAN ALSO PUBLISH YOUR ARTICLE ONLINE.
SUBMIT YOUR ARTICLE/PROJECT AT articles@pharmatutor.org
Subscribe to Pharmatutor Alerts by Email
FIND OUT MORE ARTICLES AT OUR DATABASE
4.3 Nanocarriers
·        Targeted drug delivery is an important application of nanomedicine . With regard to diseases of central nervous system (CNS) it is appreciably complicated due to the additional obstacle of the blood brain barrier (BBB) against the entry of a variety of molecules into the CNS tissue.
·        The use of biocompatible nanoparticles to facilitate the traverse of therapeutic agents across BBB has been extensively researched in the past decade.

TABLE.4.SUMMARY OF APPLICABLE NANOCARRIER SYSTEMS IN AD TREATMENT

THE SUMMARY OF APPLICATIONS OF NANOTECHNOLOGY IN THE TREATMENT OF ALZHEIMER DISEASE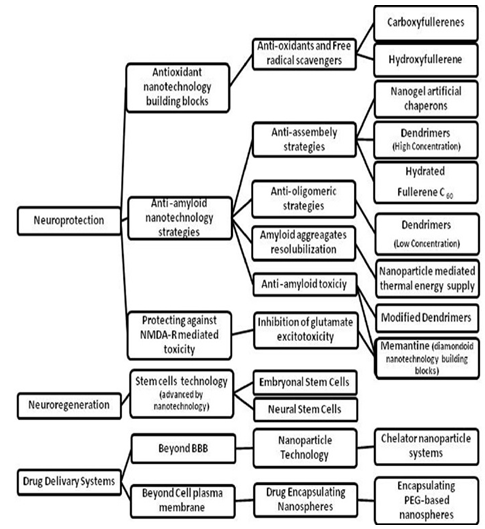 5. NATURAL MEDICINES IN THE CLINICAL MANAGEMENT OF ALZHEIMER'S DISEASE

There is no cure for Alzheimer's, but certain foods and herbs may help to support mental function and slow the progression of this disease. Herbs can be toxic in high doses and may interact with medications, so consult with your health care practitioner before taking them.
Commonly Used Conventional and Natural Medicines for Alzheimer's Disease*
Cholinergic Agents
Conventional Medicines

Acetylcholinesterase Inhibitors

Donepezil (Aricept)
Galantamine (Razadyne)
Rivastigmine (Exelon)
Tacrine (Cognex)

Cholinergic Receptor Agonists

Natural Medicines

Acetylcholinesterase Inhibitors

Acetylcholine Precursors

Acetyl-L-carnitine
Choline
DMAE(Dimethylaminoethanol)
Lecithin
Phosphatidylcholine
Phosphatidylserine
NMDA Inhibitors
Conventional Medicines
Natural Medicines
Antioxidants
Conventional Medicines
Natural Medicines

Beta-carotene
Ginkgo leaf(Ginkgo biloba)
Vitamin C
Vitamin E
Anti-inflammatory Agents
Conventional Medicines
Natural Medicines

Cat's claw(Uncaria tomentosa)
Ginkgo leaf(Ginkgo biloba)
Gotu kola(Centella asiatica)
Hormonal Agents
DHEA(Dehydroepiandrosterone)
Miscellaneous
Folic acid
Vinpocetine
Vitamin B6
Vitamin B12
Huperzine A
·        Is an alkaloid isolated from Huperzia serrata (Chinese club moss). It is now showing up on store shelves in brand name products with enticing names.
·        Cerebra, Memorall, MindPro,  Memory Mate. It works just like the prescription acetyl cholinesterase inhibitors. But there is some evidence that it might actually be more specific for acetylcholinesterase and have a longer duration of action than donepezil (Aricept) or tacrine (Cognex).
·        Huperzine A might also have another beneficial effect for Alzheimer's patients. It seems to have N-methyl-D-aspartate (NMDA) receptor antagonist properties in animal models. Theoretically, it might protect neurons against toxic levels of glutamate.
·        This is similar to the new Alzheimer's drug memantine (Namenda).
Even though huperzine A blocks NMDA receptors like memantine, it might not be as beneficial as memantine.
·        Huperzine A has low affinity for NMDA receptors. No clinical research has evaluated huperzine A in patients with moderate to severe AD.There is some clinical evidence that huperzine A can improve cognitive and behavioral function in Alzheimer's patients.

GINKGO BILOBA DRUG (HERBAL SUPPLEMENT)
Drug trade name- Ginkgo Biloba
Generic name- the Ginkgo and Maidenhair Tree
Group- Herbs
Introduction and Quick Information about Ginkgo Biloba: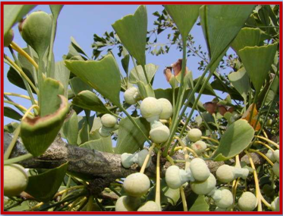 FIG.10 - GINKGO BILOBA
Ginkgo biloba (ginkgo) is the most famous prescribed supplement. All the supplements which are formulated from this tree are formulated from the leaves of the Ginkgo. It is a rare species of tree which is very effective and does not have any related species. This tree was usually introduced and cultivated during early periods in human history, and has lots of benefits like traditional medicines and numerous other uses. The supplement is said to be helpful for various medicinal uses, although mostly individuals have it to enhance their mental or memory functioning.
The supplement has been utilized for increasing memory power, improving blood circulation, boosting concentration ability because of certain brain disease like dementia & Alzheimer's disease. Ginkgo biloba has blood-thinning properties as well. The supplement can also help to stop damage of cells and also can be used for dizziness, eye problems, and premenstrual syndrome.
Is Ginkgo BilobaApproved by FDA?
There is no such information available whether Ginkgo Biloba has been approved by U.S. FDA (Food and Drug Administration). As this is totally natural it should be harmless but for safeguard purposes you must consult your health care provider before using it.

Usage and Benefits of Ginkgo Biloba:
Ginkgo Biloba is the recommended supplement for the treatment of Alzheimer's disease. This supplement is designed with the help of many effective herbs which is frequently utilized for boosting memory and thus overcoming to an extent the deadly diseases such as Alzheimer's disease, dementia.
Alzheimer's disease is a kind of brain disease which leads to the problems in behavior, thinking, and memory.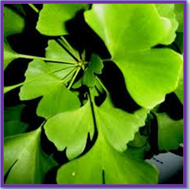 FIG.11 - GINKGO BILOBA
NOW YOU CAN ALSO PUBLISH YOUR ARTICLE ONLINE.
SUBMIT YOUR ARTICLE/PROJECT AT articles@pharmatutor.org
Subscribe to Pharmatutor Alerts by Email
FIND OUT MORE ARTICLES AT OUR DATABASE
Doctors say that the signs of this ailment usually grow gradually and even get worse after some time, becoming critical to interfere with every day activities and most of the area of the brain gets damaged. Over the time these signs and conditions become worse & severe. This specific disease is the widespread cause of dementia, affecting approx 465,000 UK people
Ginkgo Biloba is a prescribed supplement for treating Alzheimer's disease. The supplement improves the blood circulation and boosts the thinking power, though it is a good supplement to prevent your brain related disease but not enough to cure your problem. The supplement can treat your present condition but not sufficient to treat worse situation. That is why you must take advice from your health care provider before taking this supplement.
At times, your doctor may prescribe Ginko Biloba to treat brain diseases like Alzheimer's disease. Your general practitioner recommends this supplement for enhancing memory and mental functioning. However, individuals use Ginkgo Biloba for many other different uses as well. Many of these uses have promising study in their support, but on the other side some have rare scientific favor.
Many studies have revealed promising effects for using Ginkgo Biloba for the following uses:
Memory boosting in elder people
Boosting mental & memory functions in young to middle age individuals
Mental diseases including Alzheimer's disease & dementia.
Glaucoma
Diabetic retinopathy, it is caused by diabetes
Premenstrual syndrome
Intermittent claudication, it is leg pain leaded by blood vessel problems
Vertigo
Raynaud's syndrome
General Recommended Dosages of Ginkgo Biloba:
The important thing is that unlike medications there is not any particular information accessible for formatting the dosage for supplements, including Ginkgo Biloba. However, always keep in mind not to try to take large amounts of the supplement because it can be dangerous to entire health and may cause many adverse reactions. Clinical studies have disclosed that you can take dosages of 120-480 mg of ginkgo biloba daily, but have twice or thrice smaller doses. It is the best deal to plan with a small dose, if you do not want upset stomach. In case you notice any bothersome or severe adverse reactions, immediately call your doctor. May be you had taken over dose and its adverse reactions can be a sign that your dose is too high. High doses of Ginkgo Biloba can lead to major health complications, including life threatening ones.

FIG.12 - GINKGO BILOBA
The supplement comprises of many toxic substances called ginkgolic acid. Experts say that these toxic substances can lead to serious side effects.  In case you are not sure of anything about your dosage of Ginkgo Biloba, please consult your physician.
In case I Miss my Dose?
Don't be panic in case you have missed your dose because generally individuals get worried whenever they miss their dose on the suggested time. You have to do one thing you can have the dose of Ginkgo Biloba which you have missed whenever you remember about it. But in case the time has appeared to have the second dose, then you must skip your previous dose and take second dose. Remember not to take high dose to compensate with the missed dose.

In case I Take Overdose?
Do not forget that overdose can be fatal in any drug, medicine, or supplement. Having high dose of Ginkgo Biloba can cause many health complications, including:
Vomiting and nausea
Diarrhea
Lack of muscle tone
Signs of bleeding: Nosebleeds
In case you have taken overdose then consult your doctor immediately because symptoms can be risky.

Drug Interactions of Ginkgo Biloba:
The fact is that the majority of individuals want safe and effective supplements but they always forget that safety is in their own hands. When people take their supplements in a regular and proper way then they can easily prevent their problem. If they have their supplements with any other drug or medicine they are not sure it may interact. So always remember inform your healthcare provider about all the drugs you are using. Ginkgo Biloba can potentially interact with some other medications or drugs. Mostly Ginkgo Biloba supplements interact with following drugs:
Bleeding: Antithrombin (Thrombate III, ATryn)
Aspirin (Bayer)
Argatroban
Cilostazol (Pletal)
Bivalirudin (Angiomax)
Clopidogrel (Plavix)
Eptifibatide (Integrilin)
Dabigatran etexilate mesylate (Pradaxa)
Heparin: Tinzaparin (Innohep), enoxaparin (Lovenox), dalteparin (fragmin)
Drotrecogin alfa (Xigris)
Dipyridamole (Persantine®)
Lepirudin (Refludan)
How safe is Ginkgo Biloba for Pregnant Women or Nursing mothers?
In general, health experts always say that pregnant woman should never take any drugs or medicines without informing her physician. When we are talking about Ginkgo Bilbo it is not recognized that GInkgo Biloba is harmless to use during pregnancy period. As some of the active elements of this supplement may stimulate labor and have uncomfortable results on hormones, or maximize the chance of bleeding. Make sure your health care provider is informed in case you are expecting during the Ginkgo Biloba treatment.

It's not identified that Ginkgo Biloba passes through milk while breast feeding and it is also not recognized that Ginkgo Biloba is not dangerous for breastfeeding women. Although it's claimed that this supplement can stimulate the production of breast milk, there is not any specific basis for such claims.

LAVENDULA ANGUSTIFOLIUM (LAVENDER)
·        Lavender is used principally as an aromatic essential oil for relaxation. In a single-blind randomized control trial, 80 women who took daily baths with lavender oilexperienced improved mood, reduced aggression, and a more positive outlook.

FIG.13-LAVENDULAANGUSTIFOLIUM
·        Furthermore, the combination of lavender (60 drops/day of a lavandula tincture) and imipramine (100 mg/day) was found to be more effective in the treatment of depression than either treatment alone, according to a double blind randomizedcontrol trial.
·        The findings of this study suggested that taking a moderate amount of lavender might help reduce the amount of tricyclic antidepressants needed to treatdepression, leading to fewer side effects .

CROCUS SATIVUS (SAFFRON)
·        Saffron is the world's most expensive spice and apart from its traditional value as a food additive, recent studies indicate its potential as an anti-cancer agent andmemory enhancer .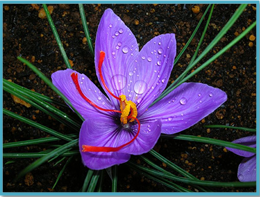 FIG 14- CROCUS SATIVUS
·        The value of saffron (dried stigmas of Crocus sativus L.) is determined by the existence of three main secondary metabolites: crocin and its derivatives, which are responsible for color; picrocrocin, responsible for taste; and safranal responsible for odor.
·        This plant belongs to the Iridaceae family and as a therapeutic plant, saffron is considered an excellent aid for stomach ailments and an antispasmodic, helps digestion and increases appetite.
·        It also relieves renal colic, reduces stomachache and relieves tension . Saffron is used for depression in Persian traditional medicine. Indeed, it is a Persian herb with a history as long as the Persian Empire itself

FIG 15 - CROCUS SATIVUS
·        Iran, the world's largest producer ofsaffron has been investing in research into saffron's potential medicinal uses. Much of the work surrounds its traditional application for alleviating depression.
·        The clinical findings suggest that saffron is a safe and effective antidepressant.

PASSIFLORA INCARNATA
·        Passionflower (Passiflora incarnata) is a woody, hairy, climbing vine reputed to have sedative/anxiolytic properties, and has been used widely as an ingredient of herbal remedies, chiefly in the form of a liquid extract tincture.
·        A double blind and randomized trial showed that that passiflora extract is an effective drug for the management of  generalized anxiety disorder and the low incidence of impairment of job Performance with passiflora extract compared to oxazepam is an advantage
·        A double blind and randomized trial showed that that passiflora extract is an effective drug for the management of  generalized anxiety disorder and the low incidence of impairment of job Performance with passiflora extract compared to oxazepam is an advantage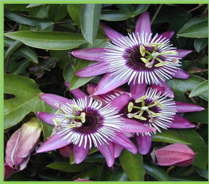 FIG 16- PASSIFLORA INCARNATA

6.CONCLUSIONS
·        Early diagnosis of AD would be a cost effective approach in order to prevent its irreversible and uncontrollable consequences. Early diagnosis need to be performed before the underlying pathology has become severe enough to present itself clinically.
·        Several molecular biomarkers are recognized to be associated with the pathology of AD. However, the currently available laboratory methods are notsensitive enough for such an early diagnosis. Nanotechnology offers a number of highly sensitive molecular detection tools that may make this goal achievable. These nanodiagnostic tools utilize different nanoparticles/nanostructures, and are based on different physicochemical interactions that may be utilized either in vitro or in vivo.
·        Alzheimer's disease seems to be a multi-factorial disease with several pathogenetic mechanisms and pathways, which are not necessarily interrelated. Therefore, it would be a great step forward for Alzheimer's disease therapy if a multifunctional nanotechnology approach could be developed for designing therapeutic cocktails that simultaneously and specifically target the main molecular culprits involved in AD.
·        These molecular targets include (but are not limited to) Aβ oligomers, ROS, excessive metal ions, tau phosphorylating kinases and cell cycle proteins. Nevertheless, there are still many challenges regarding the biocompatibility of nanoparticles and nanodevices especially in a complex biological milieu like brain with a huge concentration of cells.
·        Therefore, it seems that a long and puzzling path is ahead to make the envisioned nano-neurosurgical approaches of curing CNS diseases a practical technology and eventually a routine clinical practice.
·        In traditional system of medicines, various plants have been used for treatment of various disorders related to learning and memory. Result from this survey revealed plants with potential anticholinesterase and neuroprotective actions for pharmacological evaluation.

Further studies regarding the role of  phyto-constituents and compounds responsible for exact mechanism are necessary in order to develop an ideal agent for the treatment of various learning and memory related disorders.

References:
•    Arnall, A.H.(2004) Drug delivery systems: markets and applications for nanotechnology derived drug delivery systems
•    A Discussion of the Potential for the  Use of Nanotechnology to Combat the  Degenerative Effects of Alzheimer's Disease  By  Tomas Ellis Rosie-Loup James PASS WITH MERIT  Research paper  Based on  Pathology lectures At Medlink 2010
•    Nazem A, Mansoori GA. Nanotechnology solutions for Alzheimer's disease: advances in research tools, diagnostic methods and therapeutic agents. J Alzheimers Dis 2008; 13(2):199-223.
•    Mansoori GA, Mohazzabi P, McCormack P, Jabbari S. Nanotechnology in cancer prevention, detection and treatment: bright future lies ahead. WRSTSD 2007; 4(2/3):226-57.
•    Singh S, Singh M, Gambhir IS. Nanotechnology for Alzheimer's disease detection. Digest Journal of Nanomaterials and Biostructures 2008; 3(2):75-9.
•    Kang DY, Lee JH, Oh BK, Choi JW. Ultra-sensitive immunosensor for -amyloid (1-42) using scanning tunneling microscopy-based electrical detection. Biosens Bioelectron 2009; 24(5):1431-6.
•    pharmascholars.com
•    Prevention and Treatment of Alzheimer's Disease with Natural Therapeutics Published as a public service by  The Alzheimer's Disease Fund  a program of Project Cure Foundation.
NOW YOU CAN ALSO PUBLISH YOUR ARTICLE ONLINE.
SUBMIT YOUR ARTICLE/PROJECT AT articles@pharmatutor.org
Subscribe to Pharmatutor Alerts by Email
FIND OUT MORE ARTICLES AT OUR DATABASE