ALZHEIMER DISEASE AND CONTRIBUTION OF NANOTECHNOLOGY AND HERBALTRADITIONAL DRUGS IN THE TREATMENT OF ALZHEIMER DISEASE
Doctors say that the signs of this ailment usually grow gradually and even get worse after some time, becoming critical to interfere with every day activities and most of the area of the brain gets damaged. Over the time these signs and conditions become worse & severe. This specific disease is the widespread cause of dementia, affecting approx 465,000 UK people
Ginkgo Biloba is a prescribed supplement for treating Alzheimer's disease. The supplement improves the blood circulation and boosts the thinking power, though it is a good supplement to prevent your brain related disease but not enough to cure your problem. The supplement can treat your present condition but not sufficient to treat worse situation. That is why you must take advice from your health care provider before taking this supplement.
At times, your doctor may prescribe Ginko Biloba to treat brain diseases like Alzheimer's disease. Your general practitioner recommends this supplement for enhancing memory and mental functioning. However, individuals use Ginkgo Biloba for many other different uses as well. Many of these uses have promising study in their support, but on the other side some have rare scientific favor.
Many studies have revealed promising effects for using Ginkgo Biloba for the following uses:
Memory boosting in elder people
Boosting mental & memory functions in young to middle age individuals
Mental diseases including Alzheimer's disease & dementia.
Glaucoma
Diabetic retinopathy, it is caused by diabetes
Premenstrual syndrome
Intermittent claudication, it is leg pain leaded by blood vessel problems
Vertigo
Raynaud's syndrome
General Recommended Dosages of Ginkgo Biloba:
The important thing is that unlike medications there is not any particular information accessible for formatting the dosage for supplements, including Ginkgo Biloba. However, always keep in mind not to try to take large amounts of the supplement because it can be dangerous to entire health and may cause many adverse reactions. Clinical studies have disclosed that you can take dosages of 120-480 mg of ginkgo biloba daily, but have twice or thrice smaller doses. It is the best deal to plan with a small dose, if you do not want upset stomach. In case you notice any bothersome or severe adverse reactions, immediately call your doctor. May be you had taken over dose and its adverse reactions can be a sign that your dose is too high. High doses of Ginkgo Biloba can lead to major health complications, including life threatening ones.

FIG.12 - GINKGO BILOBA
The supplement comprises of many toxic substances called ginkgolic acid. Experts say that these toxic substances can lead to serious side effects.  In case you are not sure of anything about your dosage of Ginkgo Biloba, please consult your physician.
In case I Miss my Dose?
Don't be panic in case you have missed your dose because generally individuals get worried whenever they miss their dose on the suggested time. You have to do one thing you can have the dose of Ginkgo Biloba which you have missed whenever you remember about it. But in case the time has appeared to have the second dose, then you must skip your previous dose and take second dose. Remember not to take high dose to compensate with the missed dose.

In case I Take Overdose?
Do not forget that overdose can be fatal in any drug, medicine, or supplement. Having high dose of Ginkgo Biloba can cause many health complications, including:
Vomiting and nausea
Diarrhea
Lack of muscle tone
Signs of bleeding: Nosebleeds
In case you have taken overdose then consult your doctor immediately because symptoms can be risky.

Drug Interactions of Ginkgo Biloba:
The fact is that the majority of individuals want safe and effective supplements but they always forget that safety is in their own hands. When people take their supplements in a regular and proper way then they can easily prevent their problem. If they have their supplements with any other drug or medicine they are not sure it may interact. So always remember inform your healthcare provider about all the drugs you are using. Ginkgo Biloba can potentially interact with some other medications or drugs. Mostly Ginkgo Biloba supplements interact with following drugs:
Bleeding: Antithrombin (Thrombate III, ATryn)
Aspirin (Bayer)
Argatroban
Cilostazol (Pletal)
Bivalirudin (Angiomax)
Clopidogrel (Plavix)
Eptifibatide (Integrilin)
Dabigatran etexilate mesylate (Pradaxa)
Heparin: Tinzaparin (Innohep), enoxaparin (Lovenox), dalteparin (fragmin)
Drotrecogin alfa (Xigris)
Dipyridamole (Persantine®)
Lepirudin (Refludan)
How safe is Ginkgo Biloba for Pregnant Women or Nursing mothers?
In general, health experts always say that pregnant woman should never take any drugs or medicines without informing her physician. When we are talking about Ginkgo Bilbo it is not recognized that GInkgo Biloba is harmless to use during pregnancy period. As some of the active elements of this supplement may stimulate labor and have uncomfortable results on hormones, or maximize the chance of bleeding. Make sure your health care provider is informed in case you are expecting during the Ginkgo Biloba treatment.

It's not identified that Ginkgo Biloba passes through milk while breast feeding and it is also not recognized that Ginkgo Biloba is not dangerous for breastfeeding women. Although it's claimed that this supplement can stimulate the production of breast milk, there is not any specific basis for such claims.

LAVENDULA ANGUSTIFOLIUM (LAVENDER)
·        Lavender is used principally as an aromatic essential oil for relaxation. In a single-blind randomized control trial, 80 women who took daily baths with lavender oilexperienced improved mood, reduced aggression, and a more positive outlook.

FIG.13-LAVENDULAANGUSTIFOLIUM
·        Furthermore, the combination of lavender (60 drops/day of a lavandula tincture) and imipramine (100 mg/day) was found to be more effective in the treatment of depression than either treatment alone, according to a double blind randomizedcontrol trial.
·        The findings of this study suggested that taking a moderate amount of lavender might help reduce the amount of tricyclic antidepressants needed to treatdepression, leading to fewer side effects .

CROCUS SATIVUS (SAFFRON)
·        Saffron is the world's most expensive spice and apart from its traditional value as a food additive, recent studies indicate its potential as an anti-cancer agent andmemory enhancer .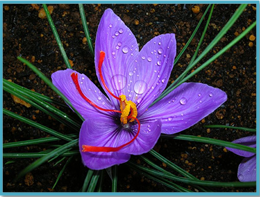 FIG 14- CROCUS SATIVUS
·        The value of saffron (dried stigmas of Crocus sativus L.) is determined by the existence of three main secondary metabolites: crocin and its derivatives, which are responsible for color; picrocrocin, responsible for taste; and safranal responsible for odor.
·        This plant belongs to the Iridaceae family and as a therapeutic plant, saffron is considered an excellent aid for stomach ailments and an antispasmodic, helps digestion and increases appetite.
·        It also relieves renal colic, reduces stomachache and relieves tension . Saffron is used for depression in Persian traditional medicine. Indeed, it is a Persian herb with a history as long as the Persian Empire itself

FIG 15 - CROCUS SATIVUS
·        Iran, the world's largest producer ofsaffron has been investing in research into saffron's potential medicinal uses. Much of the work surrounds its traditional application for alleviating depression.
·        The clinical findings suggest that saffron is a safe and effective antidepressant.

PASSIFLORA INCARNATA
·        Passionflower (Passiflora incarnata) is a woody, hairy, climbing vine reputed to have sedative/anxiolytic properties, and has been used widely as an ingredient of herbal remedies, chiefly in the form of a liquid extract tincture.
·        A double blind and randomized trial showed that that passiflora extract is an effective drug for the management of  generalized anxiety disorder and the low incidence of impairment of job Performance with passiflora extract compared to oxazepam is an advantage
·        A double blind and randomized trial showed that that passiflora extract is an effective drug for the management of  generalized anxiety disorder and the low incidence of impairment of job Performance with passiflora extract compared to oxazepam is an advantage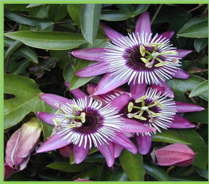 FIG 16- PASSIFLORA INCARNATA

6.CONCLUSIONS
·        Early diagnosis of AD would be a cost effective approach in order to prevent its irreversible and uncontrollable consequences. Early diagnosis need to be performed before the underlying pathology has become severe enough to present itself clinically.
·        Several molecular biomarkers are recognized to be associated with the pathology of AD. However, the currently available laboratory methods are notsensitive enough for such an early diagnosis. Nanotechnology offers a number of highly sensitive molecular detection tools that may make this goal achievable. These nanodiagnostic tools utilize different nanoparticles/nanostructures, and are based on different physicochemical interactions that may be utilized either in vitro or in vivo.
·        Alzheimer's disease seems to be a multi-factorial disease with several pathogenetic mechanisms and pathways, which are not necessarily interrelated. Therefore, it would be a great step forward for Alzheimer's disease therapy if a multifunctional nanotechnology approach could be developed for designing therapeutic cocktails that simultaneously and specifically target the main molecular culprits involved in AD.
·        These molecular targets include (but are not limited to) Aβ oligomers, ROS, excessive metal ions, tau phosphorylating kinases and cell cycle proteins. Nevertheless, there are still many challenges regarding the biocompatibility of nanoparticles and nanodevices especially in a complex biological milieu like brain with a huge concentration of cells.
·        Therefore, it seems that a long and puzzling path is ahead to make the envisioned nano-neurosurgical approaches of curing CNS diseases a practical technology and eventually a routine clinical practice.
·        In traditional system of medicines, various plants have been used for treatment of various disorders related to learning and memory. Result from this survey revealed plants with potential anticholinesterase and neuroprotective actions for pharmacological evaluation.

Further studies regarding the role of  phyto-constituents and compounds responsible for exact mechanism are necessary in order to develop an ideal agent for the treatment of various learning and memory related disorders.

References:
•    Arnall, A.H.(2004) Drug delivery systems: markets and applications for nanotechnology derived drug delivery systems
•    A Discussion of the Potential for the  Use of Nanotechnology to Combat the  Degenerative Effects of Alzheimer's Disease  By  Tomas Ellis Rosie-Loup James PASS WITH MERIT  Research paper  Based on  Pathology lectures At Medlink 2010
•    Nazem A, Mansoori GA. Nanotechnology solutions for Alzheimer's disease: advances in research tools, diagnostic methods and therapeutic agents. J Alzheimers Dis 2008; 13(2):199-223.
•    Mansoori GA, Mohazzabi P, McCormack P, Jabbari S. Nanotechnology in cancer prevention, detection and treatment: bright future lies ahead. WRSTSD 2007; 4(2/3):226-57.
•    Singh S, Singh M, Gambhir IS. Nanotechnology for Alzheimer's disease detection. Digest Journal of Nanomaterials and Biostructures 2008; 3(2):75-9.
•    Kang DY, Lee JH, Oh BK, Choi JW. Ultra-sensitive immunosensor for -amyloid (1-42) using scanning tunneling microscopy-based electrical detection. Biosens Bioelectron 2009; 24(5):1431-6.
•    pharmascholars.com
•    Prevention and Treatment of Alzheimer's Disease with Natural Therapeutics Published as a public service by  The Alzheimer's Disease Fund  a program of Project Cure Foundation.
NOW YOU CAN ALSO PUBLISH YOUR ARTICLE ONLINE.
SUBMIT YOUR ARTICLE/PROJECT AT articles@pharmatutor.org
Subscribe to Pharmatutor Alerts by Email
FIND OUT MORE ARTICLES AT OUR DATABASE
Pages