Require Area Business Manager in Emcure | 2 openings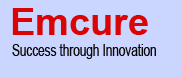 Emcure are fortunate to have a very passionate and talented team. Emcure is committed to emerge as the most preferred employer. We have conducted several training programs and also taken policy decisions towards creating a better work life balance for our people. One of our strengths has been our decentralized approach to managing the business, which is a tremendous magnet for talent – this approach gives people room to grow and room to explore new ideas, thus developing their own skills and careers. We are committed to nurturing our team and providing opportunities for their growth and development.
Post: Area Manager - 2 openings

Job Description:
- Ensure that promotion programmes & strategies are fully implemented by field-force.
- Increase secondary sales & per man productivity consistently.
- Achieve assigned productivity, sales targets & actvities on monthly basis.
- Provide mkt. feedback to HO.
- Scintific selling
Candidate Profile:
- A Science / Pharmacy graduate.
- Person having MBA (marketing) qualification would be an added advantage.
- Have min. 1 yr. experience selling Onco. products in any reputed Pharma Co.(Top 25).

Additional Information:
Experience: 1-2 years
Location: Pune
Education: B.Pharm, B.Sc, MBA
Industry Type: Pharma/ Biotech/Clinical Research
Functional Area: Production
Apply/Send resume at, Corporate@emcure.co.in

See All   EMCURE Jobs   B.Pharm Alerts   B.Sc Alerts   Pune Alerts
See All   Other Jobs in our Database
PLEASE NOTIFY THAT THIS JOB IS EXPIRED.
FIND LATEST JOBS BY CLICKING LINKS BELOW.