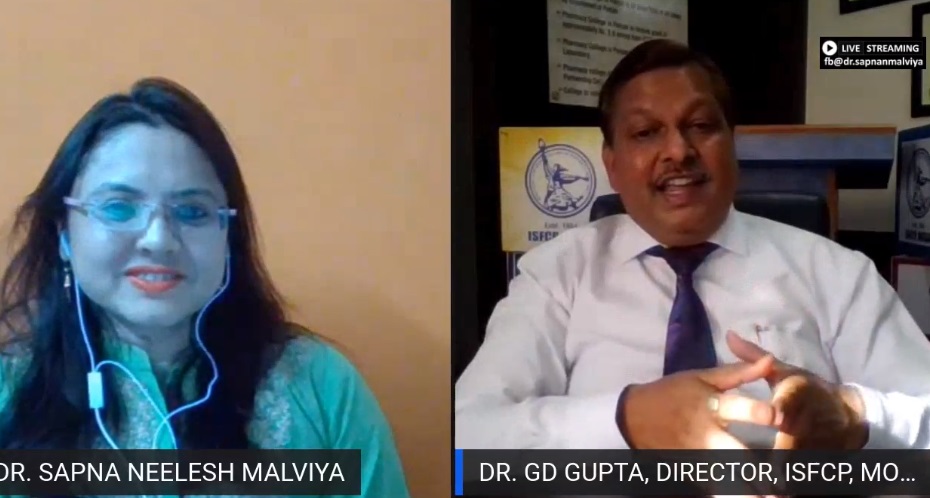 The live interaction session on theme Future Perspective of DIGITAL LEARNING in India was organized on 6th May, 2020 (Wednesday), 5:00 PM-6:30 PM.
The Session was successfully convened by Dr. Neelesh Malviya, Principal and Professor, Smriti College of Pharmaceutical Education, Indore.
He has defined the concept of the Live Interaction due to need that Digital learning is learning accompanied by technology or by instructional practice that makes effective use of technology. It encompasses the solicitation of a wide range of practices including blended and virtual learning.
The session was introduced by Dr. SapnaMalviya, Department of Pharm. Science, Modern Institute of Pharmaceutical Sciences, Indore.
The Invited Guest was PROF. G.D. GUPTA, Director cum Principal, ISF College of Pharmacy, Moga Punjab and President, SPER.
More than 4000 viewers watched the online session and more than 500+ live comments has been cited during the sessions.
The session was organized by Dr Neelesh Malviya included discussions on Digital Learning and Digital teaching, Face-to-face training in healthcare and pharma training is quite challenging as far as time, space, and money are concerned. The need for accelerated, region-specific training is compelling organizations to look for alternative to highlight the application of digital learning in pharmaceutical field, Different Techniques, applications and Knowledge sharing digital platform, Limitations of Digital learning and practical and research part, Can digital teaching affect the laboratory engagement of Teachers and Faculty members, Whether Digital Education will fulfill the anticipation and needs of Pharmaceutical Industry, Tools required for digital learning and Teaching, How to learn the execution part digital teaching and learning, important aspect is examination or evaluation, all regulatory bodies release the advisory for digital classes but no one has specified about examination and attendance criteria and about implementation of digital education in e- Pharmacy practice.
Dr. G D Gupta has described that digital learning strategy may include any of or a combination of any of the following: adaptive learning, blended learning, e-textbooks, learning analytics, personalized learning, online learning (or e-learning), open educational resources (OERs), technology-enhanced teaching and learning, virtual reality and augmented reality. The efficacy of treatment is now transparent, Data visualization to increase accessibility, 24/7 Virtual Care, Digital streamlines processes for efficiency, more information is available about product performance, Process efficiency and agility is improving dramatically Personalized care: Sensors and digital services for tailored, 24/7 treatment. Fuller engagement: Omni channel conversations with physicians and patients, Data-driven insight: Advanced analytics to increase pipeline and commercial value, Real-time responsiveness: Automated processes to improve cost, reactions, and agility. The youth should move in the road of digital learning and should implement the technique as soon as possible.
The purpose of session was to discuss that eLearning doesn't just "happen"! It requires careful planning and implementation.