In this article we are featuring Mr. Rajendran (Raj) Arunagiri from Eastman, who was responsible for developing and launching a new excipient called BioSustane™.
Even though they do not have any therapeutic effect, excipients are essential for drug viability and delivery. Excipients can be as simple as a flavor or it can be a coating with laser drilled holes. In some cases, such as a bioavailability enhancer, drug will not be effective without excipients. Excipients play a critical role in human health and yet innovations do not happen often with Excipients.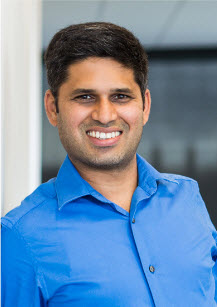 Any new excipient launched is an extraordinary feat that needs to be recognized and welcomed given the criticality of excipients and the need to solve complex drug delivery challenges. Poorly water-soluble API is a significant challenge to formulate new molecular entities and BioSustane™ enables the formulation of poorly water-soluble APIs. These factors make the launch of BioSustane™ a significant accomplishment by Eastman and Mr. Raj Arunagiri. Hence, the new excipient BioSustane™ developed and launched by Eastman, deserves a spotlight.
Eastman is a specialty ingredients company headquartered in the United States with presence across the globe. Eastman has a long history in pharma. Eastman excipients enable to address critical indications such as hypertension and diabetes. Eastman excipients portfolio has solutions for zero order release, enteric coatings, and formulating poorly water-soluble APIs.
Mr. Raj Arunagiri is the Global Segment Market Manager for the Pharma ingredients business including the excipients portfolio. In his role Mr. Raj Arunagiri is responsible for developing and launching new excipients. Mr. Raj Arunagiri has travelled across the globe to conduct discovery with formulation scientists and is an expert in the drug delivery challenges. Poor solubility of API has been Raj Arunagiri's recent focus. Mr. Raj Arunagiri has co-authored publications on the use of BioSustane™ for poorly soluble APIs. Heis a named inventor on the patent that uses BioSustane™ for formulating poorly water-soluble APIs. Due to his expertise, Mr. Raj Arunagiri is an invited speaker at several pharma conferences for the drug delivery track.
Below is the interview with Mr. Raj Arunagiri :
Congratulations on BioSustane™. Its quite an achievement by Eastman and your team.
• What is BioSustane™?
It is a new multi-functional excipient. From a chemistry standpoint the starting material for the excipient is sucrose. BioSustane is highly viscous in its native form. Its chemistry is generally regarded as safe.
• What functionality does BioSustane™ provide?
BioSustane™ is multi-functional. It can be used to formulate poorly water-soluble APIs, extended-release dosages and abuse deterrent dosages.
• How is it different from existing excipients that provide the above functionality?
Poor solubility of API is a major challenge for formulators. There are several approaches the industry has taken to address this issue, including hot melt extrusion, spray drying, and other advanced techniques. However, these methods can be expensive and may not always be feasible. BioSustane™ offers a new route to address poor solubility that does not require hot melt extrusion or spray drying. Instead, it uses traditional wet granulation, which is a well-established and widely used technique in pharmaceutical manufacturing. This is one big difference in how BioSustane™ works from the existing excipients.
Additionally, there is a lot of appetite for new excipients, since formulators are constantly looking for new excipient solutions, which does not come along often. Its different from the existing excipients on a few aspects. Finally, its multi-functional. One excipient can impact three functionalities like I mentioned before.
• Can you provide an example of a situation in which the selection of an inappropriate excipient could negatively impact drug safety or efficacy?
There are several examples. One example is the issue of batch to batch variability. Formulation scientist when considering the excipient should think through if the chemistry and manufacturing process of the excipient is subject to batch to batch variability in critical material attributes. This variability has led to inconsistent drug product performance including dissolution failure. Such drug products have been ended up with a recall.
• Can you discuss any clinical studies or trials that have evaluated BioSustane™ as an excipient?
FDA has approved a product called Posimir® which uses BioSustane™ as an excipient. The FIRST and ONLY non-opioid, locally administered, bupivacaine solution that delivers consistent, rapid-acting, and long-lasting pain relief for up to 72 hours following arthroscopic subacromial decompression.
• How is BioSustane™ manufactured, and what sustainability features are built into its production process?
BioSustane is produced by the controlled esterification of sucrose, a natural sugar, with acetic and isobutyric anhydrides.
• Can you describe any challenges or limitations associated with using BioSustane™ as an excipient?
One of the challenges with BioSustane™ it highly viscous. This could pose a challenge. However, just with 5%-10% of pharmaceutically acceptable solvent (e.g., ethanol) the viscosity thins down nicely and its pourable/workable.
• If it's a new excipient, wouldn't there be concerns on safety? What information you can share BioSustane™ safety?
The base chemistry for BioSustane is well understood. We have a lot of toxicity studies for the oral route. Keep in mind we are also NF (National Formulary) complaint and BioSustane™ is made in a cGMP facility in the United States.
There are also drugs containing BioSustane™, already approved by regulators. Posimir® a drug indicated for post operative pain is already marketed in the United States. There is also an animal health drug marketed in the United States. In Taiwan, an ADHD drug that uses BioSustane™ as an extended release and abuse deterrent agent, is approved for marketing. BioSustane™ being in approved drug formulation should be reassuring on its safety.
• How can we learn more about BioSustane™? Do you have experimental data to share?
We have conducted studies with APIs such as Aprepitant and Tacrolimus. Our experiments showed improved bioavailability of these APIs. Below is a sample piece of data on Aprepitant found our website. There is more data that we encourage you to explore.
We also have data on stability. We encourage the readers to go to our website at www.eastman.com/pharma . Or, please click here to contact us for deeper technical discussions and samples requests.
Disclaimer : Please note that the views and opinions expressed by Raj Arunagiri are his own and do not reflect those of his employer, Eastman.