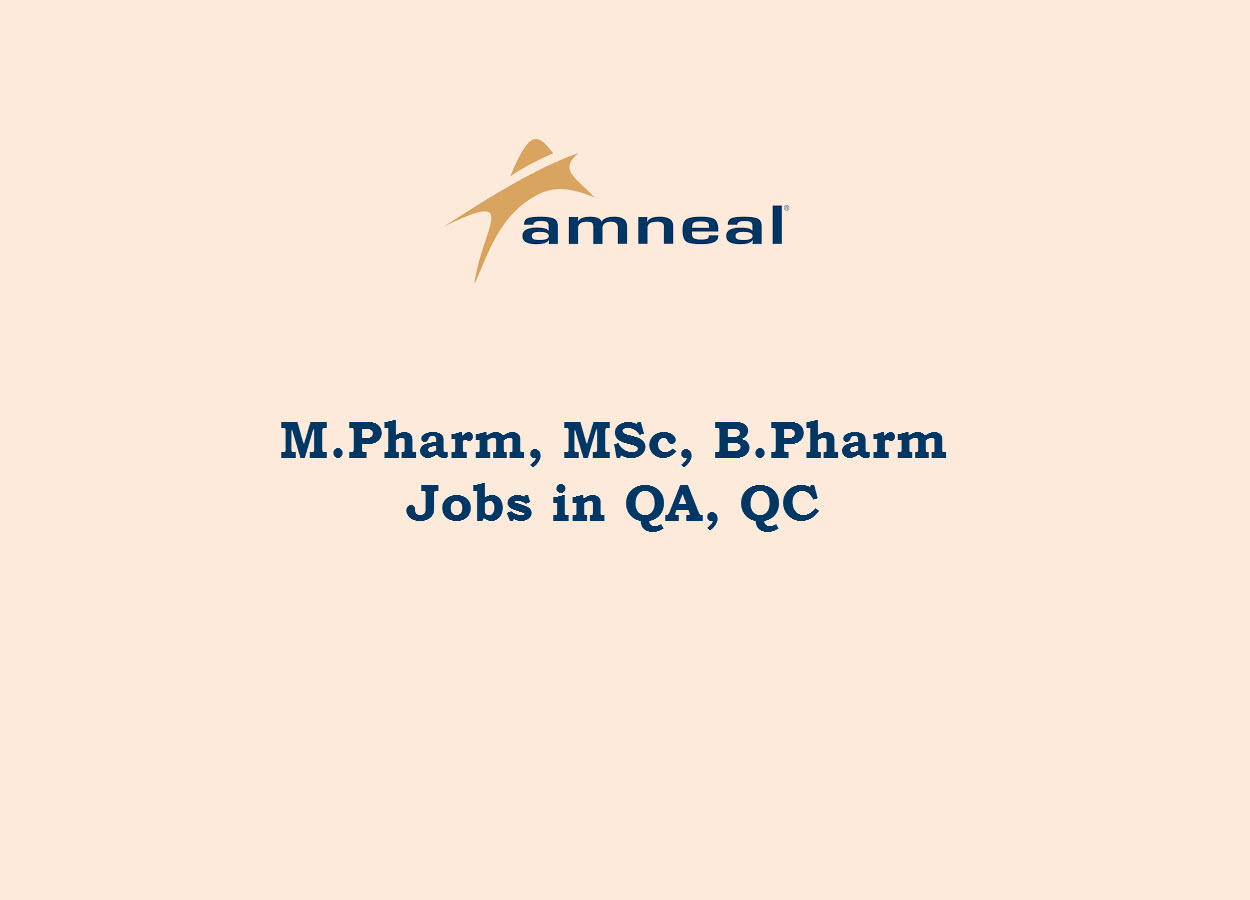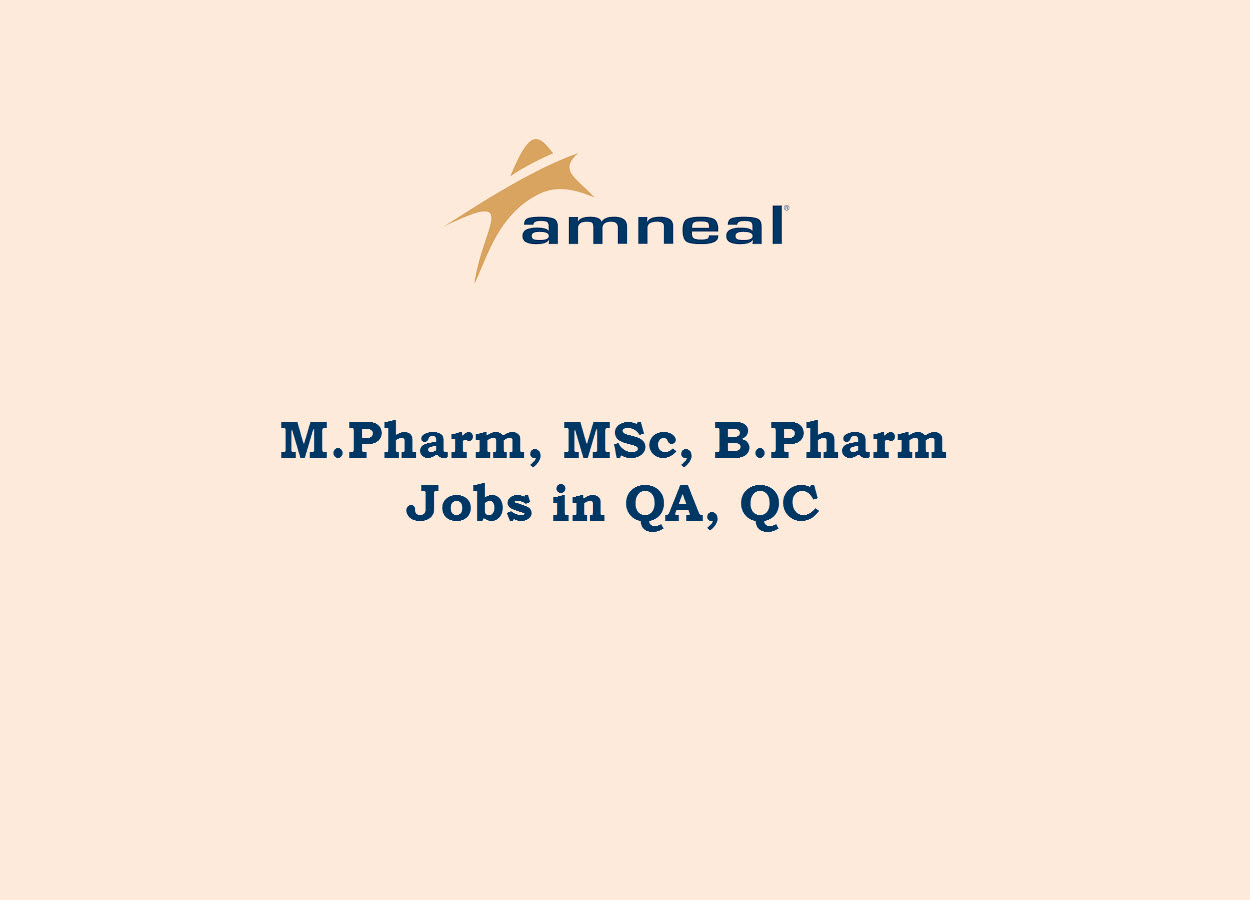 Amneal Pharmaceuticals, Inc is an integrated specialty pharmaceutical company powered by a robust U.S. generics business and a growing branded business. Together, our team is working to build one of the most dynamic pharmaceutical companies in our rapidly changing industry.  Today's healthcare environment requires a new approach and new ideas.
Quality Assurance (IPQA/Validation/EM) - Injectable unit /Parenteral Unit)
Post : Officer/Sr. Officer/Executive
Qualification: B.Pharm/ M.Pharm/ M.sc Microbiologist
Experience: 02 to 07 years
No of Posts : 15
1. Responsible for preparation, review and implementation of Standard Operating Procedures of Quality Assurance department.
2. Should have sound knowledge and experience in Environmental Monitoring (Air Sampling, Settle Plate, Surface Monitoring, Personnel Monitoring)
3. Responsible for the review of BMR/BPR.
4. Responsible for Document management like BMR, BPR, Master SOP, training record etc.
5. Responsible for reserve sample management, annual review and destruction as per procedure.
6. Responsible for tracking of stability sample collection as per protocol.
7. Responsible for stage wise line clearance activity before commencing the operations like dispensing, manufacturing, filling, Lyophilization, sealing, labeling and packing operations.
8. Supervision of sampling activity for in-process and finished samples for analysis and other samples requirement as per protocols (Process Validation, Cleaning Validation etc.)
9. Responsible to provide and fulfill the documents requirement of Regulatory Affairs department for filing or other requirements.
10. This includes documents review, protocol preparation, qualification executions and support to CFT and report compilation.
11. All the equipment qualification (URS, DQ, FAT) i.e. Filling line, Vessels, Packing machines, UAFs, DPBs, Mobile carts, documents review and approval etc.
12. All the utility qualification (URS, DQ, FAT, IQ, OQ, PQ) i.e. HVAC, Compressed air, Nitrogen gas, WFI (Phase I, Phase II, Phase III), PW (Phase I, Phase II, Phase III), Pure Steam, Smoke study, etc.
13. Media fills (All process i.e. Liquid, Suspension, Emulsion as applicable)
14. Process validation, cleaning validation, CEHT, DEHT
15. Facility qualification, FAT
16. Activities other than defined in the Job responsibility are to be done, as per the requirement of HOD, by following HOD's instruction and guidance.
Quality Control - (Injectable unit /Parenteral Unit)
Post : Officer/ Sr. Officer/ Executive
Qualification: BSc/ MSc/ B.Pharm/ M.Pharm
Experience: 02 to 07 years
No of Posts : 15
Area : GLP, Calibration, QC QMS, LIMS, Stability
1. Testing of raw material, packing material, in-process, finished product and stability samples (as per stability protocol).
2. To keep workplace neat & clean and follow the Good laboratory practices in the laboratory.
3. To keep update of instruments log-books and to record the data in LNB during testing.
4. To attain and complete self-training record.
5. To initiate and review of A)Deviation B)Out of specification/Out of trend C)Change control
6. To ensure in and out of stability samples from stability chambers.
7. Charging of stability samples as per stability protocol.
8. To perform water analysis as per specification, SOP and GTP.
9. To co-ordinate QA for documentation for issuance and retrievals.
10. Review and monitoring of USP, EP, BP and other pharmacopoeia monographs for changes/ revision.
11. To prepare COA of various product/material as per requirement whenever required.
12. LIMS master preparation for various product / material/ instruments/ Volumetric solutions etc.
13. Registration of reference standard, working standards, column, instrument etc. in LIMS
14. Preparation/updating of calibration schedule in LIMS
15. Updating of LIMS master as and when required
16. Preparation of configured Test plan.
17. Trouble shooting in LIMS, involvement in qualification of LIMS module/ Instrument, Preparation of LIMS related protocol study and execution.
Note:  The candidate with good communication & interpersonal skills, computer knowledge, exposure to cGMP/ GLP and understanding of regulatory requirement will be preferred.  Candidate should have 02 to 07 years of relevant experience in USFDA regulatory approved pharmaceuticals (Preferred 21 CFR compliance) organisation. 
You may walk in for interview with current CV along with CTC proof Appointment letter, Increment letter & last 3 months salary slip & Bank statement, Aadhar & PAN card and 2 passport size photograph. Those who have already attended interview in last 6 month need not appear again for interview.
Date & Time : 19th September, 9.30 AM - 3.00 PM
Venue :
Amneal Pharmaceuticals Pvt. Ltd.
Plot No 15, 16, 17 Pharmez,
Village: Matoda, Sarkhej Bavla Road,
Ahmedabad
Below things need to follow:
• All precautions pertaining to Covid 19 pandemic will be strictly followed.
• Please do not attend interview if you are suffering from any health issue (Cold, Cough, Fever or Sore Throat). We can conduct a telephonic or video meeting with you later.
• Face Mask is mandatory all the time you are in the premises.
• Social distance will be followed strictly.
• Kindly co-operate with security personnel.
If you are unable to attend interview you can share cv on neha.modi@amnealindia.com
See All   B.Pharm Alerts   M.Pharm Alerts   M.Sc Alerts  Ahmedabad Alerts
See All   Other Jobs  in our Database