Job Openings for Pharmacists (12 posts) under NHM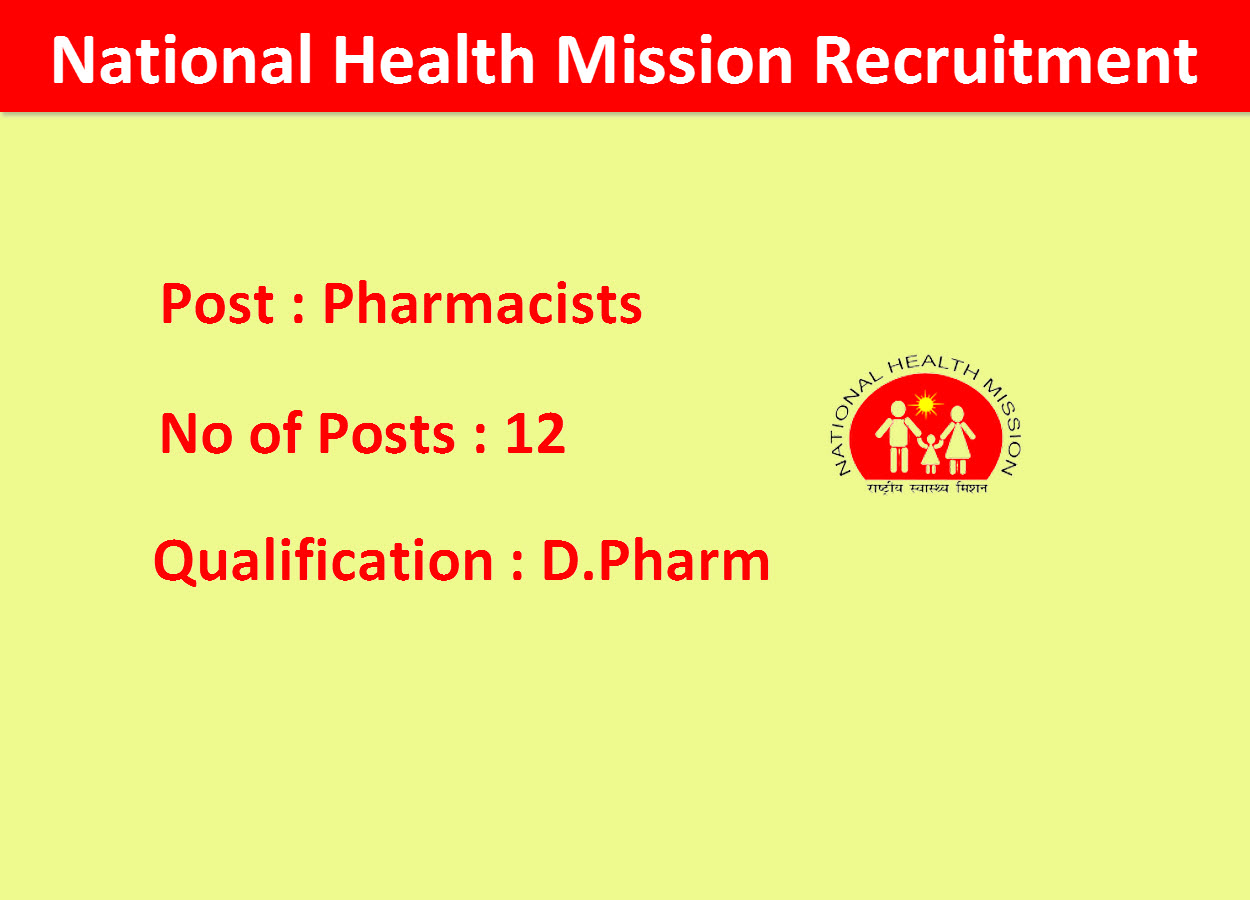 This district of Bokaro was created on 1st April, 1991 by taking out Chas and Chandankiyari C.D.Blocks of Dhanbad district and the entire Bermo Subdivision of Giridih district and then merging them to form a new district. Bokaro district is bounded on the east by Dhanbad district and some portion of West Bengal State, on the west by Ramgarh district, on the south by Purulia district of West Bengal and on the north by parts of Giridih, Hazaribag and Dhanbad districts. The district extends between 23o26"  to 23o57" North Latitude and 85o34" to 86o26" East Latitude. The district is located at an elevation of 200-546 m. from mean sea level.
Applications are invited for appointment to various posts on contract basis under National Health Mission.  The honorarium and qualification per employee is as follows.
Post : Pharmacist
Post Code : 08
No of Posts : 12 (GEN-06, BC I -02, ST - 01, SC -01, BC II -02)
Qualification : Diploma in Pharmacy from a recognized institute. Registered under Jharkhand State Pharmacy Council. Computer proficiency (MS Office & Internet)
Remunerasion (Rs. Per Month) : 10,450/-
Age Limit on 01-09-2020
General : 21-45
OBC : 21-47
Female Unreserved : 21-48
ST/Sc : 21-50
Terms of Selection:
1. There will be no employment of employees on contract basis, but they will be contracted to work against the sanctioned honorarium.
2. District level reservation roster will be approximate in all the above posts.
3. The contract will be valid for one year. As required, the contract period can be extended on the basis of Annual Performance Appraisal in one year.
4. On the basis of the contract, the contract can be terminated by giving one month notice or one month honorarium to the contracted persons.
5. Candidates who are submitting CGPA score-card for academic qualification will submit mark-sheet as well as CGPA conversion chart.
6. It will be mandatory for the applicant to apply separately for more than one post.
7. Shortlisted candidates will be included in the further selection process by the committee in accordance with the advertised qualification.
8. The decision of the committee in the appointment process will be final and binding.
9. The terms of advertisement may be amended by the Committee as required.
10. No personal correspondence / contact regarding appointment will be valid.
Selection Process
The selection process is determined as follows:
• Candidates will be selected on the basis of marks and experience obtained in academic / technical examinations or one or more which are applicable.  
• All candidates will ensure that the application form is sent by registered post / speed post only
• Preference will be given to local candidates in the appointment process.  
• The final merit list will be published in the Civil Surgeon / Appropriate Office for one week. Information about the publication of merit list on the notice board will be given through the newspaper.
Application Process
Attested copy of the required mark sheets in the following prescribed form from the candidates with the above qualifications, residential certificate issued by the competent authority for reservation claim, caste certificate, matriculation certificate related to date of birth and application.  Applications can be submitted in the following prescribed form till 30.09.2020 by attaching two passport size photos attested by the Gazetted Officer along with the letter.  Applications received after 30.09.2020 will not be considered. 
On submission of application in any other office, his application will be automatically rejected. 
Complete application in all ways can be submitted in a sealed envelope by registered post / speed post to the office of Civil Surgeon-cum-Chief Medical Officer, Bokaro.  Provide the following information clearly on the envelope.
See All   M.Pharm Alerts   B.Pharm Alerts   B.Sc Alerts 
See All   Other Jobs in our Database
Subscribe to Pharmatutor Job Alerts by Email