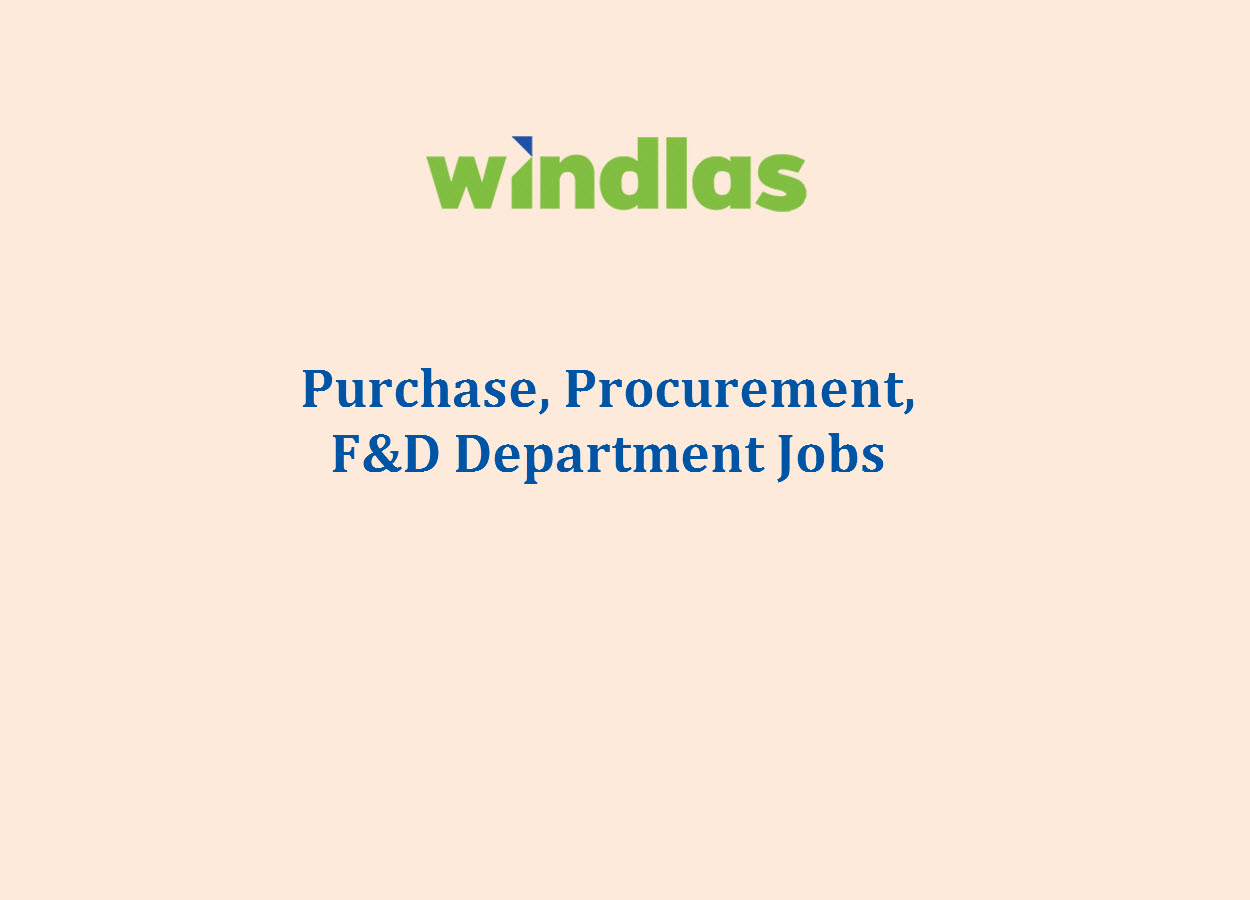 Windlas Biotech (P) Ltd. a WHO GMP Certified pharmaceutical company, Manufacturer of pharmaceutical & Nutraceuticals products & medicines like tablets & capsules, Liquid & Dry Syrups for Domestic & ROW market since 2001, located in Dehradun, Uttarakhand.
F&D Officer & Trainee
Experience : 0Yrs to 04Yrs
Qualification : M. Pharma, Phd (Pharmaceutical Science)
Salary Package : As per Experience
Job description :
1) Pre-formulation study: It contains innovator sample identification & characterization and recording the same in prescribed format. Excipients compatibility study based on innovator products details available in literature and accordingly selection of excipients for the product development.
2) Observing and assisting in Lab trial batches. Recording the details in Lab batch record.
3) TRF generation.
4) Conduction of stability batches along with charging the same.
5) Maintenance of Laboratory, working procedure, work schedule, lab cleaning and safety.
6) Maintenance and recording of daily Logbook, trial logbook, calibration logbook, temperature and humidity recording etc.
7) Any other job responsibility assigned from management from time to time.
8) Chargingthe Trial batches for Stability studies in different conditions.
9) Any other job responsibility assigned from management from time to time.
Manager/Sr. Manager/AGM/DGM - Purchase/Procurement Department
Experience : 10 Yrs to 25 Yrs
Qualification : MBA, MSc., M.Com, B.Pharma, BSc, B.Com
Desirable : Candidate should have exposure of Pharmaceuticals & Nutraceuticals.
Salary Package : As per Industry Norms
Job description :
• Excellent knowledge of pharma packaging materials & raw materials (Excipients)API purchase Quotation Comparison of rates between suppliers and final rate approval from the higher authority.
• Floating queries, preparing comparatives & purchase orders for packaging materials & raw materials (Excipients).
• Should be well versed with Vendor Management as well as Vendor Negotiation.
• Develop sourcing and procurement activities that support key business objectives.
• Develop and execute a long-term strategy to facilitate improvements for Procurement Services.
• Implement best practices in procurement and supplier management to support commercial and operational objectives.
• Ensure the execution of standards, controls, policies, procedures, and performance metrics to effectively and efficiently manage the acquisition and reporting of third-party spend across the company.
• Conduct business review meetings with key stakeholders to assess risk, review future strategies, and identify potential cost down and improvement opportunities.
• Identify areas for improvement to continually drive performance and business results.
• Maintain strong working relationships with strategic suppliers to assure cost, quality, and delivery targets are met.
• Oversee the development and execution of sourcing strategies across all categories within span of control including targets, timelines, and resource plans.
• Build market intelligence capabilities within the category management team on key markets, suppliers, and solutions to support strategy development purposes.
• Analyze market and delivery trends to develop procurement technologies and processes that support those trends.
• Update procurement strategies based on changing market conditions & Oversee contract development and administration.
• Develop and communicate a procurement business plan; establish, communicate, and implement long-term goals for the department in order to promote effectiveness and efficiency.
• Develop, communicate, and administer procurement team performance and development plans and appraisals.
• Develop and implement procurement-related training programs for the procurement team and organization.
• Develop a centralized procurement program that adds value and efficiency to the organization.
• Industry knowledge in terms of broad industry dynamics on the buy-side (and the sell-side), but also the internal knowledge and language of the business
• Excellent communication skills and even better listening skills to get the voice of the internal customer and to understand the company culture and how to best communicate procurement value to it.
• Strong negotiation skills to use for large commercial deals & Experience with modern sourcing and procurement systems.
• Familiarity with relevant legislative and regulatory requirements, as well as understanding of standard contractual terms and conditions.
Interested Candidates send their CV to mail ID: npokhriyal@windlashealthcare.com
See All  Dehradun Alerts   M.Pharm Alerts   B.Pharm Alerts   M.Sc Alerts
See All   Other Jobs  in our Database