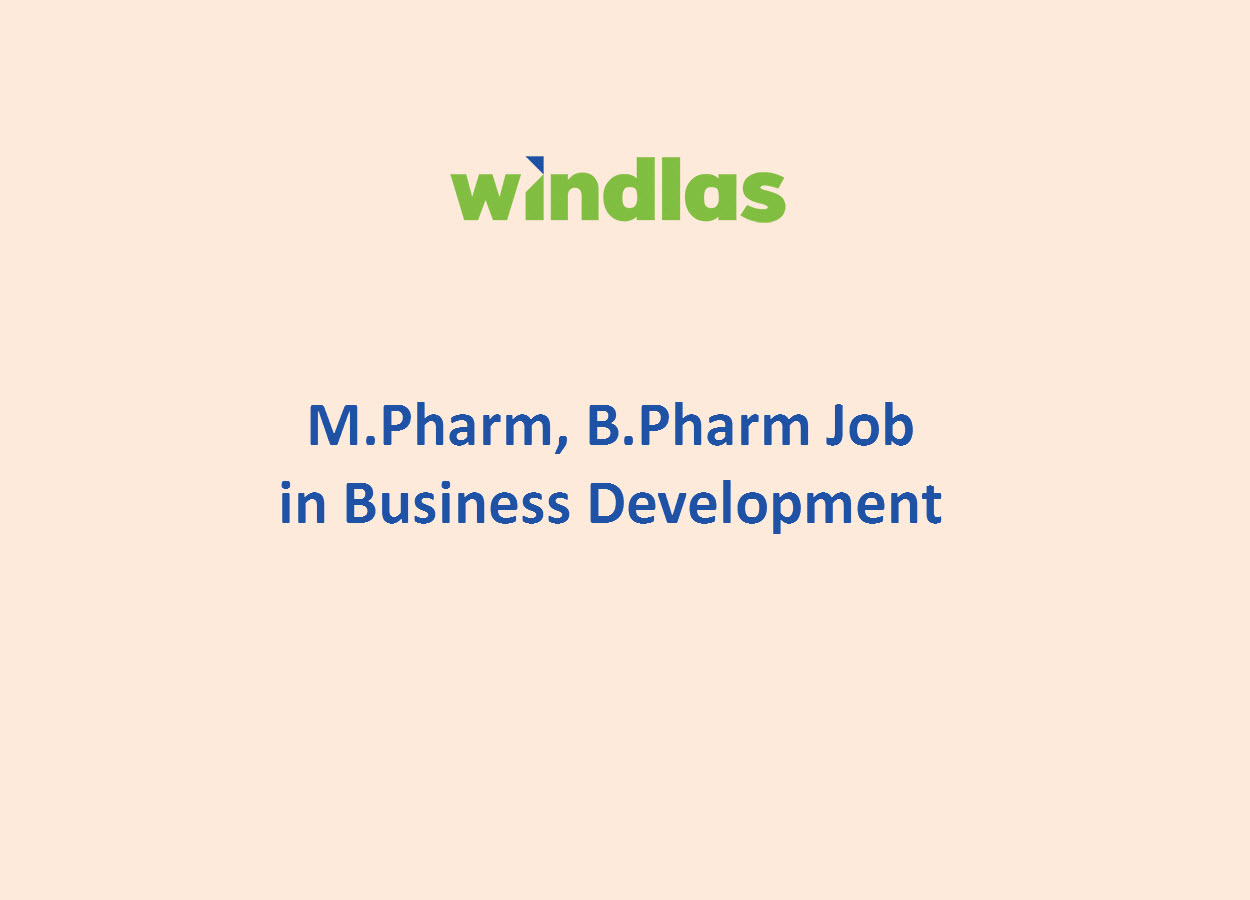 Windlas Biotech (P) Ltd. a WHO GMP Certified pharmaceutical company. Manufacturer of pharmaceutical & Nutraceuticals products & medicines like tablets & capsules. Liquid & Dry Syrups for Domestic & ROW market since 2001, located in Deliradun, Uttarakhand. The vision of establishing an excellent manufacturing facility that caters primary to regulated markets.
Post : Manager / Sr. Manager / AGM / DGM / GM - Business Development Contract Manuf. (Pharma & Nutraceuticals).
Experience : 10 Yrs to 25 Yrs
Qualification : BSc, B.Pharm. MBA (Marketing/Business Development /IB /Operations). M. Pharma)
Salary Package : Best in the industry
Job description:
1) Established relations among companies who seeks to contract manufacture their products at third parties with a proven track record.
2) Bring more products from existing customers for contract manufacturing for Export & Domestic Market.
3) Should be able to lour regularly & visit all customers on regular intervals.
4) Collection of the confirmed orders & sales projections from customers.
5) Meeting monthly sales targets & achieving assigned sales targets.
6) Closes new business deals by coordinating requirements developing and negotiating contracts, integrating contract requirements with business operations.
7) Enhances organization reputation by accepting ownership for accomplishing new and different requests; exploring opportunities to add value to job accomplishments
8) Building long- term relationship with new and existing customers.
9) Create business development strategies identify roadblock and drive new business from conception through closure.
10) Preparing forecast for the product launches and planning to launch day one of patent expiry in the market.
11) Transfer price negotiation with customers to achieve targeted gross margin.
12) Planning & executing orders in given sales projections from customers PO.
13) Co-ordination with plants for timely dispatch of products to avoid the sales loss
14) Payment follow-ups with the customers.
15) New products follow up with 3rd party.
16) Dealing with all lop generic &. innovator companies in India & international.
17) Dealt with LL companies to manufacture internal products.
18) Identifying new products from the Demand Management.
19) Closely coordinate and communicate customer action plans with supply planning.
20) Delivery date confirmation to the customer &. complete ownership of order servicing.
21) Coordinating of contract manufacturing agreement and trademark protection agreement for Trade and generic parties.
22) Identifying new markets & its potential for the existing & new products to achieve brand wise target.
23) Developing strategies & solutions for managing business relationship with customers to contribute sales growth.
Interested Candidates send their CV to mail ID: npokhriyal@windlashealthcare.com
See All  Dehradun Alerts   M.Pharm Alerts   B.Pharm Alerts   M.Sc Alerts
See All   Other Jobs  in our Database