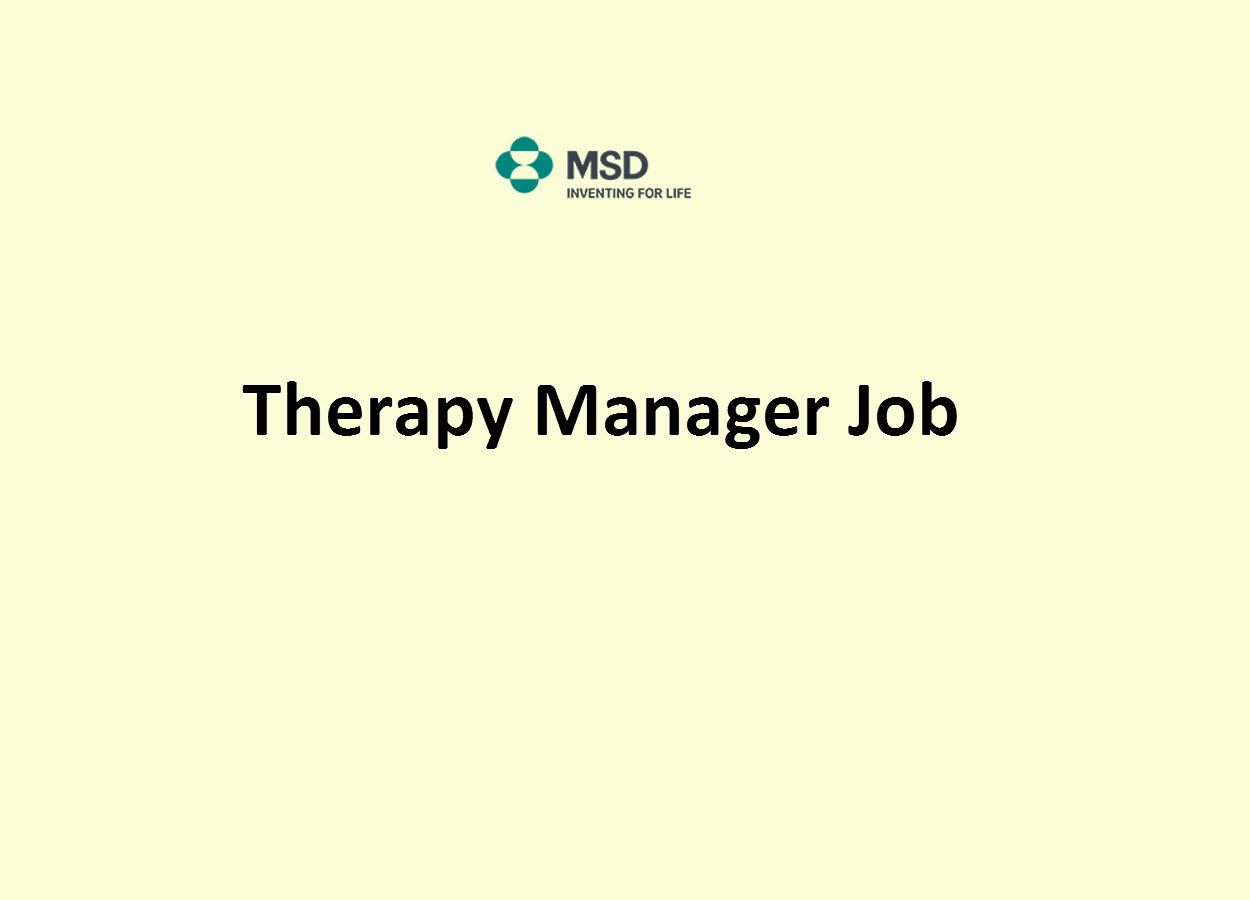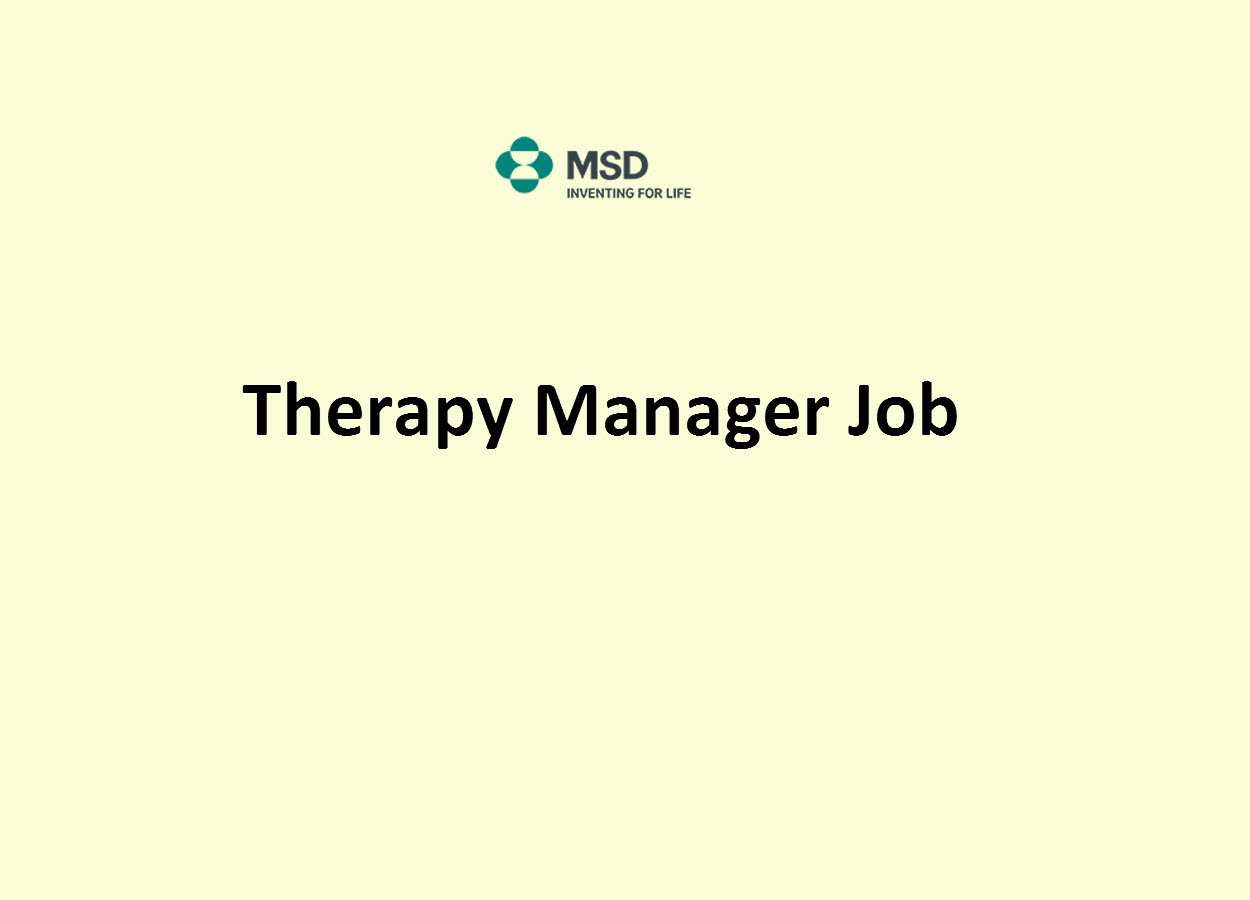 MSD is a global health care leader with a diversified portfolio of prescription medicines, vaccines and animal health products.   Today, we are building a new kind of healthcare company – one that is ready to help create a healthier future for all of us. Our ability to excel depends on the integrity, knowledge, imagination, skill, diversity and teamwork of an individual like you.  To this end, we strive to create an environment of mutual respect, encouragement and teamwork.
Post : Therapy Manager
Job Requirements 
Therapy Manager is responsible for Efficiently manage the therapy area by effectively reaching out to customers and increases product awareness, answer queries and introduce new products. Also responsible for Customer Focus and have industry knowledge and Schedule and plan the frequency of calls and personally visit the targeted doctors as per agreed coverage list.
Our Sales team support our customers by providing clinical information about products, educational information, clinical training programs and resources. We support healthcare providers and healthcare systems meet the goals of the patients in their communities. 
Your role at our organization is integral to helping the world meet new breakthroughs that affect generations to come, and we're counting on your skills and inventiveness to help make meaningful contributions to global medical advancement.
• Imbibe the product related features/benefits including scientific information thereto, so as to effectively communicate with the medical doctors and handle product related customer queries
• Utilize customer focused selling techniques (CSSP), continually assessing the knowledge of the customer and strategize to maintain high customer confidence and customer knowledge of company products.• • • • • • • • •
• Maintain current, approved protocol (CSSP) and promotional materials to be included in sales presentation/ detailing.
• Contact customers on regular basis and deliver informative sales presentations based on customers need.
• Explore opportunities to develop new business in the assigned therapy area.
• Achieve and exceed the sales targets on a consistent basis through effective implementation of the sales promotion strategies and scientific initiatives.
• Constantly update the knowledge of disease and product area so as to facilitate scientific discussion with stakeholders to enhance productivity levels as expected by the Company.  
• Carry out Product Visibility and such ancillary or incidental activities related to the Products of the Company or Products of any other Company as may be decided from time to time, in accordance with any arrangement or agreement entered by the Company with such other Company.
• Explore opportunities to develop new business avenues for assigned therapy area and territory.
• Tactically plans to generate tertiary demand generation.
• Plans and executes field working as per approved tour programs and reports into data management system at regular intervals as per company expectations.
• Takes follow-up initiatives on feedback and customer service requirements.
• Handles special product campaigns, new product launch campaigns as per Company's plans.
• Covers the Nursing homes, clinics and hospitals as per agreed coverage requirements.
• Assists in the collection of receivables, as per company policy.
• Work collectively with other team colleagues in arranging speakers, displays, special programs and CMEs to meet the educational needs of customers.
Candidate Profile
• Degree in Sciences / B Pharm
• 3 or more year's relevant experience
• Proven experience in articulating data-driven findings to various audience levels and translating these findings into actionable recommendations.
Additional Information
Qualification :  BSc, B.Pharm
Location : India
Industry Type : Pharma
End Date : 30th October, 2020
See All   M.Pharm Alerts   B.Sc Alerts   B.Pharm Alerts   Mumbai Alerts
See All   Other Jobs in our Database