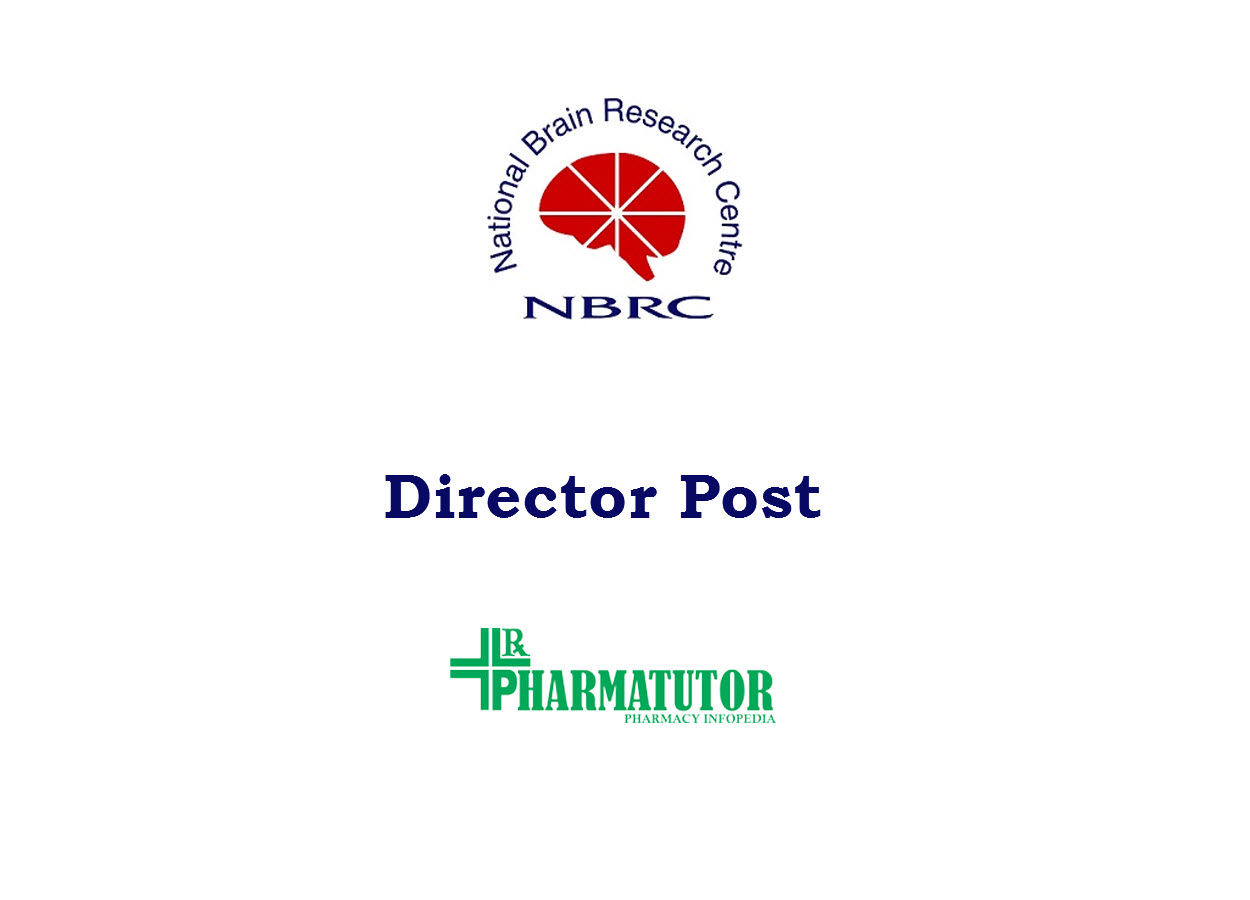 National Brain Research Centre (NBRC), a deemed university for brain research and an autonomous institute under the Department of Biotechnology (DBT), Ministry of Science and Technology, Government of India, has the mandate to be a Centre of Excellence in Brain Research with State-of-art facilities, to evolve the centre through a networking approach and generate highly trained human resource. The major objectives of NBRC are to undertake basic research to understand brain function in health and disease. In addition to the intramural research activity at the main centre, NBRC also promotes networking of the existing research groups in neuroscience in the country.
Post : Director
Applications are invited from eminent scientists [Indian National, NRI/OCI/PIO* (*see note)] having proven scientific record. The current research interests at NBRC span from molecular to behavioral and computational neuroscience. The institute has state-of-the-art facilities such as rodent and primate animal facility, imaging facility with a 3Tesla MRI and EEG/ERP, MEG, sophisticated imaging facilities including 2 photon microscopy, advanced facilities for cell and molecular biology and promotes multidisciplinary and novel approaches to the understanding of the functioning of the human brain. The institute promotes basic and applied research in Neuroscience including translational research with a mission to discover rational therapies and cures for brain disorders. The institute has an excellent academic programme with rigorous course work for students pursuing Ph.D. and integrated Ph.D. It admits students with Bachelor's and Master's Degree in wide ranging field from biology to engineering.
The Director is expected to provide dynamic leadership in academic, scientific and administrative matters relating to its various areas of interest in both extramural and intramural activities. The applicant must have a holistic vision of neuroscience and be capable of providing leadership in different areas that encompass neuroscience such as computational, cognitive, systems and molecular neuroscience. He/ she shall be the Chief Executive of the Institute and shall be responsible for leading and nurturing the core multi-disciplinary research faculty, developing policies, fostering collaborations with industry, recruitment of appropriate faculty and management of the extramural activities including supporting research resource units in other Institutes and duties as may be required for proper administration of the affairs of the Institute. As NBRC is a deemed to be university, the Director would be performing the functions of a Vice Chancellor. The Institute encourages creation of knowledge and benefit sharing related to IPR.
Scale of Pay and other benefits : The selected incumbent will be placed in the Level-16 (As per 7th CPC) / [HAG Scale 75,000/- + 5,000/- (Special Pay) as per 6th CPC]. Other benefits / allowances shall be as per rules applicable for appointment on deputation including Short-Term Contract / Absorption basis.
Eligibility Criteria :
Scientists from Central / State Governments, Research Institutes, Autonomous Bodies, Government funded Research Organisations/ Institutes etc.
(i) Holding analogous post on regular basis in the parent Department; or
(ii) With 5 years service in post with Grade Pay of 10,000/- (Level – 14 as per 7th CPC) or equivalent in the parent cadre / Department and possessing the qualification & experience as below:-
Essential Qualifications / Experience:
(i) M.D/Ph.D or equivalent degree in biomedical field.
(ii) Minimum 15 years of experience in neuroscience.
(iii) Excellent track record, hand in publications, patent and awards.
Desirable :
(i) Experience in successfully running large programme, centre and institution.
(ii) Experience of guiding/conducting research activities in the area of specialization.
Age limit and tenure of appointment : The period of Deputation including period of deputation in other ex-cadre posts, held immediately preceding this appointment in the same or some other organization / Department should ordinarily not exceed 5 years. The maximum age limit for appointment on deputation (ISTC) should not exceed 58 years as on the closing date of receipt of applications.
How to apply / nominate
Complete applications (05 copies) strictly as per the prescribed format with a passport size photograph fixed at the space shown in the format along with testimonials including list of publications indicating impact factors should be sent to Shri J.P. Meena, Deputy. Secretary, Department of Biotechnology, Room No. 508, Block – 3, C.G.O. Complex, Lodi Road, New Delhi – 110 003, superscribing the cover "Application for the post of Director, National Brain Research Centre (NBRC), Manesar" so as to reach within 30 days from the date of publication of this advertisement in Employment News. The closing date for candidates residing abroad and from Andaman & Nicobar and Lakshadweep Island, State / Union Territories in the North-Eastern region, Ladakh region of J&K, Sikkim, Sub-division Chamba and Lahaul and Spiti district of Himachal Pradesh will be 45 days.
The soft copy of the application may also be sent by E-mail to aipsu.dbt@nic.in and jp.meena@nic.in.
Nominations by distinguished experts may-also be considered, depending upon merit and the area of expertise. Eminent experts and distinguished scientists may also kindly nominate potential candidates for the position both by post and by e-mail at the above mentioned address.
* Note : Indian citizens and person with OCI status shall be eligible for appointment subject to the condition that persons who are having Overseas Citizens of India (OCI) status, prior necessary clearance from Ministry of Home Affairs (MHA) and Ministry of External Affairs (MEA), or any authority specified by Government of India from time to time should be in place before appointment is offered to such individuals.
See All   Ph.D Alerts   M.Pharm Alerts   B.Pharm Alerts  Haryana Alerts
See All   Other Jobs in our Database