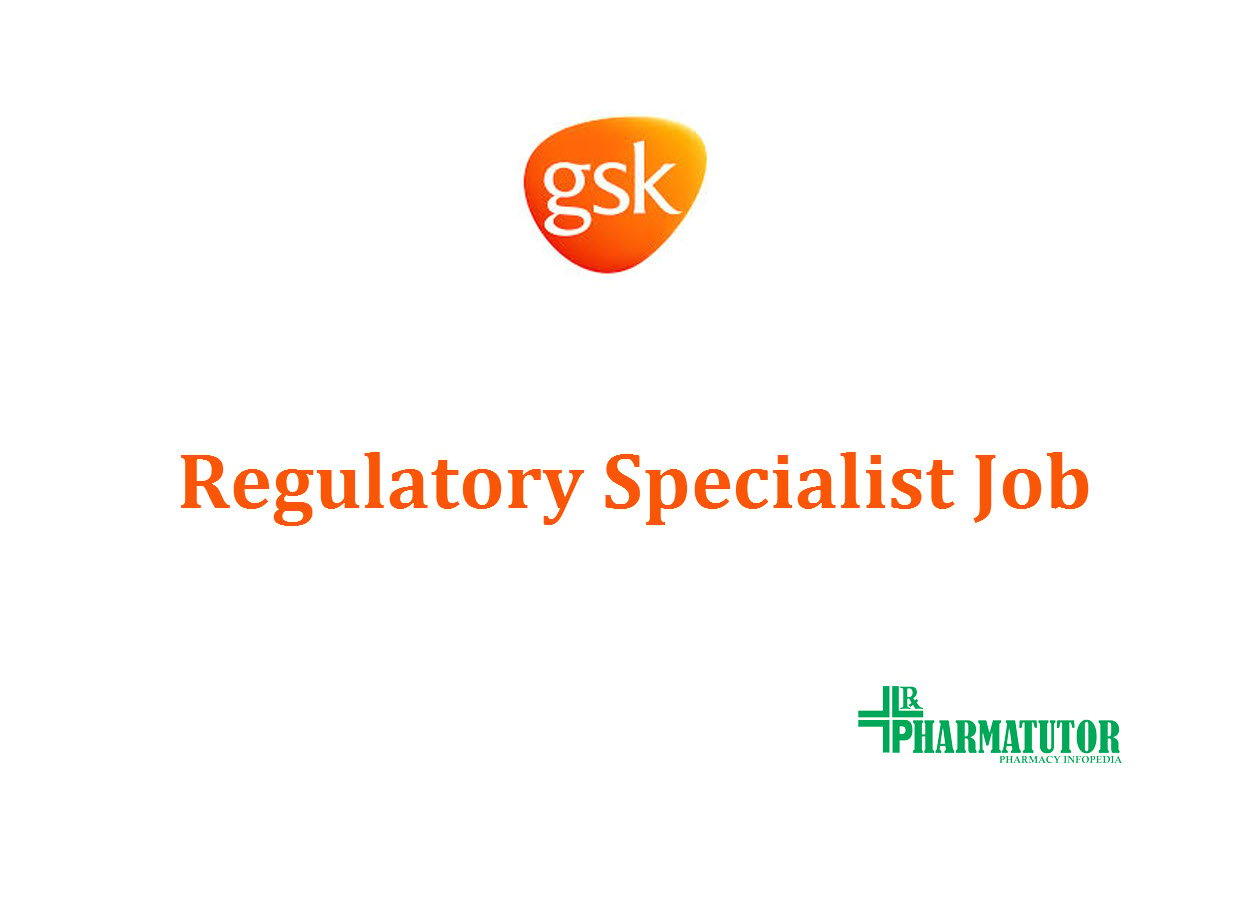 GlaxoSmithKline Pharmaceuticals Ltd. (GSK Rx India) is one of the oldest pharmaceuticals company and employs over 5000+ people. Globally, we are a £ 27.4 billion, leading, research-based healthcare and pharmaceutical company. In India, we are one of the market leaders.
Post : Regulatory Specialist, Country Labelling – Expert
Job description
• Author and compile Regional/Country PI as per regulatory authority labelling requirements and GSK process and standards.
• Author and compile market-specific supporting documentation for labelling submissions in accordance with regulatory authority requirements and GSK process and standards.
• Provide support to global and local GRA team members through preparation of other labelling documents as required
• Complete quality and consistency checks of labelling document content.
• Efficiently coordinate and manage labelling documentation and data in regulatory systems.
• Provide advice regarding regulatory authority labelling requirements and GSK labelling process and standards to GRA global/local roles and via Regulatory Matrix Teams.
• Effectively communicate with GSK staff (including GRA, Global safety and medical, and Local Operating Companies) to author, compile and deliver quality labelling documents. May communicate with Regulatory Agencies and third parties on behalf of GRA labelling staff.
• Support other regulatory functions and participate in other projects and activities as needed, such as leading the design and implementation of changes to labelling processes and evaluation of new agency labelling requirements.
• For some roles, may be required to perform translation of labelling text into identified languages.
• Subject Matter Expert in country/regional labelling content and process for markets with complex labelling requirements:
* provides coaching, mentoring and knowledge sharing within GSK Labelling skill group
* completes quality checks for colleagues' outputs
* effectively manages interactions with Senior Stakeholders
* takes accountability for the management of labelling deliverables for country/region, including delivery of high-quality outputs to timelines
• may represent GSK externally.
Candidate Profile
1. >7 years relevant experience (in pharmaceutical industry, life sciences research or regulatory).
2. Successfully performed within a regulated or quality-critical environment such as pharmaceutical industry research, pharmacy, safety or regulatory).
3. Attention to detail, significant experience of document and database management, excellent organization and time management skills to handle multiple projects for different customers.
4. Excellent written and verbal English language communication skills and ability to present information to diverse colleagues in global locations in a clear and concise manner.
5. Ability to think flexibly in order to meet constantly shifting priorities and timelines.
6. Broad understanding of the pharmaceutical industry, drug development environment, development and established product lifecycle maintenance and regulatory processes.
7. Knowledge and understanding of product labelling (e.g. through direct exposure to the management of labelling documents/submissions/data; including label authoring).
8. Experience of maintenance of labelling documents in multiple countries/regions including knowledge of label document content, process and associated regulatory agency labelling requirements. Experience of more than 1 of the following regions/countries:
• EU PI annexes (including EU CP/MRP/DCP procedures)
• US PIs
• Canadian Monographs
• ROW PIs
9. Experience in authoring and/or updating Labelling SOPs, WIs, QRGs by identifying areas for efficiencies in existing Labelling processes
10. Proficient with computer software applications
11. Familiarity with medical terminology required
12. Ability to lead problem solving and negotiate solutions to complex labeling issues.
Additional Information
Experience : 7+ years
Location : Karnataka - Bengaluru
Industry Type : Pharma/ Healthcare/ Clinical research
Functional Area : Country Labelling
Req ID :  269817
End Date : 30th November, 2020
See All   B.Pharm Alerts   M.Pharm Alerts    Ph.D Alerts   Bangalore Alerts
See All   Other Jobs  in our Database