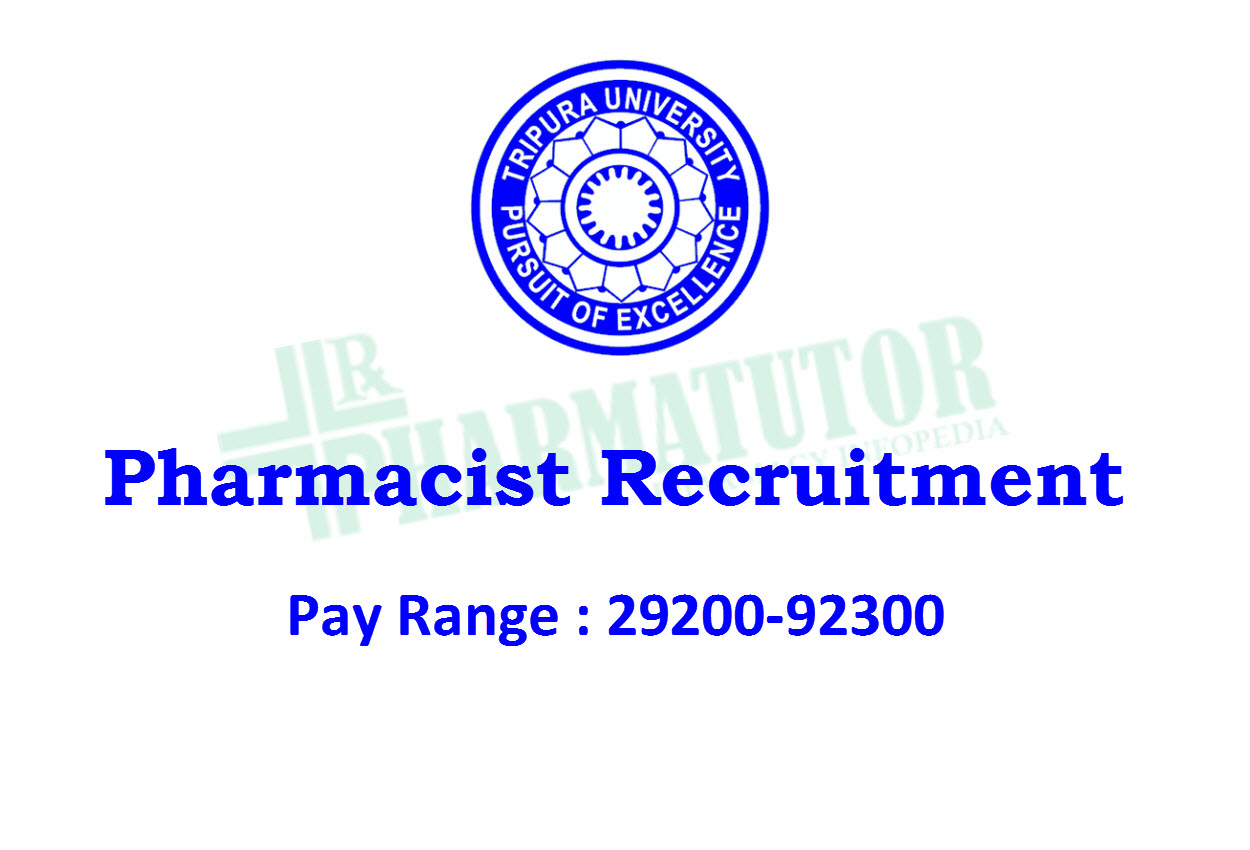 Higher education in Tripura had a late start. Maharaja Bir Bikram (MBB) College, the first degree college in the State, started functioning under the University of Calcutta only in 1947. Not that there was no attempt in the past in Princely Tripura to establish any higher educational institution. As early as 1901, Radhakishore Manikya made an attempt to establish a degree college in the-then tiny capital town Agartala; but as the proposal did not fulfill the necessary requirements, it did not get approval from the Calcutta University.
Post : Pharmacist
No of Post : 1 (Ex- serviceman)
Pay Matrix as per 7th CPC : Pay Level - 5, Pay Range - 29200-92300
Educational qualification
Essential :
(i) 10+2 or equivalent in Science subjects from a recognized Board or University
(ii) Diploma in Pharmacy from an Institute recognized by the Pharmacy Council of India
(iii) Registered as Pharmacist under the Pharmacy Act, 1948
Age Limit : Age Limit for direct recruits 35 years
General Instructions
1. Commencement of filling application form through online will be opened from 01.12.2020 (10 a.m.) and closing date will be on 24.12.2020 (upto 5:00 p.m.). The online application form will be available in the Tripura University website.
2. The hard copy of filled-in online application form/acknowledgement along with self-attested all supporting documents (qualifications, experiences, DOB proof, nationality, caste certificate etc.) shall have to reach the University on/before 15.01.2021 by 5:00 p.m. in a sealed cover superscribed with "Post Applied For  , advertisement No.  " addressed to the Registrar, Tripura University, Suryamaninagar-799022.
3. The hard copy of applications and other documents reaching the University after due date or applications incomplete in any respect shall not be considered.
4. The university will not be responsible for any kind of postal delay and no request shall be entertained after 15.01.2021 (5:00 p.m.).
5. In service applicants should send their filled-in online application form/acknowledgement through proper channel within 25.01.2021 by 5:00 p.m. However, it is compulsory to submit the advance copy by 15.01.2021.
6. Applicants intending to apply for more than one post shall have to submit separate online application for each post along with separate application fees.
7. Online application fee is Rs. 500/- for General/OBC and Rs. 200/- for SC/ST/EWSs/Women/Ex- serviceman. Payment has to be made only through online mode (credit/debit card/Net Banking). However, PwDs are exempted from payment of fees.
8. Fees once paid shall not be refunded under any circumstances.
9. Applicants who have applied earlier under advertisement vide No.TU/01/2019, dated 4lh March, 2019 shall have to apply afresh if the same post exists after recast of reservation roster due to implementation of reservation for EWSs. However, they need not pay the application fee again provided they upload documentary proof of previous payment/acknowledgement.
10. Applicant should furnish their valid mobile phone number and E-mail ID. If there is any change in the address, e-mail ID, mobile phone number after submission of application, the applicants should inform the University accordingly.
11. Age will be counted as on 24.12.2020. The experience and qualification will be reckoned as on last date of submission of application.
12. The upper age-limit prescribed for direct recruitment shall be relaxable in accordance with the Govt, of India/UGC directives. However, Executive Council, Tripura University may relax upper age limit for any non-teaching post if it deems necessary in case of applicants serving on regular/ contractual/fixed/DRW basis in this University as per the Cadre Recruitment Rules of Tripura University (Non-teaching), 2011.
13. Application for the post reserved for SC/ST/OBC/EWSs/PwD(OH/HH) & Ex-Serviceman should be supported by the SC/ST/OBC(NCL)/EWS/PwD & Ex-Service certificates issued by the competent authority.
14. The prescribed qualifications and experiences are minimum and mere possession of the same will not entitle him/her for being called for Interview/Written Examination/Test.
15. As per communication from the UGC, New Delhi vide letter F. No. 16-40/2015 (CU) dated 14th January, 2016, appointment to the Group 'B' & *C' posts will be made on the basis of merit in w ritten examinations.
16. The written lest topics may comprise proficiency in English (Comprehension, Synonyms, Antonyms etc.). General Knowledge, Analytical Ability, University System, Tripura University Statutes and Ordinances, Office Procedures. Basic Government of India Rules etc.
17. Professional test including skill test-computer test depending upon exigency of service and job requirement may be conducted as per approval of the Authority.
18. The University shall verify the antecedents or documents at any time of appointment or during the tenure of service. In case, it is detected that the documents submitted by the applicants are fake or the applicant has a clandestine antecedents/ background and has suppressed the said information, then his/ her services shall be terminated.
19. The vacant posts advertised may increase or decrease.
20. Canvassing in any form in favour of candidature both direct and indirect is strictly prohibited. Violation of this code of conduct will be treated as misconduct and will be brought to the notice of selection committee concerned. The University reserves the right to cancel candidature of such applicants at any point of time if found canvassing.
21. No interim correspondence shall be entertained.
22. No TA/DA shall be paid to the applicants for attending the examination/test/interview.
23. The University reserves the right not to fill up any of the vacancies advertised if the circumstances so warrant.
24. In case of any inadvertent mistake in the process of selection which may be detected at any stage even after the issuance of appointment letter, the University reserves the right to modify/ withdraw/ cancel any communication made to the applicants.
25. Errors and omissions in notification and selection process are subject to corrections as per rules and regulations of University/UGC/GoI
26. Any corrigendum/addendum to this advertisement or further notifications/notices relating to date/time/venue of examination/test/interview shall be notified in due course at the Tripura University website (www.tripurauniv.ac.in)
27. In case of any dispute/ambiguity that may occur in the process of selection, the decision of the Vice- Chancellor, Tripura University in all matters relating to eligibility, acceptance or rejection of applications, mode of selection, conduct of examination/test/interview will be final and no query or correspondence will be entertained in this connection.
28. Applicants, who have obtained degrees or diplomas or certificates for various courses from any Institution, declared fake/derecognized by the UGC and such other authorities, shall not be eligible for being considered for recruitment to the posts advertised.
29. As per the Judgment of the Hon'blc Supreme Court in the case WP (C) 19 of 2004. the Cut-off date is 11.02.200$ for those who have obtained their degrees through ODL mode (Off campus). The applicants having such degrees on or before 1 1.02.2005 can apply.
See All   Tripura Alerts   M.Pharm Alerts   M.Sc Alerts   Chennai Alerts
See All   Other Jobs in our Database
Subscribe to Pharmatutor Job Alerts by Email