Work as Senior Director in Distribution, Supply & Patient Solutions at Gilead Sciences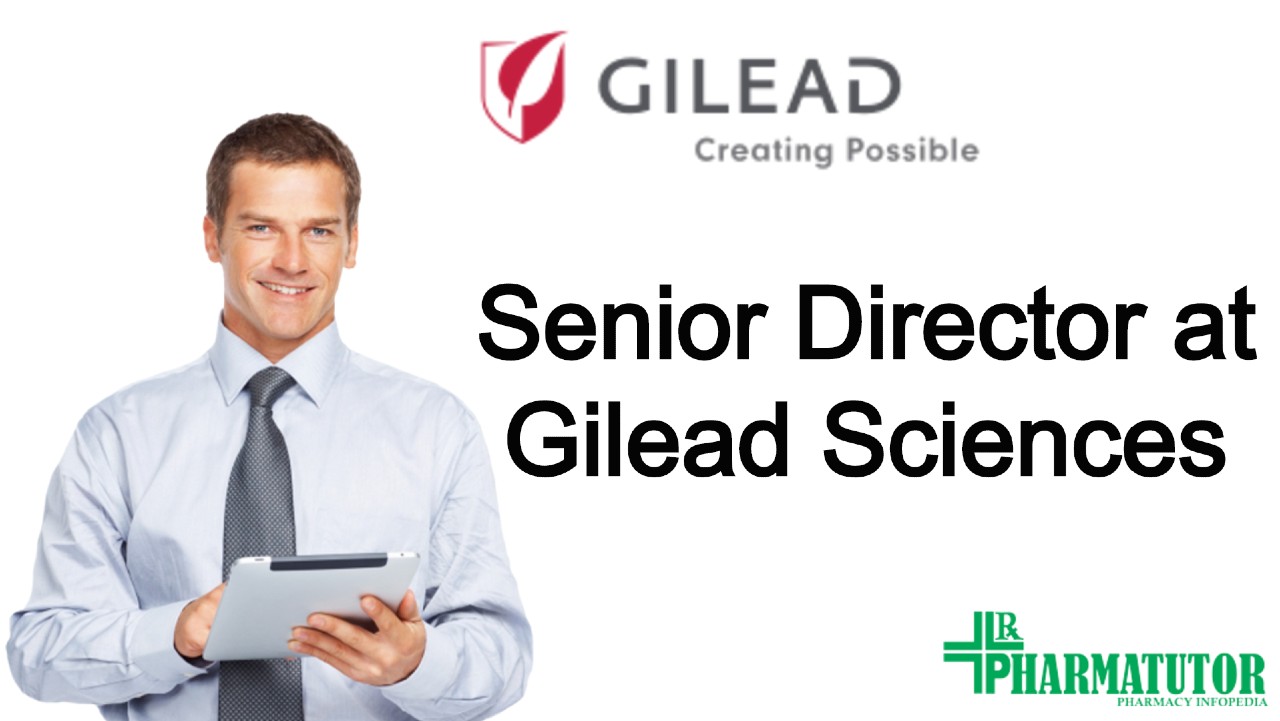 Gilead Sciences, Inc. is a research-based biopharmaceutical company that discovers, develops and commercialises innovative medicines in areas of unmet medical need. With each new discovery and investigational drug candidate, we seek to improve the care of patients living with life-threatening diseases around the world. Gilead's therapeutic areas of focus include HIV/AIDS, liver diseases, cancer and inflammation, and serious respiratory and cardiovascular conditions.
Post : Senior Director, Distribution, Supply & Patient Solutions, Asia Pacific
Job Description
The Senior Director Global Patient Solutions, Asia Pacific will be responsible for developing and managing the Global Patient Solutions (GPS) network of commercial Patient Access Partners (Distributors and Voluntary Licensees) with the aim of ensuring effective distribution, supply while driving innovative and pioneering patient solutions to bring Gilead's life-saving medicines to patients in the GPS Asia Pacific Sub-Region. This role requires forging solid working relationships with Gilead's commercial Patient Access Partners, close collaboration with and support of the GPS Regional Leads of Asia Pacific as well as cross-functional collaboration and partnership with global functions and divisions such as Manufacturing, Supply Chain, Marketing, Market Access and Medical Affairs. The Senior Director, Distribution, Supply & Patient Solutions, Asia Pacific will report directly to the Executive Director, Distribution, Supply & Patient Solutions, with a dotted line into the Executive Director, Regional Head, India and Regional Head, South/South East Asia.
Main Responsibilities
• Develops industry-leading patient solutions in the Asia Pacific Region in collaboration with Gilead's Patient Access Partners and internally with colleagues across Gilead's Global functions
• Supports the GPS Regional Heads in India and South/Southeast Asia, ensuring industry-leading and sustainable patient access solutions, smooth operations, uninterrupted supply of product and efficient use of resources aligned with the socio-economic environment and disease-management paradigms in the Region to support meeting or exceeding the Sub-Region's access and revenue goals
• Develops/ adapts value propositions and cost-effectiveness models for Gilead's products in the Region in close collaboration with Medical Affairs
• Reviews and provides input on pricing proposals and provides support for innovative contracting
• Identifies education and support needs of Gilead's commercial Patient Access Partners related to sustainable access solutions, product training, disease education, regulatory topics, and then drives the deployment of these interventions, working with external parties (KOLs, MoH, etc.) as well as internal functions
• Oversees onboarding of new commercial Patient Access Partners and identifies needed operational improvements to increase the efficiency of existing Patient Access Partners
• Ensures compliance by Gilead's commercial Patient Access Partners with territory restrictions contained in the contracts and proposes remediation action
• Supports the GPS Region Heads in developing business frameworks and related supply and distribution processes, based on specific regional needs
• Responsible for the annual rolling 24 months and 5-year demand forecasts for the Region, including base, upside, and downside scenarios and assumptions, aligned with the GPS overall forecast
• Responsible for the creation and maintenance of documentation, including SOPs to reflect the effectiveness and efficiency of operations in the Region
• Serves as expert on specific Gilead products within the GPS business unit, liaising with the respective counterpart in the Global Marketing group, supporting the development of business cases for product launches or product-specific access programs with a view to maximizing patient access and disease management in the GPS region as well as the commercial potential of Gilead's assets in line with strategic TA objectives.
Candidate Profile
• Extensive pharmaceutical industry experience in global, regional or local roles, particularly in marketing, commercial operations, health economics, market access, reimbursement or pricing, with financial skills and forecasting experience being a plus
• Excellent verbal and written communication skills and interpersonal skills, with ability to influence, negotiate and find alignment with stakeholders internal and external, coupled with strong interpersonal savviness
• Demonstrated excellent planning, project management and organizational skills coupled with strong time management skills, and the appropriate attention to detail
• Previous work experience in Emerging Markets either in Latin America, Africa, Middle East, Eastern Europe or South/Southeast Asia
• Ability to prioritize workload, resources, and manage several complex assignments at the same time
• Has an ability to effectively communicate technical and qualitative information to non-technical audiences, including senior management, through interpersonal, verbal, and written channels;
• A strong team player with demonstrated ability to collaborate with cross-functional, international teams, including Supply Chain, Commercial Operations, Market Access, Marketing, Public Policy/ Government Affairs, Medical Affairs, Regulatory and Communications
• Able to work autonomously with little supervision in a fast paced and changing environment across multiple time zones and geographies
• Proven track record of influencing others with impact without formal authority;
• Ability to develop solutions to a wide variety of highly complex problems, which require the regular use of ingenuity and innovation
• Has a bachelor's degree in business, economics, international relations, public health, or related field with an MBA or Master's degree
• Is fluent in English with knowledge of a second language spoken in the Asia Pacific region
• Willing to travel up to 60% of time
Additional Information
Location : Mumbai - Maharashtra
Qualification :  Bachelor's degree, MBA or Master's degree
Industry Type : Pharma
Functional Area : Supply & Patient Solutions
End Date : 10th June, 2020
See All  M.Sc Alerts   B.Pharm Alerts   M.Pharm Alerts   Karnataka Alerts
See All   Other Jobs in our Database
Subscribe to Pharmatutor Job Alerts by Email