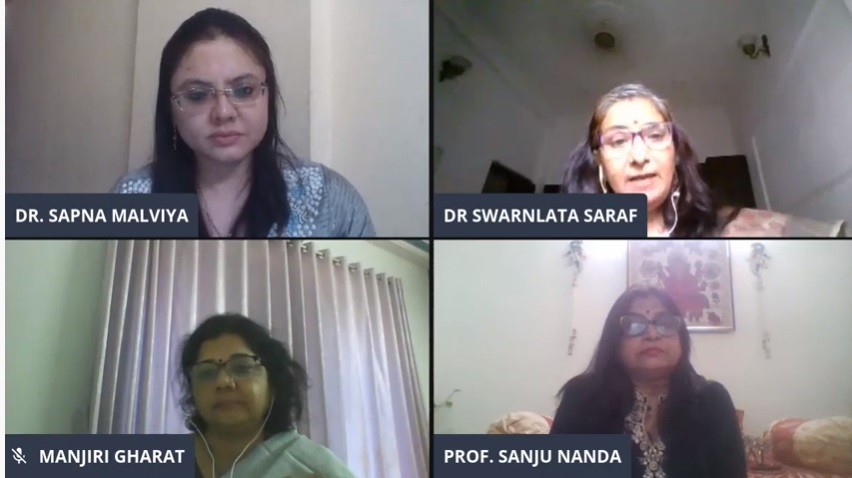 The live interaction session on theme Women empowerment and its impact in pharma world was organized on 25th April, 2020, 04:00 PM to 5:30 PM. The live session was convened by Dr. Neelesh Malviya, Professor and Principal, Smriti College of Pharmaceutical Education, Indore, introduced by Dr. Sapna Malviya, Department of Pharm. Science, Modern Institute of Pharmaceutical Sciences, Indore. The Invited women experts were Prof. Dr. Swarnlata Saraf, Professor, University Institute of Pharmacy, Pt. Ravi Shankar Shukla University, Raipur, Chhattisgarh, Prof. Dr. Sanju Nanda, Head, Department of Pharm. Science, MD University, Rohtak Haryana, Ms. Manjari Ghart, Vice President, Indian Pharmaceutical Association, Vice President, CPS section, FIP, Incharge Principal, PKM Kundanani Pharmacy, Polytechnic Ulhasnagar, Mumbai.
More than 3000 viewers watched the online session and more than 500+ live comments has been cited during the sessions. The main objective to organize the live session was to understand.
The dual responsibility of women how to justify work life balance?How to balance professional and personal life all the times and in this lock down period? Current standing of women in pharmaceutical industry, academic and overall pharma world? How to increase women pharmacist in community sector?How to enhance leadership qualities in women?Discussion on different agencies offering research grants for pharma women?How to escalate the percentage of women in pharma profession? How women on higher position have to comprise professional life or family? Women should not take advantage of being women? How to prevent discontinuity of women career?
The session was progressed by expressing heartfelt thanks to the healthcare professionals and government officialson the front lines who go to work despite the risks and despite the lockdowns, while most everyone else shelters in place and works from home. The heart gratitude was expressed for women who are WORKING FROM HOME and WORKING IN HOME.
The Convener Dr. Neelesh Malviya has organized the live session due to statistics that in the current rate of progress, it will take 202 years to close the economic gender gap.
In the beginning of the session Dr. Sapna Malviya described the current status of Women in Pharma profession, she highlighted the fact that women account for only 25% of leadership teams and that there is only one female CEO among the top 10 pharmaceuticals, which demonstrates that we still have a long way to go. Indeed, some of the women are rising in higher position that effect is not percolating down to all women.Another statistic some estimates 60% of the women drop out from career when there are midstream. Fobes have another analysis saying that only 5% of the women in the work force reach the top layer compared to the global average of 20%. In discussions the experts expressed that women have to decide the priorities their work, to focus on work, to grab opportunities and accept every challenge and prove themselves. The multifaceted talent of women empowers them and lead to be future leader to accelerate the economy. They have suggested that Community pharmacy is one of a number of health professions that has a key role to play in responding to the current pandemic. The women and pharma professionals should move towards the direction of community pharmacy practice to maintain the continuity of healthcare services.They have recommended that Funding agencies like Govt. or Non-govt. body providing monitory grants for scientific researchareas.  These agencies like DST conduct research schemes for women to promote the research in India and provide a grant for research.They advised that students should be sincere and commitment and should avoid short cut.
The experts summarize that women are powerful and a catalyst for changeas women, should empower each other, connect ideas, and inspire future leaders.
The purpose of session was to empower women working in pharmaceutical to reach their full potential, build skills, be business savvy, brave and bold.