Recruitment for Pharmacy graduates as Site Quality Head at Piramal Critical Care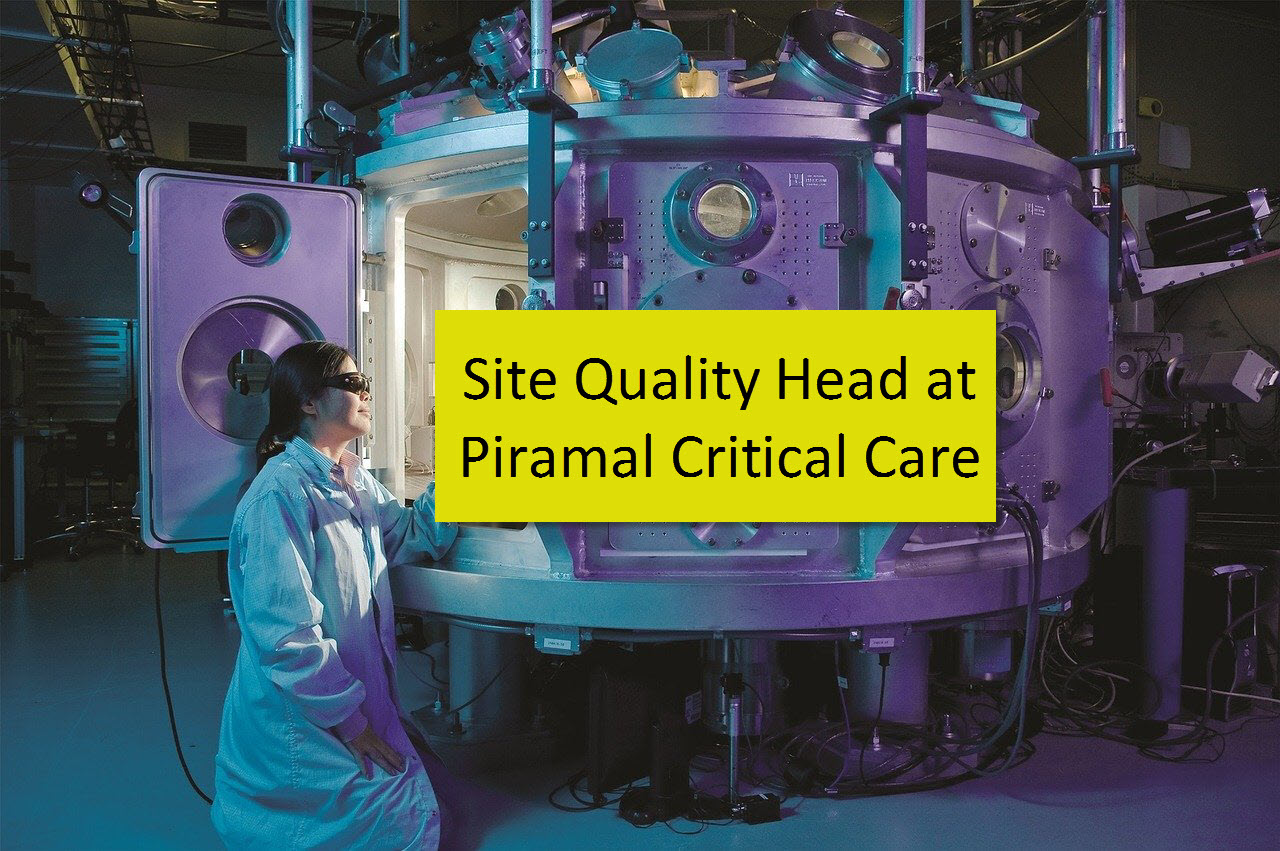 Piramal Healthcare Limited A major force in the pharmaceuticals and healthcare segment, Piramal Healthcare Limited, incorporating Healthcare Solutions & Pharma Solutions, has an unequivocal vision – to become the most admired pharmaceutical company, with leadership in market share and profits.
Post : Site Quality Head
Purpose of Job
• Ensure PCC Digwal site is manufacturing the products in line with our core values & ethical practices.
• Ensure products manufactured at PCC Digwal site are in compliance with applicable regulatory and internal requirements.
• Ensure systems at PCC Digwal site are in synchronization with current regulations & customer expectations.
• Assure the quality of PCC Digwal products and processes by establishing and enforcing quality standards.
Job Description
• Lead the Quality function at PCC, Digwal site and ensure that the site meets local and international regulatory requirements and remains incompliance to cGMP at all times
• Ensure implementation of company's Quality policy, Quality Management System (QMS), SOPs and GMP regulations at site.
• Ensure adherence to company's values – Knowledge, Action, Care and impact
• Overall lead and monitor all the quality activities at the site, work closely with both internal and external stake-holders
• Work across all disciplines (e.g. manufacturing, warehouse, engineering, etc.) to ensure that the site maintains a state of readiness for inspection by regulatory agencies.
• Lead the site to successful handling of regulatory inspections and customer audits / visits.
• Develop robust CAPAs and response to regulatory queries and deficiencies in time-bound manner.
• Host and coordinate customer audits, prepare CAPAs and respond to the customer
• Develop and provide Quality MIS to senior management on periodic basis. Represent site Quality at senior management review meetings
• Work closely with the Site head to achieve the site targets, without compromising on quality requirements
• Ensure that the site complies with DI requirements. All DI policies and procedures are implemented at the site and any breaches are reported and acted upon immediately.
• Achieve financial objectives by compliance to the Quality budget; scheduling expenditures; analysing variance etc. and initiating corrective actions, where required.
• Ensure all batches manufactured and released from the site are in compliance to Piramal and regulatory requirements
• Ensure Quality agreements are available with all suppliers, service providers etc. providing materials or services to the site
• Coordinate with central teams for corporate initiatives, improvising and implementing long term quality strategy.
• Keep abreast of changes to quality regulations and guidelines, advising the management team of any business implications of these changes. Lead, manage and  ensure that these changes are incorporated in the site quality systems
• Take relevant measures to avoid cost of poor quality and control / reduce cost of conformance.
• Receive and investigate complaints at the site and provide timely feedback and response to the customer and senior management
• Support Site head and project team for implementing new projects at site in a timely manner
• Lead the Quality team to raise the capability levels of the team. Coach and develop the teams to take them to the next level. Work on developing succession plan for the Quality function at the site.
• Develop training programs for the site, and ensure that only trained people perform the required job.
Candidate Profile
• Degree (advanced degree preferred) in Pharmacy or Organic Chemistry.
• Quality professional with 15+ years of experience in regulated Pharma companies with experience of both API and formulations
• Hands on experience of quality systems in a GxP environment, and direct experience with FDA, MHRA and other health authority inspections.
• Good knowledge of international regulatory requirements and guidelines
• Good experience of handling DI breaches and awareness of requirements
• Well-organized and detailed oriented professional, with strong verbal and written communication skills.
• Ability to lead and develop Quality team at the site.
Additional Information
Qualification : B.Pharm
Location : Digwal, Hyderabad
Industry Type : Pharma / Healthcare / Clinical research
Functional Area : QA
End Date : 20th June, 2020
See All   B.Pharm Alerts   M.Pharm Alerts   M.Sc Alerts  Hyderabad Alerts
See All   Other Jobs  in our Database
Subscribe to Pharmatutor Job Alerts by Email