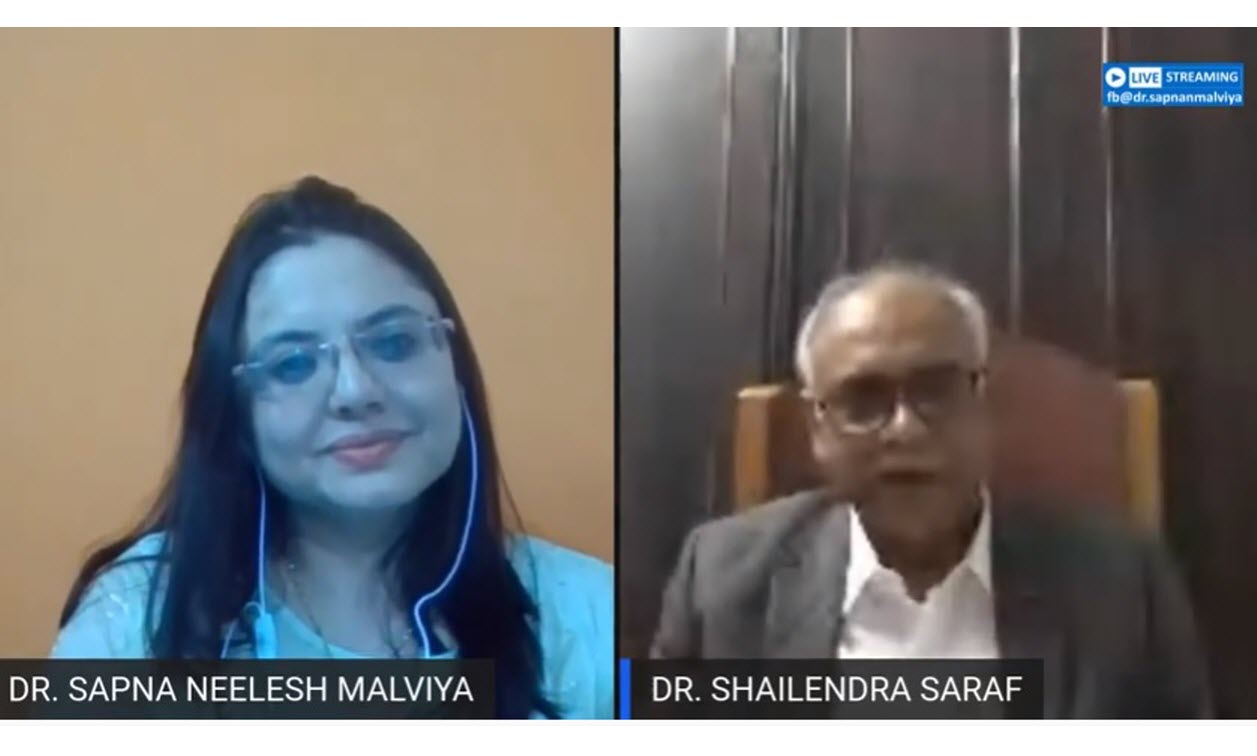 The live interaction session with Prof. Dr. Shailendra Saraf Sir on the theme Modern Era of Pharmaceutical Education in India was organized on 30th April, 2020, 05:00 PM to 6:00 PM.
The Session was successfully convened by Dr. Neelesh Malviya, Principal and Professor, Smriti College of Pharmaceutical Education, Indore. He has outlined the concept of the Live Interaction on burgeoning issues of significant role of Pharmacy Professionals in Health care team and current Initiative of Pharmacy Council of India for upliftment of Pharmacy Profession and Professionals.
The session was introduced by Dr. Sapna Malviya, Head, Department of Pharm. Science, Modern Institute of Pharmaceutical Sciences, Indore. The Invited Guest was Prof. Dr. Shailendra Saraf (Professor, Pt. Shankar Shukla University, Raipur, CG and Vice-president Pharmacy Council of India)
More than 4000 viewers watched the online session and more than +650 live comments have been cited during the sessions. Dr. Neelesh Malviya had organized the session and Dr. Sapna Malviya had a live interaction with Dr. Shailendra Saraf and discussed him about the journey of Pharma education in India, modern era of Pharmaceutical Education in India,  Role of Regulatory bodies and Pharmaceutical Industries, statistical information about the status of Pharmacy course with respect to Number of Pharmacy institutions, Seat intake at the level of D Pharm, B Pharm and M Pharm, and Number of registered pharmacist, future directions of pharmacy professional in India with respect to recognition and Career opportunities, Noteworthy contribution of Pharmacist as a Health Care Professional, learning process with utilization of Digital Learning Module for conveying the content to educate students, process of training and Placement for Final year student in COVID 19, impact of prominence of Pharmaceutical field to fulfill the expectation of mankind in this type of Pandemic Situation with respect of Pharmaceutical Research & Development, the training of Pharmacist to deal with such type of Internationally outbreak of Pandemic situation, restart or redefine their future after gloomy days of COVID 19, anticipation of Health care team society Pharma Industry from Pharmacy Institution and to instill in fresh breeds to produce competent pharma professionals.
The purpose of the session was to discuss the transformation phase and impact of COVID 19 on the education system as well as to talk over the modern era of Pharmaceutical Education in India.
The session was preceded by conveying deepest acknowledgements to the healthcare professionals and government officials on the front lines who work to save lives of people despite risk.
Dr. Saraf described the beginning of Pharmaceutical education in India which was initiated at the Banaras Hindu University in 1932 by Professor ML Schroff. He told that it is a long journey of 80 years for this profession in this country. The enactment of the Pharmacy Act 1948 established the statutory regulation of pharmacy institutions in India. The Pharmacy Council of India was established in 1949 under "Ministry of Health" and the first education regulations (ER) framed in 1953, which were subsequently amended in 1972, 1981 and 1991. He emphasized that teachers are now acquainted to the digital modules and online e learning they are accomplishing their roles and are proving themselves as an asset in grooming and nurturing the future professional in pharmacy. The students are now more prone towards digital learning and they are more receptive and moving towards innovation and research. He explained that the Pharmaceutical Industry is in demand for more and more graduates and postgraduates in pharmacy so the need of the Pharma Institution is to bridge the gaps between industry and institute. He emphasized the Pharmacy Council of India in dynamic Leadership of Dr. B Suresh (President, Pharmacy Council of India) is continuously working in direction to uplift the status of Pharmaceutical Education and many initiatives are taken in this direction.
He said that the future of the pharmacy profession lies in developing well-qualified, knowledgeable, skilled and competent human resources, providing high quality pharmaceutical care services in the healthcare system and fulfilling the other professional obligation/ responsibilities based on the societal need.