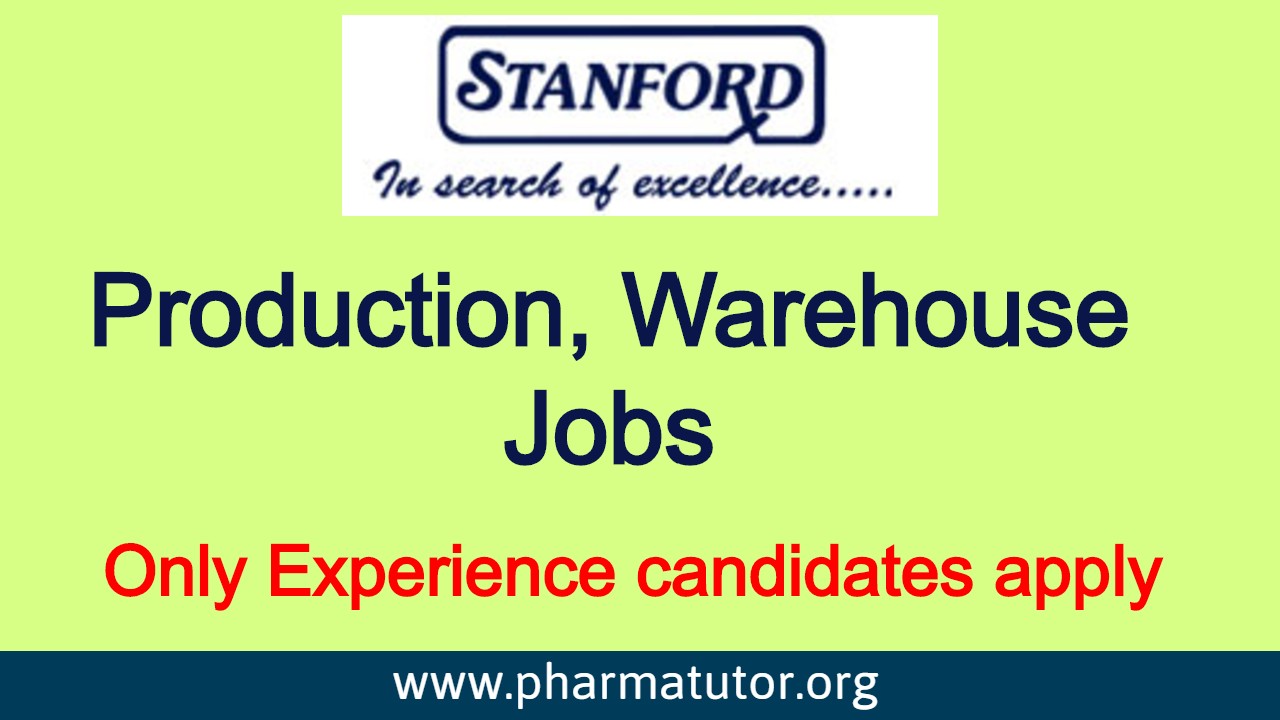 Stanford Laboratories Pvt. Ltd. is a professionally managed, fast growing pharmaceutical company having more than two decades of market standing pan INDIA, with a strong determination to serve medical profession. It has devised and plans to come up with several valuable combinations in its new ultra modern plant in Himachal Pradesh.
Assistant Manager - Production (Packing)
Job Title : AM-Production (Packing)
Experience : 8-13 years
Qualification : B.Sc/ B. Pharma
Job Location : Mehatpur, Una (HP)
CTC Offered : Open to right candidate
Job Responsibilities :
• Aware of packing operations and packing machinery.
• Aware of GMP practices.
• Knowledge of PM dispensing activities and PM store.
• Handing of manpower, Planning & Packing.
• Reconciliation of packing material.
• Coordination for manufacturing planning and increasing productivity.
• Maintaining all documents related to Packing as per cGMP.
Manager - Warehouse
Location : Mehatpur(UNA)
Experience : 12 – 17 yrs
Key Responsibilities :
• Handling of raw materials, Packaging materials and finished goods store.
• Planning of day to day activity of RM, PM and FG store.
• Maintain the stock of RM and PM store and co-ordinate with purchase team for procurement of shortage materials.
• To communicates /follow-up to purchase department, Vendor, customer regarding any query.
• Handling of internal / external / customer / regulatory audits of warehouse department.
• To co-ordinates with production department for day to day planning to meet the requirements.
• To conduct training of operators, warehouse staff as per training schedule.
• Having the knowledge of change control, Deviation, CAPA and Risk assessment.
• Knowledge of SAP, ERP, Trace & trace and barcode system.
• Capable to handle and lead regulatory audits like MHRA, EU-GMP, PIC's, TGA, WHO.
• To prepare and execute the qualification/validation documents and activity of different equipment and area of warehouse. Eg. Temperature mapping, Bar code system, RLAF, Dynamic Pass box.
• To prepare or review Standard operating procedure.
• Invoicing of finished goods dispatch activity.
• To implement and maintain the cGMP culture to all the functions of warehouse.
• People and quality culture development.
• Leadership quality.
• Good communication skill with vendors for procurement, follow up- supply and demand.
Candidate profile
• Working Knowledge of SAP
• People and quality culture development.
• Leadership quality.
• Good communication skill with vendors for procurement
• Follow up- supply and demand Good Analytical Skill
Send CV to - hr@stanlabs.com, kshiti@stanlabs.com
See All   B.Pharm Alerts   M.Pharm Alerts    Ph.D Alerts
See All   Other Jobs  in our Database