Career opportunities for M.Pharm, M.Sc as Quality Control Head at Syngene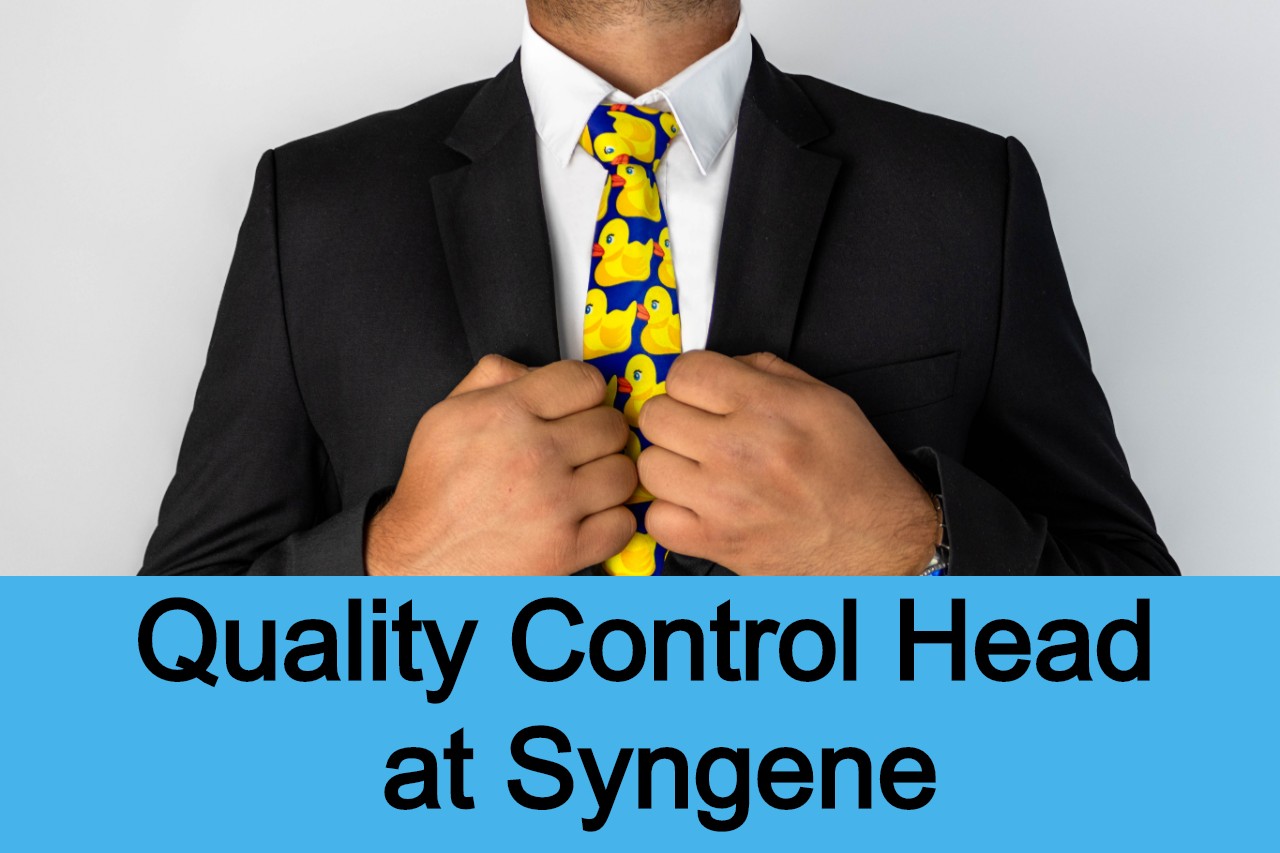 Syngene International is one of India's premier contract research and manufacturing organizations in providing customized service. Our services encompasses all across discovery chain: early stage discovery, process development, cGMP manufacturing and formulation development both in the small molecule and novel biologics area. Based in Bangalore, Karnataka, the Company is situated in a 90 acre Special Economic Zone with over 100000 sq. mt of built up facilities.
Post : HEAD QC - BIOLOGICS
Job Purpose (Briefly Describe the Objectives of the Job)
• The Head Quality Control, Biologics is Responsible For Quality Control Activities Of Biologics And Related Microbiology Testing at Syngene International Limited. The Head Quality Control Biologics Shall be Responsible for all Quality Control Operations, Services and Ensure Compliance to Good Laboratory Practice And Other Regulatory Requirements.
• The Head Quality Control, Biologics Shall Ensure the Qualification, Validation, Performance And Transfer of Analytical Methods Within The Biologics Department.
• Shall Be Responsible For All Quality Control Test Protocol, Technical Reports Related to Biologic Operations.
• Shall Qualify and/or Validate Analytical Methods. Ensure Transfer of Analytical Methods to And From The Biologics Gmp Testing Laboratory To Support In-Process, Lot Release And Stability Testing Of Biologics Products
• Collaborate With Biologic Process Development Team to Plan And Execute Testing to Support Biologic Drug Substance/Drug Product Development And Manufacturing.
• A Team of Approx. 45 Members to Report to Head Quality Control, Biologics.
KEY RESPONSIBILITIES:
• Shall be responsible to meet project timelines for qc testing part. Ensure work plans are periodically updated to address any changes in scope, priorities or timing.
• participate in functional and cross functional teams and ensure testing of biologics products as per cGMP compliance. Adhere to ALCOA principles on data integrity as applicable for work area at all times for self and team.
• establish functional working team for self-assessment of compliance to sop's and data integrity. Ensure documented action planning and timely closure of audit observations, escalate as appropriate.
• establish robust governance process for effective review of the function and escalate key concerns to the senior leadership in formal and timely manner.
• responsible to investigate any deviation, incident, OOS, OOT, client complaints related to qc testing in biologics and assess the impact on product quality and propose and implement remedial actions to prevent such occurrences.
• responsible to investigate and closure of client and regulatory audit observations in QC biologics.
• ensure all personnel follow lab safety practices as necessary and shall be responsible for mitigation of technical troubleshooting in QC.
• provide QC representation for regulatory filing wherever required (e. G. Prior approval submissions, renewals/updates/supplements etc.), ensure timely update of annual product review (APR/PQR) for biologics qc batch release sections.
• manage, coach and develop QC team and contribute to their growth. Give directions and monitor team activities to deliver excellence.
• proactively monitor various quality control trends, complaints, failures, deviations and changes to identify opportunities for system, process and product improvements within biologic QC.
Candidate Profile
• Post graduate in pharmacy / master degree in analytical sciences with minimum 15 years of experience in quality control out of which about minimum 5 years of experience in testing, analytical method development, qualification and validation of biologics products.
• extensive knowledge in 21 CFR part 11, knowledge on regulatory guidelines/ requirements like:
EU-GMP ANNEX 1 and ANNEX 2, CBER, ICH Q11, 21 CFR 600, US cGMP guide drugs 21 CFR 210 AND 211.
• strong background in standard and specialized methodologies for biologics products.
• experience with the qualification/ validation of analytical methods for biologic products.
• investigation and report writing skill.
• should have good communication and presentation skills
• can establish good interpersonal skills with clients and cross functional teams.
• day to day knowledgebase in handling electronic systems like SAP, LIMS, TRACKWISE.
Additional Information
Qualification :  M.Sc, M. Pharm
Experience : 15 years
Industry Type : Pharma / Healthcare / Clinical research
Job ID : 11092
End Date : 20th June, 2020
See All  Syngene Jobs M.Pharm Alerts    Ph.D Alerts   Bangalore Alerts
See All   Other Jobs in our Database
Subscribe to Pharmatutor Job Alerts by Email