Vacancy for M.Pharm, B.Pharm in EaffoCare Innovation Pvt Ltd, IIT Hyderabad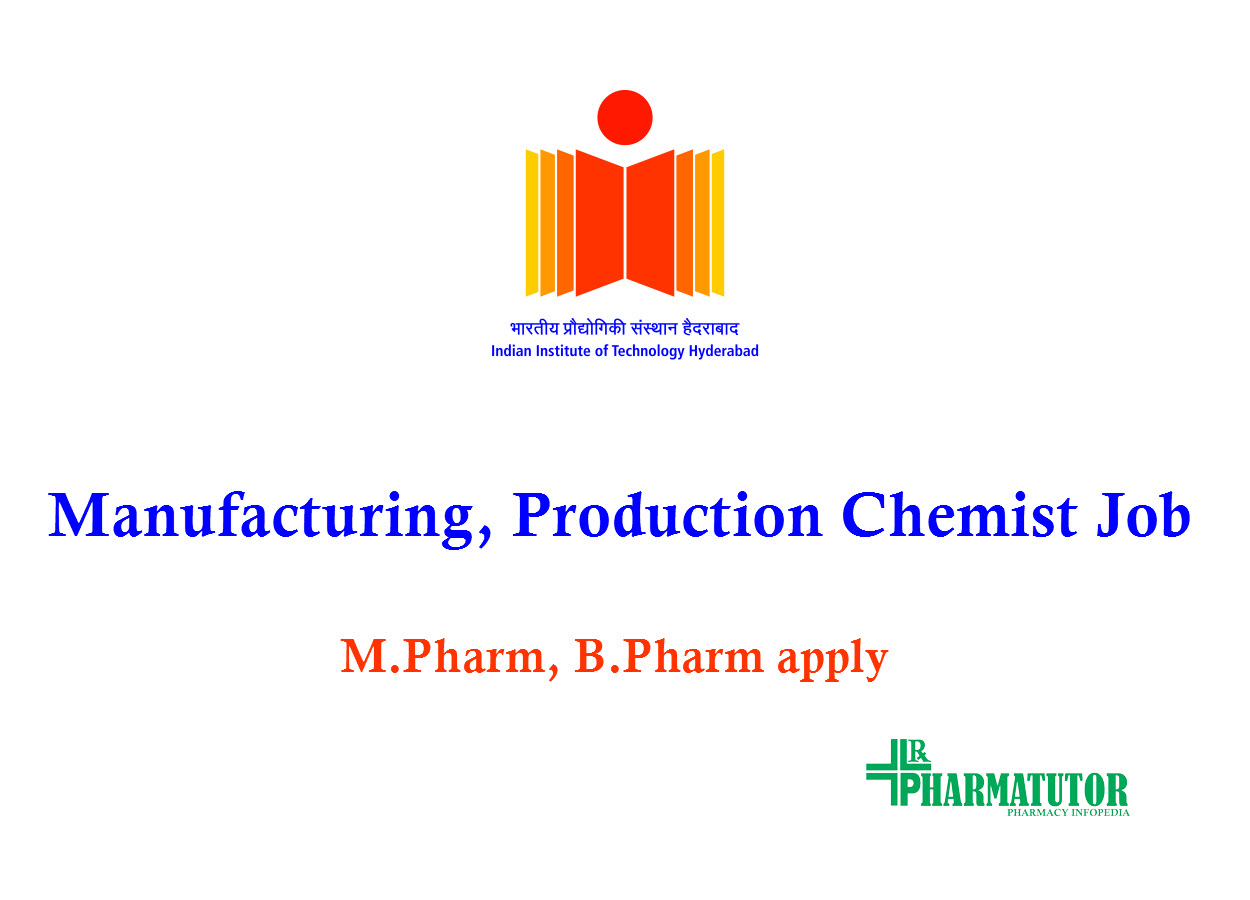 IIT Hyderabad is one among the 2nd generation of IITs started by the Govt. of India. Today IITH offers 9 B.Tech programs, 16 M.Tech programs, 3 M.Sc programs, 5 M.Phil programs, 1 M.Des program and Ph.D. programs in all branches of engineering, science, liberal arts and design. The very foundation of IIT Hyderabad is based on research and innovation. The vibrant research culture is evident from the number of patents and publications that IITH has. At IITH students are given with a plethora of choices, which they diligently choose with the help of a faculty advisor.
Post : Manufacturing / production Chemist
Desired Candidate qualification : B. Pharma, B.Sc., M. Pharma, Experience in chemistry manufacturing or R&D.
Salary : Rs. 15000 to Rs. 30000 PM based on experience and qualification Work
Experience : 3 - 5 Years' experience in production
Company Address : EaffoCare Innovation Pvt Ltd, iTIC, IIT Hyderabad, Kandi, Sangareddy, 502285.
Company Landmark : IIT Hyderabad
Job purpose : Candidate (manufacturing chemist) expected to look after manufacture sanitizer, hand wash, and testing of all raw materials & finished Product. Packaging is also involved which includes putting products in bottles, ampules, or another specified container and applying labels.
Key Responsibilities and Accountabilities :
• Follows standard operating procedures
• Operates basic laboratory equipment
• Follows, as well as possesses, strong written and verbal instructions
• Follows complex procedures and operations
• Demonstrates consistent, reliable performance
• Works effectively as part of a team as well as independently with minimal supervision
• Exhibits organizational skills and attention to detail
• Meets production goals
How to Apply : Eligible candidates should apply with their CV via email to enarm@bm.iith.ac.in on or before 28th June, 2020, with the subject marked as "Production Chemist". Candidates will be short listed for the interview based on merit and experience will be informed via email.
Preference : will be given to the candidates having relevant experience on the above-mentioned work and capable to join urgently.
See All  M.Sc Alerts   B.Pharm Alerts   M.Pharm Alerts   Hyderabad Alerts
See All   Other Jobs in our Database
Subscribe to Pharmatutor Job Alerts by Email