Apply online for Pharmacist under National Health Mission - 5 posts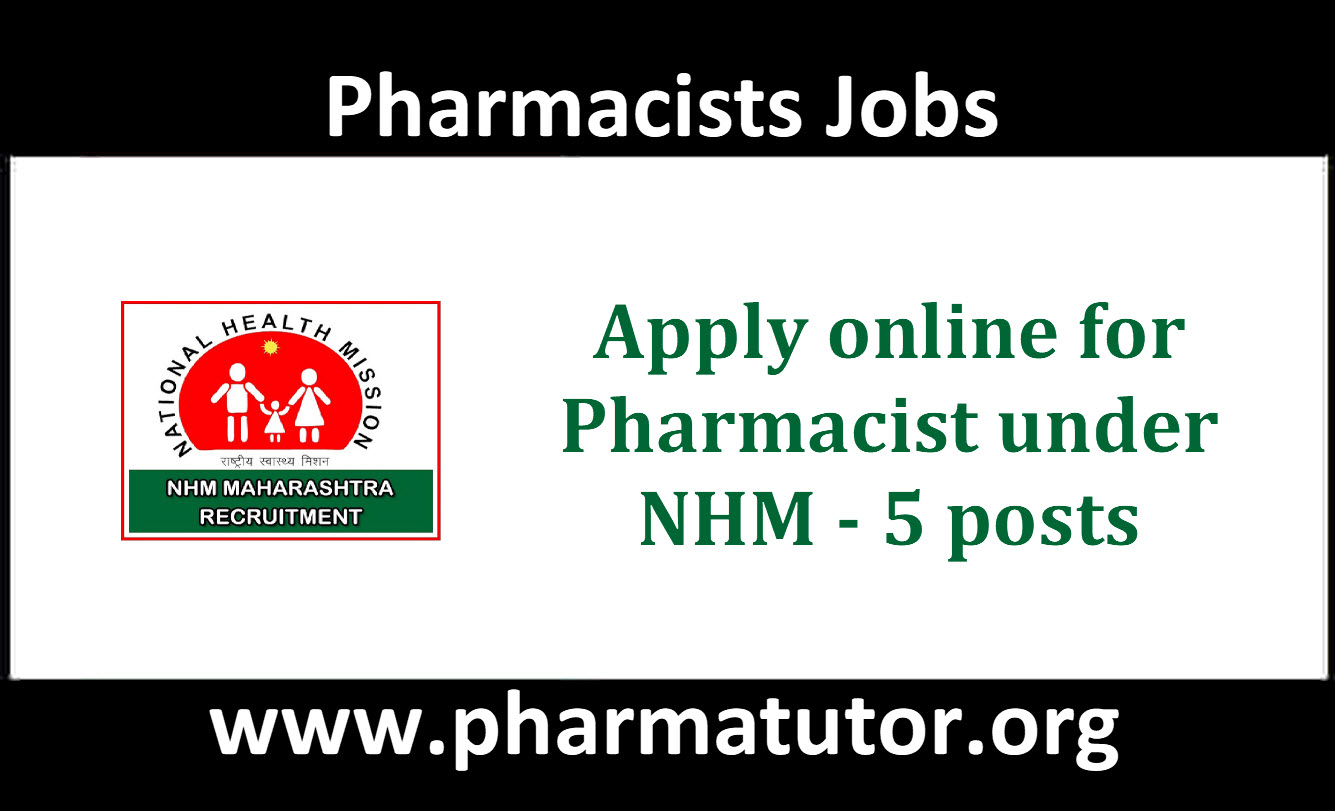 Applications are invited for post of Pharmacist under National Health Mission
Appointment order will be issued to the candidate subject to the final year marks of the educational qualification of the candidate received through e-mail, additional educational qualification, government institution, departmental affiliated organization, experience of the relevant post under National Rural Health Mission and decision of selection committee.
Post: Pharmacist
No of Posts: 5 posts
Place of posting:
RH W Bakal 02
RH j Jamod 01
RH D Raja 01
DH Buldana 01
Qualificaton: BPharm or DPharm
Experience: 1 years experience
Remuneration: 17000 per month
As per the letter No.  61909-62224 / 18 dated 19/09/2018 from the Commissioner, Health Services and Director, National Health Mission, Mumbai
i.  The maximum age of entry for the post of Medical Officer (MBBS) is 61 years and termination of service is 70 years.
ii.  The maximum age of entry for other posts is 38 years for open category, 43 years for reserved posts and 60 years for termination of service.  It is mandatory for the applicants above 60 years of age to submit the certificate of Physical Fitness certified by the District Surgeon
No administrative or financial action, penal or criminal or any other serious offense of any kind has been or has been recorded against a government employee during his previous tenure as a government employee.
These posts are not of state government but of purely contractual nature.
As the appointment is on contract basis, they will not be considered as government employees, the first appointment will be for 11 months.  After that, the decision of the committee regarding extension of the next term will be final and no provision other than consolidated salary will be applicable. If the post is denied by the Central Government during the period of appointment order or in future.
In case of any other exceptional circumstances, the service of the staff in this post will be terminated immediately without any prior notice or reason.
Candidates should submit their applications online to the office e-mail nhmapplicationbuldana@gmail.com, applications will not be accepted in the office
Candidates applying will be required to submit a certificate of registration to the concerned council.  As these posts are to be filled on contract basis, no allowance other than the combined honorarium will be applicable and daily and travel allowance and any other allowance will not be admissible to the candidates coming for interview. 
Candidates should apply in the prescribed format published.
It will be mandatory to submit the certificate of registration to the concerned council. As these posts are to be filled on contract basis, no allowance other than consolidated honorarium will be applicable.  Buldana District Website https://buldhananic.in Application should be made in the prescribed format and candidates should prepare a combined PDF file of application, age certificate, marksheet, experience certificate, registration certificate and other required proofs.  Experience of the relevant post under the accredited organization and National Rural Health Mission. Private experience will be accepted. 
Candidates should send this PDF file by office email to nhmapplicationbuldana@gmail.com by 16/06/2020.
 Pharmacist at No. 5, Dialysis Technician at No. 7, Program Assistants at No. 8, Block Sickle Cell Assistants at No. 9.  As the Skill Test is mandatory for the post of Block Facilitator (Female) at No. 10, the candidates will be eligible for the Skill Test in a five-pronged manner on the basis of their academic qualification, final year marks, additional educational qualification marks and work experience marks in National Health Mission. 
The final selection will be made on the basis of skill test. If the candidate does not qualify in the skill test as per the vacancy after the skill test, then the next eligible candidate will be called for skill test.  Candidate should take note that instructions and ruling will be applicable.  The number of posts can be changed more or less as required.
Candidates who have applied will be informed about the selection through Zilla Parishad website.
FIND MORE INFO AND APPLICATION FORM >>
See All   Ahmedabad Alerts   B.Pharm Alerts   B.Sc Alerts   M.Pharm Alerts
See All   Other Jobs in our Database
Subscribe to Pharmatutor Job Alerts by Email