Career for M.Pharm, B.Pharm in Manufacturing, Production, Packaging at Windlas Healthcare Ltd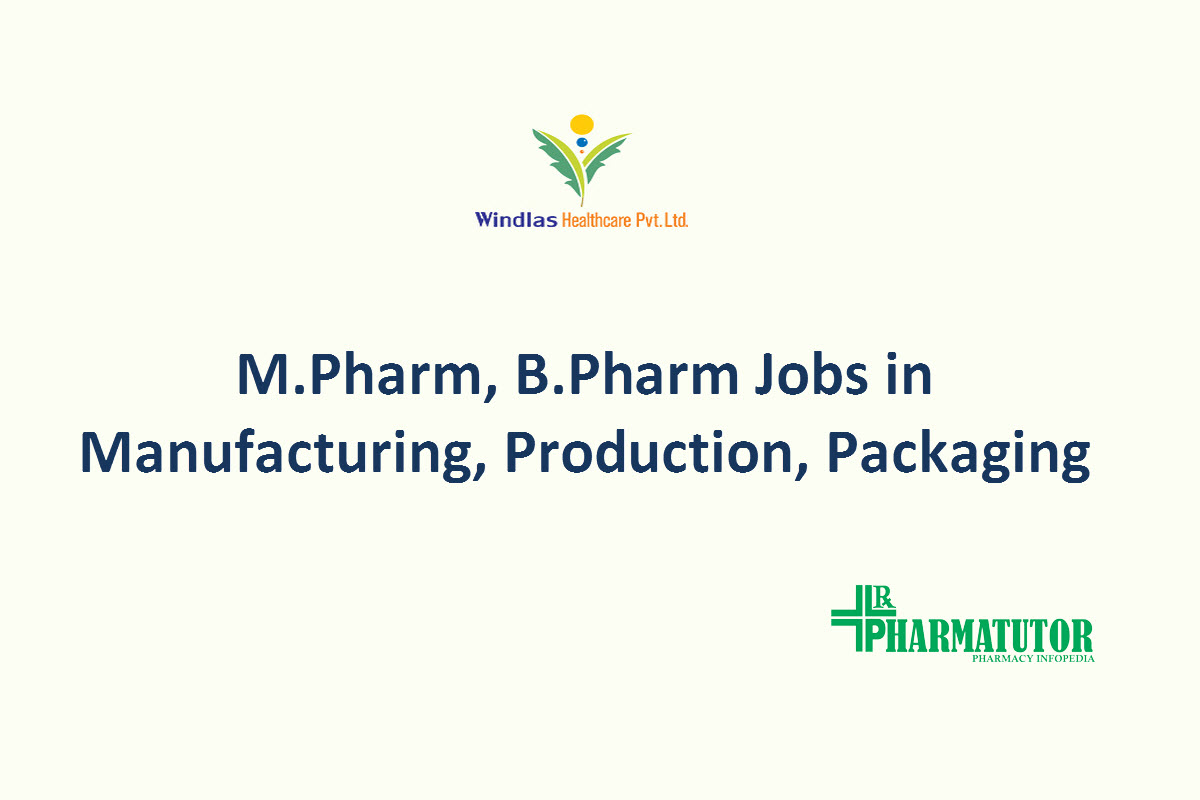 Windlas Healthcare (P) Ltd. Manufacturer of pharmaceutical medicine, pharmaceutical tablets & pharmaceutical capsules for Regulated & ROW market since 2008 in Dehradun, Uttarakhand. The vision of establishing an excellent manufacturing facility that caters primary to regulated markets.
Sr. Manager Manufacturing/Production.
Experience : 15 to 20 Yrs
Qualification : B.Pharma, M.Pharma
Salary Package : 18 Lac to 25 Lac
Job description :
1. Sound Exposure in regulatory compliance as lead auditee in respective functions specifically for USFDA, MHRA, EU, PICS.
2. Must have experience for developing & working on Regulatory agency audit observations CAPA & response independently.
3. Provide guidance and manager the Manufacmring and Packaging department at site.
4. Review of SOPs, BOM, BMR, BPR. Validation. Qualification and Quality or DI event documents.
5. Oversee all Teclmology transfer activities at the site as per schedule and cGMP.
6. Participate in customer and regulatory audits.
7. Overall Production Planning and execution of Pant (Manufacmring & Packing).
8. Ensure the compliance to cGMP requirements, manufacturing process instruction and SOP's.
9. Work closely with quality personnel to review product consistency while monitoring scrap rates to determine trends and areas of improvement.
10. Review established production schedules for all manufactilling departments to ensure established inventory levels are met while operating at the highest efficiency possible.
11. Monitor operation expenses and research ways to reduce costs while maintaining product quality.
12. Develop and execute the plant manufacturing budgets.
Manager Packaging Department
Experience : 10 to 15 Yrs
Qualification : B.Pharma, M.Pharma
Salary Package : 09 Lac to 12 Lac
Job description :
1. Provide guidance and Manage the Packaging department at site.
2. Review of SOPs, BOM, BPR, BMR, Validation, Qualification and Quality or DI event document.
3. Ensure All time readiness of area, equipment, team and document for CGMP inspection.
4. Ensure adequate staffing, SOPs and training of all employees in above departments.
5. Ensure that department (/s) is (/are) timely planning and executing batches trader cCGMP.
6. Implement of relevant CAPAs and remediation of observation found in Self Inspection. Customer audit and Regulatory audits.
7. Take co-ownersliip of Batch Quality and cycle time related KPIs and suggest continuous improvements measures.
8. Drive continuous improvement agenda to minimize complexity, time and errors.
9. To plan and execute production schedule and monitor personnel working in Manufacturing and Packing department.
10. To check the instruction relating to Manufacturing and packing operation and to ensure their struct implementation.
11. To co-ordinate for all the deviation, change control, out of specification. Root cause analysis, error rectification, failure investigation, Non- confomiation. Corrective and preventive action and investigation of market complaint.
Interested Candidates send their CV to mail ID: npokhriyal@windlashealthcare.com
See All   Dehradun Alerts  B.Pharm Alerts    M.Pharm Alerts   M.Sc Alerts
See All   Other Jobs  in our Database
Subscribe to Pharmatutor Job Alerts by Email