Opportunity for M.Pharm, M.Sc in Formulation Research & Development at Aurobindo Pharma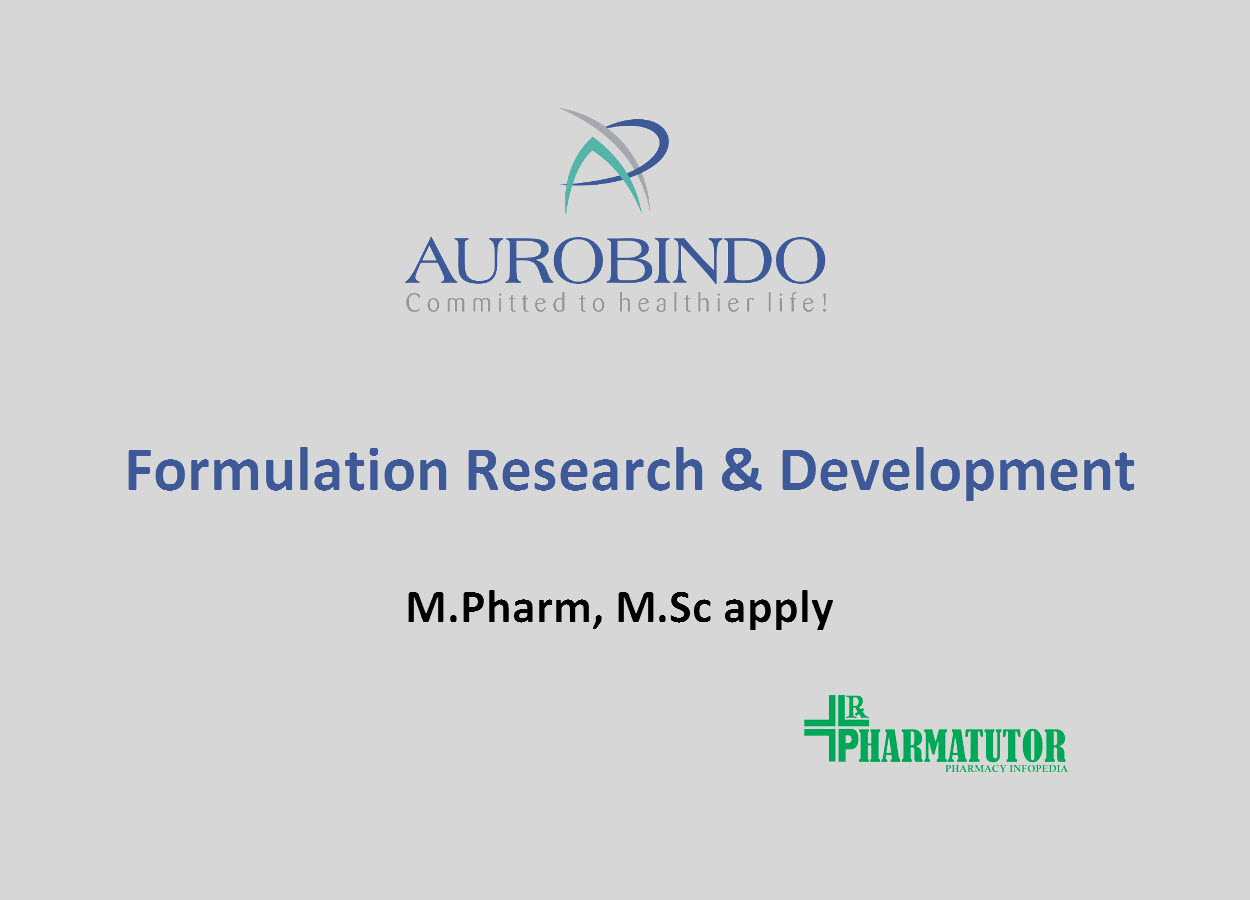 AUROBINDO PHARMA LTD' (APL). APL is a growing Indian multinational pharmaceutical manufacturing firm with turnover of over US$2.8 Billion revenues for 2018-19, with presence in more than 34 countries fronted presence with products exported to 155 nations. APL is 2nd Largest Generic Company as per Rx dispensed in the USA. APL is Amongst Top 10 Generic player in France, Germany, Portugal, UK, Italy, Czech Republic, Netherlands & Belgium. APL manufactured 33 Billion+ diverse dosage forms in 2018-19. APL has 27 manufacturing facilities and 5 R&D centres worldwide.
Post : Manager/ Sr.Manager
Department : Formulation Research & Development
Job Description :
Coordination with the procurement team for selection and procurement of equipment / instruments.
Coordination with engineering team for installation
Responsible for the Guidance and Execution for the following:
• Planning of development batches using Pamasol filling equipment for suspension & solution formulations
• Guiding the team for the execution of the development batches
• API characterisation studies
• Review and statistical evaluation of formulation & analytical data with the team
• Guidance to the team for Tech-Transfer from R & D to Production.
• Coordination for the inter-department activities
• Monitoring of the pMDI specific performance tests like APSD, DDU, SP, PG, etc.
Experience : 9 to 13 yrs
Key Skills : Well versed with the statistical tools like Minitab, JMP, etc, ELN Documentation Practises, population bio-equivalence studies for pMDI for the US Market.
Education : B.Pharma /M.Pharma / MSc/ PhD
Location : Hyderabad (Pashamylaram)
Please forward your profile to pallavi.gottumukkala@aurrobindo.com & update your details in the link given below.
See All  B.Pharm Alerts   M.Pharm Alerts    Ph.D Alerts
See All   Other Jobs  in our Database
Subscribe to Pharmatutor Job Alerts by Email