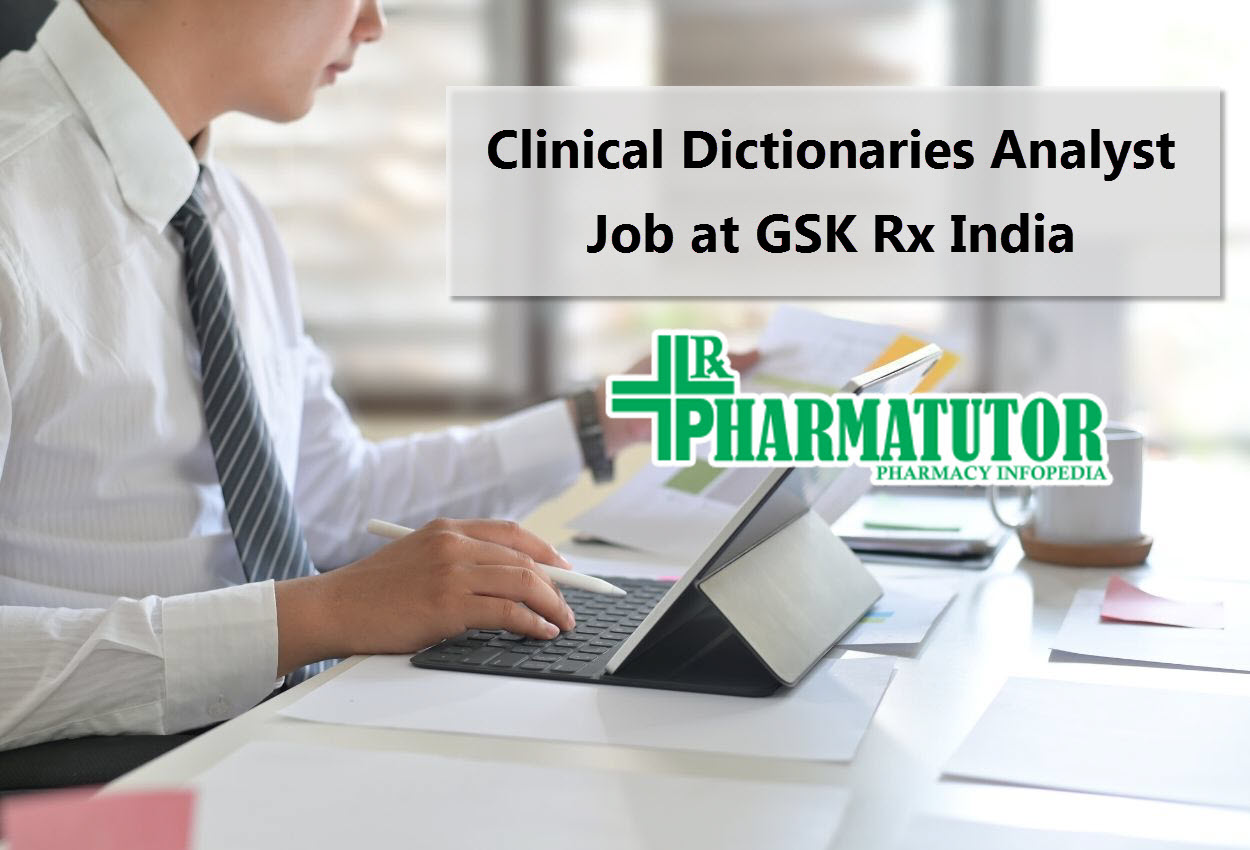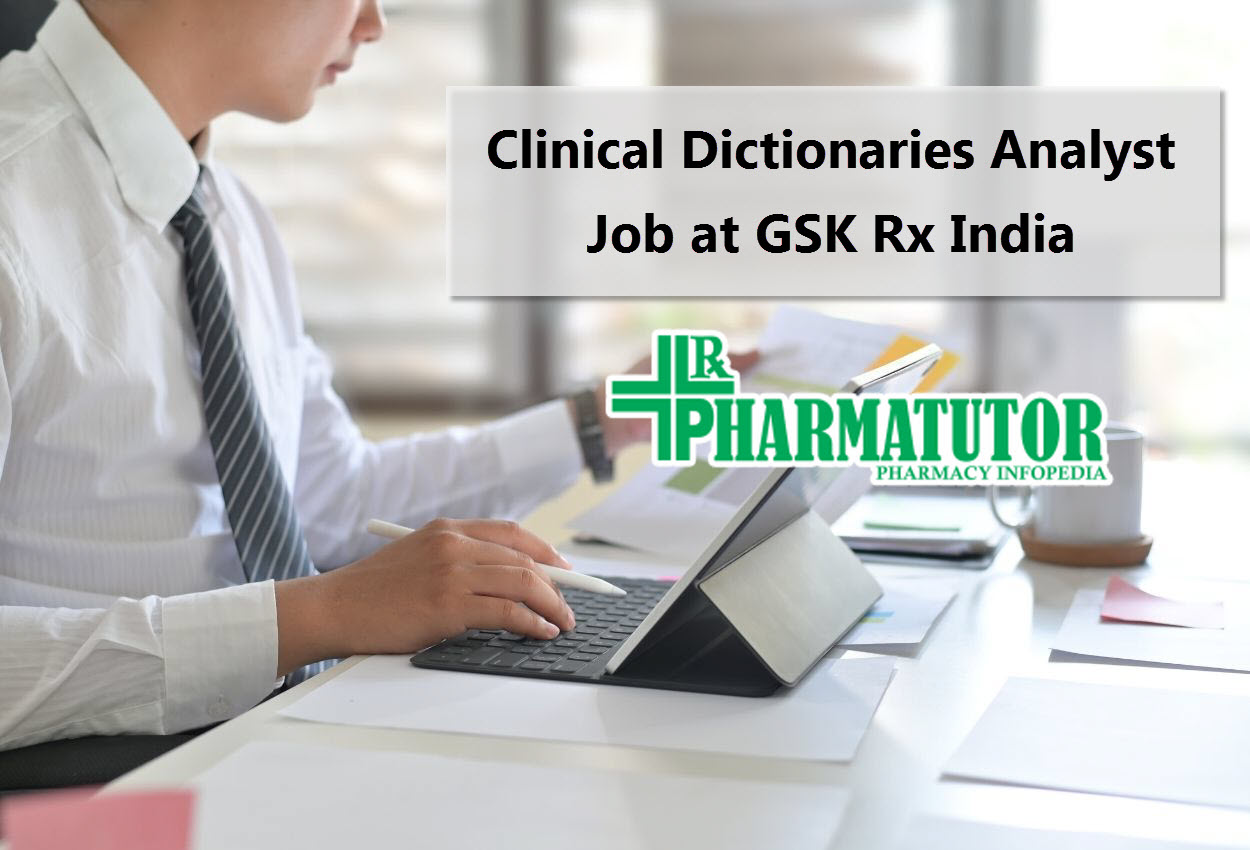 GlaxoSmithKline Pharmaceuticals Ltd. (GSK Rx India) is one of the oldest pharmaceuticals company and employs over 5000+ people. Globally, we are a £ 27.4 billion, leading, research-based healthcare and pharmaceutical company. In India, we are one of the market leaders.
Post : Clinical Dictionaries Analyst
Job description
• Compound Owner Coder/Approver – Contribute actively in study team as coding representative, acting as primary point of contact for dictionary-related matters for assigned compounds, diseases or business areas.  Interacts with other functional areas to include Clinical, Clinical Data Management Statistics, Safety, local operating companies, global resourcing partners and contract research organizations.  Obtain study milestones to ensure live study and closed database conversion milestones are planned, resourced and tracked, codes are delivered to agreed deadlines with quality reviews of coding and communicated timelines to relevant staff and management.  Review draft (e)CRFs to ensure agreed coding standards are followed and to agree on any new designs where appropriate.  Review draft protocols and advise Clinical and Statistics staff regarding potential Protocol Violators or excluded medication groups or classifications.  Provide input into study level Data Validation Specifications involving dictionary codes.  Ensure arrangements are made for autoencoding internal and external studies including global resourcing partners, coding and non-coding CROs and other business areas during study set up. Oversee the routine (daily) coding and approving of coding failures for active studies within assigned compounds/areas.  Act as Coder/Approvers, as required, for critical workload periods or complex terms, by reviewing coding failures and applying GSK Coding Philosophies and Term Cleaning Guidelines to resolve the failures via dictionary updates, term edits or generation and resolution of queries.  Develop expertise in selected diseases, indications or therapeutic area(s) for which the assigned compounds are being developed.  Assist other Compound Owners during peak periods or to provide holiday cover as required. Provide, as needed, a list of clinical dictionary codes and/or terms which identify related events or drug s for analysis reporting.  Be able to recognize current and potentials system problems.  Lead consultation efforts with other team members, senior staff, programmers and statisticians to correct systems problems, inefficiencies, etc.  Understand, follow and contribute to development of standard documentation, such as dictionary SOPs, philosophy guidelines, international working practices and quality control procedures.  Educate co-workers outside the department on dictionary issues and working practices, by answering questions, providing explanations to accompany requests and making informal presentations at group meetings.  Work closely with other Clinical Dictionary staff to ensure open communication, leading to consistency in dictionary usage and constantly improving processes for the department.  Communicate timelines, time constraints, and possible problems to staff and management.
• Training – Provide training to both in-house and external personnel regarding GSK coding applications and processes.  Direct and assess the training session content.  Ensure availability of current versions of the training materials.  Implement the training with training solutions.  Conduct delegate competency testing as required, (assess and documents the practical application of training received by personnel).  Provide coding guidance for vendor personnel assigned to the study (production work)..
• Therapeutic Area Coordinator/Back-up – In addition to the core Compound Owner role, experienced staff may act as Therapeutic Area (TA) or Business Area (BAA) Coordinator/Back-up.  Effectively manage study related coding workload including daily checks for failures across the assigned TA/BA.  Ensure TA/BA Team compliance with Coding policies and practices including the insurance of acceptable data quality for study data using available tools and reports (e.g., QC report, CCR, UTRs, ATR).  Track and maintain study milestone information at study, compound and TA/BA levels.  Forecast incoming workload at least 6 months in advance and determine resource requirements to ensure TA/BA study milestones are met.  Routinely set and communicate workload priorities to relevant staff and customers.  Act as a reference pint for Coding issues to Coders, Compound Owners, plus other study team members and managers across the assigned therapeutic area(s). Escalate issue to management as appropriate. Act as Compound Owner for selected compounds or Bas and help others during peak workload periods.  Act as Coder/Approver, as required, for critical workload periods or complex terms, by reviewing coding failures and applying GSK Coding Philosophies and Term Cleaning Guidelines to resolve the failures via dictionary updates, term edits or generation and resolution of queries.
• Functional Area Lead/Back-up -In addition to the core.Compound Owner role experienced staff may act as Lead or Back-up in one or more areas of dictionary expertise or development.  These include: Medical and/or  Drug Dictionary Experts.
Candidate Profile :
• Bachelors or equivalent Science, Life Science, Nursing, Pharmacy or related medical/clinical area.
• Good understanding of the clinical trial process and where coding fits in the picture.
• Knowledge in a therapeutic or functional area
• Ability to plan, prioritise and multi-task for studies, compounds, TAs or projects.  Uses time efficiently and effectively.  Concentrates efforts on the most important priorities.
• Ability to answer complex autoencoding and failure processing queries.  May lead development of standard skill/tool-based autoencoding and dictionary training across WWD to larger groups.
• Solid interpersonal/soft skills. Coding colleagues and WWD contacts.  Communicate study and CDDM relate information across WWD.  May give presentations or training across WWD in specific aspects of coding to small groups.  Give and receive feedback
• Able to work with others within GSK.
• Demonstrates positive, flexible support and partners effectively with colleagues and stakeholders.
• Attend industry and dictionary related meeting for professional development and networking and feedback.  May represent GSK in local industry meetings.
• May present or be active member of industry group in area of expertise.
• Effective vendor management and influencing.
Additional Information
Qualification : B.Pharm/B.Sc
Location : Bangalore, India
Industry Type : Pharma / Healthcare / Clinical research
Req ID : 275466
End Date : 20th January, 2021
See All   B.Pharm Alerts   M.Pharm Alerts    Ph.D Alerts   Bangalore Alerts
See All   Other Jobs  in our Database