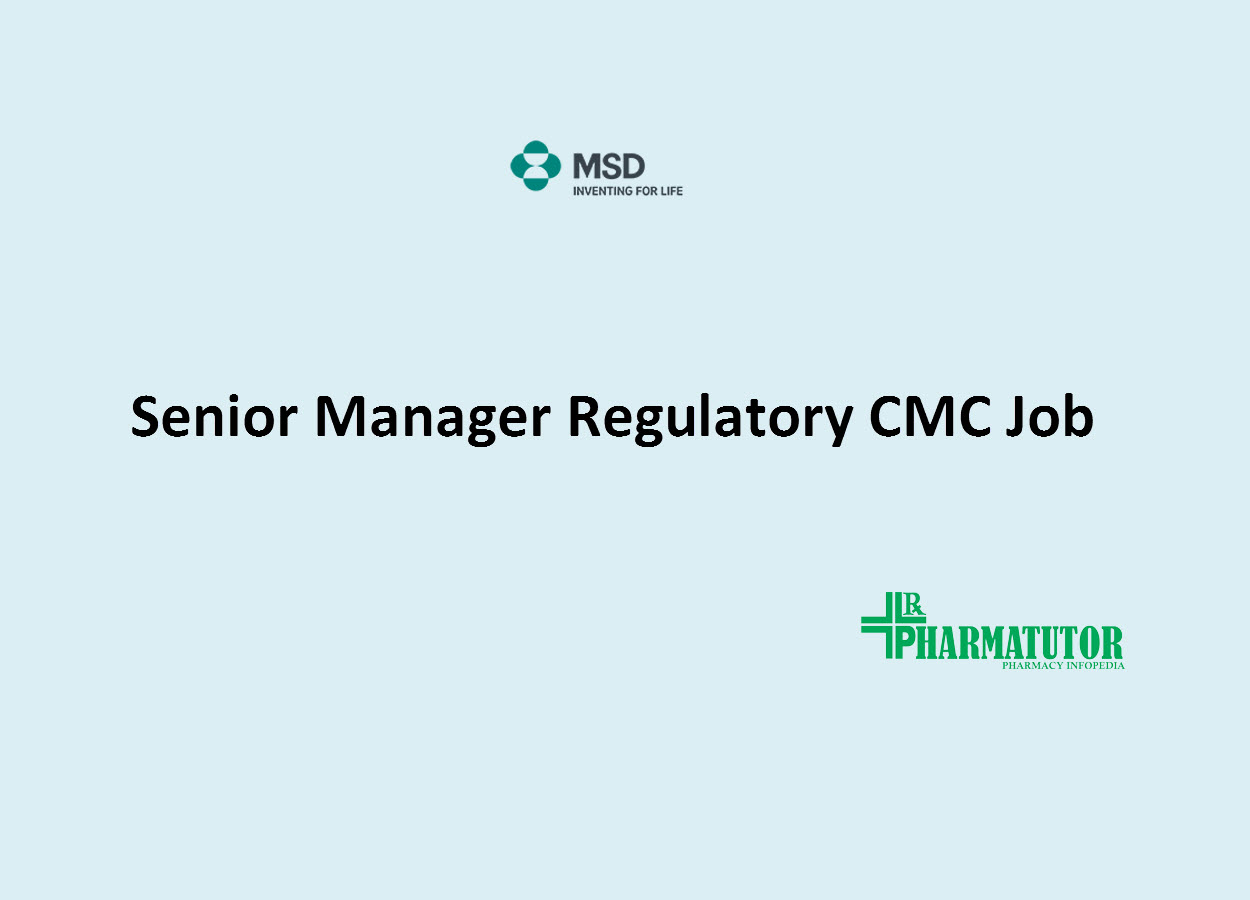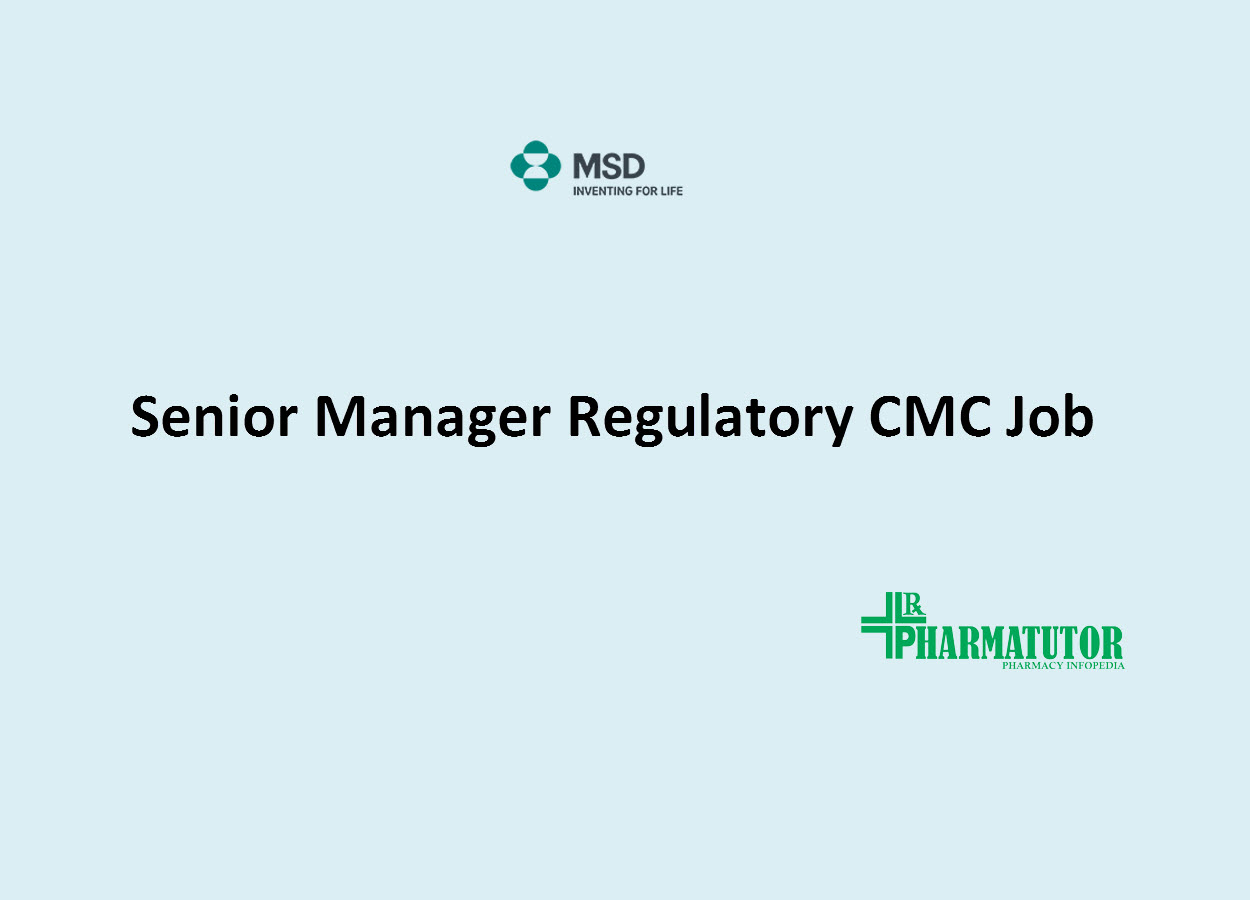 MSD is a global health care leader with a diversified portfolio of prescription medicines, vaccines and animal health products.   Today, we are building a new kind of healthcare company – one that is ready to help create a healthier future for all of us. Our ability to excel depends on the integrity, knowledge, imagination, skill, diversity and teamwork of an individual like you.  To this end, we strive to create an environment of mutual respect, encouragement and teamwork.
Post : Sr. Manager Regulatory CMC
Job Description
This Role is responsible for implementing CMC regulatory strategies for assigned pharmaceutical products in accordance with global regulations, guidance's and defined regulatory strategies. He would even be responsible for the preparation and review of information required for development of regulatory CMC dossiers for commercial products.
Regulatory Responsibilities:
• Provide input to global product and project regulatory strategies by performing assessments of CMC changes, identifying global regulatory requirements and critically evaluating supporting documentation to assess acceptability and identify potential risks.
• Execute regulatory strategies by leading the development, authoring and review of CMC submission components and documentation to support post-approval supplements/variations, annual reports, registration renewals and responses to health authority questions per established business processes and systems. 
• Liaise with global CMC, Our Manufacturing Division and external partners to support compliant execution of change management and conduct all activities with an unwavering focus on regulatory conformance.
• Assess and communicate potential regulatory risks and propose mitigation strategies.
• Deliver all regulatory milestones for assigned products across the product lifecycle
• Identify and communicate potential regulatory issues to GRACS CMC management, as needed
Technical Skills :
• Experience in reviewing scientific information to assess technical merits and suitability of scientific rationale to ensure information is presented clearly and conclusions are adequately supported by data.
• Demonstrated oral and written communication skills and the ability to communicate issues in a succinct and logical manner.  Strong listening skills.
• Demonstrated understanding of related fields (e.g., pharmaceutical manufacturing, analytical testing, and quality assurance).
• Proficient computer skills and previously demonstrated ability to operate in electronic documentam based GMP systems
Leadership Skills :
• Demonstrated ability to generate innovative solutions to problems and effectively work with and communicate to key stakeholders.
• Demonstrated flexibility in responding to changing priorities or dealing with unexpected events.
• Capability to handle multiple priorities and balance work to achieve business goals.
• Demonstrated effective leadership, communication, and interpersonal skills
Candidate Profile
• Bachelor's in Science, Engineering, or a related field (advanced degree preferred).   Fields of study include Pharmacy, Chemical Engineering, Biology, Microbiology, Virology, Molecular Biology, or Biochemistry
• Minimum 10 – 12 yrs of Industry Pharmaceutical industry experience out of 6 years' experience in managing CMC Regulatory submissions for small molecules/vaccines/biologics.
• The candidate may be required to travel to other CMO sites on a need basis.
Additional Information
Qualification :  B.Sc, B.E
Location : Platina, Mumbai
Industry Type : Pharma
Functional Area : Regulatory Affairs
End Date : 30th August, 2020
See All   M.Pharm Alerts   B.Sc Alerts   B.Pharm Alerts   Mumbai Alerts
See All   Other Jobs in our Database