Vacancy for Ph.D, M.Pharm, B.Pharm in Formulation Production at Aurobindo Pharma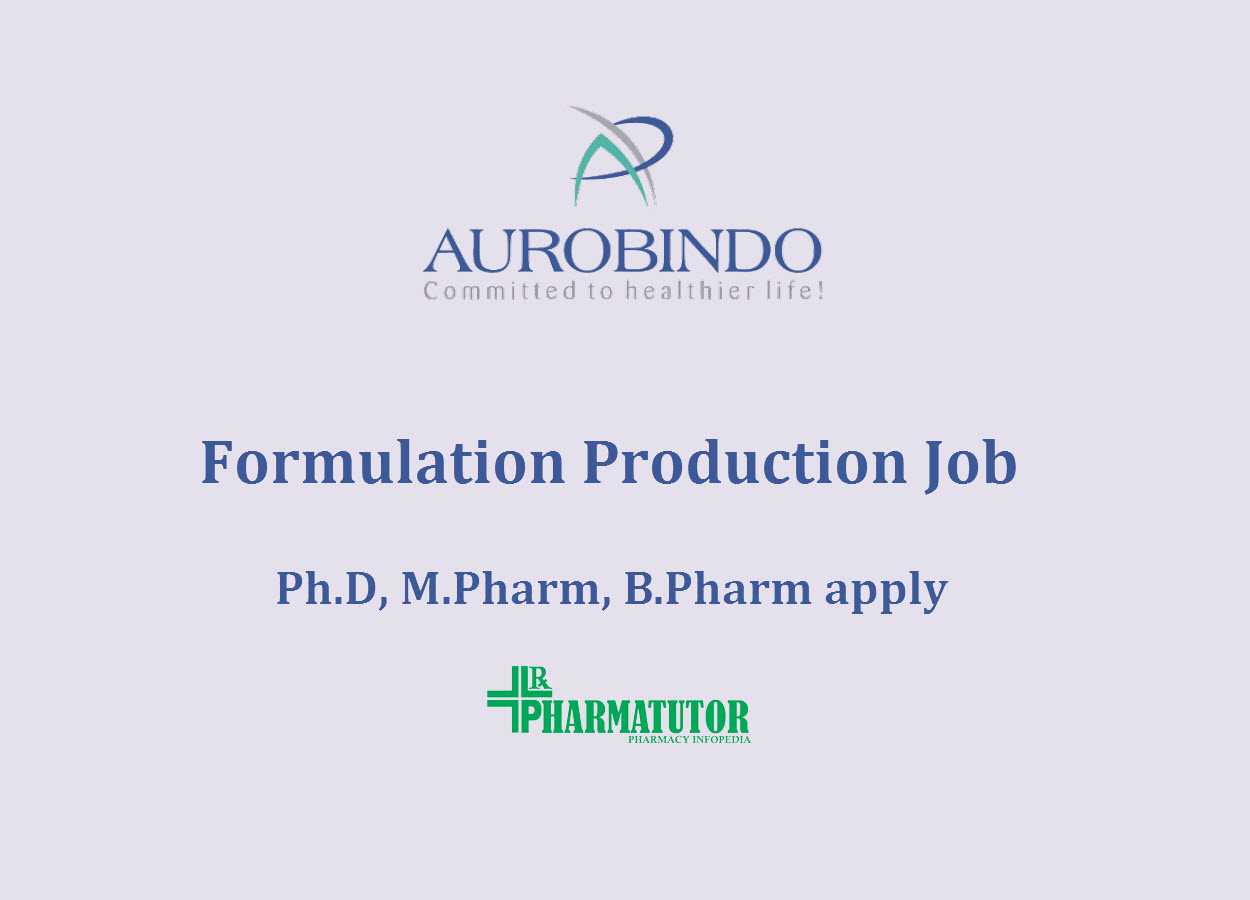 AUROBINDO PHARMA LTD' (APL). APL is a growing Indian multinational pharmaceutical manufacturing firm with turnover of over US$2.8 Billion revenues for 2018-19, with presence in more than 34 countries fronted presence with products exported to 155 nations. APL is 2nd Largest Generic Company as per Rx dispensed in the USA. APL is Amongst Top 10 Generic player in France, Germany, Portugal, UK, Italy, Czech Republic, Netherlands & Belgium. APL manufactured 33 Billion+ diverse dosage forms in 2018-19. APL has 27 manufacturing facilities and 5 R&D centres worldwide.
Post : Associate - Trainer Formulation Production / FRD - 2 Vacancies
Job Description
• Training for entry level & experienced as per business requirement.
• Should handle all production equipment's (theory, operation, calibration & Maintenance).
• Assessments Strategic assessment of Trainees & overcome measures.
• Preparation of SOPs for equipments Handling of Regulatory theory for trainees.
• Experience: Around 4 to 5 years in industry, Academic Experience lyr.
• Specific Skills: Knowledge about Production activities in shop floor, Regulatory affairs, formulation R &D, Technology Transfer
• Certification: PGCET /GPAT/ MBA/ Training certificates / publications/ Diploma courses if any.
Experience : 4-5 Years / 8 - 10 yrs
Industry Type : Pharma / Biotech / Clinical Research
Functional Area : Teaching, Education, Training, Counselling
Education :
UG- B.Pharma-Pharmacy
PG - M.Pharma - Pharmaceutics
DOCTORATE - Ph.D. - Pharmacy
Location : Hyderabad /Secunderabad (Pashamylaram)
Keywords : Technical trainer, Formulation, Production, Technology Transfer
Contact : Aurobindo Pharma Ltd - HR.RC2@aurobindo.com
See All  B.Pharm Alerts   M.Pharm Alerts    Ph.D Alerts
See All   Other Jobs  in our Database
Subscribe to Pharmatutor Job Alerts by Email