Opportunity for M.Pharm as Medical Coder at CDSA | Salary up to Rs. 75,000/-pm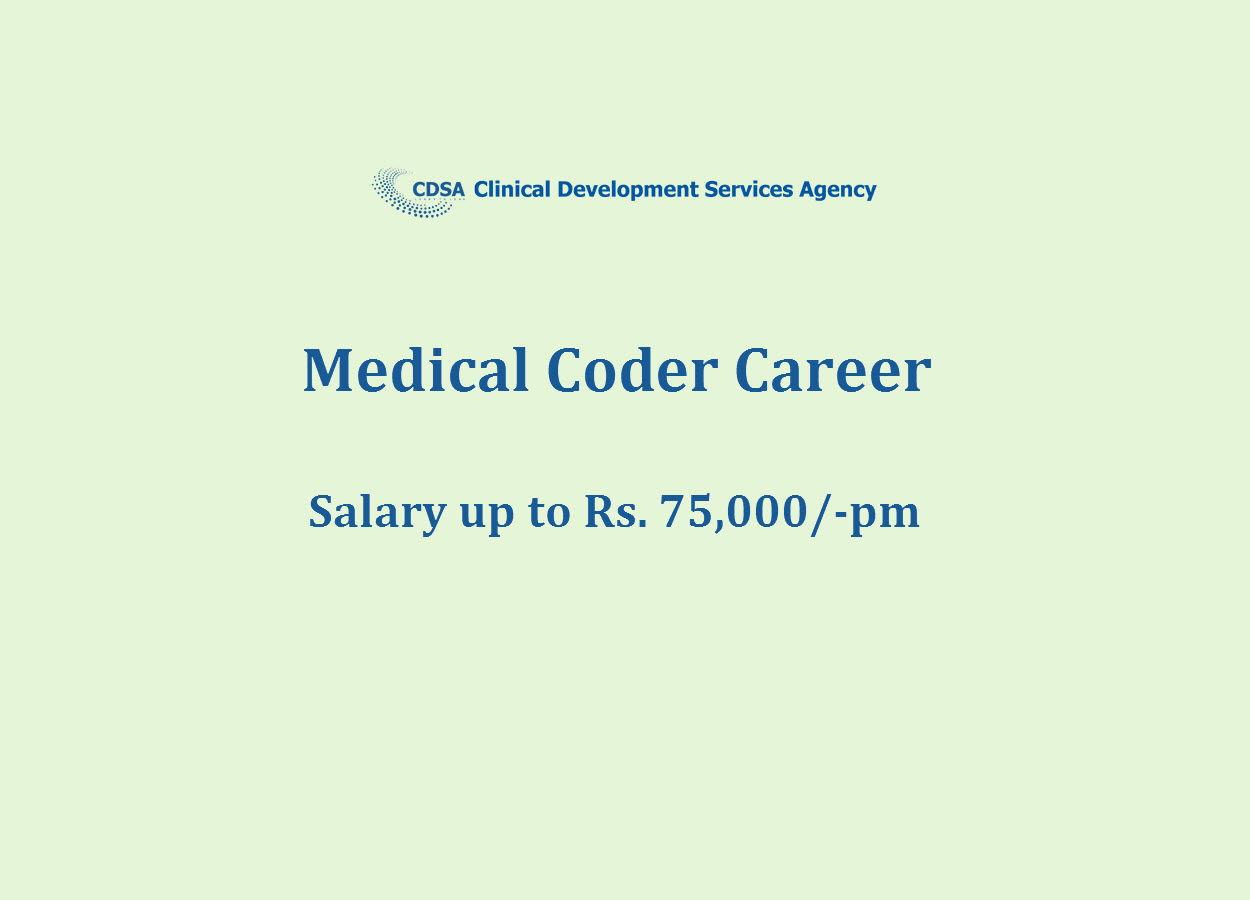 Clinical Development Services Agency (CDSA) is an extramural unit of Translational Health Science and Technology Institute (THSTI) and has been established as a not-for-profit society to provide cost affective, high quality preclinical and clinical product development support services to meet the country's growing healthcare needs. It will tend enterprises; particularly SMEs involved in new technology innovation and facilitate translation of scientific know-how into viable products.
Post : Medical Coder (POD Study)
Recruitment No : CDS/RN/13/2020
Emoluments : (up to Rs. 75,000/- per month consolidated) 12 Months
Age Limit : 40 years
Location : CDSA, Faridabad and on Site (as per requirement)
Qualifications and Skills
• Medical degree / Lifesciences equivalent (BDS / BAMS / BHMS / M. Pharma)
• Accredited residency training program or equivalent clinical experience
• Fluent in English - verbal and written
• Computer proficiency (e.g. proficiency Microsoft Office suite) Skill: Effective verbal and written communication skills, effective team player, interpersonal skills, high learnability, very high level of integrity, ability to work amidst demanding timelines.
Experience
Minimum of 2 years' experience of working in Medical Coding/ Terminology at a CRO or Pharmaceutical Company.
Job profile
Activities
• Responsible for Medical coding and review of all safety data.
• Responsible for Medical review of all coded terms for right mapping of VT with SOC and LLT, PT, HLGT, HLT.
• Assist data manager in creating, reviewing and processing Data Clarification Forms, quality control and updating clinical databases related to safety for ensuring data validity as per the protocol.
• Assists in review of manual data listing as needed.
• Manage all phases of data management activities from study startup to database close.
• To complete database close / lock / freeze checklists.
• To perform reconciliation of the clinical database against safety data, laboratory data and other third party data as appropriate.
• Review CRF / eCRF data entry conventions.
• Performing day to day clinical data quality control and data processing according to the principles of Good Clinical Practice.
• Preparing interim reports for clinical trial status and participating in data extraction in collaboration with the statistician
• Assists the Medical team in other miscellaneous activities as required.
Work relations (context – main interfaces – functional report)
• Interfaces with Quality Control Manager, SAS programmers, CDC (Clinical Data Coordinator), Project Management team and CRAs.
Critical Deliverables
• Coding of all Medical terms recorded for AE, SAE and Concomitant medications.
• Resolving DCFs related to safety and efficacy panels enable data cleaning leading to qualitative database
• Effective generation, resolution and updation of DCFs
• Timely reconciliation of Safety data in database
Good understanding of MedDRA, WHODDE, Schedule Y and CDSCO-GCP
GENERAL TERMS & CONDITIONS:
1. All educational professional and technical qualification should be from a recognized Board/ University and full-time.
2. The experience requirement specified should be experience acquired after obtaining the minimum educational qualifications required for the post.
3. Persons working in Govt. or Public Sector undertaking should produce "No Objection Certificate" at the time of Interview.
4. The qualification, experience and the number of position and other requirements for the post can be relaxed at the discretion of the Chairman of the Interview Committee, in case candidates are otherwise well qualified.
5. Only shortlisted candidates will be contacted for interview
6. Incomplete applications will stand summarily rejected without assigning any reasons 7. The salary is a consolidated sum as per sanctioned order without any other benefits. Salary mentioned against the position is the maximum and can be lesser based on candidate's experience, qualifications, skill set, etc. A 10% annual increase in salary is based on the performance
8. This position is strictly project-based.
9. All results will be published on our website and all future communications will be only through email
10. Candidates (Including SC/ST and other backward classes) are not entitled for the travel reimbursement or any other reimbursement for attending the interview.
11. This position will be placed in CDSA Faridabad office at NCR Biotech Science Cluster at Faridabad Gurgaon Expressway, Faridabad.
12. Canvassing in any form will be a disqualification.
13. Submission of application will be thru online mode only otherwise it will get rejected or ignored.
Procedure for filling online application:
a. Before filling up the online application, keep the following documents handy:
i) A soft copy of your passport size photo and signature. (only jpeg/jpg format, file size 50 kb maximum)
ii) A comprehensive CV (PDF format only, file size 1 mb maximum) containing details of qualification, positions held, professional experience/distinctions etc.
iii)
a) Candidates are requested to use Google Chrome internet browser for best results in submission of online application.
b) Once online application is submitted, no correction/ modification is possible.
c) In case of difficulty in filling up the online form, please send an e-mail to mahendersingh.cdsa@thsti.res.in
d) Those who have applied once need not to apply again.
e) Only technical queries will be resolved (if any), other than technical will be rejected and ignored.
f) On successful submission of your application, a pop-up containing a referral application number will come on your screen.
Note : In case a suitable candidate is not found, the call for application will remain open till suitable candidate is found. As soon as suitable candidate is found, this recruitment notice will be closed on our website.
CLINICIAL DEVELOPMENT SERVICES AGENCY
An extra mural unit of Translational Health Science & Technology Institute
3rd Floor, THSTI Building, 3rd Milestone, Gurgaon- Faridabad Expressway,
Faridabad – 121001 (Haryana)
See All   B.Pharm Alerts   M.Pharm Alerts    Ph.D Alerts   CDSA Alerts
See All   Other Jobs  in our Database
Subscribe to Pharmatutor Job Alerts by Email