THERAPEUTIC POTENTIAL AND FUTURE PROSPECT OF PSIDIUM GUAJAVA LINN
About Author:
Aarti Narkhede
Mahakal Institute of Pharmaceutical Studies,
Ujjain, MP
narkhede_aarti@rediffmail.com
ABSTRACT
The use of natural product has increased tremendously in a western world as well as in developing countries or in all over part of world. via this artical therapeutic potential and future prospect of Psidium guajava L. are described. Psidium guajava L. belonging to family, myrtaceae. It is a commen tree and easily found in a tropical countries or area. Traditionally it is a very popular and used from long time in a various system of medicine like, unani, Siddha, homeopathy and Ayurveda. It is used for treatment of many ailments like diarrhea, dysentery, wounds, rheumatism, lungs problems, ulcers, skin infections, vaginal discharge, epilepsy, menstrual pain, sore throat, mouth swelling, cold and cough, toothache and etc. In present time study on antipoliferitive or anticancer activities are undertaken and it is found that anticancer activity of P.Guajava has a four time greater than vincristine.
Now this plant reported for its various biological activities like antidiarrhoeal, antimicrobial, antitussive, antidiabatic, antihypertensive, immunomodulatory activity, antioxidant, hepatoprotactive, antistress, anticance, antiproliferative activity. and this plant holds great attention because of its high therapeutic potential because of high level of phenolic, flavomoids and tannin content and with benefit of its easy availability.

Reference Id: PHARMATUTOR-ART-1598

INTODUCTION
Family: Myrtaceae

Genus: Psidium 

Species: guajava

Comman names: Guava, goiaba, guayaba, djamboe, djambu, goavier, gouyave, goyave, goyavier, perala, bayawas, dipajaya jambu, petokal, tokal, guave, guavenbaum, guayave, banjiro, goiabeiro, guayabo.

Part Used: Fruit, leaf, bark.

Description: It is a low evergreen tree or shrub 6 to 25 feet  high, with wide-spreading branches and square, downy twigs, is a native of tropical America. It is a common vegetation cover by roads and in waste places in Hawaii. Guava is a tropical and semitropical plant. It is well known in the islands for its edible fruit. It is common in the backyards. The branches are crooked, bringing opposite leaves. The flowers are white, incurved petals, 2 or 3 in the leaf axils, they are fragrant, with four to six petals and yellow anthers. The fruit is small, 3 to 6cm long, pear- shaped, reddish-yellow when ripe.

FIG. NO. 1  Psidum guajava linn.
Guava fruit:
Guava certainly is the "Fruit in the News". Besides its much proven health benefits, the fruit is being discussed lately because of its high Antioxidant  levels. Guava (Psidium guajava L.) has always been a very important fruit crop of India. It has always gaine d great respect because of its …
•     High nutritive value,
•     Easy availability,
•     Low economic value,
•     Pleasant aroma, and
•     Good flavor.
Guava has the second  highest content of vitamin C, next to Amla. It is also very high in the soluble fiber ''Pectin'' which cleans and rinses our intestines well. A guava weighing 100g (approx a medium sized guava) would contain 260 mg of Vitamin C which is four time greater than orange.(recommended intake is 40mg per day) and 8.5 gm of dietary fiber (recommended intake is 25 gm to 30 gm per day). Guava is also rich in Carotenoids and Potassium. The nutrient content of fruit differs with the cultivar, stage of maturity and season. Guava is in the true sense a  super food.

guava bark: Bark light to reddish brown ,thin, smooth ,continuously flaking; root system generally superfied and very extensive,frequently extending well beyond the canopy, there are some deep roots but no distinct taproot.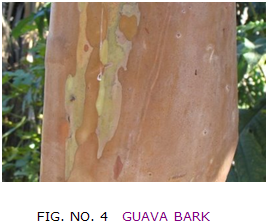 Guava Flowers: Axillary, 1-3-flowered, pedicals about 2cm long, bracts 2, linear, calyx splitting irregulary into 2-4 lobes, whitish and sparsely within;petals 4-5 white, linear-ovate. 2cm long, delicate, stamens numerous, filaments pale white,about 12mm long, erector spreading, another straw colored, ovary inferior.ovules numerous , style about 10 cm long ,stigma green,capitate.

FIG. NO.5 GUAVA FLOWER

Guava leaves: leaves are opposite, simple,stipules absent ,petiole short, 3-10 mm long; blade oblong to elliptic ,5-15 cm  ,apex obtuse to bluntly acuminate ,base rounded to subcuneat , margins entir , somewhat thick and leathery, dull grey to yellow-green above, slightly downy below, veins prominent , gland dotted.

Apart from the fruit, guava leaves also have an array of qualities which are healing and curative. Guava leaf is 'antibacterial' in nature. Studies conducted in the past have proven the leaves to be helpful in Diabetes. They help regulate blood glucose levels. Guava leaves could also be consumed like any other cooked green leafy vegetable or juice. This would bring nutrition on the platter absolutely free of cost.

FIG.NO.-6 GUAVA LEAVES

Traditional uses:
This plant seemed worthy of an in depth review. the long history of guava use has led modernday researchers to study guava extracts. Its traditional use against diarrhea, gastroenteritis and other digestive complaints has been validated in numerous clinical studies. there is a strong incentive for further research into the pharmacological activities of P. guajava plant extract against common infectious diseases considering the fact that the plant is readily available in the tropics and within the reach of the local populace.

NOW YOU CAN ALSO PUBLISH YOUR ARTICLE ONLINE.
SUBMIT YOUR ARTICLE/PROJECT AT articles@pharmatutor.org
Subscribe to Pharmatutor Alerts by Email
FIND OUT MORE ARTICLES AT OUR DATABASE
Pages