Role of Trademark in Minimizing Medication Errors
About Authors:
Pradeep Arora, Ashish Chauhan
M.Pharm Pharmaceutical Chemistry
Department of Pharmaceutical Sciences,
Lovely Professional University,
Phagwara, Punjab.
Abstract
Present article enlights the true meaning of trademark and its role in reducing the chances of error in case of self medication due to look alike and sound alike drugs. History and origin of trademark and how the trademark helps the consumers and traders have been discussed in this article. This review article also helps in understanding various products and services for which a trademark can be used.
Reference ID: PHARMATUTOR-ART-1230
Introduction
Trademark is a form of intellectual property which is associated with quality and consumer expectations regarding protection of product and services. Trademark helps in preventing the consumer to take substandard commodity, consumer by identifying the trademark can distinguish one trader from the others. When a trademark is registered a symbol ® is used with the trademark of the product.
Definition
A Trademark may be any word, slogan, symbol, design, a color, smell, configuration of product or a combination of these, used to identify the trader of these particular goods and services. For example ADIDAS is a registered trademark with the United States patent and trademark office (USPTO). This trademark is used to distinguish, the clothes, sports items, shoes from other traders manufacturing similar kind of goods1.
Origin
In the late 19th century the first trademark legislation was enacted according to the United Kingdom Government and the first federal trademark legislation was enacted in 1870 in the United States2.
Historical development of trademark act in India
Before 1940, there were no protection for trademarks; Different types of enactment like civil and criminal were managing the trademark protection. Offences relating to documents and to property marks were mentioned in Indian penal code 1860 in its chapter XVIII (sections 463 to 489 E) also sections 478 to 489 in the same act informs about property and other marks. The trade and merchandise act was established as the first trade mark act of India established in 1958.
Previously act of 1940 which was enacted by the British rulers following trade mark act of England. The act of 1940 was not applicable to some British Indian states like Hyderabad, Saurashtra, Patiala, Mysore, Kapurthala, and Kolhapur due to the presence of separate legislations. After independence in 1948, for covering whole India, a common legislation was enacted except Jammu & Kashmir. Government of India decided to make the legislation more comprehensive and therefore appointed trade mark enquiry committee to make amendments in the trademarks act 1940. Government also appointed Mr. Justice N. Rajagopale Ayyangar of Madras High Court to judge the report of enquiry committee.
Dr. Venkataswaran, officer on duty (trade-marks, patents, and design) proposed the trade and merchandise marks bill 1958 which was established as trade and merchandise marks act 1958, several amendments have been made after passing of this act. To simplify, Harmonize trademark management system and need to encourage flow of investment and transfer of technology to international level, all necessary adjustments are made and finally trademark act 1999 was enacted3.
Trademark classification4
Trademark classification also called as classification of services and goods. The different types of trademarks are divided into 45 classes which helps the trademark examiner in arranging documents in more easy and precise way. Out of 45 classes 34 classes include products and 11 classes include services. The trademark classification is as follows:
CLASS

DESCRIPTION

CLASS 1

Chemical, scientific substances, photography, agriculture, and forestry,  resins, unprocessed plastics, manures, composition of fire extinguisher,  preservatives, tanning substances, adhesive used in industry.

CLASS 2

Paints, varnishes, lacquers; preservatives against rust, colorants, mordents; raw natural resins; metals in foil and powder form for painters, decorators, printers.

CLASS 3

Laundry use and bleaching preparations, cleaning, polishing, soaps, perfumery, essential oils, cosmetics, lotions, dentifrices.

CLASS 4

Industrial lubricants, oils and greases, dust absorbing, compositions including wetting and binding fuels, illuminants, wicks of candles.

CLASS 5

Pharmaceutical products, preparations of veterinary and sanitation, medical use dietetic substances, food for babies; plasters, dressings materials, stopping teeth material, dental wax, disinfectants, fungicidal, herbicidal.

CLASS 6

metals and their alloys, metal for building materials, railway tracks materials, cables and wires of common metal, small hardware's of metal, metallic pipes and tubes.

CLASS 7

Machines and their tools, motors and engines, incubators for eggs.

CLASS 8

Hand tools, cutlery, side arms, razors.

CLASS 9

Scientific, nautical, surveying, electric, photographic, cinematographic, optical, weighing, measuring, signaling, magnetic data carriers, recording discs; automatic vending machines and mechanisms for coin-operated apparatus; cash registers, calculating machines, data processing equipment and computers; fire extinguishing apparatus.

CLASS 10

Apparatus and instruments including surgical, medical, dental and veterinary, orthopedic, artificial limbs, eyes and teeth, articles, suture materials.

CLASS 11

Instruments for lighting, heating, steam generating, cooking, refrigerating, drying ventilating, water supply and sanitary work.

CLASS 12

Vehicles, apparatus for locomotion by land, air or water.

CLASS 13

Firearms, ammunition and projectiles, explosives, fireworks.

CLASS 14

Precious metals and their alloys and goods in precious metals.

CLASS 15

Musical instruments.

CLASS 16

Materials made from paper cardboard, not included in other classes, printed matter, material for bookbinding, photographs, stationery, materials; paint brushes; typewriters, material for teaching excluding apparatus ,plastic packaging material, playing cards, printing blocks.

CLASS 17

Goods made from rubber, gum, asbestos, mica. Packing, stopping and insulating materials; flexible pipes excluding metal pipes.

CLASS 18

Leather materials and the goods mitigating leather, skins of animals, hides, trunks and travelling bags; umbrellas, parasols and walking sticks; whips, harness and saddler.

CLASS 19

Building materials, excluding metallic, non-metallic rigid pipes for building; asphalt, pitch and bitumen; non-metallic transportable buildings; monuments, not of metal.

CLASS 20

Furniture, mirrors, picture frames; goods (not included in other classes) of wood, cork, reed, cane, wicker, horn, bone, ivory, whalebone, shell, amber, mother- of-pearl, meerschaum and substitutes for all these materials, or of plastics.

CLASS 21

 Utensils and containers of kitchen combs and sponges, brushes (except paints brushes), brush making materials, cleaning articles, steel wool; glassware, porcelain.

CLASS 22

Ropes, string, nets, tents, awnings, tarpaulins, sails, sacks and bags padding and stuffing materials (except of rubber or plastics), raw fibrous textile materials.

CLASS 23

 Textiles including yarns and threads.

CLASS 24

 Textiles and their goods excluding other classes; bed and table cover.

CLASS 25

Clothing, footwear, headgear.

CLASS 26

Lace and embroidery, ribbons, buttons, hooks and eyes, pins and needles; artificial flowers.

CLASS 27

Carpets, rugs, mats and matting, linoleum and other materials for covering existing floors; wall hangings (non-textile).

CLASS 28

Articles of sports including play things excluding other classes; decorating materials for Christmas trees.

CLASS 29

Meat, fish, poultry, meat extracts; preserved fruits, dry fruits and cooked fruits and vegetable, junk food.

CLASS 30

Coffee, tea, cocoa, sugar, rice, sago, artificial coffee; flour and preparations made from cereals, bread, pastry and confectionery, ices; honey, yeast, baking powder; salt, mustard; vinegar, sauces, (condiments), spices.

CLASS 31

 Products of agriculture, horticulture, forestry and grains excluding other classes; live animals; fresh fruits and vegetables; seeds, natural plants and flowers; foodstuffs for animals, malt.

CLASS 32

Carbonated waters and other drinks free of alcohol, juices; syrups.

CLASS 33

 Beverages excluding beers.

CLASS 34

Tobacco, articles of smokers.

CLASS 35

Advertising, business management, business administration, office functions.
 

CLASS 36

Insurance, financial affairs, monetary affairs, real estate affairs.

CLASS 37

 Services including repair building construction, installation services.

CLASS 38

Telecommunications.

CLASS 39

Transport; packaging and storage of goods; travelling arrangements.

CLASS 40

 Materials of treatment.

CLASS 41

Education, entertainment and activities like cultural and sporting.

CLASS 42

food and drink availability services, accommodation for short period, medical, hygienic and beauty care; veterinary and agricultural services like beauty care, agricultural, hygienic, medical, legal services, scientific and industrial research, computer programming.

CLASS 43

Restaurants and hotels.

CLASS 44

Business and advertising.

CLASS 45

Personal and social services.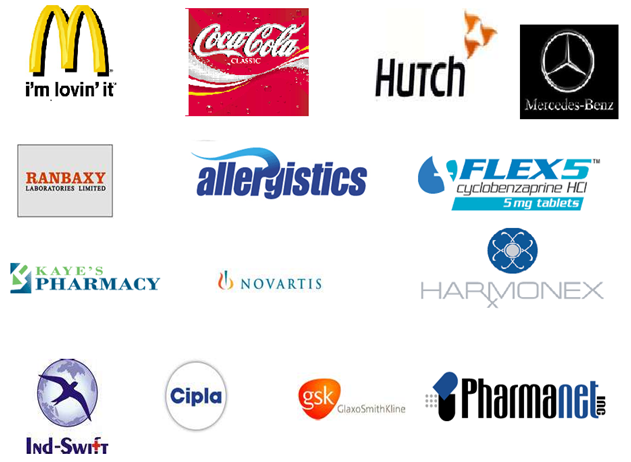 NOW YOU CAN ALSO PUBLISH YOUR ARTICLE ONLINE.
SUBMIT YOUR ARTICLE/PROJECT AT articles@pharmatutor.org
Subscribe to Pharmatutor Alerts by Email
FIND OUT MORE ARTICLES AT OUR DATABASE
Pages