REVIEW ARTICLE ON ANTIMICROBIAL, ANXIOLYTIC AND MUSCLE RELAXANT ACTIVITY OF ECLIPTA ALBA (BHRINGRAJ)
PROCEDURE:
1.    Two bacteria, (gram +ve i.e. B.subtilis, gram-ve i.e E. Coli) were used in the present study to determine the antibacterial activity of the crude extracts by agar diffusion method (cup plate method).
2.     In the agar diffusion method, nutrient agar for bacteria used as culture media and cavity were aseptically made over the culture platesusing borer (9mm internal diameter).
3.     Thecavities were filled with extracts, standards and control The plates were incubated at 37 0 C for 24 hrs.
4.    The activities were determined by measuring the diameter of the zone in mm.
5.    The experiment was replicated two times to confirm the reproducible results.
6.     Solvent used as negative control in each time. Standard Ciprofloxacin(100mcg/0.1ml), Amoxicillin (100mcg/0.1ml) for bacteria were used as positive control for comparison of the activities.  
OBSERVATION TABLE
S.No

Name of drug

Conc in mcg/disc

E.coli

mm

B.subtilis

1

Ciprofloxacin

1000

41

40

2

Amoxicilin

1000

21

27

3

Ethanolic extract

300

16

17

4

Aquous extract

300

19

15
RESULT :
Ethanolic and aqueous extracts of  Eclipta alba Leaves were evaluated for antibacterial activity against E.coli, B.subtilis with the comparison with positive control (Ciprofloxacin and Amoxicillin) for bacteria.The extract showed good inhibitory activity on the microbes.

ANTI ANXIETY ACTIVITY:
Keeping this in mind, this study was under taken Assesment of antianxity activity by: Elevated plus maze apparatus: It is the most simple apparatus to study anxiolytic activity of almoxt all type of anti anxiety drugs. Exposure of the animals to novel maze alley evokes an approach- avoidance conflict which is stonger in open arm as compared to enclosed arm. Rodents(rats and mice) have aversion for high open space and prefer enclosed arm & therefore spend greater amount of time in enclosed arm. When animals enter open arm, they freeze, become immobile, deficate and show fear like movements. The plasma cortisol level is also reported to be increased, as a true reflection of anxiety. Major advantages of this test procedure are:
1.       It is simple, fast and less time consuming.
2.       No prior training or noxious stimuli is needed. & it is predictable and reliable method.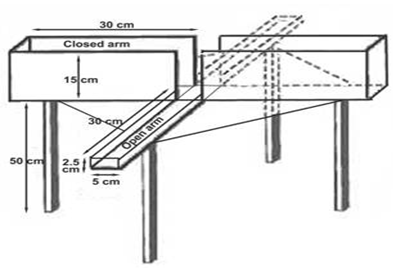 REQUIRMENTS:
Animal- Mice(20-25 gram)
Drugs- Ethanolic and aquous extract of bhringraj dose 300 and 150 mg/kg

Equipments: Plus maze apparatus consisted of 2 open arm and two enclosed arm with an open roof and is elevated to aheight of 25 cm,stop watch.

PROCEDURE:
1.    All the animals were weighed and numbering was done Divided them into 3 groups each consisting of 2 mice each.One group was used as control and other 2 for drug treatment.
2.    Placed the animals individually in the centre of the maze apparatus, head facing towards open arm and started the stop watch and the following parameters were noted -
a.     First preference of mouse to open or closed arm.
b.     Number of entries in open and closed arm.
c.     Average time each animal spends in open and closed arm
d.    300mg/kg and 150mg/kg dose  of extract of bhringraj was given to them orally..After 30 min the animals were placed individually in the centre of the maze and all parameters described in step 2 were repeated.
e.    The preference of the animal to open /enclosed arm ,average time spent time in open arm and number of entries in open arm in each group were compared.

OBSERVATION TABLE
| | | | | | | |
| --- | --- | --- | --- | --- | --- | --- |
| S.No. | Drug | Dose 1 | Dose 2 | n | %prefrence to open arm | Average time spent in open arm |
| 1 | Control |   - | |  2 |      11 | 7.5 |
| 2 | Ethanolic extract | 300mg/kg | 150mg/kg | 2 |      35 | 16 |
| 3 | Aquous extract | 300mg/kg | 150mg/kg | 2 |       32 | 14 |
RESULT: Extract of bhringraj increases % preference of the animals to open arm and increases the number of entries and average time spent by the mouse in open arm.As the dose increases the anti anxiety activity also increases.
MUSCLE RELAXANT ACTIVITY:
REQUIRMENTS: ANIMAL:mice (20-25 gm)
DRUG: Ethanolic and aquous extract of bhringraj dose 300 and 150 mg/kg.
EQUIPMENT: Rota rod apparatus

PROCEDURE:
1.    All the animals were weighed and numbering was done .
2.    The rota rod was turned on .An approx speed (20-25 rpm) was selected.
3.    The animas were placed one by one on the rotating rod.(the rod was divided into several compartments and one mouse was placed at each compartment.The fall off time was noted when the mouse falls from the rotating rod.Anormal untreated mouse falled within 3-5 min.
4.    The ethanolic extract (150mg/kg) was given orally to all the mouse. After 30 min the 3rd step was repeated. The fall off time was noted.
5.    The 3rd and 4th step was repeated with ethanolic extract(300mg/kg)
6.    The reading was taken.
7.    The entire procedure was repeated with aquous extract(150 and 300 mg/kg)
8.    The comparision was done of the fall off time of the animals before and after drug treatment.
OBSERVATION TABLE
| | | | | | | | |
| --- | --- | --- | --- | --- | --- | --- | --- |
| S.no | Body wt.(gm) | treatment | Dose1 | Dose2 | Fall off time before drug | Fall of time after drug | % decrease in time |
| 1 | 25 | Ethanolic extract | 150mg/kg | 300mg/kg | 32 | 12 | 62.5 |
| 2 | 25 | Aqouous extract | 150mg/kg | 300mg/kg | 32 | 15 | 53.125 |
RESULT: Both the alcoholic and aquous extract showed good muscle relaxant activity.As the conc. of the extract increased the activity as also found to be increased.

CONCLUSION:
Eclipta alba offers a remarkable activities for curing of many diseases.It has wide range of chemical constituents.Clinical investigations have been done on pharmacological activities like hepatotoxicity,proliferative,diabitic,hypolipedemic etc.It has a greater potential to inhibit the growth of the bacteria and fungus.Furtheer nvestigation of the plant can increase the isolation of the newer molecules which will be helpful for the study of the pharmacological activitiesand to discover from the plant thus preventing the human and economic losses in the environment.

REFERENCES:
1. H. Zhang., Xing, W.W., LI, Y.S., Zhu, Z.Wu,J.Z., Zhang,O.Y.,Zhang,W., Qin,L.P, Maturitas, 2008, 61,334-339.
2. D. Chamundeeswari., Vasantha, J., Gopalakrishnan, S., Sukumar, E, Journal of Ethnopharmacology, 2003, 88: 51-56.
3. O.A. Olajide., Echianu, C.A., Adedapo, A.D., Makinde, J. M , Inflammo pharmacology, 2004, 12: 196-202.
4. V. Cardile, Russo, A, Formisano, C. Rigano, D, Senatore, F, Arnold, N.A, Piozzi, F, J. Ethnopharmacol, 2009, 126: 265–272.
5. A. Mathur,R. Purohit, D. Mathur, G.B.K.S. Prasad, V.K. Dua, Der Chemica Sinicia, 2011, 2, 1, 174-181.
6. A. Mathur,R. Purohit, D. Mathur, G.B.K.S. Prasad, V.K. Dua, Der Pharmacia Sinicia, 2011, 2, 1, 208-216.
7. G. E. Trease and Evans WC, Text book of Pharmacognosy. 14 th Edition, London, 1996, pp 545.
8. S. P. Shri, Ambasta, Useful Plants of India, CSIR Publications, 1986, pp 189.
9. K.R .Kirtikar, B. D. Basu, Indian Medicinal Plants, Allahabad, 3: 1935,1361 Pocket Handbook of Chinese Herbal Medicine, Miami: Waclion International, 2000, pp.106.
11. M. McGuffin, Hobbs C, R. Upton, American Herbal Products Association's Botanical Safety Handbook. Boca Raton, FL: CRC Press, 1997, pp. 44.
12. A.K. Saxena, Singh B, K. K.Anand, J Ethnopharmacol, 1993, 40 (3):155-61.
13. H. Wagner, Geyer B, Yoshinobu K, S.R. Govind, Planta Medica., 1986,5: 370-4
14. H. Wagner H, Planta Medica., 1986, 5:370-4.
15. S.C. Gupta, Bajaj UK,V.N. Sharma, J Res Ind Med Yoga & Homeop, 1976, 11:3, 91-93.
16. K.R. Brain, T. D. Turner, The Practical Evaluation of Phytopharmaceuticals. Wright- Science Technical, Bristol,1975, pp 57.
17. R. Parvataneni, P. Rajeswara Rao, J.Archana, N. K.Rao, Biological & Pharmaceutical Bulletin, 2005, 28(7): 1311- 1315.
18. Bauer, Kirby, Sherris, Turck, Am. J. Clin. Path. 1966, 45: 493 -499.
19. Upadhyaya rk,Pandey MB,Jha R.N. ,Pandey V B.Eclipta alba a triterpine saponin from ECLIPTA ALBA
20.    Scott Treadway. An ayurvedic herbal approach to a Healthy Liver. Clinical nutrition insights. 1998; 6(16): 01-03.
21.    Baig MI, Bhagwat VG. Study the efficacy of Galactin Vet Bolus on milk yield in dairy cows. Veterinary world. 2009; 2 (4):140-42.
23.    Rolf teschke, Ruediger bahre. Severe hepatotoxicity by Indian herbal products: A structured causality assessment. 2009; 8(3): 258-66.
24.    Sagar B.P, Sangwan A, Panwar A, Sangwan A. In-vitro Production of Anti-hepatotoxic Compounds in Cultures of Eclipta alba Linn. and Silybum marianum gaertn. 2006; 6: 88.
25.    Samudram P, Rajeshwari Hari, Vasuki R, Geetha, Sathiya moorthi P. Hepatoprotective activity of Bi-herbal ethanolic extract on CCl4 induced hepatic damage in rats. AJBR. 2008; 2(2): 61-65.
26.    Lal V.K, Amit Kumar, Prashant Kumar, Kuldeep Singh Yadav. Screening of Leaves and Roots of Eclipta alba for Hepatoprotective Activity. Arch. Appl. Sci. Res.2010; 2(1): 86-94.
27.    Dhandapani R. Hypolipidemic activity of Eclipta prostrata (L.) L. leaf extract in atherogenic diet induced hyperlipidemic rats. 2007; 45: 617-19.
28.    Dae-Ik Kima, Sung-Hyen Lee, Jin-Ho Choia, Hyun Soon Lillehoj, Mi-Hee Yu, Gun-Soon Lee. The butanol fraction of Eclipta prostrata (Linn) effectively reduces serum lipid levels and improves antioxidant activities in CD rats. Nutrition Research. 2008; 28: 550-54.
NOW YOU CAN ALSO PUBLISH YOUR ARTICLE ONLINE.
SUBMIT YOUR ARTICLE/PROJECT AT articles@pharmatutor.org
Subscribe to Pharmatutor Alerts by Email
FIND OUT MORE ARTICLES AT OUR DATABASE
Pages