ABOUT AUTHOR
Dr. R. S. Thakur
Renowned Professor of Pharmaceutical Fraternity &
Former Member of Pharmacy Council of India.
Email : drramsthakur@gmail.com
Background
On National Doctors' Day a prescription of Chief Minister of Jharkhand published as the following News item in Indian Express (page 8) was widely circulated in WhatsApp groups that invited sarcasm from all ranks of pharmacists across the country.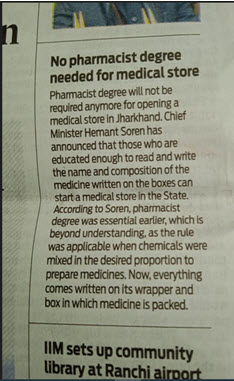 If the functional Chief of an elected Government conceives such idea to openly dismiss the crucial role of Pharmacist in the matter of making modern medicines available to people of Jharkhand, on the ground as reported by Indian Express being "... the rule was applicable when the chemicals were mixed in the desired proportion to prepare medicines. Now, everything comes written on its wrapper and box in which medicine is packed." it becomes duty of those aware of the law of the land to set the record straight.
How Safe are Modern Medicines?
The darker side of modern medicines is not at all exposed. That is the reason why after entry in the market within few years many medicines are withdrawn from the market or banned. In fact modern medicines, if used indiscriminately, pose more threat to public health than benefits expected. Moreover, symptomatic medication, self medication, free access to drugs of abuse, copy cat medication, medication errors and overdosing are widely studied and thoroughly documented. Such clinical research brings forth reasons behind risks, dangers, adverse drug reactions and cascading side effect of medicines that complicate the malady, ruin health, escalate cost of treatment, lead to hospitalization and ultimately increase cost of treatment.
In nut shell the safety and efficacy aspects of medicines are so important that across the globe handling of prescription and medicines is legally a privilege of registered pharmacists only.

Situation Abroad
In March 2016 the Board of Pharmaceutical Practice of the FIP [1] adopted the following definition of a "pharmacist":
"A pharmacist is a scientifically-trained graduate healthcare professional who is an expert in all aspects of the supply and use of medicines. Pharmacists assure access to safe, cost-effective and quality medicines and their responsible use by individual patients and healthcare systems."
FIP also asserted that 'Responsible use of medicines' can be assured by integration of health-system stakeholder activities and capabilities to ensure that patients receive the right medicines at the right time, use them appropriately, and benefit from them. Bringing the right medicines to patients who need them requires the coordinated efforts of health care team. In fulfilment of this task commitment of government, and a vision on how to integrate public and private interests and mobilise resources plays important role.
In many countries across Europe and even in Africa ownership of Medicine Shop is restricted to registered pharmacist and in many countries more than 50 percent share of registered pharmacist in the firm is a must. Moreover, registered pharmacist is invariably manager of the Pharmacy. The purpose behind ownership restriction is very pious and the objective is to avoid conflict of interest. Recognising the results of scientific studies on clinical outcomes of modern medicines, World Health Organization [2] has come out with guidelines to ensures –
(i) restricting the number of pharmacies;
(ii) full time services of registered pharmacist for every prescription dispensed;
(iii) adequate and sustainable business to the pharmacist; and
(iv) exhaustive counselling to the patients.
Ownership of Medicine Shops
The ownership of medicine shop restricted to registered pharmacists favours and promotes impartial professional judgement and expert approach in dispensing prescription and making safe and effective medicines available to the patient. It completely nullifies the risks of corporate ownership, which is usually influenced by corporate greed and profit motive instead of patients' clinical and economic interests.
In Germany, France, Hungary, Estonia and Poland only a registered pharmacist can establish and own a Community Pharmacy. Many countries across Europe do not even allow owning more than one Pharmacy by the registered pharmacist. Few to mention for example are Denmark, Finland, France, Germany, Malta, Monaco, Spain and Turkey.
If Indians have the privilege of consuming the same modern medicines developed in Europe or America, they cannot be denied the privilege of compulsorily getting their medicines only through the registered pharmacist. Any government that conceives any idea contrary to this under the influence of concocted briefing of business lobby will definitely be harming the health and life of its voters.
The Law of the Land
The import, manufacture, distribution and sale of drugs in India is regulated by the Drugs and Cosmetics Act, 1940 (a Central Act) [3] and the Drugs Rules, 1945 [4] made under that Act by Central Government. Part VI of the rules is devoted to sale of drugs and a licence is compulsory as also requirement of registered pharmacist except –
(i)Restricted Licence in Form 20A applicable for sale of only such drugs belonging to other than Schedule C, C(1) and X drugs, whose name are written in the licence; and
(ii)Restricted Licence in Form 21A for sale of only Schedule C(1) drugs whose total number is 11 but out of those serial number 7. Steroids, and serial number 9. Antibiotics are Prescription drugs under Schedule H and Schedule H1, hence registered pharmacist is essential for their sell as per rule 65(2); and serial number 10 and 11 of Schedule C(1) being diagnostic kits, will be used by testing laboratories not by the patient himself, so practically only 7 drug items of Schedule C(1) which are not for injection can be sold under this licence in Form 21A.
Reality Test
Licence in Form 20A to sell, stock or exhibit or offer for sale, or distribute drugs by retail other than those specified in Schedule C, C(1) and X for dealers who do not engage the services of a qualified person. This retail sale licence is only for other than Schedule C, C(1) and X.
Reality is that other than Schedule C, C(1) and X drugs of the Drugs Rules, 1945 are Schedule G drugs, Schedule H drugs and Schedule H1 drugs and all of these are prescription drugs. The relevant label of these is reproduced below for ready reference and information of unwary public:-

Schedule H drug that comes within the purview of the Narcotic Drugs and Psychotropic Substances Act, 1985, because serial number 346. of Schedule H is "Narcotic Drugs listed in Narcotic Drugs & Psychotropic Substances Act, 1985"

Rules Relating to Prescription Drugs
Rule 65 of the Drugs Rules, 1945 prescribes Condition of licences including licence in Form 20A. It states - Licences in Forms 20, 20A, 20B, 20F, 20G, 21 and 21B shall be subject to the conditions stated therein and to the following general conditions:— "
Sub-rule (2) of rule 65 prescribes the following general condition:-
"(2) The supply, otherwise than by way of wholesale dealing of any drug supplied on the prescription of a Registered Medical Practitioner shall be effected only by or under the personal supervision of a registered pharmacist."
Thus the final inference is that the dealers holding a Restricted Licence in Form 20A cannot sell, stock or exhibit or offer for sale, or distribute any drug belonging to Schedule G, Schedule H and Schedule H1, by retail.
Ultimately which drugs will be sold, stocked or exhibited or offered for sale, or distribution by the dealers holding a Restricted Licence in Form 20A? The answer is the licensing authority has to mention the name of individual drugs (excluding drugs belonging to Schedule C, C(1), G, H, H1, and X including all Narcotic drugs or Psychotropic substances because they are serial No. 346. of Schedule H) in the body of the licence itself as can be seen in the Form 20A appended below:-
"FORM 20A
[See rule 61(1)]
RESTRICTED LICENCE TO SELL, STOCK OR EXHIBIT OR OFFER FOR SALE, OR DISTRIBUTE DRUGS BY RETAIL OTHER THAN THOSE SPECIFIED IN 806[SCHEDULE C, C(l) AND X FOR DEALERS WHO DO NOT ENGAGE THE SERVICES OF A QUALIFIED PERSON 1.,................................................. is hereby licensed to sell, stock or exhibit or offer for sale, or distribute on the premises situated at..................................the following drugs being drugs other than those specified in Schedules C, C(l) and X of the Drugs Rules, 1945 subject to the conditions specified below and to the provisions of the Drugs and Cosmetics Act, 1940 and the rules made thereunder. 2. The licence unless sooner suspended or cancelled, shall remain valid perpetually. However, the compliance with the conditions of licence and the provisions of the Drugs and Cosmetics Act, 1940 (23 of 1940) and the Drugs Rules, 1945 shall be assessed not less than once in three years or as needed as per risk based approach.
3. The licensee can deal only in such drugs as can be sold without the supervision of a "qualified person" under the Drugs and Cosmetics Rules, 1945.
Date.............................................. Licensing Authority............................. Conditions of Licence
1. The licence shall be displayed in a prominent place in a part of the premises open to the public
2. The licensee shall comply with the provisions of the Drugs and Cosmetics Act, 1940 and the Rules thereunder for the time being in force.
3. No drugs shall be sold unless such drug is purchased under a case or credit memo from duly licensed dealer or a duly licensed manufacturer.
4. The licensee shall inform the licensing authority in writing in the event of any change in the constitution of the firm operating under the licence. Where any change in the constitution of the firm takes place, the current licence shall be deemed to be valid for a maximum period of three months from the date on which the change takes place unless, in the meantime, a fresh licence has been taken from the licensing authority in the name of the firm with the changed constitution."
Paragraph 1 and 3 of the above licence is relevant in the above context. Paragraph 1 does not allow any Schedule C, C(1) and X drugs while paragraph 3 does not permit any prescription drugs (Schedule G, H, H1 drugs) to be sold, stocked or exhibited or offered for sale, or distribution by the dealers holding a Restricted Licence in Form 20A.
So, what is the choice left with the Licensing Authority?
Exemption from Licence
The house hold remedies are already exempted under Schedule K. Entry 13 of Schedule K is reproduced below:
Condition (a) above is emphatic that if these 15 drugs are sold in village having not more than one thousand persons Restricted Licence in Form 20A is not required. Thus the rules have taken care of the need of rural population.
Choice of drugs
In view of the detailed description of legal position it can be easily understood that hardly few drugs may fulfil the criteria for entry in the Licence in Form 20A. Will sale of such few items will make the business viable and ensure survival of the Drugstore?
Sign Board of Restricted Licence Shop
According to rule 65(15) (a) The description "Drugstore" shall be displayed by such licensees who do not require the services of a Registered Pharmacist.
The Prescription Drugs
The prescription drugs are those that are included in Schedule G, Schedule H and Schedule H1 of the Drugs Rules, 1945.
Drugs Specified in Schedule G are
SCHEDULE G (See rule 97)
Aminopterin
L-Asparaginase
Bleomycin
Busulphan; its salts
Carbutamide
Chlorambucil;its salts
Chlorothiazide and other derivatives of 1, 2, 4 benzothiadiazine
Chlorpropamide; its salts
Chlorthalidone and other derivatives of Chlorobenzene compound.
(Cis-Platin)
Cyclophosphamide; its salts
(Cytarabine)
Daunorubicin
Di-Isopropyl Eluorophosphate
Disodium Stilboestrol Diphosphate
Doxorubicin Hydrochloride
Ethacrynic Acid, its salts
Ethosuximide
Glibenclamide
Hydantoin; its salts; its derivatives, their salts
Hydroxyurea
Insulin, all types
Lomustine Hydrochloride
Mannomustine; its salts
Mercaptopurine; its salts
Metformin; its salts
Methsuximide
Mustine, its salts
Paramethadione
Phenacemide
Phenformin; its salts
5-Phenylhydantoin; its alkyl and aryl derivatives; its salts
Primadone
Procarpazine Hydrochloride
Quinthazone
Sarcolysine
Sodium-2-Mercaptoethanesulfonate
Tamoxiten Citrate
Testolactone
Thiotepa
Tolbutamide
Tretamine; its salts
Troxidone
Antihistaminic substances the following, their salts, their derivatives, salts of their derivatives
Antazoline
Bromodiphenhydramine
Buclizine
Chlorcyclizine
Chlorpheniramine
Clemizole
Cyproheptadine
Diphenhydramine
Diphenylpyraline
Doxylamine Succinate
Isothipendyl
Mebhydrolin Napadisylate
Meclozine
Phenindamine
Pheniramine
Promethazine
Thenalidine
Triprolidine
Substances being tetra-N-Subs. derivatives of Ethylene Diamine or Prophylenediamine.
Note.—Preparations containing the above substances excluding those intended for topical or external use are also covered by this Schedule.
Drugs Specified in Schedule H are
SCHEDULE H (See rules 65 and 97)
PRESCRIPTION DRUGS
1. Abacavir 2. Abciximab 3. Acamprosate Calcium 4. Acebutol Hydrochloride
5. Aclarubicin 6. Albendazole 7. Alclometasone Dipropionate 8. Actilyse 9. Acyclovir
10. Adenosine 11. Adrenocorticotrophic Hormone (ACTH) 12. Alendronate Sodium
13. Aliopurinol 14. Alphachymotrypsin 15. **** 16. Alprostadil
17. Amantadine Hydrochloride 18. Amifostine 19. Amikacin Sulphate
20. Amiloride Hydrochloride 21. Aminepline 22. Aminoglu tethimide
23. Aminosalicylic Acid 24. Amiodarone Hydrochloride 25. Amitriptyline
26. Amlodipine Besylate 27. Amoscanate 28. Amoxopine 29. Amrinone Lactate 30. Analgin
31. Androgenic Anabolic, Oestrogenic & Progestational Substances 32. Antibiotics
33. Apraclonidine 34. Aprotinin 35. Organic Compound of Arsenic 36. Arteether
37. Artemether 38. Artesunate 39. Articaine Hydrochloride 40. Atenolol
41. Atracurium Besylate Injection 42. Atorvastatin 43. Auranofin 44. Azathioprine
45. Aztreonam 46. Bacampicillin 47. Baclofen 48. Balsalazide 49. Bambuterol
50. Barbituric Acid 51. Basiliximab 52. Benazepril Hydrochloride
53. Benidipine Hydrochloride 54. Benserazide Hydrochloride
55. Betahistine Dihydrochloride 56. Bethanidine Sulphate 57. Bezafibrate 58. Bicalutamide 59. Biclotymol 60. Bifonazole 61. Bimatoprost 62. Biperiden Hydrochloride
63. Biphenyl Acetic Acid 64. Bitoscanate 65. Bleomycin 66. Primonidine Tartrate
67. Bromhexine Hydrochloride 68. Bromocriptine Mesylate 69. Budesomde 70. Bulaquine
71. Bupivacaine Hydrochloride 72. Bupropion 73. Buspirone 74. Butenafine Hydrochloride 75. Butorphanol Tartrate 76. Cabergoline 77. Calciumdobesilate 78. Candesartan
79. Capecitabine 80. Captopril 81. Carbidopa 82. Carbocisteine 83. Carboplatin
84. Carboquone 85. Carisoprodol 86. L-Camitine 87. Carteolol Hydrochloride 88. Carvedilol
89. Cefadroxyl 90. Cefatoxime Sodium 91. Cefazolin Sodium 92. **** 93. **** 94. ****
95. **** 96. **** 97. **** 98. **** 99. Cefuroxime 100. Celecoxib 101. Centchroman
102. Centbutindole 103. Centpropazine 104. Cetirizine Hydrochloride 105. ****
106. Chlormezanone 107. **** 108. Chlorpromazine 109. Chlorzoxazone
110. Ciclopirox Olamine 111. Cimetidine 112. Cinnarizine
113. Ciprofloxacin Hydrochloride Monohydrate / Lactate 114. Cisplatin
115. Citalopram Hydrobromide 116. Clarithromycin 117. Clavulanic Acid
118. Clidinium Bromide 119. Clindamycin 120. Clobazam 121. Clobetasol Propenate
122. Clobetasone 17-Butyrate 123. **** 124. Clofibrate 125. Clonazepam
126. Clonidine Hydrochloride 127. Clopamide 128. Clopidogre! Bisulphate
129. Clostebol Acetate 130. Clotrimazole 131. Clozapine 132. **** 133. Colchicine
134. Corticosteroids 135. Cotrimoxazole 136. Cyclandelate 137. Cyclosporins
138. Daclizumab 139. Danazole 140. Dapsone 141. Desloratadine 142. Desogestrol
143. Dexrazoxane 144. Dextranomer 145. **** 146. Dextropropoxyphene 147. ****
148. Diazoxide 149. Diclofenac Sodium/Potassium/Acid 150. Dicyclomin Hydrochloride 151. Didanosine 152. Digoxine 153. Dilazep Hydrochloride 154. Diltiazem
155. Dinoprostone 156. **** 157. Dipivefrin Hydrochloride 158. Di-sodium Pamidronate 159. Disopyramide 160. Docetaxel 161. Domperidone 162. Donepezil Hydrochloride
163. Dopamine Hydrochloride 164. Dothiepin Hydrochloride 165. Doxapram Hydrochloride 166. Doxazosin Mesylate 167. Doxepin Hydrochloride 168. Doxorubicin Hydrochloride
169. Drotrecogin-Alpha 170. Ebastine 171. Econozole 172. Efavirenz 173. Enalapril Meleate 174. Enfenamic Acid 175. Epinephrine 176. Epirubicine 177. Eptifibatide
178. Ergot, Alkaloids of whether Hydrogenated or not, their Homologoues, Salts
179. Esomeprazole 180. Estradiol Succinate 181. Estramustine Phosphate 182. Etanercept 183. Ethacridine Lactate 184. **** 185. Ethamsylate 186. Ethinyloestradiol 187. ***
188. Etidronate Disodium 189. Etodolac 190. Etomidate 191. Etoposide 192. Exemestane 193. Famciclovir 194. Famotidine 195. Fenbendazole 196. Fenofibrate 197. Fexofenadine
198. Finasteride 199. Flavoxate Hydrochloride 200. 5-Fluorouracil 201. Fludarabine
202. Flufenamic Acids 203. Flunarizine Hydrochloride 204. Fluoxetine Hydrochloride
205. Flupenthixol 206. Fluphenazine Enanthate and Decanoate 207. Flurazepam
208. Flurbiprofen 209. Flutamide 210. Fluticasone Propionate 211. Fluvoxamine Maleate
212. Formestane 213. Fosfestril Sodium 214. Fosinopril Sodium 215. Fossphenytoin Sodium 216. Fotemustine 217. Gabapentin 218. Galanthamine Hydrobromide
219. Gallamine, its Salts, its Quaternary Compound 220. Gancyclovir 221. Ganirelix
222. Gatifloxacin 223. Gemcitabine 224. Gemfibrozil 225. Gemtuzumab
226. Genodeoxycholic Acid 227. Gliclazide 228. Glimepiride 229. Glucagon
230. Glycopyrrolate 231. Glydiazinamide 232. Goserelin Acetate 233. Granisetron
234. Guanethidine 235. Gugulipid 236. Halogenated Hydroxyquinolines 237. Haloperidol 238. Heparin 239. Hepatitis B. Vaccine 240. Hyaluronidase 241. Hydrocortisone 17-Butyrate
242. Hydrotalcite 243. Hydroxizine 244. Ibuprofen 245. Idebenone 246. Indapamide
247. Imipramine 248. Indinavir Sulphate 249. Indomethacin 250. Insulin Human
251. Interferon 252. Intravenous Fat Emulsion 253. Iobitridol 254. Iohexol 255. Iopamidol 256. Iomeprol 257. Iopromide 258. Irbesartan 259. Irinotecan Hydrochloride
260. Iron Preparation for Parenteral use 261. Isepamicine 262. Isocarboxside 263. Isoflurane
264. Isonicotnic Acid Hydrazine and other Hydragine Derivatives of Isonicotinic Acid
265. Isosorbide Dinitrate/Mononitrate 266. Isotretinoin 267. Isoxsuprine 268. Itopride
269. **** 270. Ketoconazole 271. Ketoprofen 272. Ketorolac Tromethamine
273. Labetalol Hydrochloride 274. Lacidipine 275. Lamivudine 276. Lamotrigine
277. Latanoprost 278. Lefunomide 279. Lercanidipine Hydrochloride 280. Letrozole
281. Leuprolide Acetate 282. Levamesole 283. Levarterenol 284. Levobunolol
285. Levocetirizine 286. Levodopa 287. **** 288. Levovist 289. Lidoflazine 290. Linezplid
291. Lithium Carbonate 292. Lofepramine Decanoate 293. Loperamide 294. Lorazepam
295. Losartan Potassium 296. Loteprednol 297. Lovastatin 298. Loxapine 299. Mebendazole
300. Mebeverine Hydrochloride 301. Medroxy Progesterone Acetate 302. Mefenamic Acid
303. Mefloquine Hydrochloride 304. Megestrol Acetate 305. Meglumine Iocarmate
306. Melagenina 307. Melitracen Hydrochloride 308. Meloxicam
309. Mephenesin, its Esters 310. Mephentermine 311. **** 312. Mesterolone
313. Metaxalone 314. Methicillin Sodium 315. Methocarbamol 316. Methotraxate
317. Metoclopramide 318. Metoprolol Tartrate 319. Metrizamide 320. Metronidazole
321. Mexiletine Hydrochloride 322. Mianserin Hydrochloride 323. Miconazole
324. **** 325. Mifepristone 326. Milrinone Lactate 327. Miltefosine 328. Minocycline
329. Minoxidil 330. Mirtazapine 331. Misoprostol 332. Mitoxantrone Hydrochloride
333. Mizolastine 334. Moclobemide 335. Mometasone Furoate 336. Monteiukast Sodium
337. Morphazinamide Hydrochloride 338. Mosapride 339. **** 340. Mycophenolate Mofetil 341. Nadifloxacin 342. Nadolol 343. Nafarelin Acetate 344. Nalidixic Acid 345. Naproxen
346. Narcotic Drugs listed in Narcotic Drugs & Psychotropic Substances Act, 1985
347. Natamycin 348. Nateglinide 349. N-butyI-2-cyanoacrylate 350. Nebivolol
351. Nebumetone 352. Nelfinavir Mesilate 353. Netilmicin Sulphate 354. Nevirapine
355. Nicergoline 356. Nicorandil 357. Nifedipine 358. Nimesulide
359. Nimustine Hydrochloride 360. **** 361. Nitroglycerin 362. Noreth Isterone Enanthate 363. Norfloxacin 364. Octylonium Biomiae 365. Ofloxacin 366. Olanzapine
367. Omeprazole 368. Omidazole 369. Orphenadrine 370. Orthoclone Sterile
371. Oxazepam 372. Oxazolidine 373. Oxcarbazepine 374. Oxethazaine Hydrochlorid
375. Oxiconazole 376. Oxolinic Acid 377. Oxprenolol Hydrochloride
378. Oxybutynin Chloride 379. Oxyfedrine 380. Oxymetazoline 381. Oxyphenbu tazone 382. **** 383. Ozothine 384. Paclitaxel 385. Pancuronium Bromide 386. Pantopiazole
387. Para-Amino Benzene Sulphonamide, its Salts & Derivatives
388. Parp-Amino Salicylic Acid, its Salts, its Derivatives 389. Parecoxib
390. Paroxetine Hydrochloride 391. D-Penicillamine 392. **** 393. Pentoxifylline
394. Pepleomycin 395. Phenelzineh Sulphate 396. Phenobarbital
397. Phenothiazine, Derivatives of and Salts of its Derivatives 398. Phenylbutazine
399. Pimozide 400. Pindolol 401. Pioglitazone Hydrochloride 402. Piracetam
403. Piroxicam
404. Pituitary Gland, Active Principles of, not otherwise specified in this Schedule and their Salts
405. Polidocanol 406. Polyestradiol Phosphate 407. Poractant Alfa 408. Praziquantel
409. Pred nimustine 410. Prednisolone Stearoylglycoiate 411. Prenoxdiazin Hydrochloride
412. Promazine Hydrochloride 413. Promegestone 414. Propafenon Hydrochloride
415. Propanolol Hydrochloride 416. Propofol 417. Protristyline Hydrochloride 418. **** 419. Pyrvinium 420. Quetiapine Fumerate 421. Quinapril 422. Quiniaine Sulphate
423. Rabeprazole 424. Racecadotril 425. Raloxifene Hydrochloride
426. Ramipril Hydrochloride 427. Ranitidine
428. Rauwolfia, Alkaloids of, their Salts, Derivatives of the Alkaloids or Rauwolfia
429. Reboxetine 430. Repaglinide 431. Reproterol Hydrochloride 432. Rilmenidine
433. Riluzone 434. Risperidone 435. Ritonavir 436. Ritodrine hydrochloride
437. Rituximab 438. Rivastigmine 439. Rocuronium bromide 440. Ropinirole
441. Rosoxacin 442. Rosiglitazone meleate 443. Salbutamol sulphate
444. Salicyl-azo-sulphapyridine 445. Salmon calcitonin 446. Saquinavir 447. Satranidazole 448. Secnidazole 449. Septopal beads & chains 450. Serratiopeptidase
451. Sertraline hydrochloride 452. Sibutramine hydrochloride 453. Sildenafil citrate
454. Simvastatin 455. Sirolimus 456. Sisomicin sulphate 457. S-neominophagen
458. Sodiumpico sulphate 459. Sodium cromoglycate 460. Sodium hyaluronate
461. Sodium valproate 462. Sodium and maglumine iothalamates 463. Somatostatin
464. Somatotropin 465. Sotalol 466. Sparfloxacin 467. Spectinomycin hydrochloride
468. Spironolactone 469. Stavudine 470. Sucralfate 471. Sulphadoxine
472. Sulphamethoxine 473. Sulphamethoxypyridazine 474. Sulphaphenazole 475. Sulpiride 476. Sulprostone hydrochloride 477. Sumatriptan 478. Tacrine hydrochloride
479. Tamsulosin hydrochloride 480. Trapidil 481. Tegaserod maleate 482. Teicoplanin
483. Telmisartan 484. Temozolamide 485. Terazosin 486. Terbutaline sulphate
487. Terfenadine 488. Terizidone 489. Terlipressin 490. Testosteroneun decoanoate
491. Teratolol hydrochloride 492. Thalidomide 493. Thiacetazone 494. Thiocolchicoside 495. Thiopropazate, its salts 496. Thymogene 497. Thymosin-alpha1 498. Tiaprofenic acid 499. Tibolone 500. Timolol maleate 501. Tinidazole 502. Tizanidine 503. Tabramycin 504. Tolfenamic acid 505. Topiramate 506. Topotecan hydrochloride
507. Tramadolhydrochloride 508. Tranexamic acid 509. Tranylcypromine, its salts
510. Trazodone 511. Tretinoin 512. Trifluperazine 513. Trifluperidol hydrochloride
514. Triflusal 515. Trimetazidine dihydrochloride 516. Trimipramine
517. Tripotassium dicitrate bismuthate 518. Tromantadine hydrochloride 519. Urokinase
520. Valsartan 521. Vasopressin 522. Vecuronium bromide 523. Venlafaxine hydrochloride 524. Verapamil hydrochloride 525. Verteporfin 526. Vincristine sulphate
527. Vinblastine sulphate 528. Vindesine sulphate 529. Vinorelbine tatrate 530. Xipamide 531. Zidovudine hydrochloride 532. Ziprasidone hydrochloride 533. Zoledronic acid
534. Zolpidem 535.Zopiclone 536.Zuclopenthixol 537.Etizolam 538.Alclometasone
539.Beclomethasone540.Betamethasone541.Desonide542.Desoximetasone 543.Dexamethasone 544.Diflorasone diacetate 545.Fluocinonide 546.Huocinolone acetonide
547.Halobetasol propionate 548.Halometasone 549.Methylprednisone 550.Prednicarbate 551.Triamcinolone acetonide
Note
1. Preparations exempted under proviso to para 2 of Note to Schedule X shall also be covered by this Schedule.
2. The salts, esters, derivatives and preparations containing the above substances excluding those intended for topical or external use (except ophthalmic and ear/nose preparations containing antibiotics and/or steroids) are also covered by this Schedule.
3. The inclusion of a substance in this Schedule does not imply or convey that the substance is exempted from the provisions of Rule 122A/122B.
4. The salts, esters, derivatives and preparations containing steroids or Hydroquinone for topical or external use shall also be covered under this Schedule.
5. Notwithstanding anything contained in these rules, the provisions of rule 65 and rule 97 in respect or drugs specified from serial number 538 to serial number 551 inserted vide Notification number G.S.R. 277(E), dated 23rd March, 2018 published in the Gazette of India, Extraordinary, Part II, Section (3), Sub-section (i) shall be on voluntary basis for a period commencing on the day on which this notification shall come into force and ending on the 31st March, 2019 and thereafter shall be mandatory.
SCHEDULE H1 (See rules 65 and 97)
1. Alprazolam 2. Balofloxacin 3. Buprenorphine 4. Capreomycin 5. Cerdinir
6. Cefditoren 7. Cefepime 8. Cefetamet 9. Cefixime 10. Cefoperazone 11. Cefotaxime
12. Cefpirome 13. Cefpodoxime 14. Ceftazidime 15. Ceftibuten 16. Ceftizoxime
17. Ceftriaxone 18. Chlordiazepoxide 19. Clofazimine 20. Codeine 21. Cycloserine
22. Diazepam 23. Diphenoxylate 24. Doripenem 25. Ertapenem
26. Ethambutol Hydrochloride 27. Ethionamide 28. Feropenem 29. Gemifloxacin
30. Imipenem 31. lsoniazid 32. Levofloxacin 33. Meropenem 34. Midazolam
35. Moxifloxacin 36. Nitrazepam 37. Pentazocine 38. Prulifloxacin 39. Pyrazinamide
40. Rifabutin 41. Rifampicin 42. SodiumPara-aminosalicylate 43. Sparfloxacin
44. Tniacetazone 45. Tramadol 46. Zolpidem 47. Oxytocin 48. Tapentadol
Conclusion
Although the provision of Restricted Licence is there in rule 61 and rule 62A of the Drugs Rules, 1945 such Drugstore will not at all be economically viable for the reasons that –
(i) Only house hold remedies type drugs can be sold by them for which there is already exemption in Schedule K of the rules under entry 13. But that does not require a licence in Form 20A as specified in Schedule K in condition (a) depicted earlier.
(ii) In case, any of the Scheduled drugs i.e. Schedule C, Schedule G, Schedule H, Schedule H1 or Schedule X are found in the Drugstore the licencee shall face prosecution, punishment and cancellation of licence in accordance with the Drugs and Cosmetics Act, 1940 and the rules made thereunder.
(iii) It will be perhaps impossible for the Licensing Authority to ensure strict compliance of the conditions of licence and hence pose the risk of illicit trade of all types of drugs because unwary public will not know the technicality of Restricted Licence.
(iv) Such Drugstores will become centre of quackery because Government licence for the shop will be taken for granted by the public that the person is highly qualified in medicines.
(v) It will adversely affect public health because of indiscriminate use of the medicines and consequential toxicities and iatrogenic diseases.
Overall the Government should abandon the idea and instead encourage registered pharmacists of Jharkhand belonging to rural areas to open full-fledged Pharmacy shops and cater all medicines to rural population. Government should arrange for financial assistance, soft term loans etc. to registered pharmacists for this purpose. That will be useful for the public at large.
References
1. Board of Pharmaceutical Practice. International Pharmaceutical Federation (FIP); The Hague: 2016. (https://www.fip.org/pharmaceutical-practice-and-the-fip-sections, accessed 10 August 2020).
2. World Health Organization Regional Office for Europe. The legal and regulatory framework for community pharmacies in the WHO European Region. ISBN 9789289054249, World Health Organization 2019.
3. The Drugs and Cosmetics Act, 1940. Release date November 22, 2022. Available at https://cdsco.gov.in/opencms/opencms/en/Acts-and-rules/Drugs-and-Cosmetics-Act/ Accessed 3rd July, 2023.
4.The Drugs Rules, 1945. Release date April 12, 2023. Available at https://cdsco.gov.in/opencms/opencms/en/Acts-and-rules/Drugs-and-Cosmetics-Act/ Accessed 3rd July, 2023.