PYRROLE, FURAN, THIOPHENE DERIVATIVES & PHARMACOLOGICAL ACTIVITIES: A REVIEW
About Authors:
C.P.Meher*, S.P.Sethy, M.Madhavi
*Asst. Professor
Maheshwara Institute of  Pharmacy,
Chitkul, Patancheru, Medak, A.P
*chaitanyameher84@gmail.com
ABSTRACT:
Medicinal chemistry and pharmaceutical chemistry are disciplines at the intersection of chemistry, especially synthetic organic chemistry, and pharmacology and various other biological specialties, where they are involved with design, chemical synthesis and development for market of pharmaceutical agents, or bio-active molecules (drugs).Very important part of above is the heterocyclic-chemistry. Now a days so many investigation are carried out for developing new chemical entities having suitability for human life. A lot of research work is going on presently for development of new heterocyclic derivatives.The present review article is concern with the three, five-membered heterocyclic compound pyrrole, furan & thiophene  derivatives that show diverse pharmacological activities.
Reference Id: PHARMATUTOR-ART-1528

INTRODUCTION:
Pharmaceutical chemistry is focused on quality aspects of medicines and aims to assure fitness for purpose of medicinal products.  At the biological interface, medicinal chemistry combines to form a set of highly interdisciplinary sciences, setting its organic, physical, and computational emphases alongside biological areas such as biochemistry, molecular biology, pharmacognosy and pharmacology, toxicology and veterinary and human medicine; these, with project management, statistics, and pharmaceutical business practices, systematically oversee altering identified chemical agents such that after pharmaceutical formulation, they are safe and efficacious, and therefore suitable for use in treatment of disease. The three heterocyclic compound have a wide range of biological properties that provide an increasing number of therapeutic applications. Some properties are common to all the three(pyrrole,furan,thiophene) whereas others are characteristic only of certain compounds. Considerable insight may be gained into the mechanism of action of the pyrrole,furan,thiophene by seeking correlations between their chemical and biological properties.

A comparative study of the three heterocyclic nucleus  are briefly describe in table-1 as below
Table-1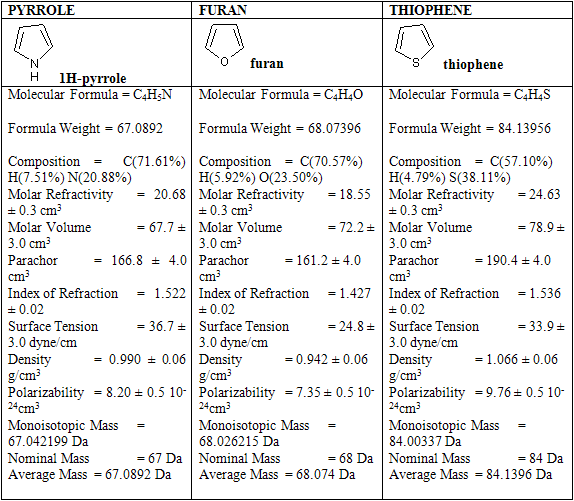 Numerous biological activity of the three heterocyclic derivatives(pyrrole,furan,thiophene) are given in table-2,table-3 & table-4 respectively.
PYRROLE:
Pyrrole is a heterocyclic aromatic organic compound, a five-membered ring with the formula C4H4NH. It is a colourless volatile liquid that darkens readily upon exposure to air. Substituted derivatives are also called pyrroles, e.g., N-methylpyrrole, C4H4NCH3. Porphobilinogen, a trisubstituted pyrrole, is the biosynthetic precursor to many natural products such as heme.Pyrroles are components of more complex macrocycles, including the porphyrins of heme, the chlorins, bacteriochlorins, chlorophyll, porphyrinogens. Given below is a brief account of various alterations conducted on  pyrrole ring containing few important marketed drugs, drugs under clinical trial and their associated biological activities in table-2.
Table-2
NOW YOU CAN ALSO PUBLISH YOUR ARTICLE ONLINE.
SUBMIT YOUR ARTICLE/PROJECT AT articles@pharmatutor.org
Subscribe to Pharmatutor Alerts by Email
FIND OUT MORE ARTICLES AT OUR DATABASE
Pages