PHARMACOGNOSTIC INVESTIGATION OF ELAEOCARPUS GANITRUS Roxb. LEAF AND SEED
About Authors:
Awan Bharti
Department of Pharmacognosy,
Shri Rawatpura Sarkar Institute of Pharmacy,
Datia, M.P.
bhartiawan@gmail.com
ABSTRACT
Elaeocarpus ganitrus Roxb. (Family: Elaeocarpaceae) commonly known as Rudraksha. Rudraksha beads, the holy beads scientifically called as Elaeocarpus Ganitrus. It possesses good medicinal value and with religious, medicinal and spiritual significances. Present investigation deals with macroscopic, microscopic. Microscopic studies revealed the presence of cuticle, epidermis, collenchyma, vascular bundle, xylem and phloem, hard endocarp, seeds with membranous seed coat.
Reference Id: PHARMATUTOR-ART-1545
INTRODUCTION
Plants of the genus Elaeocarpus have been reported to be of use as traditional medicines, particularly in India. Elaeocarpus ganitrus (syn: Elaeocarpus sphaericus; Elaeocarpaceae) is a tree found in the Himalayan region of India. The fruits of this plant are commonly known as Rudraksha and have been used in Ayurvedic traditional medicine for the treatment of mental diseases, epilepsy, asthma, hypertension, arthritis and liver diseases [1]. Traditionally the plant is used to treat various diseases. Anatomical characterization of plants used in traditional medicines has been carried out to evolve standards for genuine source plant from the spurious ones. The different treatise on medicinal plants had mentioned different uses of parts or products [2]. Survival and growth of tree seedlings are determined by the interactive influence of biotic and Abiotic factors of the forest environment. The effects of certain factors such as light intensity soil moisture, soil temperature pathogen have been studied on seedlings growing in natural or in Control conditions [3].
Rudraksha is used in Ayurveda for mental diseases, epilepsy, asthma, hypertension, arthritis and liver diseases [4]. Alkaloids are reported to be the major phytoconstituents of E.sphaericus. These include, Elaeocarpidine, Elaeocarpine [5]. Rudrakine [6]. Flavonoids are also reported to the phytoconstituents of E.sphaericus. It includes quercetin [7].
Rudraksha is growing in suitable climatic regions with temperature ranges of 25-30 degree centigrade. These trees start giving fruit after 7-years. Here is the percentage compositions of gaseous elements present in a Rudraksha is C-H-N which Analyze by Gas chromatography. These percentages are 50.031 % C, 0.95% N, 17.897% H and 30.53% O.
MATERIALS AND METHODS
Collection of the plant materials
The leaves and seeds of Rudraksha were collected from Bahrich in 2011 from Uttar Pradesh, India. The plant was identified and authenticated by Dr. Tariq Husain, National Botanical Research Institute, Lucknow. The voucher specimen (98159) has been deposited in herbarium. Healthy plant parts were selected carefully for the purpose of study.
Morphological Studies
Organoleptic examinationrefers to evaluation by means of organ of sense and includes the macroscopic appearanceof the leaf and seed, its odour and tastes, occasionally the sound or 'snap' of its fracture and the feelof the leaf and seed to the touch [8]. The morphological & organoleptic characters of the leaf were studied [9, 10].
Microscopical study of leaf
Free hand sectioning was done for fresh leaves and seeds. Under microscopical examination transverse sectionof leaf and seed were studied, sectionsof leaf and seed were made and observed under Compound microscope [8]. Free hand transverse sections of the fresh leaf were taken and treated with various reagents and observed. The result of microscopical study of leaf and seed were shown in figure.
RESULT
Macroscopic Examination
The macroscopical study of the leaf and seed results obtained and tabulated in table no.1 and table no. 2.
Microscopical Examination
Observed characters in transverse section of leaf: cuticle, epidermis, collenchymas, palisade and vascular bundles. Vascular bundle shows collateral type closed vascular bundle.
Observed characters in transverse section of seed: seed, stony endocarp, endosperm and outer seed coat.
Conclusion and Discussion
Pharmacognostic analysis including physico-chemical evaluation is meant for identification, authentication, and detection of adulteration and also compilation of quality control standards of crude drugs. Microscopic study of powder revealed the presence of anomocytic stomata, oval, rounded starch grains, pitted xylem vessels, which are present in bundles and also clusters type of calcium oxalate crystals. Chemo microscopy revealed the presence of starch grains, lignin and calcium oxalate crystals. The quantitative determination of some Pharmacognostic parameters is useful for setting standards for crude drugs. The stomatal number, stomatal index, vein-islet number, vein-termination number relatively constant for plants and can be used to differentiate closely related species [2].
Table: 1 Macroscopical Examination of leaf of Elaeocarpus ganitrus
S.No.

 

1

Shape of leaf

Ovate

2

Apex

Acute

3

Base

Symmetric

4

Margin

Undulate

5

Size

5-6 inch in length, 2 inch broad

6

Color

Shining green
Table: 2 Macroscopical Examination of seed of Elaeocarpus ganitrus
S.No.

 

1

Shape of seed

Round, Bulbous

2

Color

Blue (on fully ripening)

3

Texture

Hard

4

Size

½ -1 inch

5

Taste

Sour
Figure 1:Transverse section of leaf of Elaeocarpus ganitrus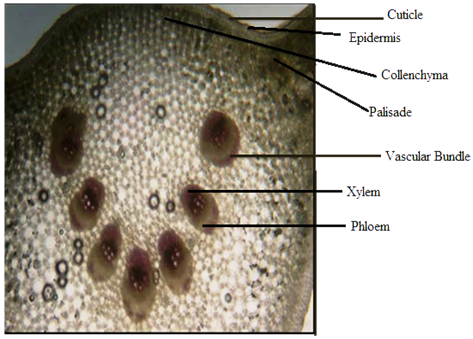 Figure 2:Transverse Section of seed of Elaeocarpus ganitrus
REFERENCES:
1. Amolkumar Kisanrao Hule, Archana Ramesh Juvekar 2009," Effect of alkaloidal fraction of Elaeocarpus ganitrus seeds on murine in vitro immune parameter", Journal of Pharmacy Research 2009, 2(8),1261
2. A.Vijayan and Sebastian Rajasekaran, 2010," Pharmacognostic investigation on Elaeocarpus blascoi weible leaves", International journal or Pharma and Bio Sciences, Vol.1/Issue-3/Jul-Sep.2010, 1
3. M.L.Khan, Putul Bhuyan, RS Tripathi 2004," Survival and growth of seedlings of Rudraksha (Elaeocarpus ganitrus) under varied canopy conditions after transplant", , International Society for Tropical Ecology, Tropical Ecology 45(2): 234, 2004 ISSN 0564-3295
4. T.Satish Kumar,  S. Shanmugam, T. Palvannan and V. M. Bharathi Kumar 2007, "Evaluation of antioxidant properties of Elaeocarpus ganitrus ",Iranian Journal of Pharmaceutical Research (2008), 7 (3): 211-215
5. Johns S.R., Lamberton J.A., Suares H., Sioumis A.A., Willing, R.I., The alkaloids of Elaeocarpus sphaericus. Australian journal of chemistry, 1971, 24(8), 1679-1694.
6. Ray A.B., Chand L., Pandey V.B., "Rudrakine, a new alkaloid from Elaeocarpus ganitrus" Phytochemistry, 1979, 18, 700–701.
7. Shah Gagan et al, "Anxiolytic effects of Elaeocarpus sphaericus fruits on the elevated plus-maze model of anxiety in mice", International Journal of PharmTech Research CODEN (USA): IJPRIF ISSN :2009,  0974-4304, Vol.2, No.3, pp 1781-1786,
8. Nitin Kumar Bhardwaj," PHARMACOGNOSTIC AND PHYTOCHEMICAL INVESTIGATIONS OF BARK OF TECOMELLA UNDULATA SEEM", International Journal of Pharma. Research and Development, ISSN 0974 – 9446, 2010, 1, 2
9. Mukherjee, P.K., Quality Control Herbal Drugs - An approach to evaluation of Botanicals, (1st edition) Business Horizons, New Delhi, 2002, 137-141.
10. 5. Evans, W.C., Trease and Evans, Pharmacognosy, (15th edition) Saunders: Elsevier, 2009, 519-521.
NOW YOU CAN ALSO PUBLISH YOUR ARTICLE ONLINE.
SUBMIT YOUR ARTICLE/PROJECT AT articles@pharmatutor.org
Subscribe to Pharmatutor Alerts by Email
FIND OUT MORE ARTICLES AT OUR DATABASE